Back To Top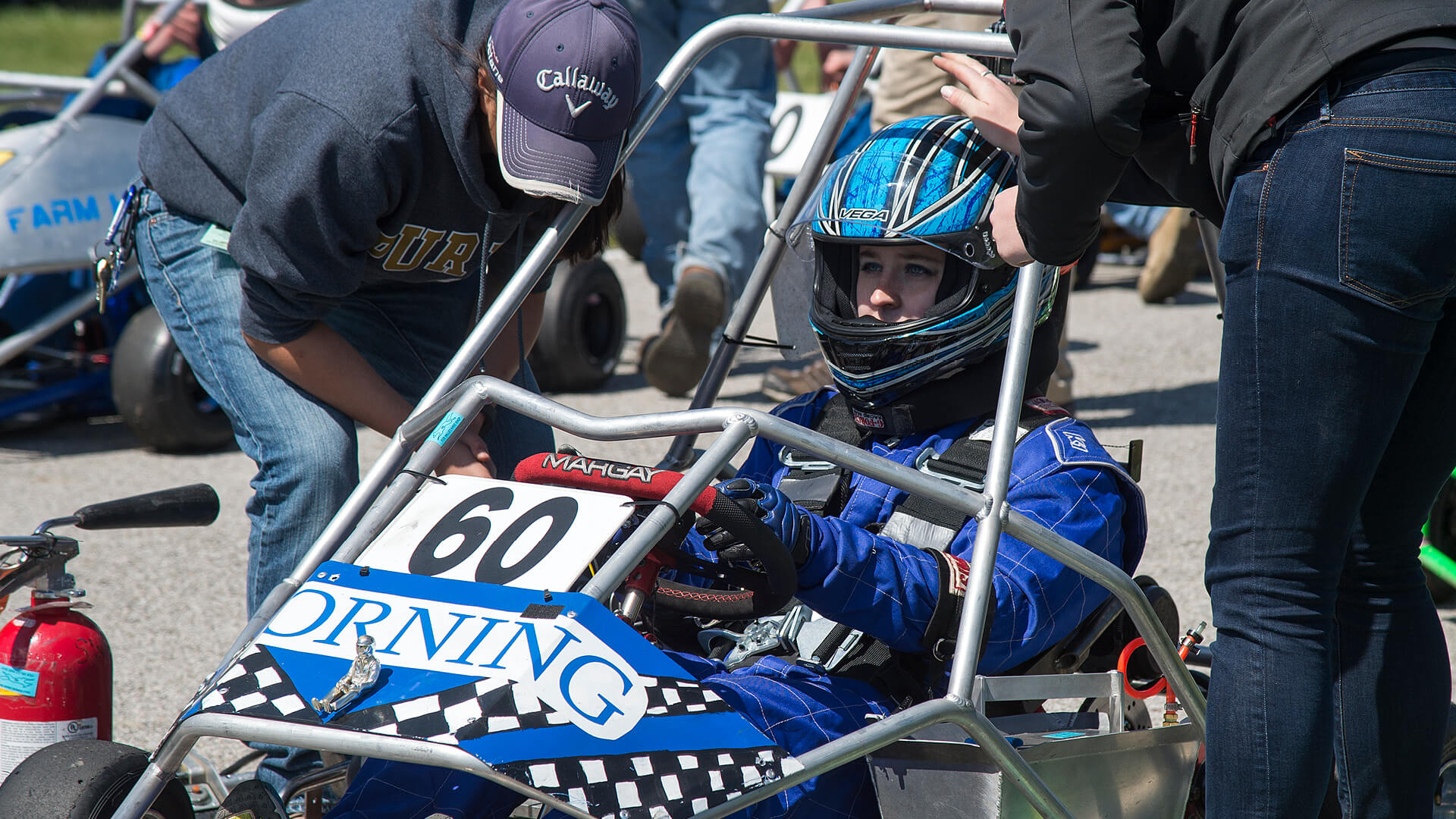 Boilermakers share their memorable racing experiences
Grand Prix teams require patience and innovation. There is no shortage of challenges for the Purdue Society of Women Engineers (PSWE) teams, as they have not one but two karts to keep up with. Senior Lauren Lemke and sophomore Yagmur Onder, both mechanical engineering majors, won't back down from a challenge. 
Lemke joined the PSWE team as a freshman because she was interested in the automotive industry and knew that it would be a fantastic opportunity to get hands-on experience. While teams get to keep the same kart design from year to year, there are always opportunities to improve details.
Members must continually evolve to create a better, faster kart. Lemke thrives in an environment where she gets to face problems and says that it may even be her favorite part. "I really love the problem-solving aspect of fixing things on the fly," she says. "The downside is that things have to break to get to the fixing part."
Everyone has such different roles, but it all comes together so perfectly.

Yagmur Onder
Sophomore, mechanical engineering
The event can be both physically and mentally taxing, but going through trials and tribulations brought PSWE team members closer together. Being involved in the tradition led Onder to see the value of teamwork and to make lifelong friends. "Everyone has such different roles, but it all comes together so perfectly," she says. "I don't know if the fans realize how chaotic the day can be for some of the teams, but at the end of the day, it's a great experience." 
Lemke feels like it's all worth it in the end because of the memories. "My favorite memory would be the look on our driver's face when she completed the final lap and placed fifth. She had no idea that she had placed, and we all burst into tears of joy because we saw all our hard work finally pay off," she says. "Of course, I will also remember all of our long weekends at the tracks, inside jokes, frustration over inexplicable things breaking and way, way too early mornings." 
We all burst into tears of joy because we saw all our hard work finally pay off.

Lauren Lemke
Senior, mechanical engineering
Related Stories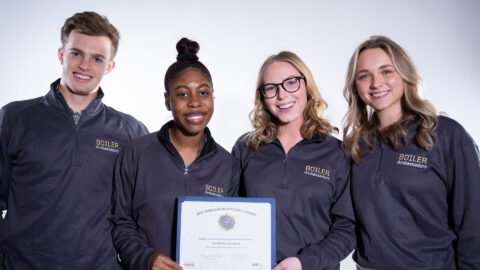 Spotlighting the student perspective with Boiler Ambassadors
Uplifting communities, informing students and providing authentic perspectives — the Boiler Ambassador Program finds innovative ways to enhance life across campus.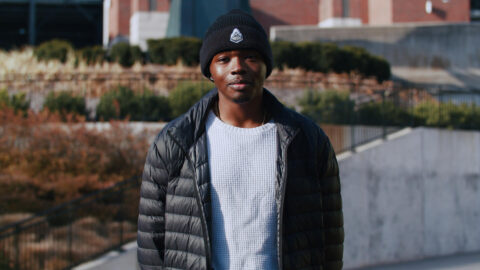 Getting involved and staying true to yourself
Joshua Gregory chose to come to Purdue after falling in love with the campus and people during a summer engineering program.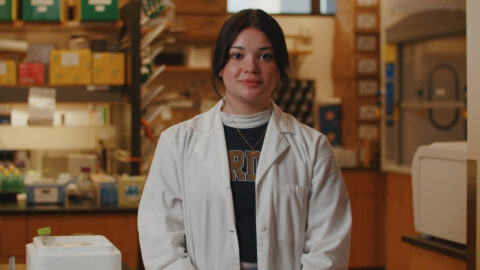 Campuswide connection through STEM majors
Isabella Sirit says campus resources and support from faculty and staff made all the difference in her success and growth.
Purdue Traditions: Purdue Grand Prix
Purdue University is rooted in over 150 years of traditions. These traditions unite all Boilermakers.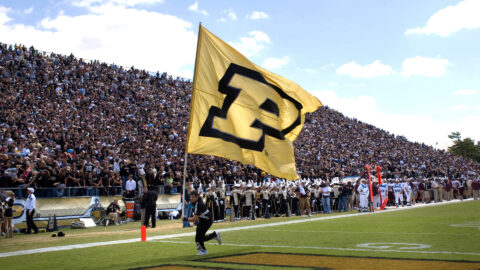 With Purdue's nearly 1,000 student organizations, over 200 majors and nearly 2,000 undergraduate research opportunities, anyone can find their home.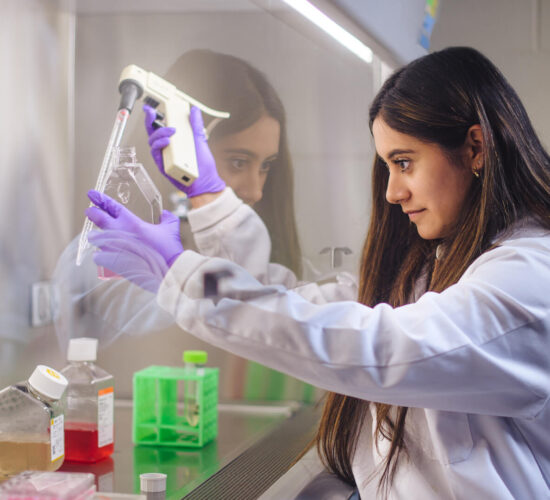 Whether it's in a lab, greenhouse or meeting room, Boilermakers are persistently discovering, researching and developing the next giant leap.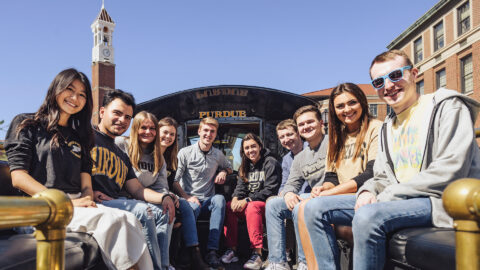 Togetherness Matters: Ellie McClellan's Story
Purdue fosters an environment of togetherness, which allows students like Ellie McClellan to take small steps leading to giant leaps.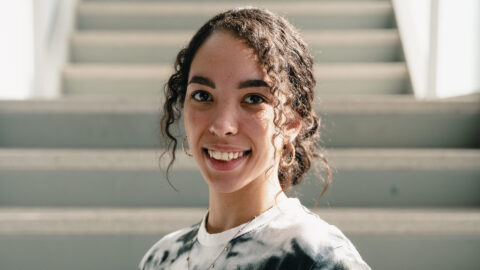 Finding endless opportunities through Purdue Promise
Student experiences academic and financial support through scholarship programs Purdue University persistently provides opportunities for students to feel supported both academically and financially. Boilermakers benefit from programs like Purdue Promise, which helps qualified students graduate in four years with little …