Back To Top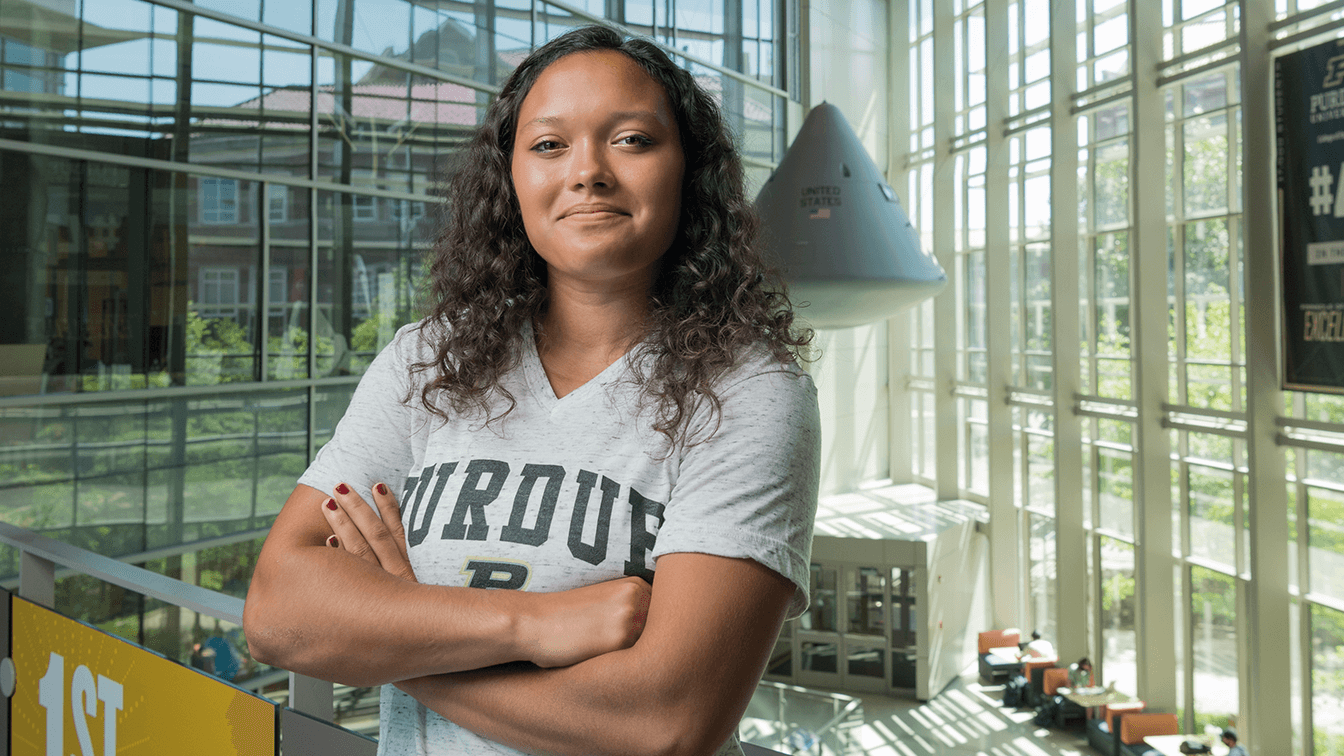 According to rankings announced by Forbes on August 20, 2021, Purdue ranked fifth nationwide for the most STEM undergraduate degrees awarded during the 2019-20 school year.
The ranking further reinforces Purdue as Indiana's STEM school and a national driver for innovation, committed to enhancing our state and national capacity for economic growth.
Purdue is committed to STEM excellence at scale because the world needs more leaders like Hannah Pike, an aeronautical and astronautical engineering major from Michigan with a minor in nuclear engineering.
"There are a couple reasons I chose to come to Purdue," shares Hannah. "Purdue offered many opportunities for study help as well as student organizations that I could participate in.
"I am an active member of the Minority Engineering Program and am in the American Institute of Aeronautics and Astronautics. Because of all of these clubs and organizations, I have developed a lot of time management skills. The clubs I join are all things I am interested in and where I have met all my friends — so in a way they contribute to my sense of self."
Hannah is co-captain of the World's Largest Drum Crew and the only woman on the crew. In the spring, she also plays clarinet in Purdue's concert bands.
Hannah's story reflects her own ingenuity, personality and passion, but it also echoes the persistence of thousands of others on Purdue's campus as they pursue their own curiosity and passion.
Purdue's highly-ranked, rigorous and hands-on STEM education is delivering tomorrow's leaders and innovation that will move the world forward. The Data Mine at Purdue is one way that we're accomplishing this at scale.
The need for data-fluent professionals is imminent. By 2030, one trillion devices will be connected to the internet. Through The Data Mine, Purdue is bringing data learning to students from across campus — from every background, major and college. This unique living-learning community is housed in Hillenbrand Hall, with capacity for 800 students.
Purdue's STEM programs are focused on building a better world for all, and data science is a rich field that offers limitless opportunities for interdisciplinary collaboration. For example, Plant Sciences 2.0 — part of Purdue's Next Moves — seeks opportunities to add value to Purdue's nation-leading agricultural program by leveraging data to inform food consumption with a goal to improve consumer health, optimize forest management, prevent and mitigate forest fires and more.
Hannah, and thousands of others like her on Purdue's campus, are answering the national call to step forward as tomorrow's STEM leaders, seeking opportunity where others seek obstacles.
And it starts with one small step: obtaining a Purdue University degree.
RELATED STORIES