Back To Top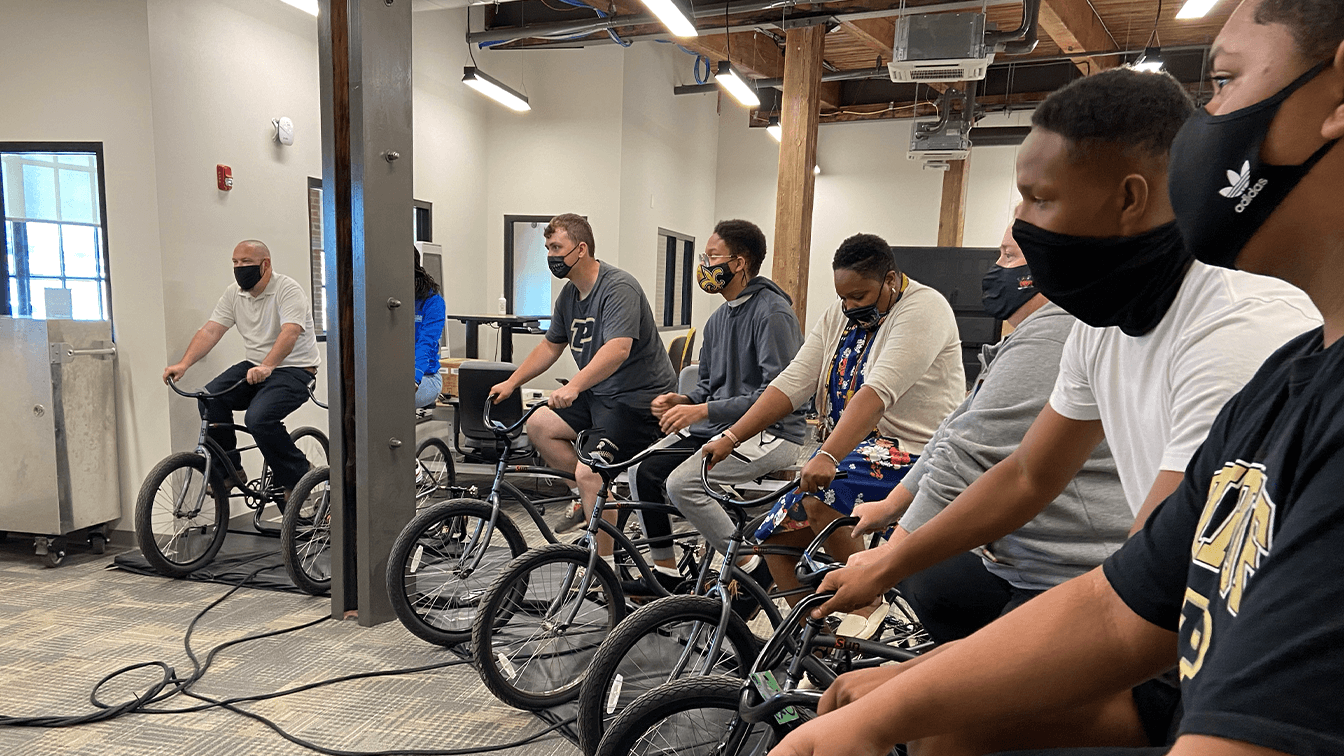 A group of students from Purdue Polytechnic High School (PPHS) Schweitzer Center at Englewood is tackling health and wellness issues in their community.
The students worked with Purdue University professors Jasmine Gonzalvo and Sonak Pastakia and Purdue students with the College of Pharmacy's Center for Health Equity and Innovation (CHEqI) to explore ways to enhance student wellness. CHEqI's mission is to address the needs of underserved populations locally and globally with a vision of reducing health inequity through innovative strategies.
During the spring 2021 semester, 15 PPHS students interviewed coaches (what PPHS calls teachers), staff and fellow students to understand how wellness affected the school population for the six-week passion project. Passion projects are intensive, focused and hands-on undertakings that students work on together or individually with local experts to learn about real-world issues facing businesses, industries and communities.
The students developed four initiatives:
Implementation of daily 30-minute wellness time and activities.
Establishment of daily 15-minute brain breaks.
Installation of vending machines with healthy options.
Creation of a cafeteria menu with healthier options and information about ServSafe requirements.
"The ideas that the students came up with are amazing. All of the solutions were focused on the wellness of the students," says Drew Goodin, lead instructor at PPHS Schweitzer Center at Englewood. "They also learned about advocacy."
Gonzalvo and Pastakia reviewed the finished proposals and were impressed with the students' thoroughness. They believe the students have laid a foundation for further growth in mental and physical wellness.
"I simply couldn't imagine having this depth of thought and insight during my high school years," Pastakia says. "I'm confident that continued iterations of this project will continue to unlock the potential that the creation of the PPHS was designed to tap into. I can't wait to see what the PPHS and Purdue students involved with this project will come up with next."
In addition to Gonzalvo and Pastakia, Nick Howard, a third-year professional pharmacy student; Maggie Craig, an undergraduate biomedical engineering student; and Carly Kimiecik, a second-year public health doctoral student, worked with the PPHS students to brainstorm, complete interviews and assist in project designs.
"The best part of working on this project is getting to see the students become so involved in the process," Howard says. "All of the ideas proposed by the students are solely their ideas. I am truly impressed with the quality of work that they are able to provide, and I am thrilled about the ideas that they have developed about personal wellness."
Howard looks forward to working with the students again during the next school year to tackle other issues and incorporate what he learned from the students in his professional life as a future pharmacist.
"This is a great opportunity for both students at Purdue and students at PPHS to collectively learn from each other, and a great way for us to help our local community," Howard says. "I am excited to personally be involved in the planning process, and I am excited to see this partnership grow even more."
To build on the project's implementation, CHEqI partnered with Nine13sports to bring the Kids Riding Bikes program — indoor stationary bike simulators — to the school. During their experiences, PPHS students were able to warm up, compete against each other, build teamwork and learn more about the mechanics and exercise components of bike riding. CHEqI is working with Nine13sports to create a cycling program for the school in the fall.
Goodin says that after seeing their ideas get approved by school leaders, the students have continued to advocate for each other and for the students at the other PPHS locations near Indianapolis' Broad Ripple neighborhood and South Bend.
"Students who designed the wellness programs were smiling ear to ear," Goodin says.
For more information on student registration, donations, business partnerships or media requests, contact PPHS' Network Office at info@pphs.purdue.edu.
RELATED STORIES