Back To Top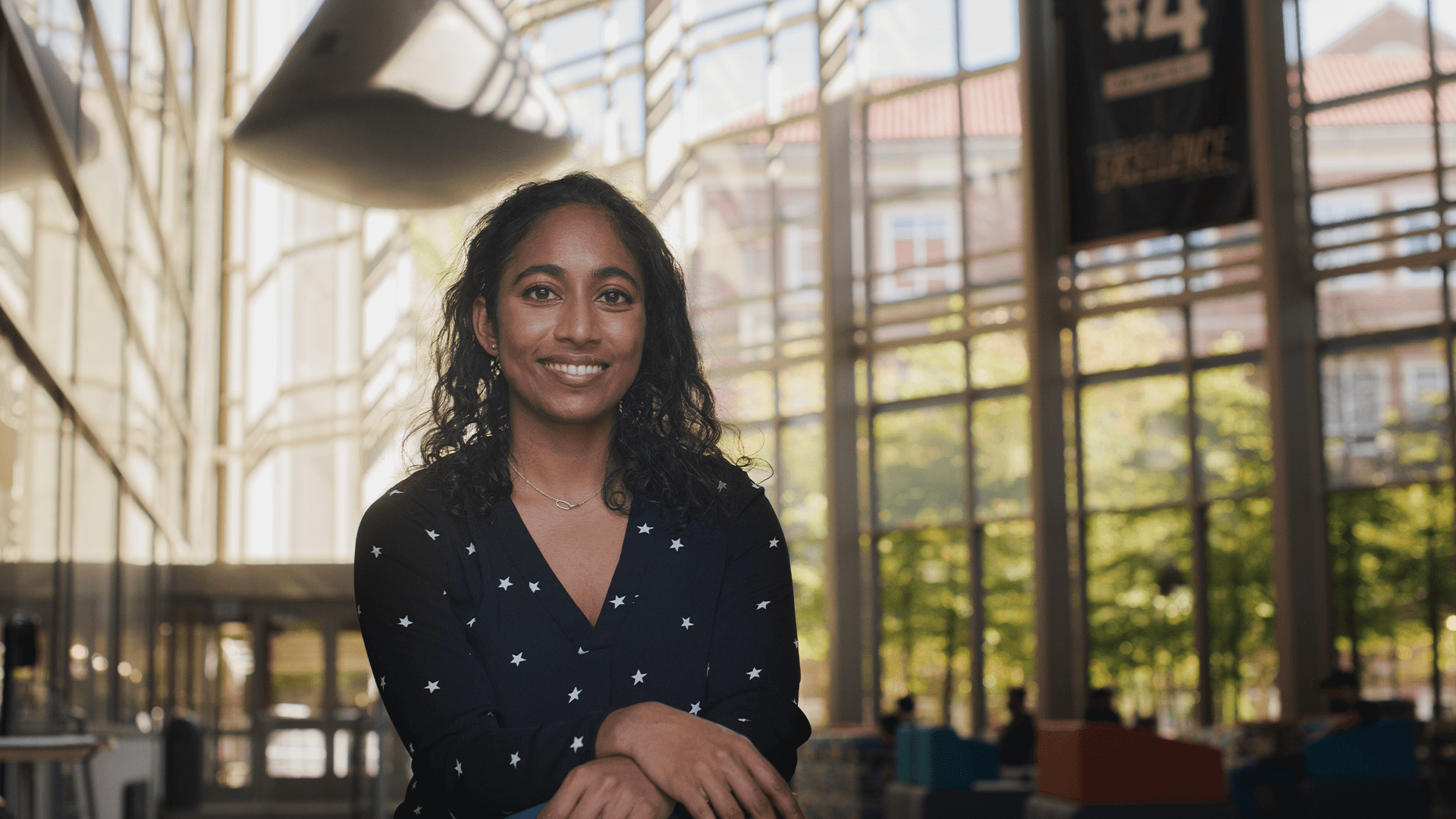 Though setbacks could have deterred her, Bandla persisted and achieved her dream of going into space
Sirisha Bandla's earliest childhood memories involve lying on the roof of her family's home in India and staring at the night sky.
"In India, your power would come in for hours at a time and then shut off. And when it shut off at night, the sky was just brilliant," Bandla says. "There's so many stars, and it's hot there, so sometimes you sleep outside on the roof. Those are some of the memories I have, of me looking up and falling asleep under millions of stars. I think that slowly started my fascination with space."
Her fascination only grew over time She developed a love for science fiction and read countless books about early astronauts like Neil Armstrong and the engineers who helped them reach the moon. After her family moved to Houston while she was in grade school, Bandla actually met some of those NASA engineers at Johnson Space Center.
In time, she decided that she wanted to become an engineer and astronaut, too. And she applied to only one university, Purdue, because of her single-minded desire to reach that goal.
"I was focused on wanting to go to space and Purdue had the first and the last man on the moon, in addition to so many astronauts," says Bandla, a 2011 Purdue graduate in aeronautical and astronautical engineering (AAE). "I thought, 'There is some special sauce that Purdue has and I want it. It's going to get me to space.'"
And it did, although not by the traditional path that most of the 25 previous Boilermaker astronauts had followed. In July 2021, at just 34 years old, Bandla was one of four mission specialists on Virgin Galactic's Unity 22 suborbital flight, which reached 53.5 miles above Earth.
As Virgin Galactic's vice president of government affairs and research operations, Bandla provided an especially meaningful presence on the first fully crewed spaceflight by a private commercial company. Her mission is to help the company create opportunities for anyone to travel into space, and it did that very thing for her since poor eyesight prevented her from pursuing a coveted position as a NASA astronaut.
During a 90-minute mission on that July morning, the little girl who used to stare up at the stars was now among them.
"We've all seen pictures, but seeing it in real life while you're weightless, while you're floating, while it's silent — it's hard to describe. It was an incredible feeling," Bandla says. "The Earth looked beautiful as always. The atmosphere looked just as thin as people think. It was a very thin blue line and then outside, the atmosphere is just nothingness.
"I felt very small, but I didn't really feel insignificant. It just put it into perspective: That is everything and everyone
I've ever known and we are incredibly lucky to have this because there's nothing else around, and it's beautiful and it's brilliant."
Early days
Although she learned in high school that her worsening eyesight would prevent her from joining the U.S. Air Force and becoming a test pilot before training with NASA to become an astronaut, Bandla did not lose hope. She learned from the career of Kalpana Chawla, an aerospace engineer who in 1997 became the first astronaut of Indian origin, that a career in engineering also could help her realize her dream.
"Seeing somebody that looked like me doing something I wanted to do, whatever mental barrier I had put up seemed to reduce," says Bandla, the fourth Indian and second Indian woman to enter space. "It just seemed like if she's doing something, and I shared her identity, it made it more real that I could do it."
Shortly after learning her eyesight would prevent her from following Plan A, the Ansari X Prize arrived to create a new path for Bandla.
The 2004 prize competition offered $10 million to the first non-government organization to launch a reusable crewed spacecraft into space two times within a two-week period. Previously, spaceflight was considered too dangerous and too expensive for the general public, and space tourism seemed decades away.
But when Sir Richard Branson chose to license the winning technology from Ansari X Prize winner SpaceShipOne to create Virgin Galactic, Bandla's Plan B became clear.
"I saw that happen and I saw the mission of Virgin Galactic being created as a company to open space up for all and I said, 'That is the company for me and that's how I'm going to get to space.'" Bandla says. "Who knew I literally meant it?"
Valuable Purdue experience
During her senior year at Purdue, Bandla had studied under Steven Collicott, professor of aerospace engineering, in his infamous zero-gravity flight experiment course, AAE 418. Student teams in that class would submit research proposals to NASA and, if selected, enjoy an opportunity to experience weightlessness while flying their experiment on a parabolic flight. The aircraft is affectionately known as "the Vomit Comet" for reasons that should not require explanation.
Bandla's team submitted one such winning proposal, and she was selected as team leader.
Collicott says, "I saw somebody I thought could write well and was certainly energetic, very interactive with other people around her and not hesitant to take on leadership roles,."
Not only did the opportunity to experience weightlessness thrill Bandla — "it got me hooked," she says — but her microgravity research experience was especially valuable when Virgin Galactic was determining whom to send into space on the Unity 22 flight.
"Galactic knew I had experience doing microgravity research. They trusted me with the portfolio at the company," Bandla says. "And when they were looking at who was going to go up on this next flight, this was a capability that they really wanted to test. And, of course, there I was, ready."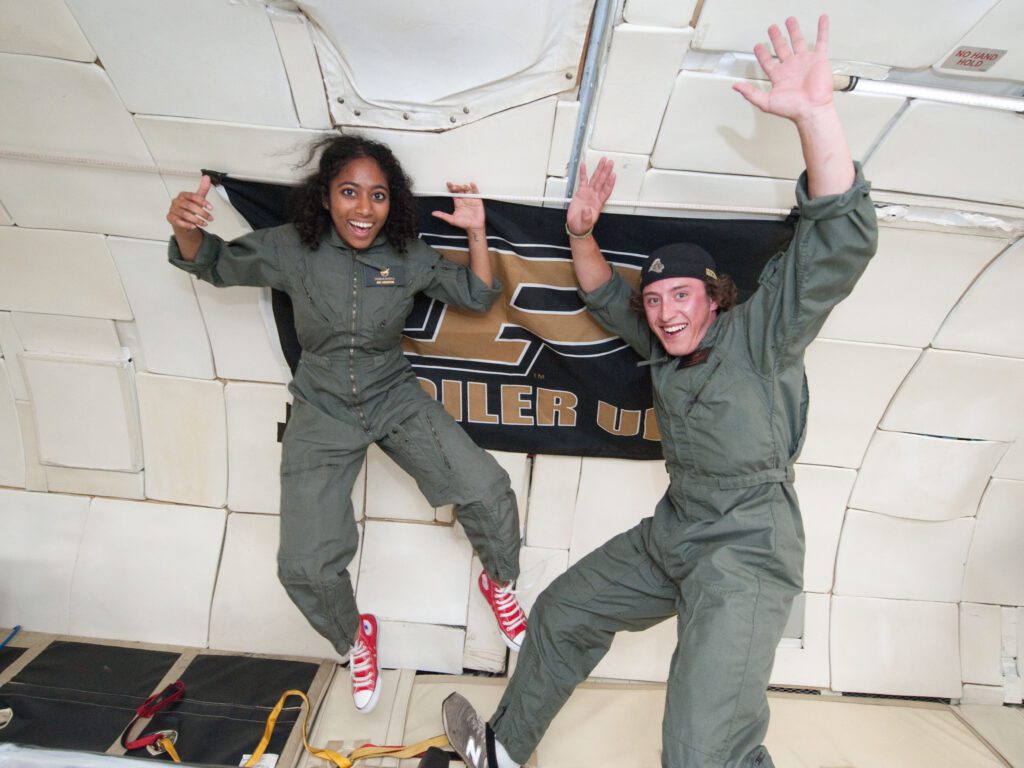 A significant part of Bandla's job at Virgin Galactic is interfacing with policymakers and communicating with researchers about using Virgin Galactic vehicles to fly their experiments. The company selected her for the Unity 22 mission to demonstrate how researchers can conduct their own experiments on future flights.
The experiment Bandla conducted during the flight for University of Florida researchers examined how plants responded to the high- and low-gravity portions of the flight. It was the first time Virgin Galactic had flown a research payload that required human interaction to work.
"Typically researchers will create an autonomous payload or create a payload and then hand it to a national space agency that will then have an astronaut on the ISS (International Space Station) or elsewhere interact with it," Bandla says. "And now, researchers and scientists are going to be able to take up their own payloads, fly with it, make real-time observations because they're the experts and make real-time adjustments. I think it's going to open up all new doors for science."
This is the aspect of commercial spaceflight that is most exciting to researchers like Collicott.
"We're seeing a huge change," Collicott says. "In the '90s, we would have called it a paradigm shift. In the 2000s, we would have called it a market disruption. Whatever you want to call it, from whatever era, it's a very big change happening right now, and it's exciting. Some people call it the democratization of space. To me, it's cheaper access."
Boilermaker connections
Bandla was not the only Purdue alumna among the six-person crew on the Unity 22 flight. Fellow AAE graduate Beth Moses, who in 2019 became Purdue's first commercial astronaut and 25th member of the University's Cradle of Astronauts, also was on board.
In both cases, the alumnae met the AAE faculty's approved criteria for Cradle inclusion by working as trained crew on a commercial mission that reached at least 80 km (50 miles) altitude, reaching what the Federal Aviation Administration defines as "space." In October 2021, Audrey Powers became the third AAE alumna and commercial astronaut to join the Cradle when she flew aboard Blue Origin's New Shepard NS-18.
Future Boilermakers who venture to space may not merit inclusion in the Cradle simply by breaking the 80-km boundary, however. The AAE faculty approved an additional classification, Purdue Spacefarer, for Boilermakers who purchase a ticket for space tourism, publicity or other non-research purposes and who are not working on the flight crew. The University will not recognize those in the Purdue Spacefarer category as members of the Cradle.
As Virgin Galactic's chief astronaut instructor, Moses worked closely with Bandla as she prepared to travel to space. Moses served as cabin lead and test director on the mission, ensuring that the crew met its test flight objectives.
"She trained me not only from an operational standpoint, but from a mental standpoint on what I'm going to feel, how to manage some of those feelings and sensations," Bandla says. "She's done it, and it was great to hear that from her. Thanks to her awesome training and preparation, when the rocket motor cut off, I knew exactly what I needed to do and I was in that mode."
The Purdue connections don't end there, nor do the connections to the Moses family.
Virgin Galactic President Mike Moses, Beth's husband, called Bandla to extend an official invitation to participate in the Unity 22 flight. She didn't need long to announce her decision.
"I was like, 'Yes!'" Bandla says with a laugh. "He said, 'No, you can think about it. Take the weekend to talk to your family.' And I said, 'Mike, yes!' And then I talked to everybody else."
One more Boilermaker contributed to Bandla's experience of a lifetime. Jane Kinney, Bandla's close friend and fellow 2011 AAE graduate, helped her obtain the Purdue banner that she carried into space on the Unity 22 voyage. And when it came time to drive the individual crew members to the Spaceport America facility in the New Mexico desert, it was Kinney, executive staff projects specialist at Virgin Galactic, behind the wheel of Bandla's vehicle.
She said, 'I requested to drive you because it means a lot,'" Bandla says. "So, you had a car being driven by a Purdue Aero grad, driving me, a great friend, to the spaceship. It was awesome."
It's really nice to see that I'm helping blaze a trail for someone else. They're going to do the same for the generation after them. That's how we grow as people.

Sirisha Bandla
Inspiring others
Bandla readily admits she is not a huge fan of social media, largely because it can serve as a breeding ground for negativity.
So she was pleasantly surprised when her follower count skyrocketed and she received a flood of supportive feedback after Virgin Galactic announced that she would join the Unity 22 crew.
"The amount of messages from young women in India that saw my flight and said, 'This is something I've wanted to do, and seeing you do it makes me feel like I can do it,' has been just overwhelming," Bandla says. "It just gave me, even before the flight, a boost of confidence that what I'm doing is not just for me and the company, but it's for a lot of young women and a lot of people that didn't see themselves in these shoes before."
Maybe even a future Boilermaker who also will accomplish their dream to fly in space someday.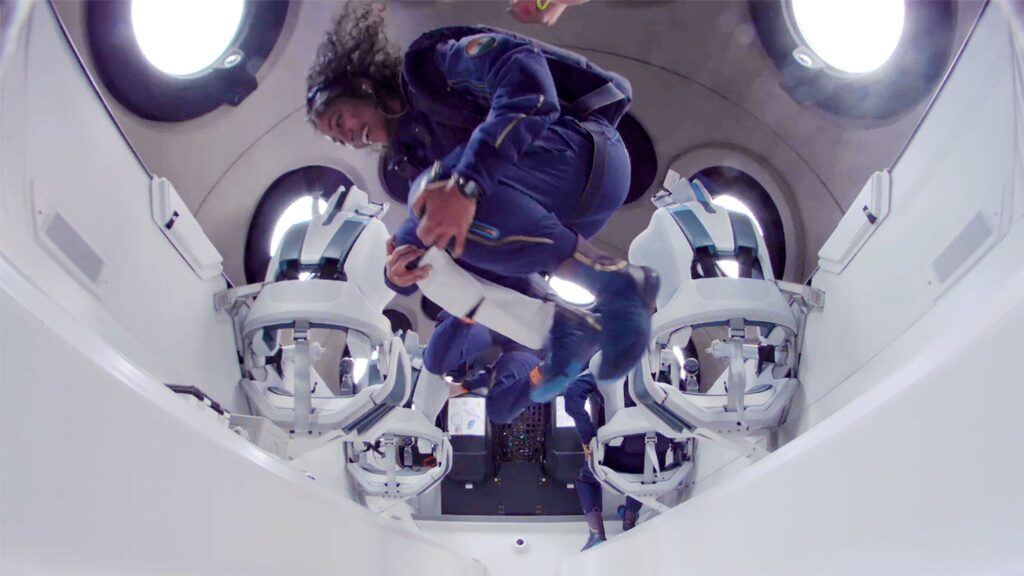 Early in fall semester, Collicott was visiting with a prospective student and her family during a campus tour when the student revealed why she was interested in Purdue's AAE program.
"She wanted to come to Purdue because this is where Sirisha Bandla went," Collicott says. "That was pretty cool."
Bandla thinks so, too. After all, Purdue was the one and only college on her radar because of pioneers like Armstrong, Eugene Cernan and the other Boilermakers who ensured that Purdue was represented on nearly a third of all U.S. spaceflights.
"That was a full-circle moment," Bandla says of learning what the student told her former professor. "I wanted to go to Purdue to follow in the footsteps of some of the astronauts I had known. It's great that I'm following in the footsteps of people that have done incredible things and have blazed a trail before me. It's really nice to see that I'm helping blaze a trail for someone else, as well.
"They're going to do the same for the generation after them. That's how we grow as people."