Back To Top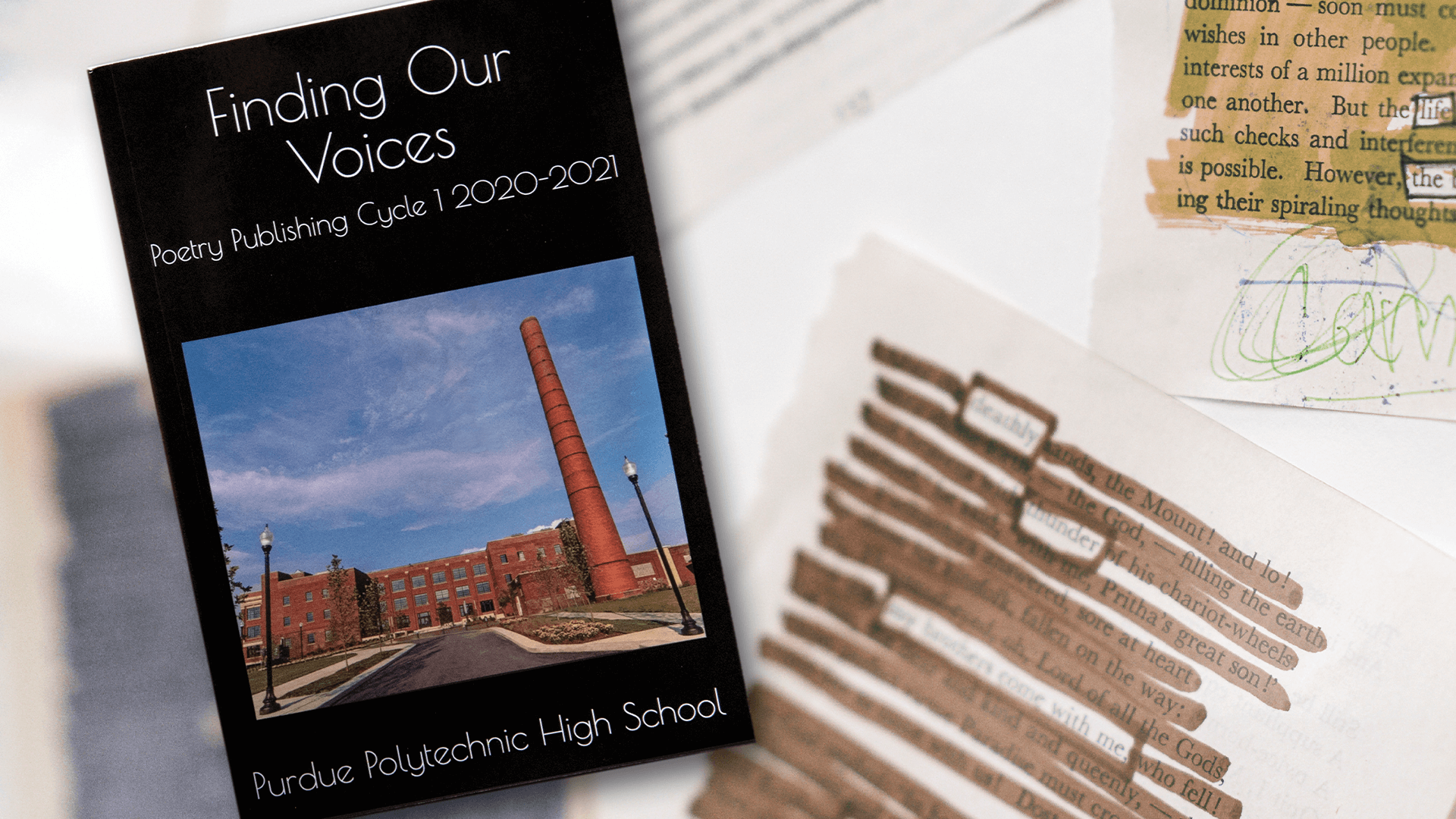 PPHS Schweitzer Center students write, publish their own poetry
When Becky Nowling was observing students at Purdue Polytechnic High School Schweitzer Center at Englewood (PPHS), she heard two of them carrying on a conversation that brought a smile to her face.
"You know, I'm a published author," exclaimed one of the students to another in a brief hallway exchange.
Nowling, a PPHS coach – what PPHS calls teachers – with an English emphasis, came up with the concept of writing and publishing a collection of poetry written by the students as one of the school's passion projects. Now her students have an idea on how the self-publishing world works.
Eighteen PPHS students at 3029 E. Washington St. in Indianapolis recently published through their new book, "Finding Our Voices: Poetry Publishing Cycle 1 2020-2021." The book includes 36 poems exploring their world by reflecting on cars, food, day in the life rituals, the COVID-19 pandemic and emotions.
The book can be purchased through Amazon.
Nowling consulted a friend who has self-published for guidance and then worked with the class on the six-week interest-based passion project.
It was a huge undertaking, but as she and the students say, "We did it!"
The result was a completed book and learning about different poets, but Nowling also saw growth, openness and persistence in the students and their work.
"This passion project provided them a safe space to share, grow and be respectful," she says. "We would be collaborating with others in the class. If they were stumped on lines or topics, we would all start working on the poem together."
The students didn't see any of this as homework. This gives them the freedom to express themselves. They want to have a connection to and in their poems.

Becky Nowling
Students worked through a variety of assignments, including learning about writers such as Gwendolyn Brooks and exploring the rhythms and styles of their work.
Each student wrote eight poems and a biography of themselves. They self-selected their submissions for the book. Six students participated in the project but opted not to publish their work.
"The students didn't see any of this as homework," Nowling says. "This gives them the freedom to express themselves. They want to have a connection to and in their poems."
She has repeated this session again with a new group of students. They are exploring new types of poems, such as free writing, prompts and writing from photos.
"The students keep coming up with more ideas for the next book," Nowling says.
Next step in the book series will be an anthology of poetry and visual and graphic arts done by the students during the 2021-22 school year.
The university created the Purdue Polytechnic High Schools (PPHS) to build new K-12 pathways that lead to Purdue, especially for Hoosier students who are underserved by traditional high schools and underrepresented in higher education.
Established in 2017, the growing, multi-school PPHS system immerses students and their families in an innovative learning community. PPHS offers tuition free, authentic, STEM-focused experiences that prepare high school students for a successful future. These experiences include internships, industry projects, dual-credit courses and technical certifications. PPHS also offers its students a unique path to college; graduates who achieve Purdue's admission requirements are assured admission to one of Purdue's over 200 majors.
For more information on student registration, donations or business partnerships, and media requests, contact PPHS Network Office at info@pphs.purdue.edu
RELATED STORIES