Back To Top
2021 Murphy Award: Shelley Claridge
It is safe to say that Shelley Claridge's students enjoy her teaching style. One calls her "an angel sent from heaven … to teach chemistry" and another says she is "the reason I love chemistry again."
An associate professor of chemistry and biomedical engineering, Claridge teaches around 600 students every year with a level of enthusiasm some of them say is unparalleled. Her enthusiasm and unflagging dedication to her students have recently won her a 2021 Murphy Award. The Murphy Award for Outstanding Undergraduate Teaching is presented to about five Purdue West Lafayette professors each year.
"I realized early on in my teaching career the importance of clarity in a classroom and of meeting people where they are," Claridge says. "It's an amazing joy to see somebody go from not understanding something to suddenly getting it."
Engaging, active demonstrations
Claridge began teaching at Purdue in 2013, excited to help ensure that students, particularly non-chemistry majors or first-generation college students, did not get discouraged by what is often seen as a complex, intimidating subject. Since then, she has taught general chemistry to more than 4,300 students, specializing in ways to make chemistry relatable. She has also developed lectures taught by the other faculty who teach general chemistry, reaching over 6,000 students a year.
As part of two National Science Foundation grants on which she was the principal investigator, she designed food chemistry demonstrations that have been integrated into classroom lectures and informal activities in Purdue dining courts. The secret to Claridge's inspirational teaching is a dedication to putting chemical concepts into terms that students understand, in relating chemistry to their experiences outside of their studies, and in engaging and active demonstrations.
"I try to relate chemistry to things the students see around them in their lives, so they can become interested," Claridge says. "A lot of the time, they come in not liking chemistry, or even actively hating it, and by the time the course is over, they're interested."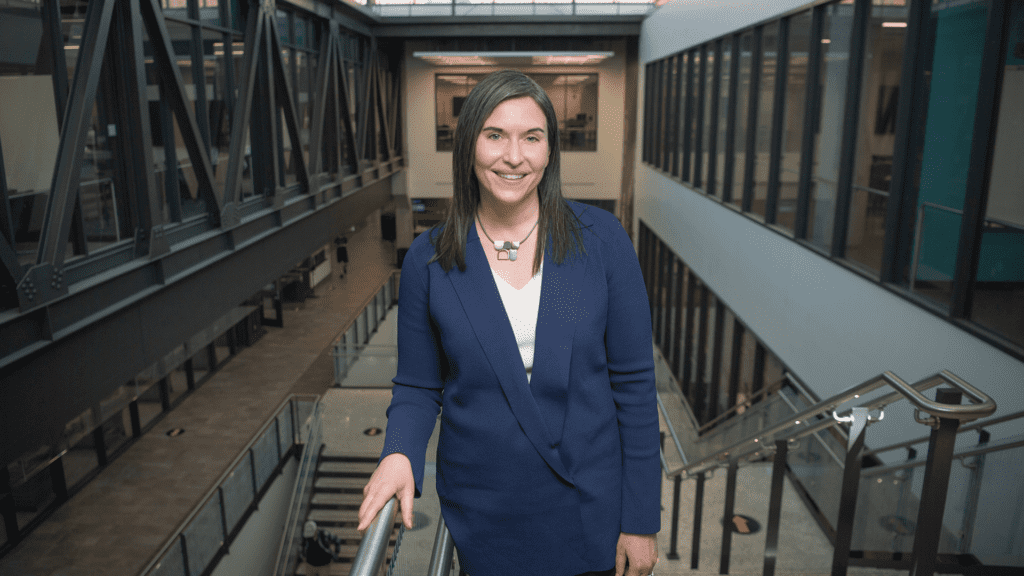 Claridge uses clear demonstrations and illustrations, as well as well-thought-out metaphors and analogies to teach chemistry. She compares structuring her twice-a-week lectures to constructing a haiku — every syllable must count.
"Professor Claridge is clear, fair, knowledgeable, engaging, and entertaining," one student says. "She clearly understands exactly where students are in their study of chemistry and shapes her class such that the material is presented in a digestible yet not condescending way, a balance I have a lot of respect for. Her lectures are entertaining and structured such that she is easy to pay attention to."
Starting with music
One of the most memorable and remarkable aspects of Claridge's lectures is that every lecture begins with music, whether it's John Denver's "Country Roads," a sea shanty called "Chicken on a Raft" or the Beatles' "I Want to Hold Your Hand."
"The songs started as a crowd control measure that I learned from (fellow chemistry professor and Murphy award winner) Marcy Towns," Claridge says. "It gets everyone's attention at the beginning of class. Over time, though, I started to make funny polls on why we were listening to each song. So right away, the students are part of an active discussion. Then it evolved even further, so that by now the chemistry examples throughout the lecture often tie back to the song."
Students have said this not only helps them enjoy the lecture, but also helps them retain the content they learned.
Teaching during the pandemic has been a challenge, but Claridge says she enjoys the way that the online lectures allow students to ask questions freely through electronic chat streams — perhaps more so than they would in a large lecture hall.
Asked about the Murphy Award, she expressed excitement at being part of the tradition of teaching excellence in the Department of Chemistry, joining the ranks of many others who have inspired the next generation of scientists and engineers.
RELATED STORIES