Back To Top
2021 Murphy Award: Karen Marais
Karen Marais is tireless when it comes to her students. From the first day of classes, Marais, a School of Aeronautics and Astronautics professor, is intent on making sure the students don't just learn, but interact with her as well.
For much of one spring semester, a student in her Introduction to Aerospace Design class sat quietly on his own despite Marais' best efforts to connect. It was only when the semester was soon to end that he finally came out of his shell and opened up to her during class.
It was a delight for Marais, who sees teaching as more about forming a connection with students rather than simply lecturing to them.
"Any kind of connection that I'm able to form is important where at the end of the day I can go home and say to myself, 'I helped this student, whether it's understanding an equation or helping in their academics or even being able to help them with something in life,'" Marais says. "Just that sense of connection and contributing and helping students really is what drives me each day."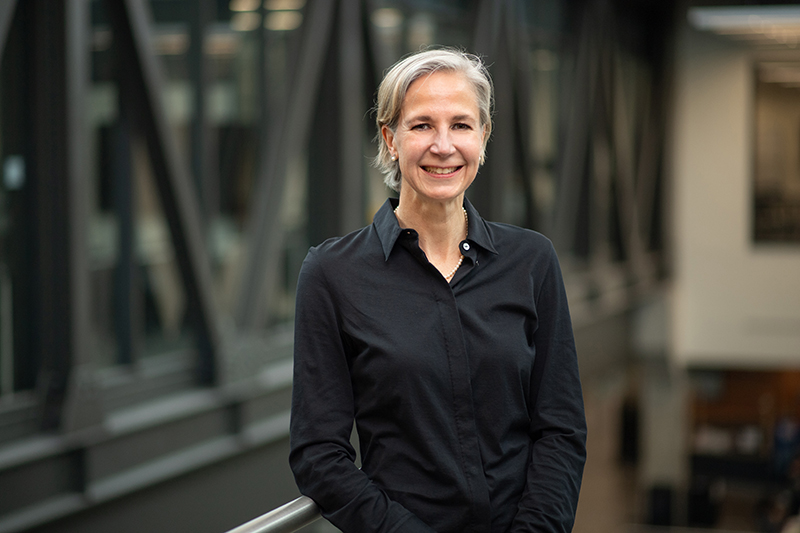 For Marais, that means taking the time to walk from student team to student team as they work on projects in Introduction to Aerospace Design, making the effort to talk one-on-one with students as much as possible. The conversation is rarely confined to class material, instead ranging from a student's T-shirt to her various airplane and rocket earrings to even how their other classes are going.
"I think for me, I want to get to know the students and know them as individual people as opposed to a grade on a grade sheet," Marais says. "That's really what I would like to do in my classes."
'Professor Marais really cares about her students'
Marais is among the 2021 recipients of the Murphy Award, the University's highest undergraduate teaching honor. The award is accompanied by a cash award and induction into Purdue's Teaching Academy, which provides leadership for the improvement of undergraduate, graduate and outreach teaching.
The classroom efforts by Marais were reflected by student comments in her nomination for the Murphy Award.
"Dr. Marais is incredibly helpful, and always teaches the material in a fun and interesting way," one of her students said. "I loved her in-person classes this semester, because she made a real effort to get to know each team and answer as many questions as possible."
"It is clear Professor Marais really cares about her students," another student said.
The student interaction Marais strives for results in more than just some in-class conversation. Her efforts are well-known and she admits to receiving emails quite often from students she's never had in class, saying their friend mentioned that Marais was good to go to for advice.
"It's beyond teaching, but I want students to know that a big part of my job is also helping them with whatever is needed to get them through their undergrad years and to a good career," she says. "Even if I don't see them in class, if they know they can come to me and get that help, then that's great."
I want students to know that a big part of my job is also helping them with whatever is needed to get them through their undergrad years and to a good career. Even if I don't see them in class, if they know they can come to me and get help, then that's great.

Karen marais
Adapting to the pandemic
The focus on her students continued through the stress of adapting to teaching during the COVID-19 pandemic. Marais says she worked throughout the summer to redesign the course, thinking about each element and how to develop a style that would benefit both online students and those attending class in person.
Her adaptation to the pandemic called for a step away from traditional exams, replacing the tests with individual self-assessments. The innovative set of open-ended questions asked for more than just answers, prompting students to research and apply the information.
"I decided to step back from some of the other more traditional methods and focus on something I hoped would make the students really think through the material they had learned in the preceding weeks and consider how to apply it," Marais says.
Making sure students – particularly those online – would stop and think about the materials was the basis for videos created for students. Rather than simply record lectures, Marais created videos on each topic covered in class.
In addition, the videos – with the help of a grad student – included quizzes that gave students questions to make them consider the information before continuing.
"It is a way for us to keep the students engaged," Marais says.
A native of South Africa, Marais did her graduate work at the Massachusetts Institute of Technology before returning to South Africa to teach in 2007. She came to Purdue two years later, saying she missed the unique drive and entrepreneurial mindset of students and colleagues in the U.S.
Marais teaches aerospace design, aerospace systems design and safety and reliability engineering. Her fundamental research focuses on guiding better engineering decisions in system design and operation through risk analysis and civil aviation policy. In addition to teaching, Marais also is associate head for undergraduate education for the School of Aeronautics and Astronautics.
As she continues her teaching career, Marais says she's come to appreciate the small moments that result from the time she puts in with students and the connections that are established.
"What stands out when looking back over the years is when I get an email from a student from years ago," Marais says. "They'll say I remember what you said to me or you really helped me with this problem.
"Those are the things that really resonate with me. It's very satisfying."