Back To Top
2021 Murphy Award: Natasha Duncan
Natasha Duncan values the role she plays in the holistic growth of students who enroll in the Honors College at Purdue University.
"A student is not just a student, but a complex person on a journey," Duncan says. "More than being proficient at a skill or mastering subject knowledge for a specific course, students should be able to transfer that knowledge and skill to other areas of their academic and personal lives.
"I view my role as a guide on the side. I guide students in developing the tools and self-efficacy to have autonomy in their learning and confidence to challenge themselves to expand their imagination of what they can do."
A clinical associate professor and associate dean for international education and affairs, Duncan recently was named a 2021 winner of the Murphy Award, Purdue's highest undergraduate teaching honor. The award recognizes up to five recipients each year as models in excellent undergraduate education.
High-impact learning practices
Duncan, who earned her master's degree and PhD from Purdue, joined the faculty in August 2016. Since then, she has designed 10 new courses for the Honors College and the College of Liberal Arts (where she held a joint appointment in 2016-18). Her research on international migration, borders and global economic relations has formed the cornerstone of her approach to educating students. In every course, she employs high-impact learning practices.
"By way of my pedagogical approach, I challenge students to think critically, develop attitudes of open-mindedness toward difference and actively apply the knowledge and skills that they acquired from each course," Duncan says. "It is important that my students take away skills and knowledge that can be applied beyond the course, both vertically or horizontally across their academic progression and in their lives beyond Purdue."
Duncan also leads the Honors College efforts in off-campus study, and she has transformed those offerings, making them more diverse and accessible. As a result, the number of programs, destinations and student participation have expanded significantly. Duncan has taken students to Guyana, Colombia, India and the United States-Mexico border. The latter trip, in 2017, was part of her Crossing Borders course, which focused on immigration to the U.S. and the impact of immigration policies on immigrants' experiences upon arrival.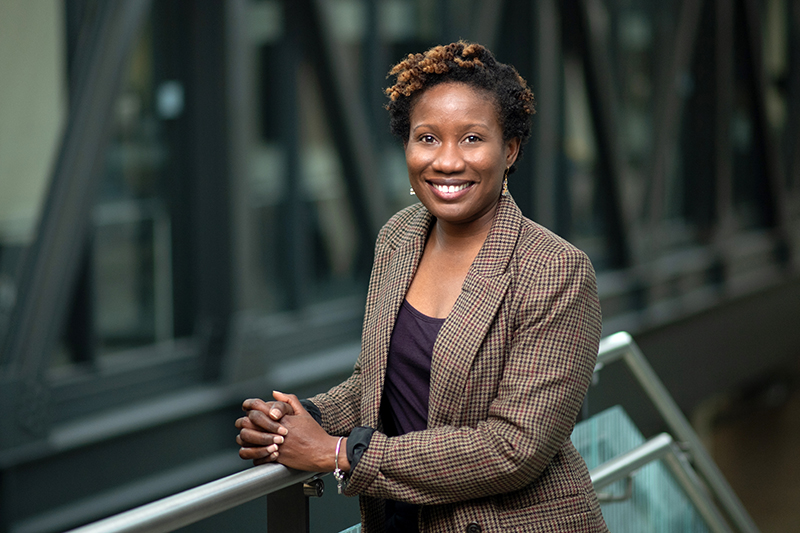 "Through this immersive experience, students critically examined the human and ethical component of a national debate that is typically framed as law and order," Duncan says. "Students had the opportunity to apply abstract theories from the classroom to concrete experiences. Through their participation in this experience, students were stretched intellectually, ethically and politically."
The impact of that trip has been long-lasting: Four students founded the student organization Purdue Immigrant Allies (PIA) to draw awareness to the issues they studied in the course and faced firsthand at the border. PIA advocates for immigrant students, faculty and staff on campus and remains active today.
Creating Global House
In response to constraints presented by the pandemic and the challenges of returning to campus for some students over the last year, Duncan worked with colleagues and student peer mentors to launch and facilitate Global House, a transnational learning community composed of 191 online learners across the country and around the world.
"Global House provided a community for students where they could engage in a range of virtual extracurricular activities, including a peer mentor program, academic success workshops, social hours, conversation hours, cultural exchanges and workshops aimed at creating a sense of belonging to the Honors College and Purdue," Duncan says. "It enabled us to overcome some constraints presented by remote work."
Duncan is humbled by the Murphy Award and appreciates its impact. She is the first Black woman to receive the honor and the third Black professor.
"Those facts carry much significance for me," she says. "It shows our students that teaching excellence can look like me. It represents affirmation from my students that I was able to help them come to know their potential and grow holistically. It is a reflection of the impact my mentors had on my journey and the mentoring that I replicate with my students. I am honored that my colleagues recognized my several years of work, in and outside the classroom."