Back To Top
2021 Murphy Award: Esteban García Bravo
Growing up in Colombia, Esteban García Bravo learned early of a world of inequality. He vowed to pursue a career to help break down social barriers and subscribed to a philosophy that teaching is an act of love and generosity.
These days, García lives and models that daily in classrooms for the more than 100 students each semester in his computer graphics technology classes. The approach is having a significant impact: García, an associate professor of computer graphics technology, was one of the five 2021 Charles B. Murphy Award winners for Outstanding Undergraduate Teaching.
The year 2020 and early 2021 have been anything but normal ­– for a professor, at a Big Ten university, in a discipline so reliant on in-person interaction and feedback. Not to mention the impact of this time on his digital-native students.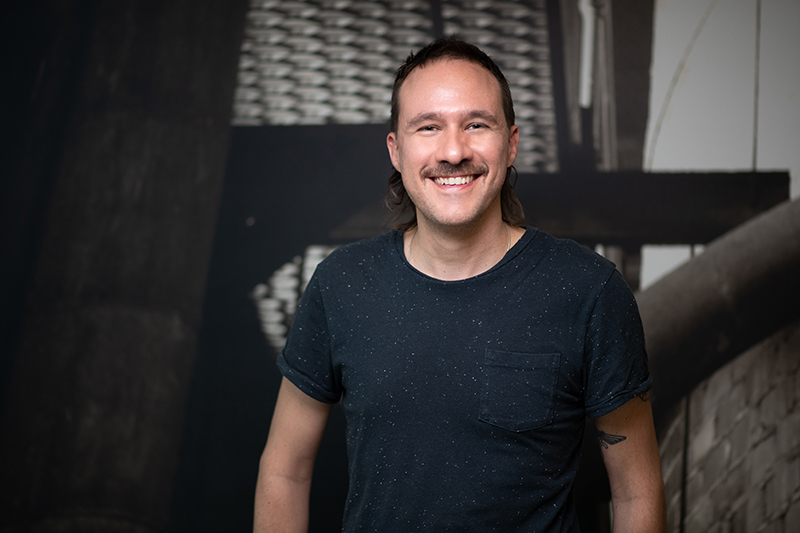 "Teaching during the COVID-19 pandemic has been very challenging, since I am not able to spend as much time in the classroom to interact physically," García says. "But these last two semesters have shown me that physical presence is not necessary. What is necessary is that I am truly mentally present when I communicate with students."
Earning an MFA in 2008 and his doctorate in technology in 2013, both from Purdue, García explores computational arts as an educator, researcher, practitioner and artist. His research has been featured in the annual meetings of international organizations, his artwork displayed globally in media art festivals, exhibitions and artist-in-residence programs.
Pandemic pivot to teach, learn
When the pandemic hit in spring 2020, García pursued other ways to connect with students in Fundamentals of Imaging Technology and Digital Illustration. He expanded use of digital apps such as Discord or Miro – and "wherever students live digitally," he says.
Few could have seen the extent of the changes for learning and instruction that the pandemic would trigger. García, however, knows that university professors and researchers must pivot, adapt, course-correct – you name it – for the dynamics of CGT in an online-heavy environment. Moreover, he was prepared because he had been offering online classes since 2014.
"One thing that helped me feel more connected with students is giving them more quality, individualized feedback and providing many ways of accessing me or the content synchronously and asynchronously. You have to be able to talk and collaborate with them in a new way," he says.
As a Purdue Polytechnic Pioneer Faculty Fellow in 2014, García and his colleagues were tasked with researching and implementing innovative teaching practices in higher education, especially those that aligned with student needs and equipped them for the future digital economies.
"From this first 'student-centered learning experience,' I adopted a dialogical pedagogy, which in simple terms means talking more with students and genuinely caring about them," he says. "Today, technical knowledge is free everywhere, and I cannot pretend to be an expert on everything. Instead, I choose to be a guide for someone's learning processes."
Service as student mentor
From there, García introduced a mentorship-based studio model for Purdue Polytechnic, resulting in a horizontally integrated course for all computer graphics freshmen. The goal: To implement an "empathetic, individualized education model while also serving the exponential student enrollment for Purdue Polytechnic," he says.
For Fundamentals of Digital Imaging, García facilitates feedback through small-group activities so students can interact manually or digitally to evaluate their peer's works in progress. He has created focused, innovative videos for its "flipped classroom" model or the fully online portion. His hybrid approach was featured in "The Flipped College Classroom," part of the Springer series of college textbooks.
"Dr. García's teaching approach is holistic, personal and inspiring," says senior Gabe Porter, a visual effects and compositing major from Union City, Indiana, who has taken three of his classes. "His passion and investment in each student's work are evident both in and out of the classroom. He has time and time again encouraged me to chase after my highest ambitions and to unabashedly be my most authentic self."
Dr. Garcia's teaching approach is holistic, personal, and inspiring. His passion and investment in each student's work are evident both in and out of the classroom.

Gabe porter
senior, visual efforts and compositing
Despite the pandemic, García continued – albeit virtually – his Cultural Immersions (CGT 218) class. Its main feature, Open Estudio, is part of an academic and intercultural research partnership program with Isabel Restrepo, an associate professor at Universidad de Antioquia in Colombia. In the class, seven students from Colombia are on campus this semester, working in-person with U.S. students and virtually with those who remained in the South American country.
"It's been challenging but worthwhile," García says. "We hope this can continue as an immersive experience post-pandemic, even for students who can't afford to travel for financial or other reasons."
Paying it forward, García points to the encouragement from his parents during his upbringing and over the years and how they modeled the Golden Rule, particularly his father, Sergio García, who is an eye doctor and professor in his home country.
"They were a big inspiration, showing me the importance in treating everyone equally," he says. "I believe that everyone and everything in this planet-world-reality needs to be treated with love and kindness. In my opinion, it is the most effective way of communication. And it feels good."
RELATED STORIES