Back To Top
2021 Exceptional Early Career Teaching Award: Ann Loomis
When Ann Loomis came to campus on March 16 for a meeting with Purdue School of Nursing and IU School of Medicine faculty and staff members, everything seemed as expected.
That is until the group went to check out a lab in Johnson Hall of Nursing, where nursing students started clapping and expressing congratulations to her, followed by a lively celebration in the front of Johnson Hall.
That's when Loomis was told she is a recipient this year of the Exceptional Early Career Teaching Award.
"It's all unbelievable," Loomis says. "They pulled a good one on me. It was a 'wow' moment."
Loomis was honored for her contributions to improving student outcomes, mentoring, using technology in student clinical experiences and bringing new teaching methods to the School of Nursing.
While teaching 165 students each in the Introduction to Nursing freshman course and Essentials of Nursing Practice direct-patient care nursing for sophomores, Loomis includes active and experiential learning throughout the classes. One student evaluation noted, "Dr. Loomis brings real-life patient care experiences into the classroom connecting theory to practice. Her enthusiasm and passion for the nursing profession and love of teaching are evident."
'The best part of the day'
Loomis believes in being student-centered and feeds off the students' energy.
"They are the best part of the day," she says. "They are what make or break this job for me. It's getting to know them and see that growth and change. That's the passion that drives me."
The accolades continue from students: "Dr. Loomis is so positive and when she teaches, we seem to understand and remember the information quite well. Her teaching style and positive attitude inspire us to succeed in school."
Loomis is trained in Debriefing for Meaningful Learning (DML), a method of debriefing that is being used in simulation environments and clinical settings to review patient care and cultivate reflective thinking among faculty and students. DML can be used by clinical teachers and health care providers to foster clinical reasoning skills among prelicensure students to improve delivery of care and enhance personal growth.
Loomis uses augmented reality in a collaborative effort between Nursing, the Envision Center and the College of Engineering to enhance training by addressing known gaps in translating skills learned in the classroom into live patient care settings. Developers are able to project lifelike simulations on the mannequins so students can learn and respond in real time in treating patient cases. This interactive technology enhances student learning experiences, where nursing students can visually assess, analyze, and treat subtle patient changes thereby improving future patient care outcomes.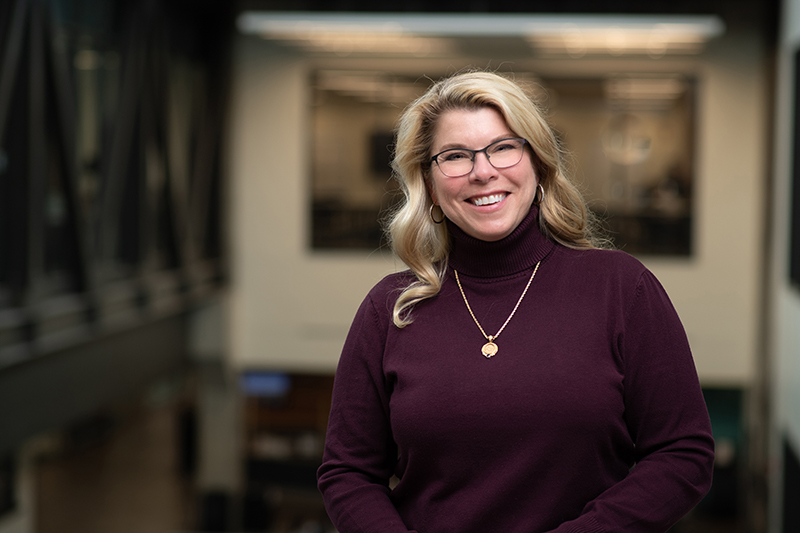 Loomis came to Purdue as a clinical assistant professor in 2018, but she has deep Purdue ties. She graduated from Purdue with a Bachelor of Science of Nursing degree in 1989. Her father graduated from Purdue in the 1940s and was a founder of the John Purdue Club. All four of her siblings also made the trek from Evansville to Purdue for their degrees. Her daughter graduated from Purdue. And now her youngest son is a Boilermaker.
"The tradition continues," Loomis says.
Nontraditional path
Her path to award-winning nursing instructor is nontraditional, much like some of her work and research.
Following graduation, Loomis returned to Evansville and worked as a staff nurse at a local hospital. There she discovered teaching and helping the nursing students who were doing their clinicals.
She made the leap into the academic side of nursing at the University of Evansville and then pursued her doctorate in nursing education. Several conversations with Jane Kirkpatrick, former head of Purdue's School of Nursing, who also served as her pediatric nursing instructor during her student days, helped her make the move to Purdue.
She is glad she returned to teach and continue her research, which is changing the face of nursing education in the school.
"It was an immediate fit. There was so much respect here," Loomis says. "I love the absolute energy the campus brings. There is a wealth of resources. Everyone's willing to help and gives a lending hand."
Her first clinical group of students is preparing for graduation. She praises them for their persistence, collaboration and determination to be great nursing students and mentors – especially in the midst of the COVID-19 pandemic.
"Those seniors are true leaders," she says.
And her students thank her for being there for them. Loomis was asked to be the speaker at the May 10 nursing pinning ceremony.
"I've been trying to write the speech," she says. "I'm so proud of them. You put such heart and soul into the students, and you know they are going to be amazing. And when you see them be amazing – you never get over that feeling of awe."