Back To Top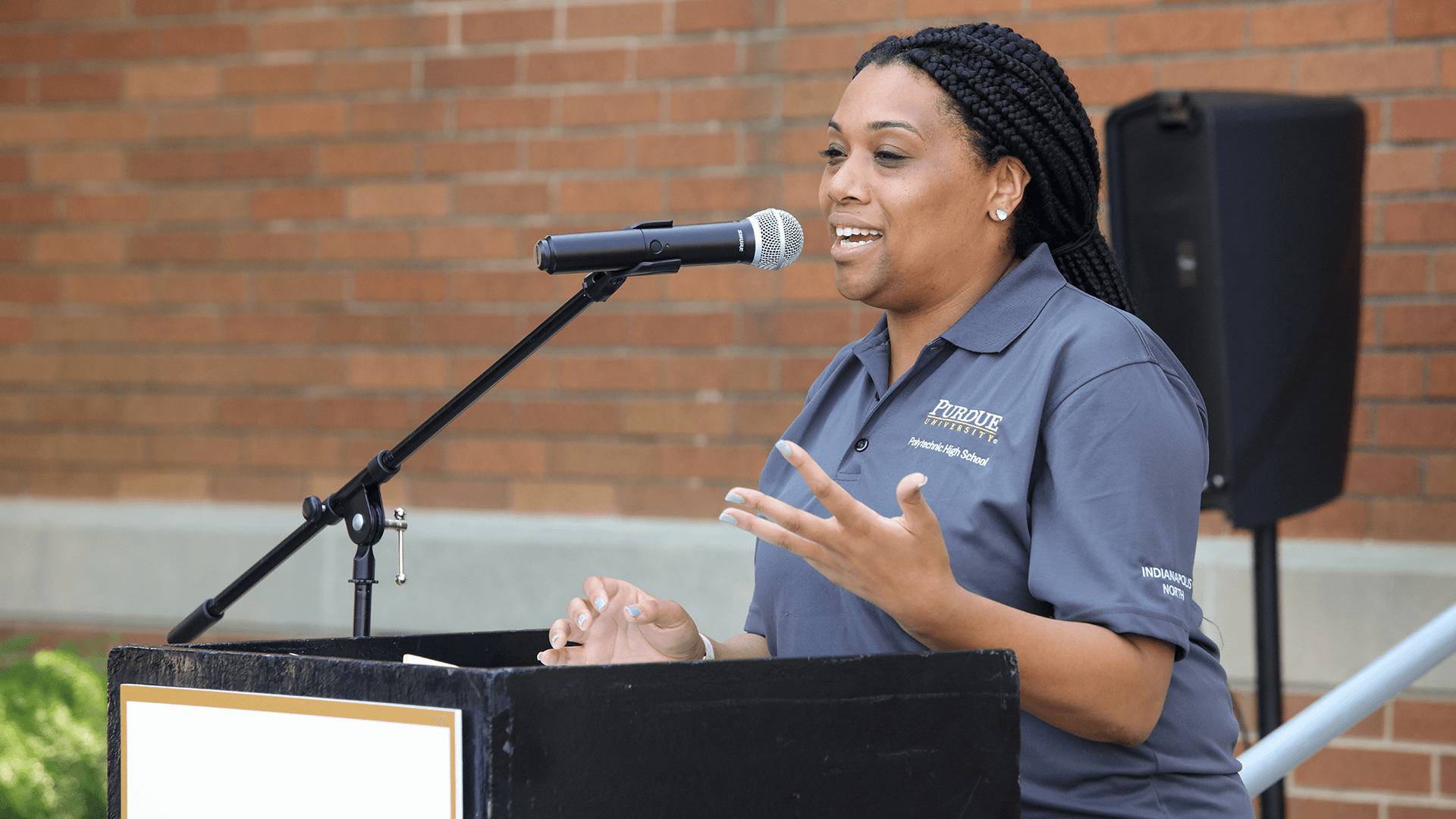 Purdue Polytechnic High Schools' Keeanna Warren inspires students, gives back to community
Keeanna Warren will always think of the building at 1405 Broad Ripple Ave. in Indianapolis as a tech startup.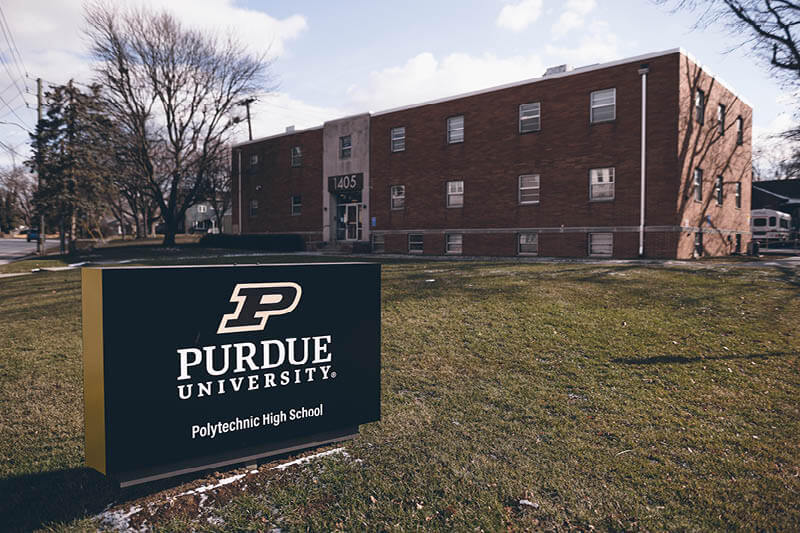 Purdue Polytechnic High School North, 1405 Broad Ripple Ave. in Indianapolis. The STEM-focused high school has more than 150 students who are innovating and collaborating in new ways during their high school experience. (Purdue University photo/Charles Jischke)
That building was the first home of Purdue Polytechnic High School North, where more than 150 high school students and around 30 staff and coaches were converting their small steps into giant leaps through their daily studies and work. Now, thanks to a partnership with Indianapolis Public Schools, PPHS North will be relocating to the former Broad Ripple High School facility.
Warren, who was the founding principal at the PPHS site in Broad Ripple, is now the network's associate executive director. She is a member of the leadership team that oversees daily operations of three Purdue University charters that serve as an engine of upward mobility by building a pipeline of low-income and minority students to counteract the unacceptably small number emerging from the public education system, not just in Indiana, but nationwide.
The schools provide students authentic, STEM-focused experiences that will prepare them for a successful future. These experiences include internships, industry projects, dual credit courses and technical certifications. PPHS also offers students a unique path to college; graduates who achieve Purdue's admission requirements can be admitted to many of the University's programs.
The other two polytechnic charters are PPHS Schweitzer Center at Englewood on Indianapolis' east side and a South Bend location, started in fall 2020.
Warren doesn't view herself solely as an associate executive director. She sees herself as an education change agent — giving access to students who need a chance, serving as a positive and inspirational role model, and collaborating with families, PPHS leadership and coaches, and the community to improve Indiana's STEM (science, technology, engineering and math) pipeline for the 21st century.
Opening the doors
Warren is originally from Atlanta. She has called the Indianapolis area home for more than 20 years and has been an educator since graduating with her bachelor's degree from Purdue in 2010. She received her master's degree in teaching from Marian University in Indianapolis and has remained in the Indianapolis community. She taught at the Andrew J. Brown Academy, Washington Township's Nora Elementary School, and the Excel Center in the Meadows neighborhood.
When the opportunity to start a school from the ground up was offered, she jumped at the chance, especially as she believes in the mission of PPHS.
Warren started in 2017 as a Mind Trust Innovative School Fellow at PPHS, with the goal of learning the ins and outs of school system before launching the North campus.
"We want our students to be prepared with a 21st century skill set so they are able to compete globally. We want them to be really excited and to help grow Indiana's economy. Purdue is a land-grant university, so we feel this level of responsibility to our state," Warren says. "Education, as it is now, was created to help students prepare for the Industrial Revolution. We are in a new era, and we need schools to match that."
Students work on projects that are designed by staff with help from industry partnerships. The projects reflect real-world challenges that Indiana companies face in the areas of health care, energy, transportation and philanthropy.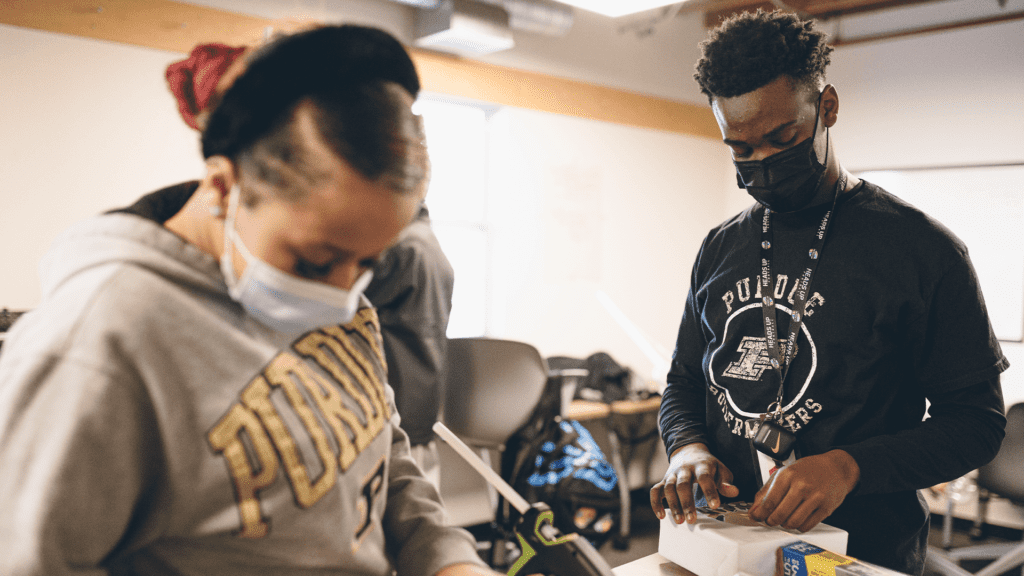 "We want our students to survive and innovate," she says. "We don't know what jobs will look like in the future. But we do know that students will need to collaborate, communicate and innovate in order to be successful in whatever the future of work looks like."
Relationships and culture
"PPHS is diverse by design. We purposely wanted to bring a diverse group together so students can learn from one another." Warren says. "It's been a really beautiful thing to see friendships grow across different groups."
Even as associate executive director, Warren builds relationships with her students and their families, spending time developing and strengthening those bonds – especially as a core component of the school's culture.
"My days involve engaging with students, staff, families, and community and national partners," Warren says. "The great part about my role is that no single day looks the same. I get the opportunity to live out our values and communicate, collaborate and innovate daily. I appreciate the opportunity to collaborate and connect with so many people."
Some new opportunities have grown with the new role, including working more with Purdue University staff, especially as PPHS just graduated students from all three locations in Indianapolis and South Bend, with 34 students enrolled at Purdue's West Lafayette campus. Another part of her role is ensuring PPHS students have access to mentors, internships and other experiences that will lead to postsecondary success.
"My goal and dream are to eliminate the opportunity gap. I want to create a school and organizational culture that allows everyone to feel a strong sense of belonging," Warren says. "When people often reimagine schools, they forget to reimagine the experience for the adults taking care of the kids. Education work is complex, and my goal is to remove as many barriers as possible for the team so they can continue to provide the best for our students. I want PPHS to be a place of laughter and joy, where everyone feels safe and affirmed."
The great part about my role is that no single day looks the same. I get the opportunity to live out our values and communicate, collaborate and innovate daily.

Keeanna Warren
PPHS associate executive director
Honors, collaboration and global citizens
Warren was a recipient of the Outstanding Educator in STEM award during the 2020 Women & Hi Tech Leading Light Awards and Scholarship Gala.
"One reason I'm passionate about Women & Hi Tech is that they are working to address the wage and gender gap in STEM fields. If our team can inspire more women to pursue leadership in STEM careers, we are doing exactly what we want to do," she says.
Students still complete coursework and credits required by the Indiana Department of Education such as English, foreign language, arts and social studies. High school athletics and extracurricular clubs such as robotics, choir and art provide additional growth opportunities.
"We're creating well-rounded global citizens who will be civically engaged. Even as we teach students history and humanities, we just aren't teaching them to memorize dates. We're teaching them to understand movements and how history has played a role in their futures," Warren says. "To collaborate well, you have to communicate well in written form and verbally. There's a lot of collaboration that happens organically and purposefully."
Warren has participated in PPHS' two graduation ceremonies. But an upcoming date on her calendar marks another, long-awaited milestone.
"I am excited for the day that I get to watch our first PPHS alum graduate from Purdue University," she says.
I am excited for the day that I get to watch our first PPHS alum graduate from Purdue University.

Keeanna Warren
PPHS associate executive director
For more information on student registration, donations or business partnerships, and for media requests, contact PPHS Network Office at info@pphs.purdue.edu.
RELATED STORIES