Back To Top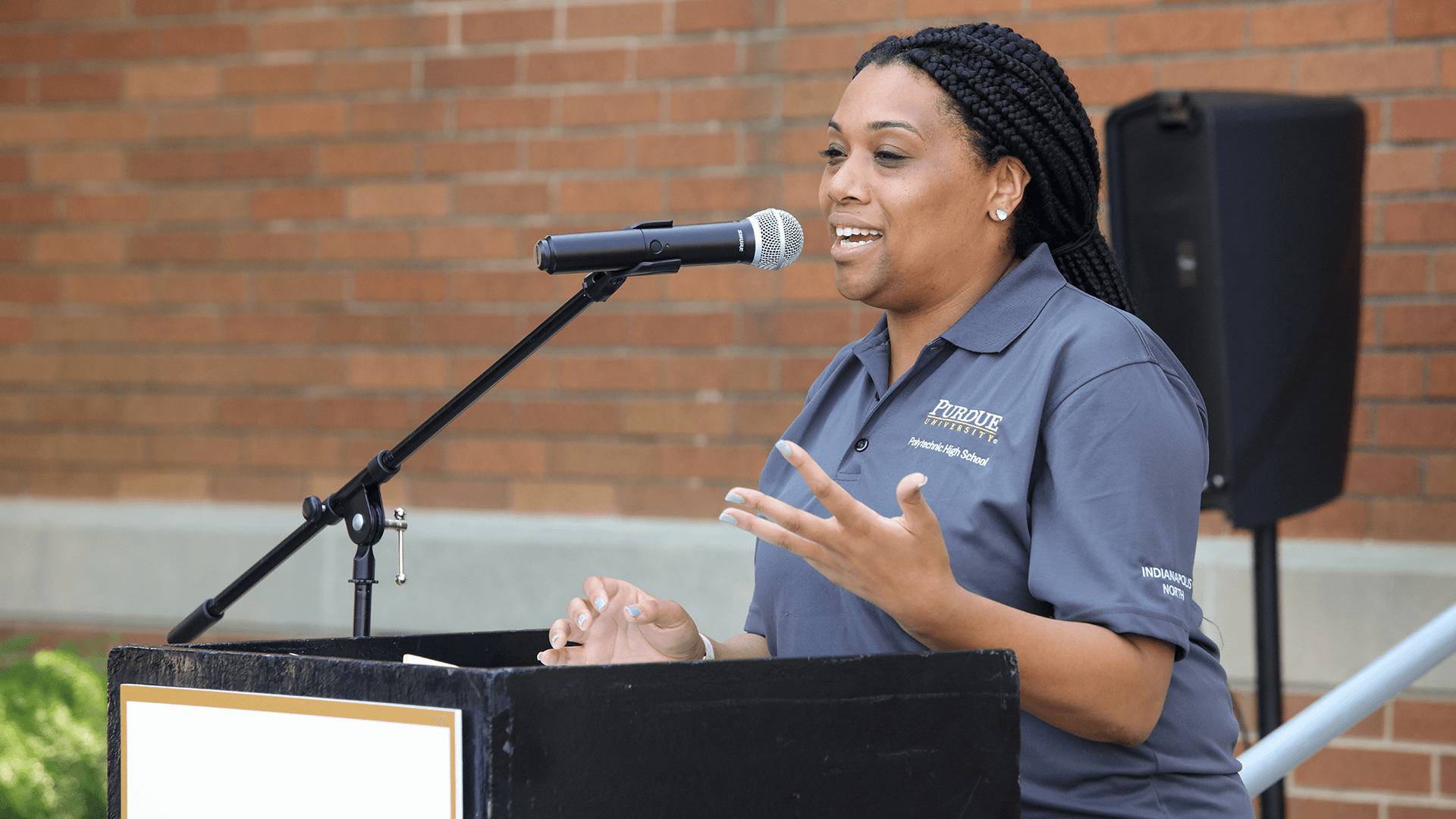 Purdue Polytechnic HS North's founding principal works to inspire students, give back to community
Update: Keeanna Warren was named the new assistant executive director of the Purdue Polytechnic High School Network, effective Aug. 10, 2021.
---
To Keeanna Warren, the building at 1405 Broad Ripple Ave. in Indianapolis looks like a tech startup.
It's really the home of Purdue Polytechnic High School North. And inside, one will find 140 high school students and 16 staff and coaches who are converting their small steps into giant leaps through their daily studies and work.
Warren is founding principal at the PPHS site in Broad Ripple. Called Purdue Polytechnic High School North, it is one of three Purdue University charters that serve as an engine of upward mobility by building a pipeline of low-income and minority students to counteract the unacceptably small number emerging from the public education system, not just in Indiana, but nationwide.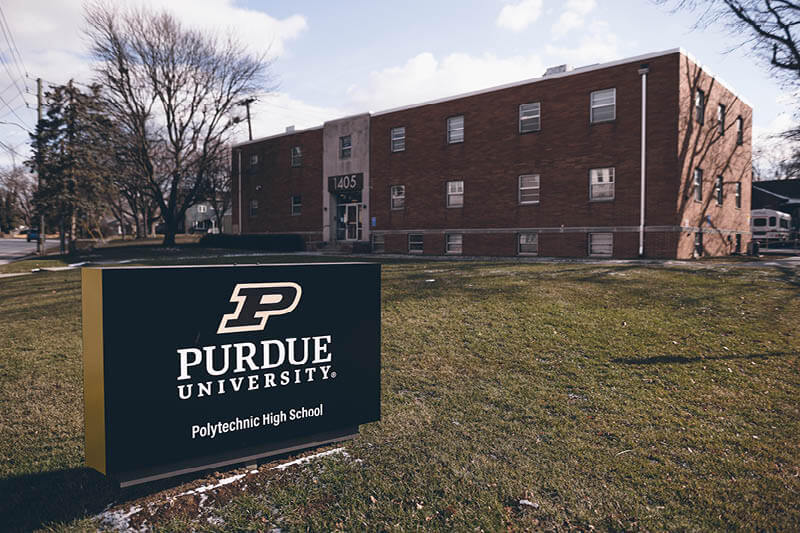 The schools provide students authentic, STEM-focused experiences that will prepare them for a successful future. These experiences include internships, industry projects, dual credit courses and technical certifications. PPHS also offers students a unique path to college; graduates who achieve minimum requirements for admission to Purdue can be admitted directly into one of the university's 10 academic colleges.
The other two polytechnic charters are PPHS Schweitzer Center at Englewood on the east side of Indianapolis, and a South Bend location, started in fall 2020.
Warren doesn't view herself as a traditional principal. She sees herself as an education change agent — giving access to students who need a chance, serving as a positive and inspirational role model, and collaborating with families and the community to improve Indiana's STEM (science, technology, engineering and math) pipeline for the 21st century.
Opening the doors
Warren is originally from Atlanta. She has called the Indianapolis area home for 22 years and has been an educator since graduating with her bachelor's degree from Purdue in 2010. She received her master's degree in teaching from Marian University in Indianapolis and has remained in the Indianapolis community. She taught at the Andrew J. Brown Academy, Washington Township's Nora Elementary School, and at the Excel Center in the Meadows neighborhood.
When the opportunity to start a school from the ground up was offered, she jumped at the chance, especially as she believes in the mission of PPHS.
Warren started in 2017 as a Mind Trust Innovative School Fellow at PPHS with the goal of learning the ins and outs of school system before launching the North campus in 2019.
"We want our students to be prepared with a 21st century skill set so they are able to compete globally. We want them to be really excited and to help grow Indiana's economy. Purdue is a land-grant university, so we feel this level of responsibility to our state," Warren says. "Education, as it is now, was created to help students prepare for the Industrial Revolution. We are in a new era, and we need schools to match that."
Students work on projects that are designed by staff with help from industry partnerships. The projects reflect real-world challenges that Indiana companies face in the areas of health care, energy, transportation and philanthropy.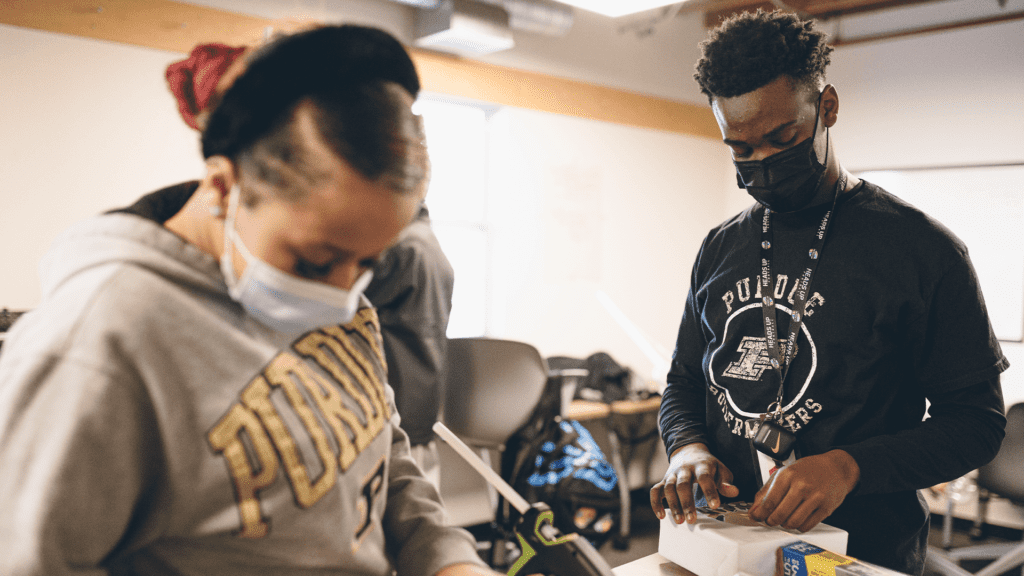 "We want our students to survive and innovate," she says. "We don't know what jobs will look like in the future. But we do know that students will need to collaborate, communicate and innovate in order to be successful in whatever the future of work looks like."
Relationships and culture
The 140 students in grades 9-11 at the North campus come from across Marion and Hamilton counties. Fifty percent are white, and 50% are students of color, including Black, Hispanic and Asian. Seventy percent of the student population is male. But those numbers are changing each year as school leaders expand outreach, especially to female students.
"We are diverse by design. We purposely wanted to bring a diverse group together so students can learn from one another." Warren says. "It's been a really beautiful thing to see friendships grow across different subgroups."
Warren values relationships with her students and their families, spending time building and strengthening those bonds – especially as a core component of the school's culture.
"There are some students who come to my office to share, 'I passed this class!' We've had a lot of moments where girls share that they have not been given the opportunity to lead in an authentic way, and they get those opportunities," she says.
"Many students have never thought of themselves as supervisors, managers or CEOs, and now they have this entrepreneurial spirit that came from the space and encouragement to flex their leadership wings. We have created a safe environment for students."
The outreach extends beyond the school walls. PPHS provides school lunch and breakfast. But it also provides fresh groceries for families in need. PPHS also has a counselor who focuses on students' social and emotional learning issues. By addressing those issues, it helps everyone be successful.
"We are still walking alongside some parents and families who are struggling with issues," Warren said.
Honors, collaboration and global citizens
Warren was honored in October as a recipient of the Outstanding Educator in STEM award during the 2020 Women & Hi Tech Leading Light Awards and Scholarship Gala. Also nominated for the award were PPHS North coaches Liz Irk and Ronni Moore.
"One reason I'm passionate about Women & Hi Tech is that they are working to address the wage and gender gap in STEM fields. If our team can inspire more women to pursue leadership in STEM careers, we are doing exactly what we want to do," she says.
Students still complete coursework and credits required by the Indiana Department of Education such as English, foreign language, arts and social studies. High school athletics and extracurricular clubs such as robotics, choir and art provide additional growth opportunities.
"We're creating well-rounded global citizens who will be civically engaged. Even as we teach students history and humanities, we just aren't teaching them to memorize dates. We're teaching them to understand movements and how history has played a role in their futures," Warren says. "To collaborate well, you have to communicate well in written form and verbally. There's a lot of collaboration that happens organically and purposefully."
By Matthew Oates
For more information on student registration, donations or business partnerships, and media requests, contact PPHS Network Office at info@pphs.purdue.edu
RELATED STORIES