Back To Top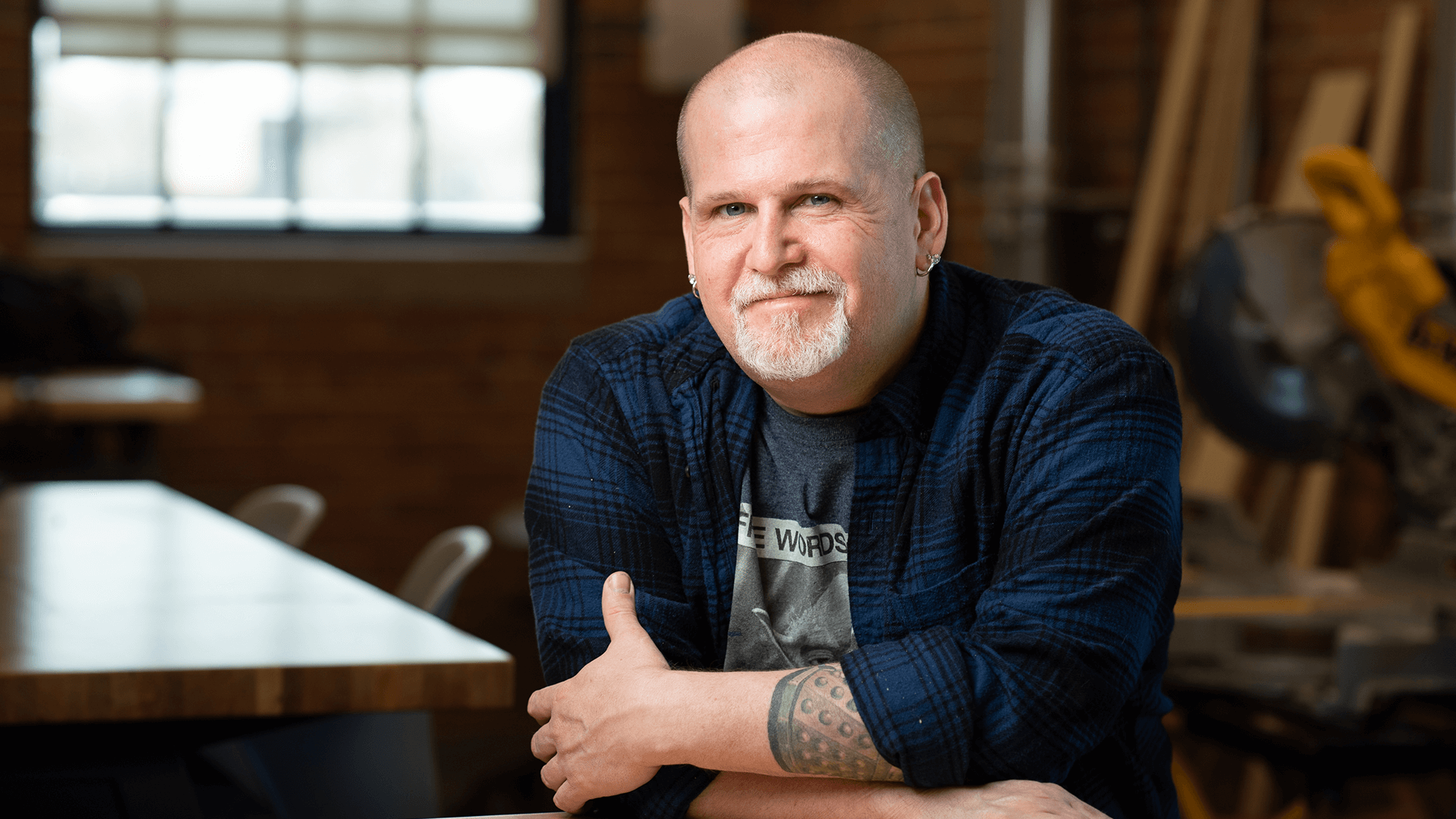 Gregg Nowling is a maker. His favorite things to make are movie props and replicas, and he's in the business of helping people capture – and literally hold – movie magic in real life.
He is also a coach (the school's term for teacher) at Purdue Polytechnic High School. When he's not building drivable likenesses of famous cars from 1970s films or life-sized R2D2 replicas inside of his 720-square-foot makerspace, Nowling is making something else: a difference in the lives of his students.
An unconventional start
Nowadays, Nowling enjoys his work as a coach and feels empowered to shape his curriculum in a way that inspires his students to pursue their passions. But his career didn't start out that way.
"Knowing that I can make real change and knowing that my input is valued is a mentality shift," he says, referencing his previous experience working at a traditional high school.
PPHS relies on its coaches to help achieve the school's mission – to serve as an engine of upward mobility for low-income and minority students in the state of Indiana.
Nowling grew up in Indianapolis and struggled in high school, a story similar to that of some students at PPHS. After earning a bachelor's degree in general studies and master's in library and information science at Indiana University-Purdue University Indianapolis, he was hired as a media specialist and librarian in the Indianapolis Public Schools. He once ran into a former high school teacher who was surprised to hear he actually graduated from high school instead of getting his GED.
Though Nowling was not a stellar student, he was already an enthusiastic learner. He found his groove as he explored electives, trying three different language classes (Russian, Latin and Japanese) and eventually stumbling upon a jewelry and metals art class. He loved it and signed up three or four times.
"Jewelry and metals class made me a maker," he says. "It was that class that put me on the path to where I am as a teacher today."
Today, Nowling is a dedicated coach who leads by example, through both his character and a commitment to his own projects. He teaches PPHS classes in laser craft, pop culture through the decades and urban design. His own side projects and client builds energize his students just as much as the in-class projects.
Making movie magic real
If someone wants to own their own version of an iconic piece of pop culture, Nowling's the guy to call.
"Last week, I finished a replica of Spock's harp from the original series of 'Star Trek,'" Nowling says. "This was a pretty big deal. The collector was paying me very well, and he had very specific wants and needs."
Nowling says it can be nerve-wracking to send clients the final products because he wants the pieces to be exactly how they imagined them. But when Nowling's client received the harp, the client was "tickled pink." Nowling was able to provide the "Star Trek" fan with something he had wished for his entire life.
"It's not just about owning Spock's harp. It's about 300 different things," Nowling says. "It could be about his relationship with his dad – maybe they both loved the show. Getting to hold that prop creates a tangible connection to something deeper."
Nowling's props and the stories they represent matter to people. "It may sound silly to say that 'Star Trek' or 'Corvette Summer' or 'Indiana Jones' matters, but it's no different than that song that reminds you of your first love or that smell that reminds you of your grandmother," he says. "These are the indelible memories that get seared into our brains. It's cool to be in a business that allows people to connect with those memories."
Though most of his side projects are replicas, Nowling also has spent time in shops and on the sets of TV shows and movies creating original pieces. He enjoys the challenge and the collaboration of that process.
But when asked if he would ever quit his full-time job to pursue prop building on movie and TV sets full time, his answer was clear. "I love teaching. I love getting to do something different every day. I love getting to work with young people, and I love my coworkers," Nowling says. "If I was making nothing but breakable prop bottles all day long, I would go crazy."
Passion finding takes time
Nowling knows from experience that it takes a few tries for students to discover what they love to do. That is one of the many reasons he takes great pleasure in teaching at PPHS.
"Traditional high schools cut those random elective classes," he says. "It's a systemic problem in education. Our school flourishes in those random electives. Kids can get their feet wet and figure out what they want to do. We don't expect them to know right away."
The PPHS model of student-guided, hands-on learning is better for the students and the coaches alike, Nowling believes. Both parties are awarded greater autonomy and control in exchange for their innovation and commitment to growth, which is a desirable trade in his mind.
"The work is hard because it's different," he says. "There are not a hundred years' worth of road maps and lesson plans. What we do at PPHS hasn't been done before."
To students who haven't yet found what makes them tick, Nowling advises: "Keep trying. Keep exploring. I didn't know making things was my thing until I took that random art class."
End results, new beginnings
Purdue Polytechnic High School celebrated its first graduating class on June 11. Forty PPHS seniors accepted their offers of admission to Purdue University and will be enrolling this fall, a sign that the PPHS methods are achieving one part of its mission: to serve as a pipeline to Purdue.
When asked what he would say to a teacher considering PPHS as their next workplace, Nowling said, "I would tell them, 'This is your last workplace.'"
Why? "It's just good work. In the pit of your heart and soul, it's good, rewarding work."
RELATED STORIES