Back To Top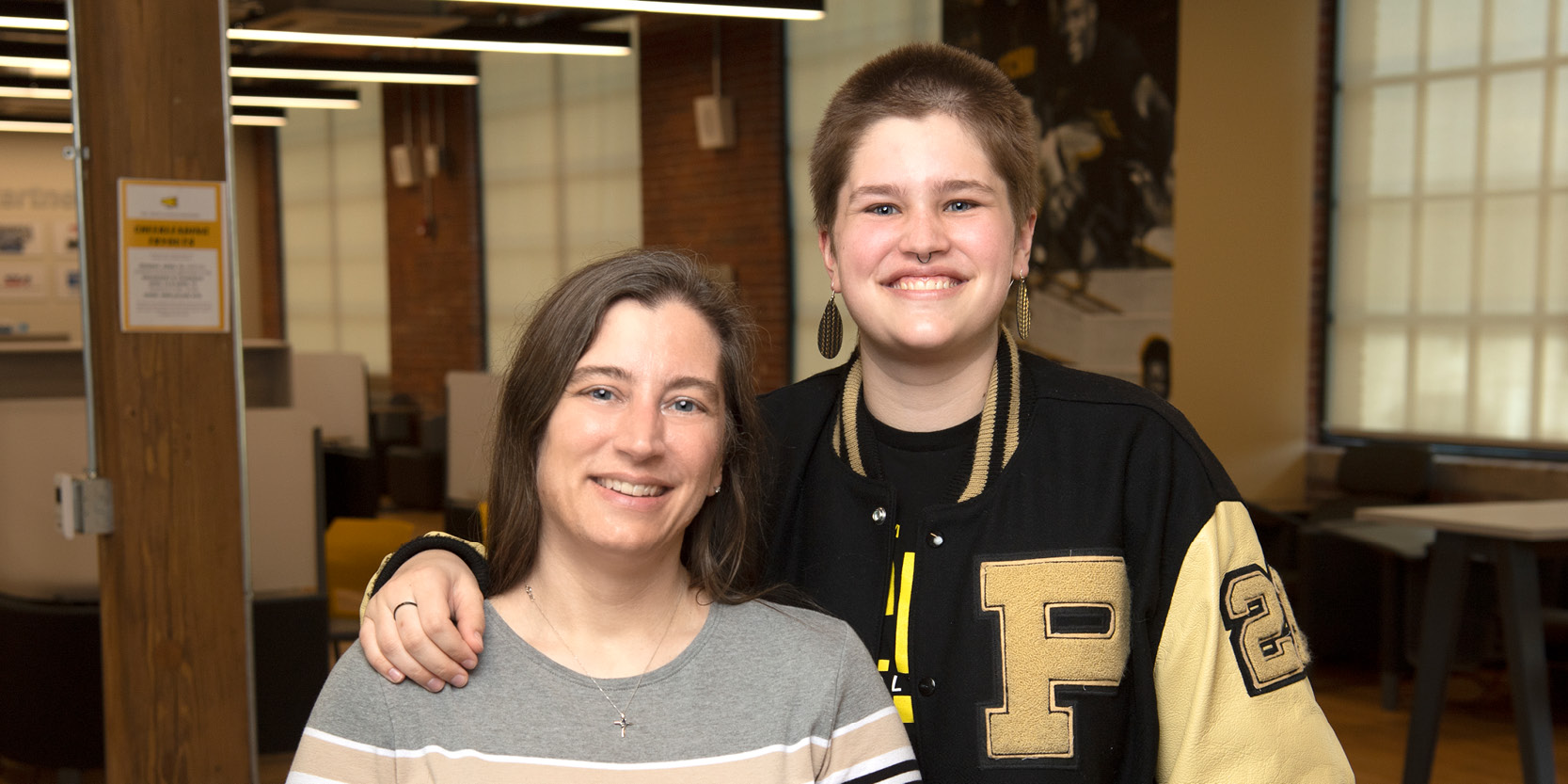 Student-directed learning in project-based environment makes a world of difference
Casady Williamson always planned for her children to attend Catholic high school. When her eldest, Audrey, reached eighth grade, Williamson learned about the new Purdue Polytechnic High School in Indianapolis. With its STEM-focused curriculum and preferred admission to Purdue University, enrolling Audrey in PPHS appealed to Williamson.
Audrey (they/them) developed a fascination for robotics in grade school and insisted they would be attending Purdue University to persistently pursue their dream of working in robotics engineering and mechatronics. Williamson worried that Audrey wasn't challenged enough in their traditional private school setting.
"They have always been academically focused," Williamson says. "They are interested in learning and have always been a good student. At PPHS they could learn at their own pace. They were already talking about wanting to go to Purdue University for college, so it seemed like a natural fit."
Initially nervous about sending Audrey to a public school, Williamson quickly saw changes in her child that confirmed her decision to enroll Audrey in PPHS. Audrey became engrossed in hands-on learning that integrated with their interest in robotics. They had always been a motivated student, but PPHS empowered them to self-direct their education and shape their future. Surrounded by like-minded peers, they formed enduring friendships.
"Their whole demeanor changed," Williamson says. "They became so much more confident and really broke out of their shell. They've always been smart but before they were almost afraid to show how smart they were."
Audrey will graduate this spring as part of the first senior class at PPHS. Admitted to Purdue, they plan to get a jump-start on college through the Early Start program with classes beginning in July. They got a taste of the college life last summer through a PPHS program that allowed them to live in an on-campus residence hall for four weeks while enrolled in a college-level course at no cost.
"They wouldn't even apply to other colleges," Williamson says. "It was always just Purdue. So the chance to experience the campus while hanging out with friends and taking a class, it was a dream come true for Audrey."
Williamson advises parents considering PPHS for their child to learn more about how it differs from a traditional classroom. For self-motivated students like Audrey, there are no limits to what they can learn. Project-based learning challenged Audrey in ways they would not have experienced in a traditional school setting. Not only did they embrace the innovative educational methods, they finally felt a sense of belonging, too.
"They found their people and their place," Williamson says. "PPHS made a world of difference in their high school education."
For more information on student registration, donations or business partnerships, and media requests, contact PPHS Network Office at info@pphs.purdue.edu