Back To Top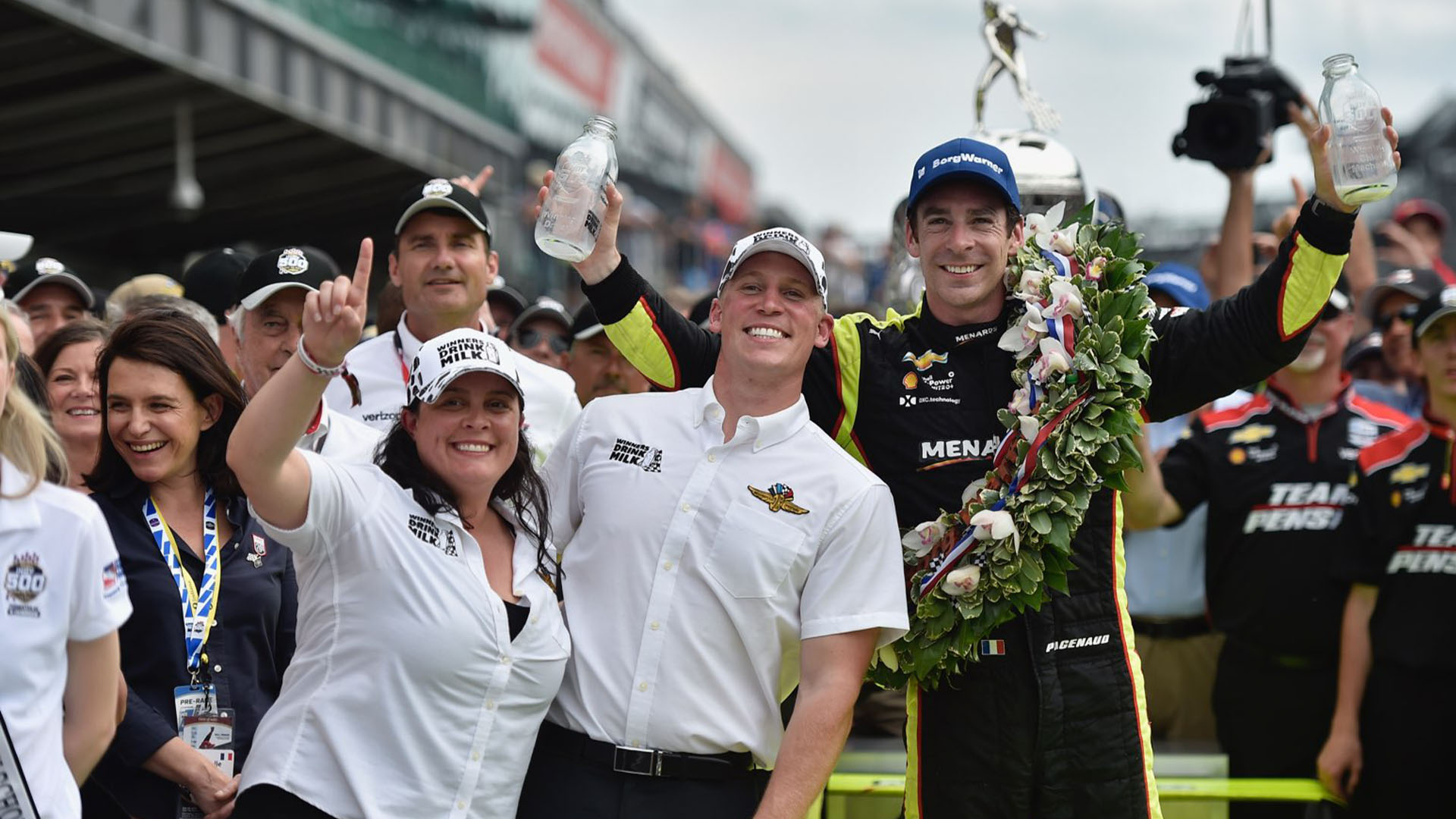 Boilermakers have presented milk to the winning driver in five of the last six races
Dairy farmer Andrew Kuehnert considers himself an Indianapolis 500 superfan.
Kuehnert (BS agricultural economics '08) was 7 or 8 years old when he attended the "Greatest Spectacle in Racing" for the first time.
He has regularly awakened at 2 or 3 a.m. so that he and his buddies could get to Indianapolis Motor Speedway early and indulge in the prerace atmosphere.
And he has observed many a race from Turn 3, where the people-watching was an entertaining complement to the world-class drivers racing around the Brickyard at 175 mph.
These are all common experiences at the Indy 500, enjoyed by millions of spectators through the years. But Kuehnert has also done something at IMS that places him in an ultraexclusive group of race attendees – several of whom are fellow Purdue graduates.
Shortly after Simon Pagenaud took the checkered flag at the 2019 Indy 500, Kuehnert was waiting in Victory Circle to present the driver with arguably the most coveted winner's trophy in all of motorsports: a 32-ounce glass bottle filled with ice-cold, Indiana-farmed milk.
"I like to laugh about it and say I'm one of the few people who has been to every aspect of that track," Kuehnert says, "whether it's partying in Turn 3 and seeing the stuff you're seeing on the infield or watching the race in a suite and going to the winner's circle."
Joining a select group
At most major sporting events, fans expect a commissioner or some other bigwig to present the championship prize. But the Indy 500 isn't like most major sporting events. It holds on dearly to its many traditions, and perhaps no Indy 500 tradition is more beloved than the celebratory presentation of the milk to the victorious driver.
The tradition dates all the way back to three-time winner Louis Meyer in the 1930s, and it quickly became a signature of the event. The 2023 race will be the 68th consecutive Indy 500 in which the winner has received milk in Victory Lane.
Since 2004, IMS and American Dairy Association Indiana have found the perfect way to mesh that race tradition with the culture of the state that has supported the event for more than a century. Each year, the people who present the winning driver and his team with their milk are Indiana dairy farmers.
Purdue already had its share of connections to the prestigious race. The Purdue "All-American" Marching Band has been performing in prerace festivities since 1919. Teams across the IndyCar circuit rely upon the expertise of Boilermaker engineers like Nathan O'Rourke (race engineer for driver Colton Herta) and Angela Ashmore (assistant engineer for defending champion Marcus Ericsson). And now, the growing "milk person" tradition has brought another distinct Purdue flavor to the race.
Including Kuehnert, a Boilermaker has presented the quart of milk to five of the last six Indy 500 winners. Several additional recent presenters have children or other family members who currently attend the university.
"The opportunity to represent dairy farmers in Indiana, that's such an honor," says 2020 and 2021 milk person Jill Houin (BA elementary education '03), the only dairy farmer to fulfill the role twice. "I got a little choked up when [the dairy association] asked me because it's humbling to know that, one, I could be part of that history, and two, there are only five women who have ever handed out the milk. That part of it was pretty amazing."
One of those women preceded Houin by just two years, and it was yet another Boilermaker. Like Houin, Kim Minich (BS agricultural economics '02, Doctor of Nursing Practice '18) married into an Indiana dairy farming family. Also, like Houin, Minich was overwhelmed by the opportunity to have such a unique experience while representing the dairy farming community.
"It's a magical day," says Minich, an active nurse practitioner in addition to her work supporting her family's Triple M Dairy in La Porte. "Everything had its place and its timing, and you're waiting because you know that your big part comes at the end of the race. Getting to be down on the track with the winner literally seconds after they've won – it's kind of a surreal experience."
That's not all the milk person's role entails, however.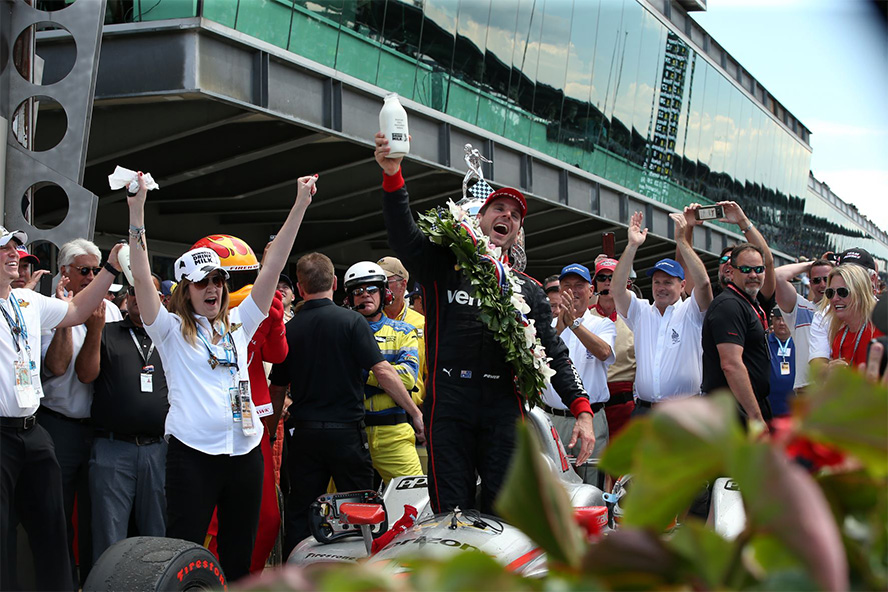 Getting to be down on the track with the winner literally seconds after they've won – it's kind of a surreal experience.

Kim Minich

2018 Indy 500 milk person
Becoming a milk person
Never one to seek attention, Minich admittedly suffered from a bout of nerves when her big moment arrived. She took extra measures to prevent any embarrassing mishaps while handing the milk bottle to 2018 winner Will Power.
"I put deodorant on my hands because I was nervous that I would drop the bottle," she recalls with a chuckle. "It's hot, and there's a lot of people and my hands were sweating because I was nervous. I really didn't want to be that person that dropped the glass bottle and broke it."
Luckily, everything went fine. She completed the handoff without incident while also training her successor, Kuehnert, to follow in her footsteps the following year.
You see, being the Indy 500 milk person is not just a single day in the spotlight. It now requires a three-year commitment, with an increased level of responsibility in each successive year.
A first-year participant is known as the rookie-elect. They undergo media training so that they will be comfortable representing the state's dairy farmers in interviews, but they don't have any official responsibilities on race day.
In year two, the farmer is known as the rookie milk person. Their primary responsibility is presenting the celebratory milk bottles to the chief mechanic and owners of the winning Indy 500 team. They also participate in numerous race-week events, including media interviews, meeting the governor and other dignitaries at the race, and helping to tote the cooler that contains the winning team's coveted milk.
All the while, they are learning the ropes in preparation for becoming the veteran milk person in year three.
"It's such an exciting time, and there's so much going on – it's so chaotic that you miss a lot if you're only there one year," says Allie Rieth (BS animal sciences '12, MS strategic communication '17), agriculture affairs manager for American Dairy Association Indiana. "You really can't understand what it's like until you're there doing it."
As much fun as he had participating in the milk presentations, Kuehnert got nearly as much enjoyment out of walking around the track with the cooler of milk and interacting with excited spectators.
"It first started hitting me, when I was the milk man, how much it meant to everybody at the track, not just the drivers," says Kuehnert, whose family has operated the Kuehnert Dairy Farm in Fort Wayne since 1897. "When you can walk around with just a normal cooler and they see your milk man outfit, they know it's the trophy that the winning driver is going to get at the end of the race. That was probably one of my best memories of just walking around and being with the people, just because I have been there so many times in my life."
With about five to 10 laps remaining, the milk people head toward Victory Circle to prepare for the presentation. At the ready are three cold bottles filled with whole, 2% or skim milk – one of which will be presented to the winner based on the preference each driver indicates in a prerace questionnaire. Lactose-free options are available upon request.
Although there are other postrace traditions that take place around the milk presentation, Kuehnert observed that his was the one that generated the most enthusiasm.
"It's not until they drink that milk and throw the milk all over that people actually start cheering," he recalls. "That's the real moment of celebration for the driver."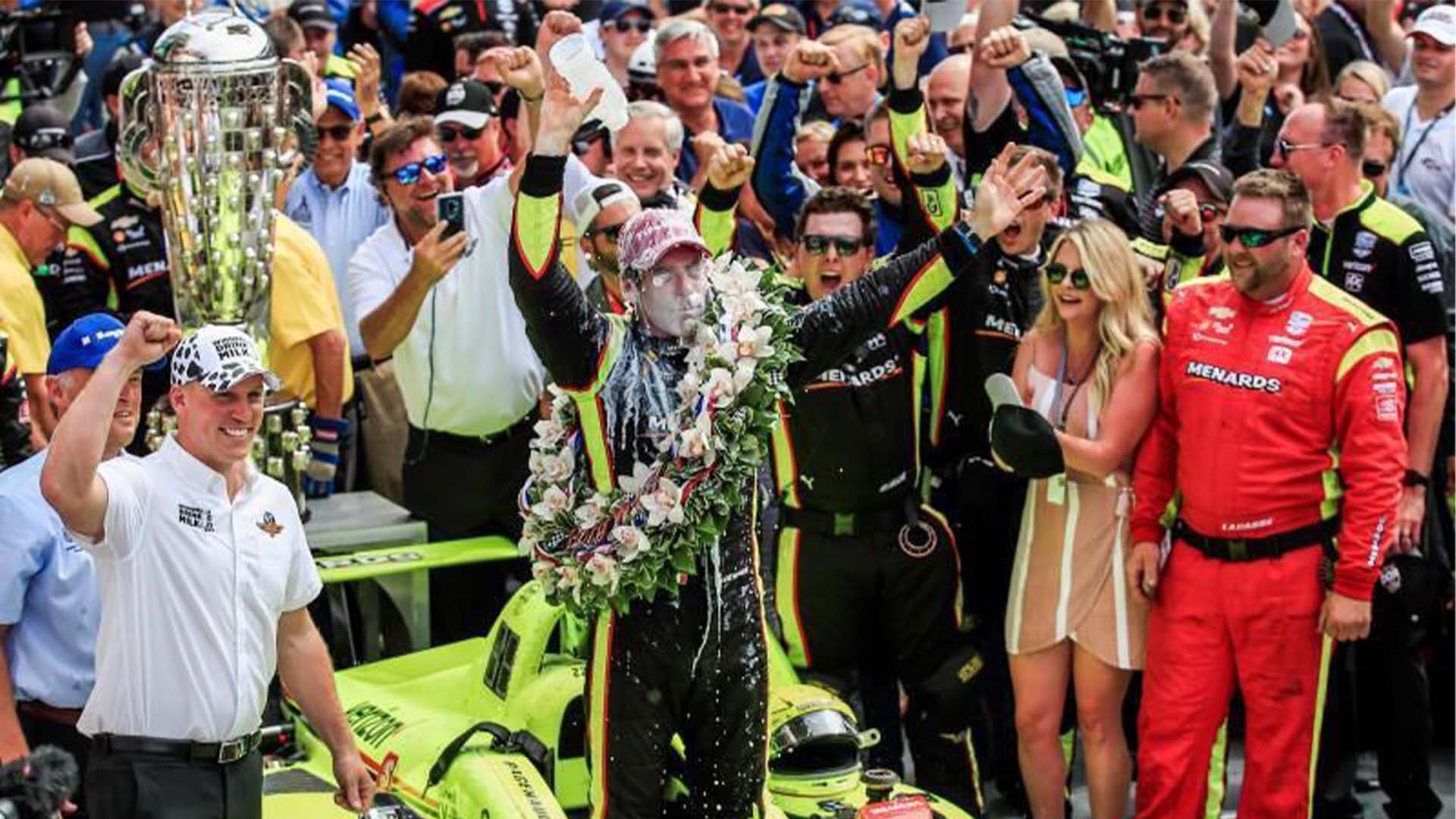 History of the milk tradition
Racing historians say the Indy 500 milk tradition started with Meyer, who won the race in 1928, 1933 and 1936. After the 1936 victory, Meyer was filmed and photographed drinking a bottle of buttermilk, a habit since childhood.
"From the time he was a boy, his mother had told him that buttermilk would refresh him on a hot day, so he regularly drank buttermilk," IMS historian Donald Davidson explained.
Meyer thus started a tradition that was perpetuated by opportunistic executives from the milk industry. Most winners in the years after Meyer's third win also drank milk in Victory Circle. The bottle became an official Indy 500 winner's trophy in 1956.
"It became a symbol of true victory to drink milk after the race," Rieth says.
The milk the winning team consumes doesn't come from any specific Indiana farm. It actually comes from all across the state.
"Since we represent all dairy farmers across the state of Indiana, there's never a specific brand or a specific farm," Rieth says. "The way that milk is produced in the state, and kind of across the country, is that farmers will sell their milk to a cooperative or processor and it all gets put in together. So it really is representative of the entire state, the entire almost 700 dairy farms here in the state of Indiana."
That symbolism seems to especially suit those who share a bond as Indiana dairy farmers.
"More so than maybe any other profession, it's a small, very tight-knit group," Minich says. "The bond between farmers, there's always been that camaraderie, and they're helping each other out and bouncing things off each other."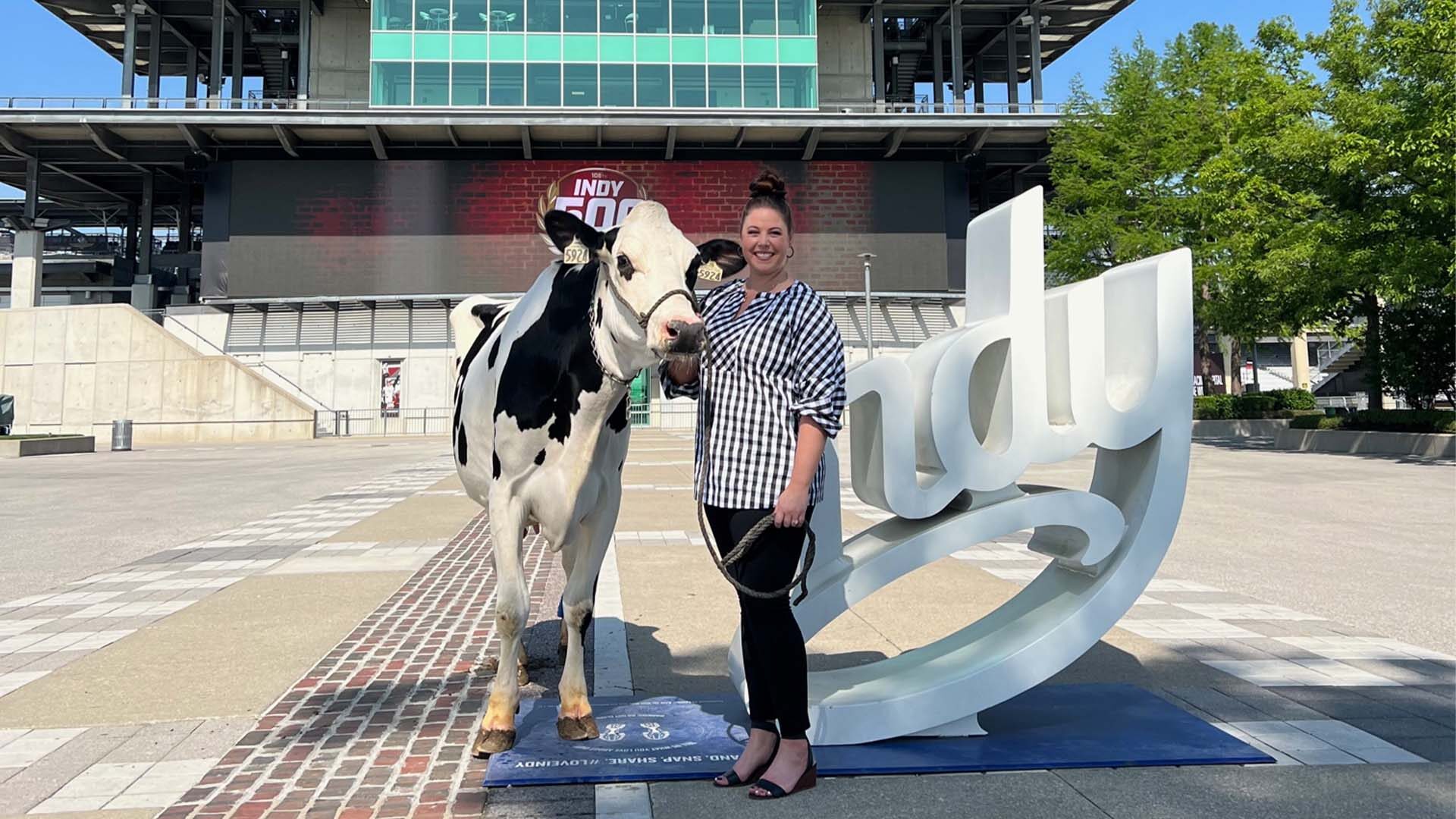 Representing their families, and Purdue
A native of New Jersey, Houin had no idea what she was getting into when she married into a farming family.
"I love it now, but it took me a long time to understand it's not a job, it's a passion," says Houin, who taught for 12 years before switching careers to help her husband, Brian, and his family manage their Homestead Dairy in Plymouth, as well as the restaurant that she and Brian own, The Breakroom Pub and Grill.
Minich shares that perspective, as she and husband Luke chose to join Luke's father and uncle in purchasing a local dairy farm in 2009. Now they raise their six children on the farm while extending the family's four-generation farming tradition.
"With a dairy, it's 365. There's no days off. There's no seasonal anything to it," Minich says. "It's a lot of work, but I think it's a lot of fun. I feel very, very lucky to be able to raise our kids on a farm and teach them about hard work."
The farming community's passion and hard work are what the Indy 500's milk person tradition was created to honor. For those Boilermakers who have participated, it's especially nice that they are creating a new connection between the prestigious auto race and their alma mater.
"Purdue got me where we're at and helped our dairy farm thrive," Kuehnert says. "Without our college educations, we wouldn't be near as good dairy farmers, and we probably wouldn't be in business. So I'm proud I went to Purdue. I'm proud to say I was a Boilermaker, and I wouldn't want it any other way. It makes me proud to add to that tradition of Boilermakers handing the milk out at the 500."
Adds Houin, "I didn't realize how impactful being part of the milk tradition was going to be all across the board: representing Purdue, representing dairy farmers, representing the tradition and history of the Indy 500. Worldwide, people are watching this race, so it's overwhelming and humbling because it's an opportunity to be on that platform and share what Purdue does and what dairy farmers do. Sharing that story is important."
I love it now, but it took me a long time to understand (dairy farming is) not a job, it's a passion.

Jill Houin
2020 and 2021 Indy 500 milk person
MEET THE RECENT INDY 500 MILK PEOPLE
JILL HOUIN
Purdue degree: BA elementary education '03
Farm: Homestead Dairy
Location: Plymouth
Milk person years: 2020 and 2021
Winning drivers: Takuma Sato and Hélio Castroneves
Race memory: Jill was the only milk presenter allowed at the track for the COVID-19-impacted 2020 race. Among the team owners she presented with a celebratory milk bottle after Sato's victory: former late-night talk show host (and Indiana native) David Letterman and 1986 Indy 500 winner Bobby Rahal.
Fun fact: Jill is the only dairy farmer to present the milk twice. She returned in 2021 to train rookie milk person Tim Haynes to take over the following year.
In Jill's words: "The very first time that I went to the farm, I took pictures of all the cows. And when I came back, I took pictures of all the bulls. That's how much I knew. I had all of the normal questions as to why farms are doing this and that, and I realized that learning about that gave me the opportunity to teach people about dairy. My background being in teaching, I do all of the tours, all of the social media, because I had no idea what dairy farmers do. I love sharing that story because it really was eye-opening to me, and it gave me the opportunity to share the passion of the family to other people."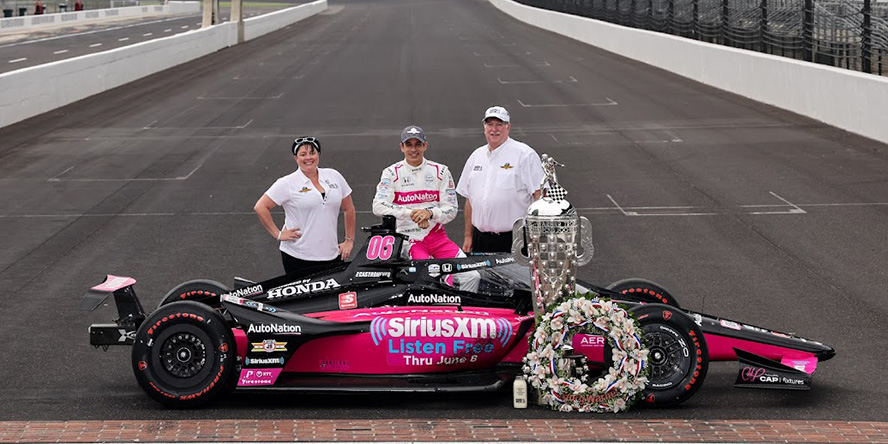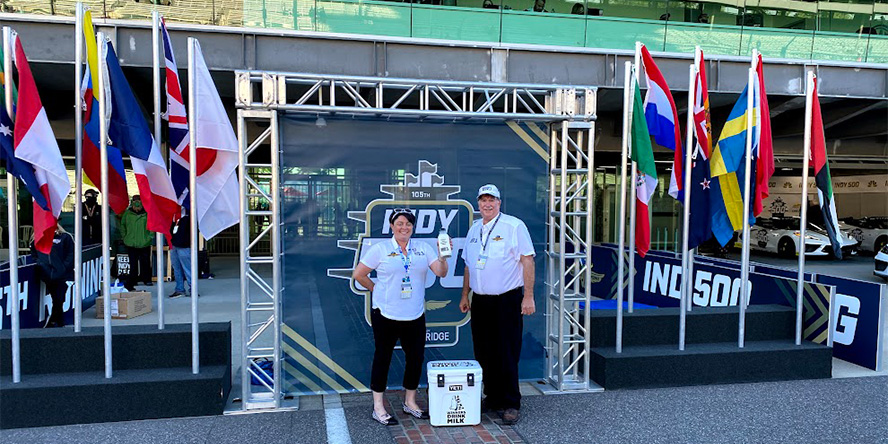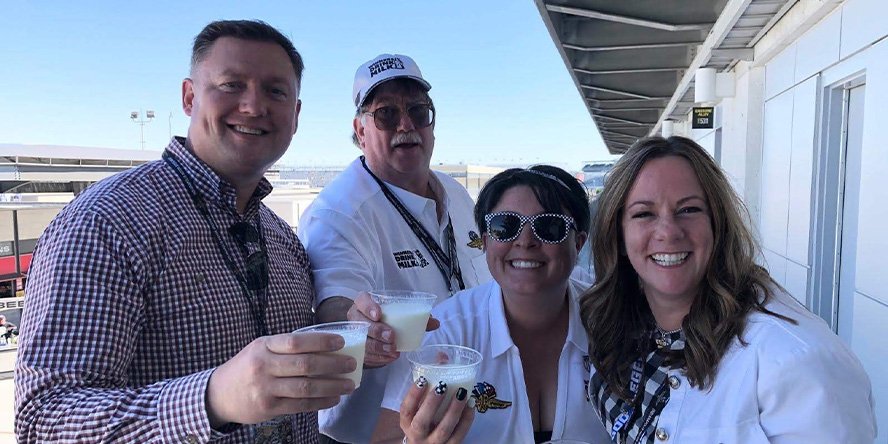 ANDREW KUEHNERT
Purdue degree: BS agricultural economics '08
Farm: Kuehnert Dairy Farm
Location: Fort Wayne
Milk person year: 2019
Winning driver: Simon Pagenaud
Race memory: During race week in 2019, Andrew was able to take two laps around the track with legendary driver Mario Andretti, who that year was celebrating the 50th anniversary of his lone Indy 500 win.
Fun fact: Each fall, the Kuehnert family opens up their farm to tens of thousands of visitors for their fall festival. Guests partake in kids' activities, a corn maze, dairy tours and other fun events. The 2023 Kuehnert Dairy Fall Festival will be held on Fridays, Saturdays and Sundays from Sept. 15 through Oct. 29.
In Andrew's words: "As I'm riding with (Andretti), I'm like, 'OK, if he puts it in the wall, at least I get put in the wall by Mario Andretti.' It seems like you hold your breath and, before you know it, you're around the track when you're doing 200-something miles an hour. It's pretty intense."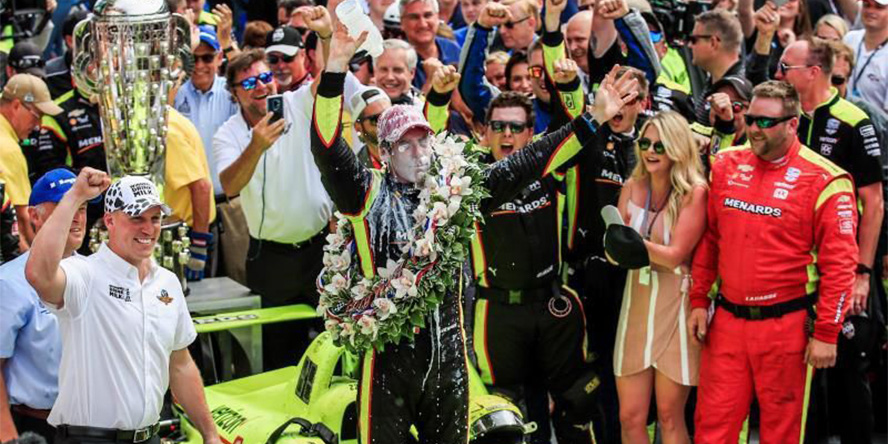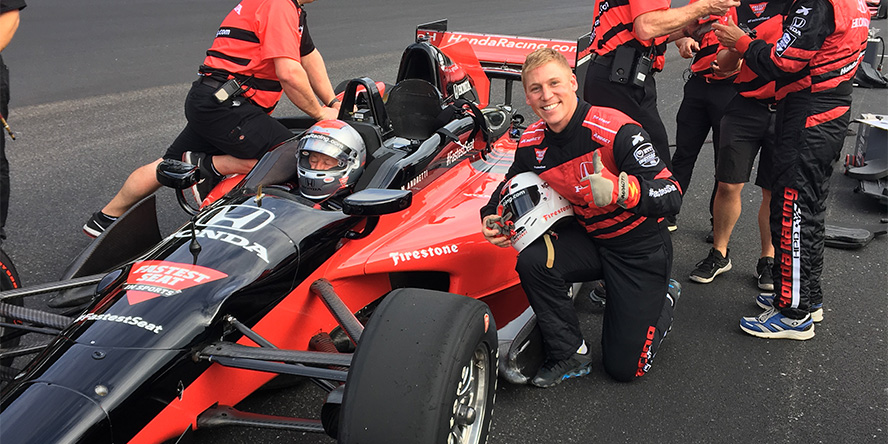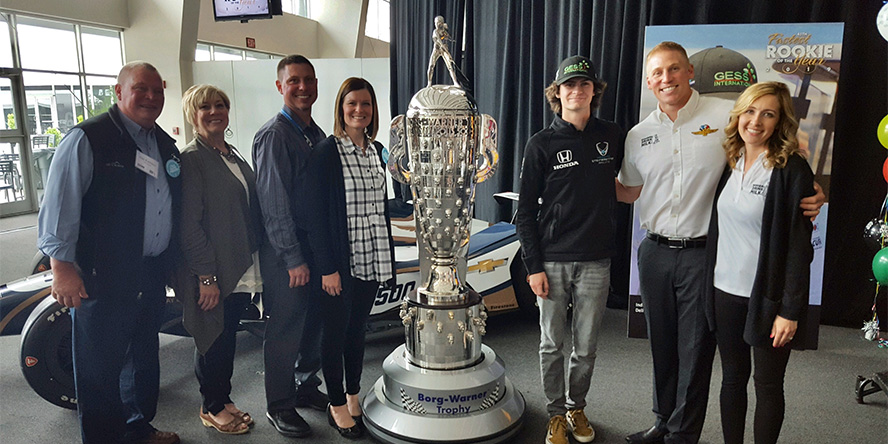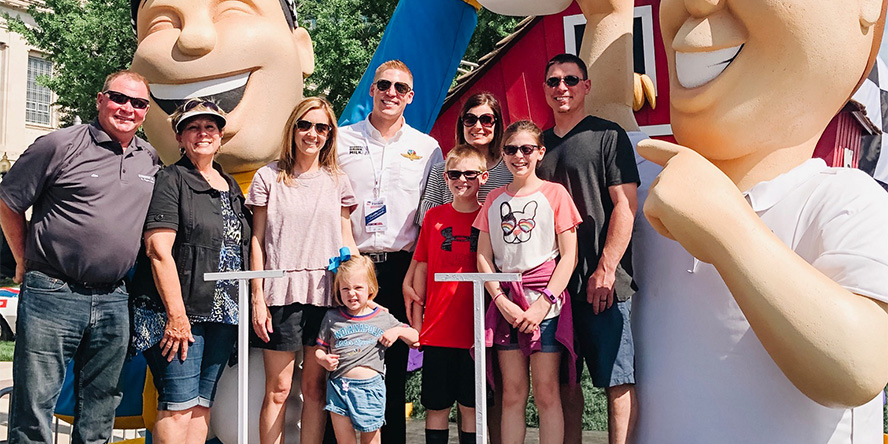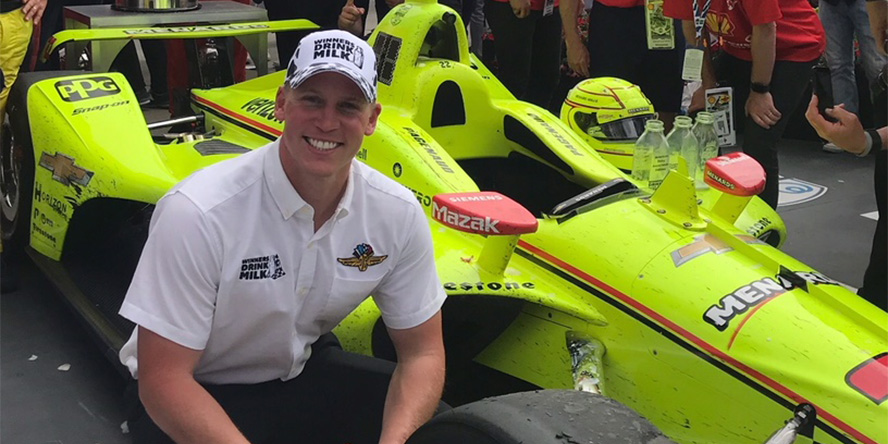 KIM MINICH
Purdue degrees: BS agricultural economics '02, Doctor of Nursing Practice '18
Farm: Triple M Dairy
Location: La Porte
Milk person year: 2018
Winning driver: Will Power
Race memory: When Kim was the rookie milk person in 2017, her veteran was Joe Kelsay (BS agricultural economics '99), whom she has known since her Purdue days. Joe and Kim's husband, Luke, were Alpha Gamma Rho fraternity brothers as Purdue students.
Fun fact: Kim grew up in Anderson and attended the Indy 500 time trials with her father as a young person. But the first year she actually attended the race was 2017, when she served as rookie milk person and handed milk bottles to the chief mechanic and team owners for winning driver Takuma Sato.
In Kim's words: "Milk is a staple in most people's diet, but it's not really ever highlighted. So it's nice to see it highlighted and to have people wanting to see the milk: 'Oh, let me see the bottle! Let me touch the bottle!' It was just a really neat experience, and that's not something that very many people get the chance to do."