Back To Top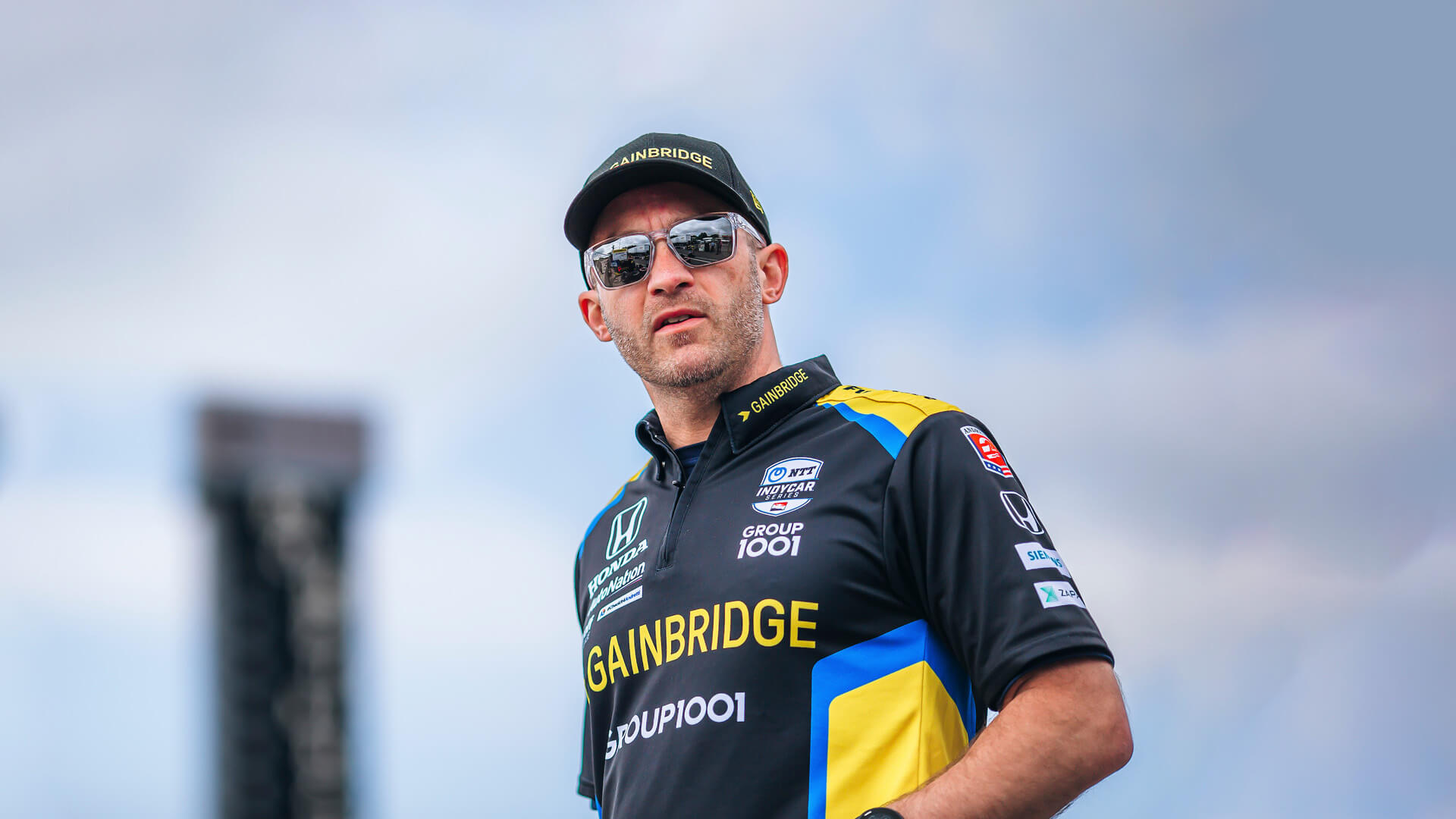 Lifelong racing fanatic dreams of winning the Indy 500 as a race engineer
Nathan O'Rourke might not have been able to name every state capital as a youngster, but he could list every Indianapolis 500 winner since 1911.
That's how deep the Muncie area native's love ran for the "Greatest Spectacle in Racing," which he has attended nearly every year since age 4.
These days, the Purdue alumnus (BS mechanical engineering '04) has a vastly different view of the race than he had all those years as an obsessed young fan who watched the action from the grandstands in Turn 3. He's now down on pit row serving as the lead race engineer for Andretti Autosport's No. 26 Gainbridge Honda driven by Colton Herta.
"People joke with you when you work in this business and you sound too much like a race fan, but I'm not afraid to admit it: I'm a huge race fan," O'Rourke says. "That's why I do it."
O'Rourke didn't have much of a choice when it came to racing fandom. He grew up with a father whose hobby was driving open-wheel race cars and with uncles and cousins who raced stock cars around Indiana. Attending Saturday night dirt-track races was a common activity.
But nothing made an impact like the events leading up to May at the Indianapolis Motor Speedway (IMS).
"Growing up and having those experiences, whether it's at short tracks at Anderson, Muncie, Winchester and all the Indiana Saturday night dirt tracks, it's something that people don't understand – these awesome, heritage-style racetracks in the middle of a cornfield on a hot summer night," O'Rourke says. "I still love doing that. I love taking my family to races like that. Even with what I'm doing now and as big as it seems, it's so cool to have that nostalgia. It's just the way the state is. You have those tiny little tracks, and at the same time, you can go to the best racing facility in the world at IMS."
People joke with you when you work in this business and you sound too much like a race fan, but I'm not afraid to admit it: I'm a huge race fan.

Nathan O'Rourke
Race engineer, Andretti Autosport
A young O'Rourke became a competitive go-kart racer and was talented enough to finish as runner-up in the 2003 Purdue Grand Prix as a college student. But he had no idea that working for an IndyCar racing team might be a professional option until experiences in two racing-industry internships made him aware of the possibilities.
The first, offered through Purdue's School of Mechanical Engineering, was a joint venture between the PacWest team on the ChampCar circuit and chassis manufacturer Reynard. After his sophomore year at Purdue, O'Rourke took an entire year off from coursework and spent the first six months working at PacWest and the next six months at Reynard.
"That's how it all took off," he says. "Once I did that, it was pretty clear to me what I wanted to do with my career."
That internship provided a wealth of hands-on learning opportunities and reinforced valuable engineering lessons. O'Rourke learned that design skills were important, but so were people skills. His ideas also needed to be practical and manufacturable. The internship changed the way he viewed his coursework when he returned to West Lafayette, motivating him to consider how each lesson might apply to the questions a racing team might need to answer.
"It's easy for anyone in college to drift away in class and think, 'This is something I'll never need. I'm just going to learn this and remember it long enough to take the test and move on,'" O'Rourke says. "I think what that did for me was, when I'm sitting in fluid dynamics class and something would come up and I'm like, 'Man, this is really hard. I'll never use this again. I'm not going to pay attention.' During those moments, I was like, 'Oh wow, I could totally see how this could apply with a car in the wind tunnel someday. This is going to be really useful information.'"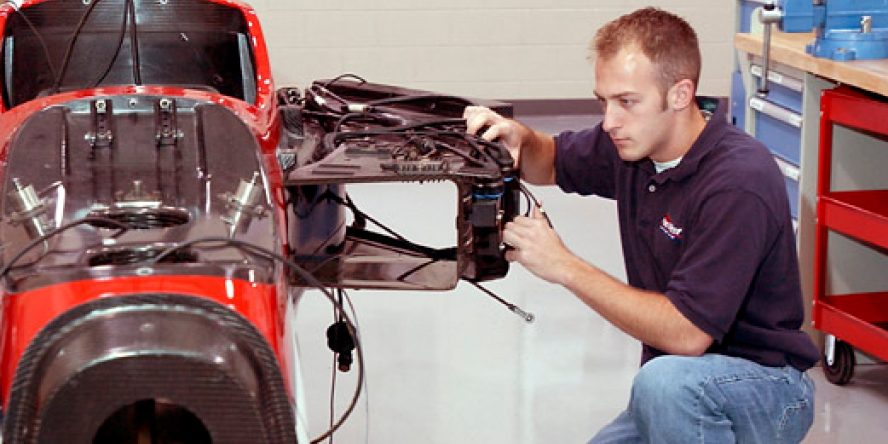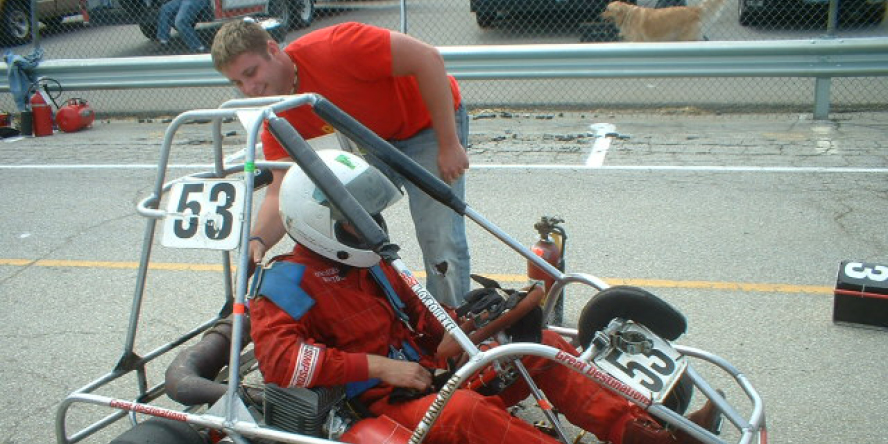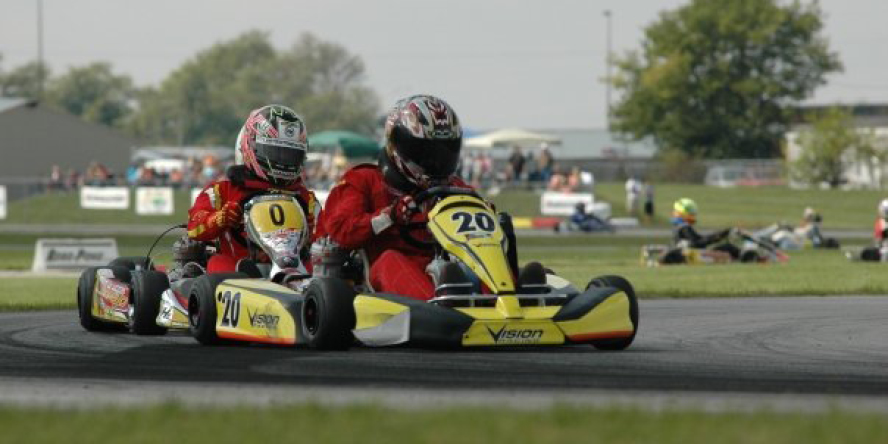 O'Rourke put those lessons to good use, rapidly working his way up to his first opportunity as a race engineer at age 27 – decades earlier than what is typical for a leadership position on an IndyCar team. He has earned acclaim within his industry as a steady influence for drivers like Ed Carpenter, Josef Newgarden and, most recently, Herta, who finished fifth in the IndyCar driver standings in 2021 after placing third the previous year.
Since O'Rourke and Herta began collaborating in 2019, their team has won seven races and eight poles. In 2019, Herta became the youngest race winner in IndyCar history at Austin (at age 18) and its youngest pole winner at Road America (at 19).
Their team recently earned its first win of the 2022 season, with Herta finishing first in the GMR Grand Prix at IMS on May 14.
He may not have recognized it as an intern who had to get his hands dirty doing grunt work, but each practical learning opportunity helped O'Rourke advance down his path toward success. He advises today's Purdue students to follow his lead by learning how to apply what they're learning in real-world situations.
"I can't imagine doing it any other way, no matter what type of engineering I was in," O'Rourke says. "Anybody I know who's going to engineering school, that's my recommendation: Spend some time in class and then get away. Go out and get an internship. Figure out what's important to you. Figure out what your priorities should be when you get back to your education. The whole education is important – otherwise, it wouldn't be there. But it's important to know what to focus on that's going to help you when you go out in the real world someday."
A few weeks before the 2022 Indianapolis 500, O'Rourke sat down with us and shared more about his early interest in racing, his time at Purdue and his experiences on the IndyCar circuit. Here are some highlights from that interview.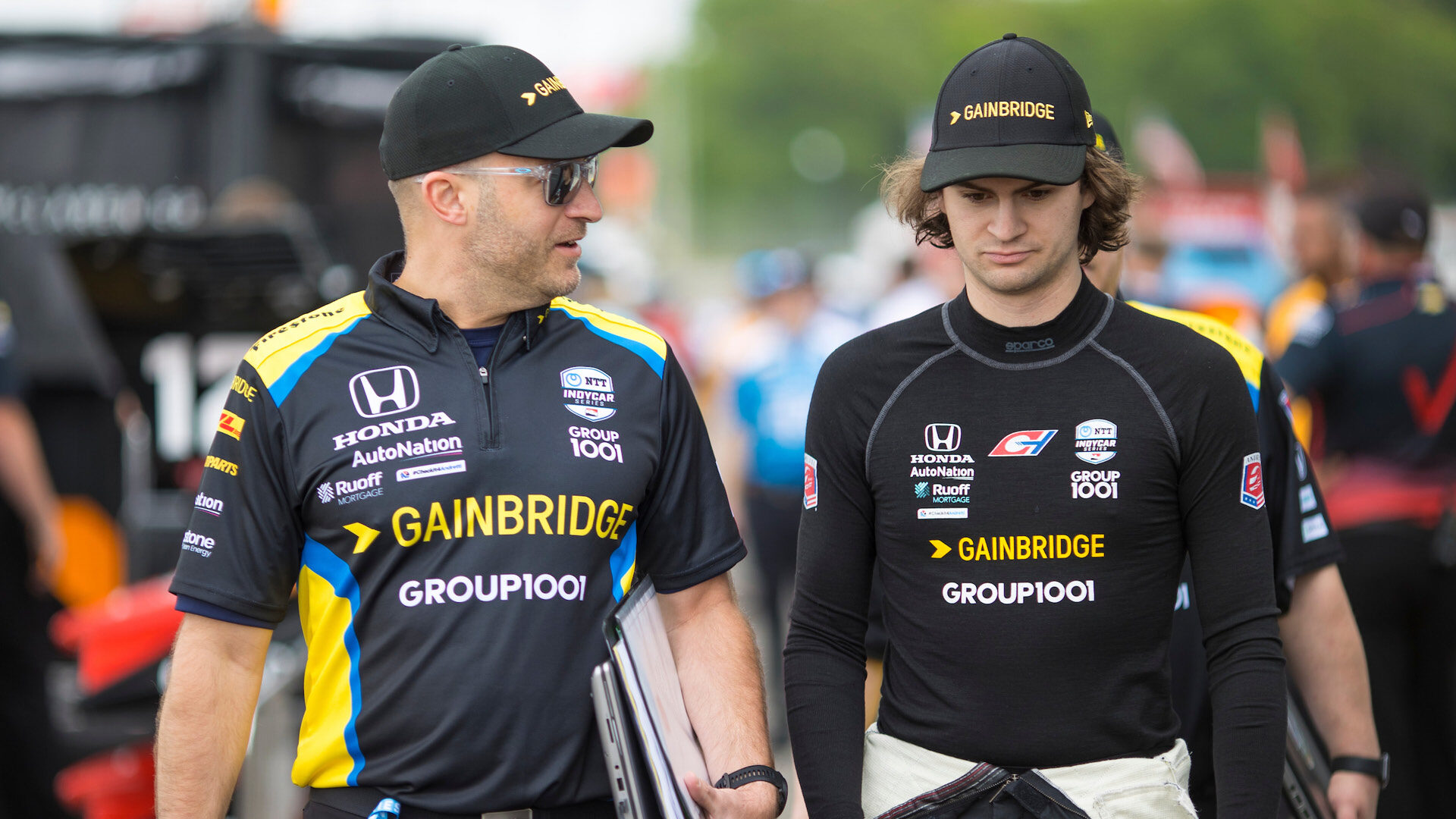 Q: After you graduated from Purdue, how did you get your foot in the door with a racing team?
A: I made the rounds with all the IndyCar and ChampCar teams that were out there. At that point, there were no engineering jobs available, which was pretty discouraging. So, I ended up taking a job as a damper engineer. Dampers are basically shock absorbers. That's a whole specialty range in IndyCar racing. I just took a job as a damper engineer and damper mechanic for Panther Racing for the 2005 season.
It was super low pay, not what I wanted to be doing long term, but if there's something I've learned over the years, it's to do your best to take those times as an opportunity. And I did. I learned a lot that season. I was mostly doing hands-on mechanical work as opposed to engineering work. But again, it was a good experience for me in the sense that what's definitely true in racing is that you'll never progress in your career, even at a slow rate, if you simply do what's expected of you.
This is something I love to pass on to young engineers that work here at Andretti: You don't leave an impression on the people who will end up promoting you if you're simply doing what's expected of you. The way you leave an impression on people is by doing the things which aren't expected of you. That's how I approached my first year out of college. I liked doing that job as a damper guy, but what I really wanted to do was move into engineering. I had asked if I could sit in on engineering meetings with the technical director and the race engineers, the junior engineers, just to pay attention and be a fly on the wall. And they allowed me to do that, which was super helpful.
I did a good job of observing. I'd sit in the engineering meetings and listen to what they thought their biggest problems were. I can think of at least two occasions in that first year where I could hear the engineers talking about, 'I really wish I had this,' or I hear the programming engineer saying, 'I really wish I had that,' and there are two different occasions that year where, without anybody asking me to, I just took off and worked on these projects that I recognized that they needed done, on my own time after work. One was a design project, one was a programming project, and I came up with solutions for both of them that worked and really helped the engineers. They took notice of that. I think I made a good impression.
At the end of 2005, that team nearly went out of business and at that point, a lot of the engineers on the team were going to Ganassi and a lot of them were going to a startup team called Vision Racing. At that point, I had an opportunity to go to either one of those teams and work as an engineer, which is really cool. I ended up choosing the smaller team just because it was a startup team, and I knew that I would have a lot more tasks on my hands. I'd learn a lot more and I'd have a better opportunity to make an impact on the team than I would at the bigger team.
So, in 2006 I went to work for Vision Racing, which at the time was Ed Carpenter and Tomas Scheckter driving. I was basically a junior engineer/electronics guy/damper engineer in 2006 and 2007. Again, I found myself doing a whole lot. I was at the point where I couldn't work enough. I loved doing what I was doing, and I wanted to make an impact. I was just obsessed with making our cars faster.
I spent a lot of time recognizing things that needed to be done and nobody was asking me to do. Job No. 1 is doing what you're being asked to do, but then figure out a way to do more. I wasn't doing it to impress people, but I knew that at the same time I could solve a problem that the team recognized was a problem and leave an impression on the people who were my bosses.
In 2008, we were halfway through the season and the team wasn't happy with one of the race engineers. I was 27 years old at that point. I remember it was a late night and we were getting ready to load the cars to go to the Texas race and the team manager called me into his office. I didn't know what was going on, but I thought, 'Oh crap, I'm in trouble for something here.' And he said he just wanted to let me know they had to part ways with one of the race engineers and wanted me to race engineer the car at the next race. I was like, 'Well, the next race is tomorrow. I'm not prepared.' He said, 'We know. But we knew that if anybody could do it, it was going to be you.'
It was one of those getting-thrown-into-the-fire moments. Most people who are race engineers are in their 40s and 50s. Some are in their 60s. When you look at an individual IndyCar racing structure, the race engineer's at the top of the responsibility for that particular car. And I was being asked to do this the night before we went to race when I'm 27 years old.
It was a classic situation where I was like, 'I'm not the right guy for this job right now. I'm not prepared. I'm too young. I lack experience.' In hindsight, all of those things were true, but you never know when you're going to get another opportunity like that again. You've got a choice at that point: Do I take the challenge? I've got nothing to lose. There are no expectations of me. Why not give it a shot? And I did. It ended up going reasonably well, and they left me in that role for the rest of the year.
It's kind of been the sky is the limit from there. I've basically been in that role ever since then – obviously for different teams. Race engineer isn't the pinnacle of engineering work for IndyCars, but it's very close. So, for me to find myself in that position that quickly was overwhelming, nerve-racking, stressful, but it was really cool. I don't want to say expectations were low. Expectations are always high. But it was a win-win for me, and I took it. The rest is kind of history.
Q: What has this season been like for your team at Andretti?
A: It's been bittersweet, to be honest. The hardest thing about what we do is being fast. Most of our work goes into making sure the car is fast, making sure the driver is fast. That's the hardest thing to accomplish. We've accomplished that to an awesome degree. Everywhere we've gone this year, we've been competing. We've been fast enough to win the race at every track we've gone to. We just had a few problems with execution.
I liken it to a really talented basketball team that just loses a lot of games by a last-second shot or just having errors late in races, just really silly stuff, whether it's a miscue on a pitstop or Colton making a mistake. It's been that type of year, but it's super encouraging by the same sense. We've stolen the show at more than one race this year just because we've been really, really quick. We've already got a pole position this year. We've been in position to have three pole positions.
I know that we're going to have a lot of really great highlights this season. I think there's a lot of potential there, and I'm super excited about the rest of the year.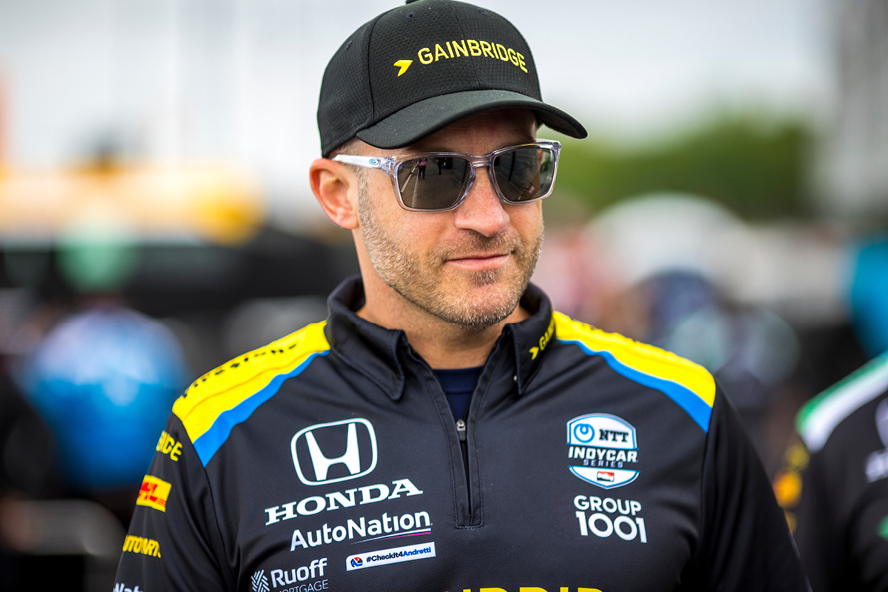 I want the experience of being on the car that won the race at the Indy 500.

Nathan O'Rourke

Race engineer, Andretti Autosport
Q: At Purdue, we like to talk about giant leaps. What is your next giant leap in your professional life?
A: I've been here at Andretti now for, it's going to be nine years this December. At this point, I can't imagine doing anything else besides what I do now. For the longest time, because I got this gig for the first time when I was 27, whenever they'd talk about me in an article or on TV, it was, 'young race engineer Nathan O'Rourke.' I don't think I'm 'young race engineer Nathan O'Rourke' anymore. I've been doing this for a long time, so nobody's said that in a while.
We've won a few Indy 500s since I've been here at Andretti. But I've never actually been on the car that won the race. In the time I've been here, Ryan Hunter-Reay won for us, Alexander Rossi won for us and Takuma Sato has won the race for our team, but I wasn't on those exact cars. I want the experience of being on the car that won the race at the Indy 500.
So, I'd say my next giant leap is Victory Lane at Indy, to be honest. I started out walking a mile-and-a-half as a 4-year-old into the track, cheering my butt off, having beer spilled on me. So, to complete the circle from that – just a passionate kid in the stands looking up to these larger-than-life heroes in Victory Lane – to actually being there, being part of it, that's probably my next giant leap. I'm going to keep doing this until that happens.
Q: Do you picture that all the time?
A: All you think about when you're there is being part of it. I've been so close before. It's one of those places where there's so many stories of that. Everybody's like, 'Wow, it's incredible that Helio (Castroneves) has won four times.' For everybody that's won it before, there's been a handful of other times they almost did. That's just part of the process you have to go through to end up at that pinnacle. In terms of what my next giant leap is, I can't imagine doing anything else until I've checked that box.