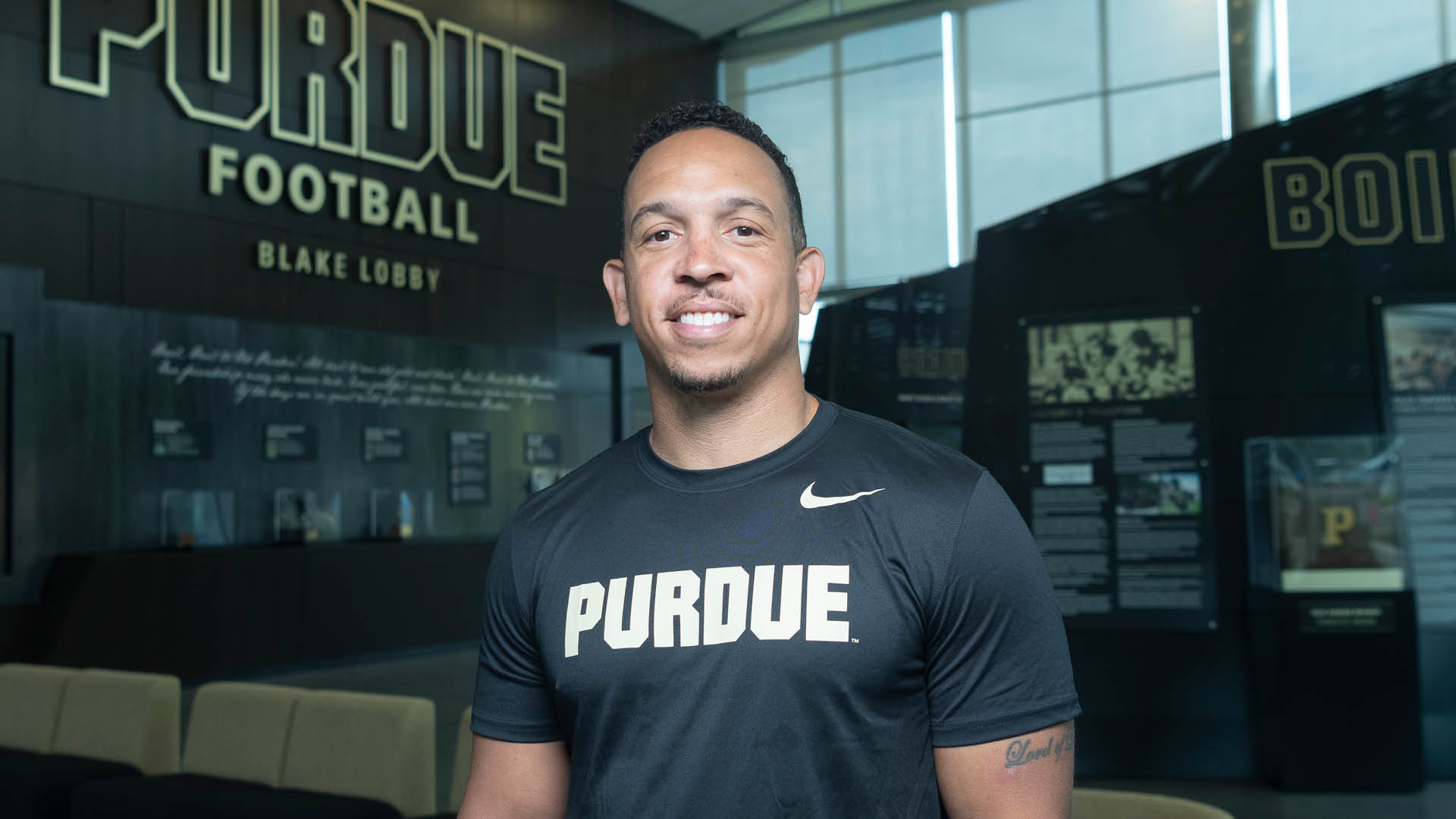 In this episode of "This Is Purdue," we're talking to our new Purdue University head football coach, Ryan Walters.
Listen as Coach Walters describes how he felt when he got the call from Purdue Athletics Director Mike Bobinski and what it's like to join the ranks of legendary Purdue football coaches like Jack Mollenkopf and Joe Tiller – and as one of the youngest collegiate head coaches in the entire country, no less!
But first, Coach Walters takes us back to where it all began, growing up in a family of football fanatics and demonstrating the persistence and tenacity he's shown throughout his career that continues today as his family embraces life as Boilermakers.
He also shares some of the lessons learned along the way, including the importance of relationship-building when it comes to recruiting players like Hudson Card. As Coach Walters tells us, "The grass is green when you fertilize and water it, so I'm pouring into this job and into this community."
What should Purdue football fans be excited about this season? How will Coach Walters feel as the new Tiller Tunnel, named after the late Coach Tiller, opens to a packed Ross-Ade Stadium during the home opener vs. Fresno State on Sept. 2? Tune in and find out.
As we head into a new era of Purdue football, you don't want to miss this episode as "This Is Purdue" gets to know Coach Walters!
Full Podcast Episode Transcript
Coach Ryan Walters:
This is Coach Ryan Walters, and you're listening to, This is Purdue.
Kate Young:
Hi, I'm Kate Young, and you are listening to, This is Purdue, the official podcast for Purdue University. As a Purdue alum and Indiana native, I know firsthand about the family of students and professors who are in it together, persistently pursuing and relentlessly rethinking, who are the next game changers, difference makers, ceiling breakers, innovators?
Who are these Boilermakers? Join me as we feature students, faculty, and alumni, taking small steps toward their giant leaps, and inspiring others to do the same.
Coach Ryan Walters:
The grass is not always greener. To me, it gets green when you fertilize it and water it. I'm pouring into this job, and pouring into this place, and pouring into this community. My two boys are nine and seven, and I hope they say they're from West Lafayette when they grow up. If that holds true, then that means that I will have done what I thought I could do here, and we'll have built something here that is longstanding.
Kate Young:
In this episode of This is Purdue, we're talking to our new Purdue University head football coach, Ryan Walters, just in time for football season. You'll hear more about Coach Walters' journey to Purdue, and how he felt when he got that call from Purdue Athletics director, Mike Bobinski, offering him the job. Coach Walters also discusses growing up in a family of football fanatics, the importance of relationship building with his players, and how it feels to be one of the youngest collegiate head coaches in the entire country.
Plus, what can Purdue football fans be excited about this season, and how will Coach Walters feel as the new Tiller Tunnel opens to a packed Ross-Ade Stadium during the home opener versus Fresno State on September 2nd? You'll hear all of this and more, as we celebrate a new era of Purdue football with Coach Walters.
Coach Ryan Walters:
Good, good, good. Hey, if he's cutting you on the inside, get on his outside. Go fly around, fly around, make clean. Fly around, make play. Good eye. Keep improving, man.
Kate Young:
We had the opportunity to interview Coach Walters in July. He had just gotten back from a family trip to Hawaii, and if you remember from our, This is Purdue spring football episode, Coach named his two bernedoodle dogs after his family's favorite spots in Hawaii, Maui and Kona. Hawaii is a special place for the Walters family.
We kicked things off by discussing Coach Walters' childhood. As you'll hear, his love of football was instilled in him from a very young age. Coach Walters, thank you so much for joining us on This is Purdue. I know our listeners are so excited to learn more about you and this new era of Purdue football, right? Let's kick it off, get to know you a little bit. What was your childhood like, growing up in Colorado?
Coach Ryan Walters:
It was a fun one. My parents are young. They had me when they were 16, so I felt like we grew up together. They had my brother right around when they were 21, so I was like five and a half. Dad played football, so I grew up in a locker room. He had a bunch of injuries. I think he had like three ACLs coming out of college, so he ended up going to law school afterwards. We spent some more time in Boulder.
Quiet community, lived in the family housing, which our apartment was right across the street from the practice fields, so I just felt like I was always around football. Took a liking to it at a young age, my parents sort of fed that for me, and was always playing baseball, basketball, football growing up. Just whatever season of sport was in, that was what I was interested in.
Then I went to high school in Aurora, Colorado, Grandview High School, played quarterback my whole life. Didn't really play down a defense until I got to college, so that was interesting. It was good. I had a good support system, was a part of really good communities that helped cultivate the things that I was good at, and tried to strengthen my weaknesses. I think I'm where I am today as a result of my past.
Kate Young:
Was there ever a day you were like, "I'm not going to go the football route," or was it always ingrained in you?
Coach Ryan Walters:
There was one day at the University of Arizona, I was GA there, and I came down to the final two for getting the full-time secondary job, and Duane Akina was the secondary coach at Texas at the time, I was alumni at the U of A. Mike Stoops was the head coach at the time, told me if went off the job to Duane, if he takes it, obviously, he's got it, but if he doesn't, you got the job. I'm thinking, there's no way Coach Akina is going to leave Texas to go to Arizona. He ultimately did. That day, I was like, "You know what? I'm done."
Those are when you had one GA per side of the ball. We had a QC, but he was a special team, so I was doing everything. This was before PFF and all of those things. We didn't have any student assistants. I was inputting all the data and doing all the dirty work, but I obviously loved the game, loved the people I was working for, stuck it out, and I think it was like three weeks later, Akina went back to Texas, so I got my first full-time job. Glad I stuck through that 24 hours' worth of temper tantrum.
Kate Young:
Coach Walters has already overcome a lot in his 37 years, from health issues and injury setbacks back when he played football in high school and college, to losing a child with his wife, Tara. Coach Walters' persistence, tenacity, and resilience is a big part of why he's in the position he's in now, as the Boilermaker's head football coach. How did Coach Walters keep going after facing all different kinds of adversity?
Coach Ryan Walters:
Like I said, growing up in a household with a solid structure definitely helped. I got to see a firsthand experience with my dad, inner city LA, pregnant with my mom at 16, injuries in college, but there was never an excuse. I never heard him complaining about anything. Having that example in the helm really helped just how to deal with that adversity, and how to lean on people around you when it gets tough, and really realizing that the sun is going to rise and set no matter what is going on in your personal world.
The world doesn't really care. People are still going to have good days, people are still going to have bad days. It's just kind of what you do with your 24 hours and who you surround yourself with that could kind of pull you through those adverse moments.
Kate Young:
On December 13th, 2022, Coach Walters was announced as the 37th head coach in Purdue football history. Previously, Coach Walters was the defensive coordinator at another Big 10 School, University of Illinois, for two seasons. Prior to that, he served as a defensive coordinator at the University of Missouri.
Coach Walters was officially hired at Purdue at age 36, and became the fourth-youngest coach in the Power Five conferences, and the eighth youngest in the Football Bowl subdivision, the top half of Division One college football. What made Coach Walters go for this coveted role of head football coach at Purdue University?
Coach Ryan Walters:
One, we played against Purdue the last two years I was at Illinois, and didn't come out on the victor's column. This was one of the schools, as a defensive coordinator, was the most difficult to prepare for. I obviously knew the lay of the land from a conference standpoint, and this side of the Big 10, but other than that, I didn't know a whole lot about Purdue. I knew that Drew Brees played here a long time ago, being a quarterback guy and a fan of that position.
I knew it was a great academic school, but other than that, I didn't know a whole lot. Going through the interview process, when I saw Louisville opened up, I thought there was a high probability that Coach Brohm would go back, just because of the last time that that job was vacant and his history. There's him and his family's history there. I remember calling my agent, saying, "Hey, if Brohm leaves, I would be definitely interested in that job." He's like, "We're already on it."
I had the initial phone call with Mike and Tiffany, and that just felt easy. It felt fluid. That really sparked my interest even more in the job. Then sitting down in our last in-person interview, just the idea of what it takes to be successful at this level, the idea of what type of resources are required to be successful on a consistent basis at this level, their vision for that was in alignment with mine.
That, I think, is rare in today's college athletics and the landscape of college football specifically, where you've got alignment from the president, to the administration, to the athletic department, to football. It's hard enough to win games on Saturday. If those things aren't the line, it makes it even more difficult. I remember walking out of that interview and calling my wife and saying, "I really want this job. I want to work with those people." Maybe 18 hours later, I get a phone call. Get the job offer, accepted it.
Then I'm coming down from Cherry Lane and you see the facilities, you see the community and how inundated the fan base is with the athletics here, the proximity to Indy, and Chicago, and St. Louis. You got a major airport that's an hour away. I feel like I was a 16-year-old that got keys to a Lamborghini. I'm hoping to be here for a long time.
Kate Young:
Coach Gerald talked about coming out of that locker room in Mackey, walking down that hallway with that same kind of vision that you had coming down Cherry Lane. Not many things can give you that feeling of being a 16-year-old driving a Lambo. You have to love it. Coach Walters reflects back on what it felt like to get this job offer. Take us back to that phone call when you got it. What was going through your mind?
Coach Ryan Walters:
One, when I got into the profession, I knew I wanted to be head coach at a young age. I know in order to do that, you got to be a coordinator, you got to do very well as a coordinator to get a look to get interviews for jobs like this. When I got into the profession, I know I wanted to be a coordinator by 35 and a head coach by 40.
I remember getting that phone call and talking to Mike. When I hung up I was just like, "Wow, this is real. It happened," and it happened a little bit earlier than I thought. It was the same way as the defense coordinator too. I'm just keeping the trend going right now.
Kate Young:
I had to ask, how did Coach Walters, who didn't have any experience as a head coach yet, sell himself for this role at Purdue? What are the advantages of being a young collegiate head coach?
Coach Ryan Walters:
I think the age in and of itself lends it to having organic relationships with the players. It's just, I speak the same language, we listen to the same music, I can still get in and down on a video game from time to time. Then also too, I think, you have a better sense of what's going on from a societal standpoint. There are things that are distracting that weren't the case 10 years ago, with social media, and everybody's a critic, and everybody has access to a wide network of people.
I just think looking at it from a different lens, and really keeping the focus on the players and which their experience is, and having no egos in the building, I think it is easier to do that at 36, 37. I definitely have used that to my advantage, and also use it as a chip on my shoulder to continue to get better and evolve year in and year out.
Kate Young:
That leads to my next question. Are there any disadvantages? Were you ever doubted during some of your interview processes at other schools or for other positions?
Coach Ryan Walters:
Yeah, the question was always, "What makes you the right person for this job? You've had zero years of experience as a head coach." Every first time, head coach has had zero years of experience. I think with this landscape and the ever-changing world that is college football, I felt like I was more ready than somebody that's been doing it for 20 years. You look at it in terms of a corporation. All of a sudden, somebody's been working 20 years at that same corporation, policy changes. Well, it can be really hard for that employee to change.
Sometimes they might even fight that change, whereas you get that same company and somebody is employed right when that policy changes, they thrive in it, they adapt to it, and it's a easy transition. With NIL, and player empowerment, and the transfer portal, and all those things, I don't look at them as difficulties. I look at them as opportunities. I just think with me coming on the front end of this frontier, I think it'll be easier for myself and my staff to adapt to the changing landscape.
Kate Young:
I asked Coach Walters what it was like to transition from a defensive coordinator to a head coach.
Coach Ryan Walters:
I think the thing that's been most difficult is just at practice. I can't get too excited about one side of the ball winning a play over the other, and sort of that balance of controlling emotions. If Hudson throws a pass to Dion for a deep touchdown, like I'm happy as heck that we scored a touchdown because it was a great play, but I'm also upset, because we allowed a touchdown on the other side of the ball. Just that balancing act, and really getting involved in both sides of the ball has been not hard, but different, for sure.
Kate Young:
Speaking of practices, I've heard your practices are laid out a little bit differently than previous football era here. What's that vibe like? Why is it important to you to play the popular music, have that really disciplined schedule when it comes to practices?
Coach Ryan Walters:
Well, we try to put as much stress and pressure on them as possible, while still keeping it fun and engaging. There is no replacement for experience. To try to fabricate the experience and put you into situations and scenarios that applies pressure, and makes you think on your feet and react, those things are important just to be ready for game day and getting to like atmospheres.
Kate Young:
Has it really hit you yet that you're in the ranks of the Jack Mollenkopfs and Joe Tillers as the head coach at Purdue?
Coach Ryan Walters:
It has. I was walking through the lobby with my two boys with the cradle of quarterbacks and the defensive ends, and I don't know when they had changed it, but it also shows the head coaches and then my name is there. My wife turns to me and she's like, "You will ever forever be in stitched in the history of Purdue football." When she said it, I was like, "Wow, it is real." Seeing my name on that wall and with the dash next to it. Now it's, what do I do with that dash?
Kate Young:
What will he do with that dash? Well, he's already done a few major things, and one was within his first few days on the job, back in December of 2022. Coach Walters awarded Boonville Indiana native and former walk-on, Devin Mockobee, with a scholarship. This star running back is a certified mechanic and is studying mechanical engineering technology at Purdue. Here's a clip of this special moment, thanks to Purdue Athletics
Coach Ryan Walters:
First, where's Devin at?
Devin Mockobee:
Mockobee.
Coach Ryan Walters:
Yeah, Devin. What's up, man? Stand up, bro. Obviously, I played against you all, right? When I found out he was a walk-on, I'm like, "What the hell going on over there?" First order of business, I'm going to pull rank right now, and you on scholarship. All right, dog? I guess that's what it feels like to flex a little bit as a head coach, you know what I'm saying? Congratulations, man. Couldn't be more happy for you.
Kate Young:
It's no surprise this announcement went viral on social media, and many fans felt that this gesture kicked off a momentum and energy within this new program. They're right. Many of the Purdue players have been quoted in interviews saying this team is fun, it's energetic, it's exciting, it's a family atmosphere. I've heard that word again and again and again. Family. Coach has already created this family feel within the Purdue football program, and part of building that family, well, you have to do some exceptional recruiting, right?
Coach Walters discusses the significance of getting quarterback Hudson Card in the transfer portal. See, Hudson transferred from the Texas Longhorns and is a key piece of a new air raid-based offense. Those Coach Walters and offensive coordinator, Graham Harrell, have said Hudson is "special." How did Coach land this special QB? How does he recruit the right fits for this Purdue team and culture?
Coach Ryan Walters:
Yeah, it was huge. We didn't have a quarterback with any experience on the roster. I knew with Aiden leaving, and obviously playing against Aiden the last two years, I knew what caliber of player he was and how important he was to not only this offense but this team. Talking with Nate and just going through the roster when I first got here, and seeing that void, and that position is the most important position in sports, period.
If what I was saying through the interview process was to win a championship, then I know I had to go get a high level quarterback in order to do so. In my opinion, Hudson was the best one in the portal. Made that priority number one. As soon as we hired Graham as the offensive coordinator, picked him up in Dallas, and then went to go see Hudson and his family at Lake Travis. The history has been ever since. Just a great family. Hudson's been doing a great job.
I thought his approach to coming in here and taking the reins was exactly what you needed. He didn't come in here and was pointing, holding people accountable off the jump. He came in, put his head down, went to work, and earned the respect of his teammates and of everybody in the locker room. I think his talent speaks for itself. Once guys saw what he was capable of doing, they really backed him 100%.
Kate Young:
Relationship building seems really important to you. Why is that?
Coach Ryan Walters:
I think people forget, we are the service business. I played my last down. I will never put on cleats ever again. People don't go into Ross-Ade to watch any of us coach. They come to watch the players play. I think if your focus is on their experience, then your focus should also be on your relationship. I think we've done a good job as a staff of putting people in place that care about this profession in that way, when these relationships last a lifetime.
I hope one day, that everybody in the locker room invites me to their wedding, and sends me Christmas cards, and stuff like that. Especially with the transfer portal as well, I think your relationships are more important now than ever.
Kate Young:
When you're trying to recruit Hudson to come to Purdue, when you're trying to recruit all of these players, frankly, what are the selling points? How do you sell Purdue? Why do you think students want to come here?
Coach Ryan Walters:
Well, I think the university sort of sells itself, just from an academic standpoint, from an aesthetic standpoint. Then we just try to show them who we are. It's not fabricated, it's not rehearsed, it's real and it's organic. I think we offer a unique experience just in that sense, where we try to make everybody feel comfortable in their own skin.
We're still giving them parameters and guidelines on how to improve, but I definitely think it's important when you walk out of this building with your eligibility exhausted and your diploma in hand, that you are confident and comfortable in your own skin when you enter the real world.
Kate Young:
How does Coach Walters and his team of coaches mentor their players and build those relationships, both on and off the field?
Coach Ryan Walters:
I think just like you talked about earlier with the relationship building, I've been a part of staffs where the head coach mandates, "Okay, twice this month, I want you guys to have your players over for dinner," things like that to get a meal. When I got the job, I didn't want to do that. I just wanted to see how our staff would interact. I know most of these guys. I've worked closely with most of them. The guys that I didn't know came highly recommended from people I really trust.
I wanted to see sort of how they interacted with the guys in the locker room. Today, man, they've had multiple dinners and multiple meals, and seen movies and all kinds of stuff, undirected from me. That's been encouraging. Like I said, relationships are premium here at Purdue.
Kate Young:
As Purdue heads into this 2023 season, there's a new vibe. There's a buzz in the air. New coach, new quarterback, new look at Ross-Ade Stadium. The Tiller Tunnel, named after former Purdue coach Joe Tiller, the winning-est coach in program history will be a new addition, as the Boilermaker face Fresno State on Saturday, September 2nd, during the first home game at Ross-Ade.
This new upgrade to the South end zone will house the student fans, and is sure to boost Purdue's home field advantage even more. September 2nd, when you're getting ready to walk through that tunnel, what do you think you'll be feeling?
Coach Ryan Walters:
I don't know. Excitement, obviously. I'm sure there'll be a litany of emotions, but I'm excited to see these guys play. They've put in a lot of work and Coach Row and his staff has done an awesome job with them through eight weeks in the winter, and then now eight weeks in the summertime to get them prepared to go play football. I'm excited to see what the product is, and see how guys react to adverse situations, and how they feed off each other, and how they handle things when things aren't going their way.
I'm excited, and I think the fans can be excited for the same reasons, just the way this team has adapted to change, the way they've embraced it, and the way they've worked, and put their head down, and really have been focused on what the goal is. That's to win a championship. This university got close to it a year ago, and so it's not a rebuild. Obviously, we got a ton of new players, and lost a whole bunch of productivity from a year ago.
At the same time, this isn't a rebuild. This is trying to elevate the standard and maintain that level of success. I think fans can be excited for the style of play, for competitive, tough, discipline football.
Kate Young:
What can our loyal Purdue football fans expect from this team?
Coach Ryan Walters:
These guys, they love football. That's one thing about this program. If you love ball, you're going to have a great time here, and you'll thrive. If you don't, it's going to be really, really hard for you. Everybody we got in the locker room, I think they enjoy the game for the right reasons. It's not for Twitter followers and Instagram likes, so they love ball for ball.
That's evident by the amount of time they spend in this building, on how much they hang out with each other, how much they enjoy doing extra. I'm excited to see that and how that looks in terms of productivity on Saturdays.
Kate Young:
What do you think the fans will be like September 2nd at Ross-Ade?
Coach Ryan Walters:
Well, I'm just glad I'm on the home side of it now. I remember in '21, I think it was like an 11:00 AM kickoff, and we came out for warmups. The place was going crazy, and I'm like, "What is going on?" I was an hour and a half down the street and we couldn't get anybody to the game. I'm excited to be on the home side of that, and looking forward to the season
Kate Young:
As far as the upcoming schedule for this season, Coach Walters made sure to let us know he isn't worried about any of the games. Tell us a little bit about this schedule. It's pretty daunting, pretty challenging. How do you feel going into the season? Do you have any specific games you're really looking forward to, or maybe even worried about?
Coach Ryan Walters:
Never worried.
Kate Young:
Okay, okay. That's the last time I'll phrase a question like that. Coach went on to explain that this team's confidence is due to their preparation, and he promises that they will always be over-prepared as they challenge each opponent this season. Here's Coach Walters.
Coach Ryan Walters:
I'm looking forward to Fresno State. That's the first game. It's the first time we'll walk out of the tunnel as a new team, and get to introduce ourselves to college football this season. As far as the dauntingness of the schedule, it's the Big 10, that's what you signed up for.
I think it's exciting to have Ohio State and Michigan. Those are the two top dogs in this conference, and so you get to size yourself up twice in the same season. It'll be difficult, of course, it's the Big 10, like I said, but I'm excited, and so are our guys.
Kate Young:
Clearly, setting that example for his team and supporting that family atmosphere within the football program is incredibly important to Coach Walters. When it comes to his own family, Coach says they've been extremely supportive of this significant, life-changing career move. How are his wife, Tara, and their two sons embracing life as Boilermakers so far? Tell us a little bit about your family, and how they've been adapting to West Lafayette and this Boilermaker community.
Coach Ryan Walters:
Yeah, they love it so far. I got two boys, Aaron and Cason, who are nine and seven. They're inundated in sports and everything athletic, but are still very well-versed. My wife does a really good job of getting them involved in everything under the sun. They moved out here after spring break, and dove into Little League baseball, and developing friends and making this a community. They really have had felt the support from the community. It's been an easy transition.
Kate Young:
Do you and your family have any favorite spots yet on campus that you like to visit, like to go to? Tell us about that.
Coach Ryan Walters:
Yeah, so I lived at the Union basically for like 87 nights.
Kate Young:
Oh, my goodness.
Coach Ryan Walters:
The restaurant bar area there, the food is great, the service is unbelievable. Like eating at East End and it's Ripple. Those are good spots. Yatagarasu is my favorite ramen place, Basil Thai. I'm a big ethnic food. I love Thai food. Basil Thai is good right here on campus. Folks over at Tap do a great job for us as well.
Kate Young:
You've highlighted this a lot throughout the whole interview, but what does this Boilermaker community mean to you and your family right now?
Coach Ryan Walters:
It's been everything, this transition. Anytime you move as a family, it's difficult. In this profession, you tend to move a lot. It can be hard on familial relationships, and so it would've been even more difficult if we moved here and weren't welcomed. To see the excitement, to see the genuine, I don't know, it feels like they care about me and my family. They want to see us do well.
That just adds incentive for me in this chair to make sure I'm doing a good job, and make sure this program is headed in the right direction, because of the kind, warm embrace that the community has given my family and I.
Kate Young:
You can read more about Coach Walters' persistence, both on and off the football field, on our Persistent Pursuit website. The article by Purdue Athletics is called Coach Walters: Man on a Mission, and it's linked in our episode show notes for you.
Coach shares what persistence means to him. You've certainly been persistent in your football journey, your career. What does that word persistence mean to you?
Coach Ryan Walters:
To me, really, it's like it's how you should be. If you've got a goal in mind, don't stop. Don't sell yourself short. Don't be discouraged when it doesn't happen right now. Persistence is just continually trying to improve, in order to reach whatever that goal is that you're trying to improve for.
Kate Young:
As for Coach Walters' next giant leap?
Coach Ryan Walters:
From a personal standpoint, we're building a house right now, and so I'm excited about that. From a career standpoint, I want to be here. I feel like the grass is not always greener. To me, it gets green when you fertilize it and water it. I'm pouring into this job, and pouring into this place, and pouring into this community. I got, like I said, my two boys are nine and seven, and I hope they say they're from West Lafayette when they grow up.
If that holds true, then that means that I will have done what I thought I could do here, and we'll have built something here that is longstanding. Hopefully I can retire, and people will talk about the Walters era the same way they do to Tiller.
Kate Young:
I love that. I think our football fans will love hearing that too.
Coach Ryan Walters:
No, we're excited, and the guys that have been working. Just like I just got back from vacation, and I couldn't wait to get back, just to be around the people inside this building. I missed West Lafayette. I'm excited to be here.
Kate Young:
We can't thank Coach Walters enough for spending time with our This is Purdue team and sharing his story with us. If you want to watch our full video interview with Coach Walters, head over to our podcast YouTube page, youtube.com/@ThisisPurdue. Be sure to subscribe there so you never miss any of our podcast videos. If you'd like to cheer on our Boilermakers this year, go to Purduesports.com for more information on football tickets.
You don't want to miss the palpable energy Coach Walters and the rest of his coaching staff is bringing to the special team. This is Purdue is hosted and written by me, Kate Young. Our podcast videography for this episode was led by Ted Shellenberger, in collaboration with John Garcia, Thad Boone, Zach Mogenson, and Allie Chain. We also had production assistance from Theresa Walker, Carley Eastman, and Delaney Young. Our social media marketing is led by Ashley Schroer and Maria Welch.
Our podcast photography is led by John Underwood. Our podcast design is led by Caitlin Freeville. Our podcast team project manager is Emily Jesulaitis. Our podcast YouTube promotion is managed by Megan Hoskins and Kirsten Bowman. Our podcast research is led by Sophie Ritz. Thanks for listening to This is Purdue. For more information on this episode, visit our website at Purdue.edu/podcast. There, you can head over to your favorite podcast app to subscribe and leave us a review. As always, Boiler Up!