Back To Top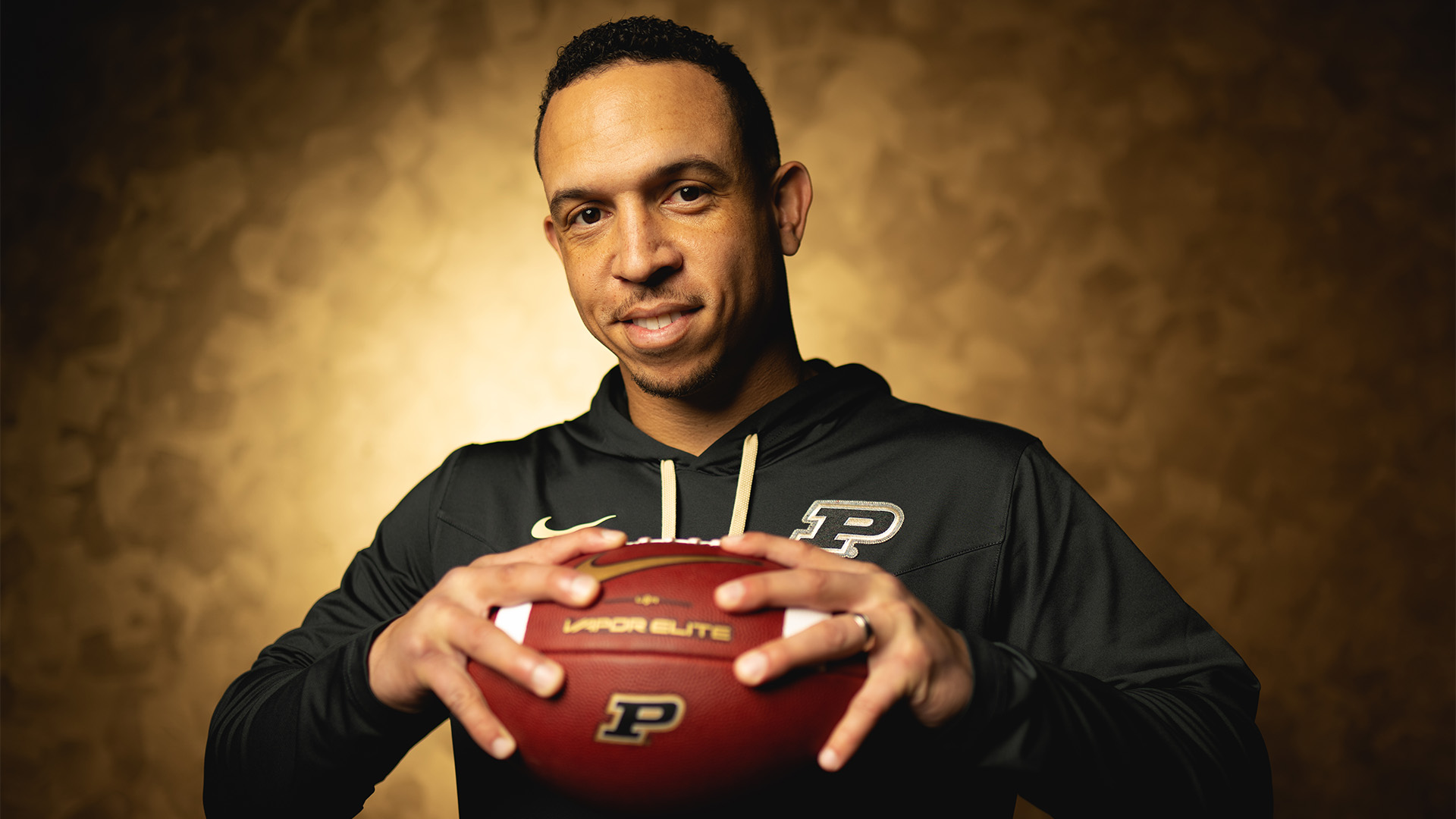 Ryan Walters' meteoric rise brings him to Purdue as head football coach
Ryan Walters never will forget the morning he struggled to draw a breath.
"Woke up and my throat was closed," he says.
Podcast Ep. 90: Coach Ryan Walters and the New Era of Purdue Football
Walters was a freshman at Colorado. Instead of going to the hospital, he drove to his parents' home not far away, gasping along the way as he gripped the steering wheel.
"By the time I got home, I could barely breathe, so they rushed me to the hospital," he says. "They couldn't figure out what was wrong."
Finally, a diagnosis: Walters' tonsils had grown back.
"I had had my tonsils taken out when I was 10," he says. "One in like 10,000 people, tonsils grow back. They had gotten infected, and it was a bad deal. I had them taken out again."
The harrowing episode shaped the resilient and driven Walters, pushing him on a never-say-die path that now has him sitting behind a Big Ten Conference head coaching desk at 37 years old.
It has been a stunning and swift ascent to the summit of his profession. Assuredly, overcoming infected tonsils is just a tiny part of what Walters has navigated on his journey to become head coach of the Boilermakers.
I think he went into that (Purdue) search as an underdog. And they just kept interviewing him and making him earn it, and he just kept moving and moving and eventually became the No. 1 guy.

Bret Bielema
Illinois head football coach
"I think the two things he has are leadership and vision," says Illinois coach Bret Bielema, who had Walters as his defensive coordinator the previous two years. "I think he went into that (Purdue) search as an underdog. And they just kept interviewing him and making him earn it, and he just kept moving and moving and eventually became the No. 1 guy."
This is a man on a mission. This is a man who is driven. This is a man who is ready for his big moment as he marches into his first season in West Lafayette.
"Am I surprised he's already a head coach?" asks Rocky Whitworth, who coached Walters at Grandview High School in Colorado. "I'm not surprised. I mean, I know that he's up to the task. And he was thinking about it. He wanted to move forward. He was always a driven guy for success and advancement. So I knew that was going to (eventually) happen."
Mike Bobinski, Purdue's director of intercollegiate athletics, saw it during an interview process that lasted less than a week in December.
"Ryan was on our list of folks we wanted to know more about from the beginning," says Bobinski, who had about a dozen candidates on his initial list. "He made a positive first impression (over Zoom). In the next round, the three of us walked out of those in-person meetings together (Tiffini Grimes, deputy athletics director, and Mike Berghoff, Board of Trustees chair), all saying unanimously, 'That's the guy.'"
So who is Ryan Walters?
Thoughtful in his journey
Ryan Walters is thinking.
The freshly minted Purdue coach leans back in a chair in his office, gazing toward Ross-Ade Stadium. He speaks in measured – almost hushed – tones, choosing his words carefully.
Walters has traveled a long way in what seems like an instant, the firstborn son of parents who were kids when they had a kid. How young? Mom was 16; dad had just turned 17 when baby Ryan was born in January 1986 to high schoolers.
"My mom grew up in a very religious household," Walters says. "My grandfather was a pastor. So you can imagine when a pastor's daughter gets pregnant in high school. It was something difficult to deal with at that time."
Walters' parents did what all parents do: the best job they could.
Marc Walters got a football scholarship to Colorado in 1986, wooed to Boulder by iconic Buffaloes coach Bill McCartney. But the aspiring quarterback's career never got on track.
"Dad tore his ACL three times," Ryan says. "So he ends up going to law school."
In Boulder, and despite his dad's injuries that limited his playing career, young Ryan became a fixture around the CU program, famously being babysat by Eric Bieniemy, among other Colorado players.
"I spent much of my grade school years in Boulder in family housing," he says. "In elementary school, I was always the best kid at sports, whether football, basketball or baseball. I was always good with a ball in my hands."
A job took the Walters family to northern California and Aurora, Colorado.
"That's kind of when I realized I might have a chance to do the football thing," Walters says. "It just came naturally. I was getting a lot of attention. I enjoyed the game a lot."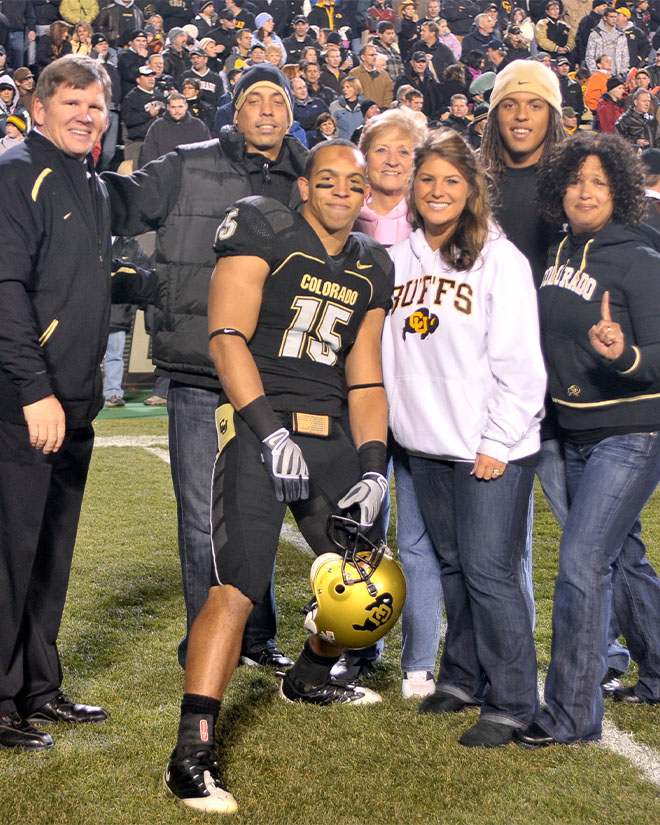 Tough love at home
Ryan Walters is a rising star.
The place: Grandview High School in Aurora, a leafy Denver suburb. As a freshman, Walters played receiver on the varsity team on Friday nights. On Saturday mornings, Walters quarterbacked the JV team.
"They put a lot of mileage on me," Walters says. "I had a blast and had a group of friends on the varsity team."
But Walters' parents – Marc and Nicole – didn't want their 14-year-old hanging out with 18-year-olds.
"Mom and Dad were very strict growing up, and I think probably because they didn't want me to have a child at 16," Walters says. "Strict with a curfew, strict with discipline, Mom more than Dad. That caused friction in the house. Kudos to my parents for putting their foot down."
Walters earned a scholarship offer to CU as a sophomore. He was going to be a Buff. He had to be a Buff. C'mon.
Marc Walters remembered that he saw the potential when Ryan was zigging and zagging past other 8-year-olds in flag football games.
"He always had a ball in his hand," says Marc Walters, who lives with Nicole in Seattle and works for Microsoft. "He's dragging me outside all the time, wanting to play catch or wanting me to show him certain things."
That skill set manifested itself in high school. Whitworth saw it and developed it as head coach at Grandview.
"The first thing that comes to my mind is he was just a tremendous leader," Whitworth says. "We talked when he was younger about leading by example, but also just in terms of his genuine, caring personality. And he was a great positive thinker in tough situations."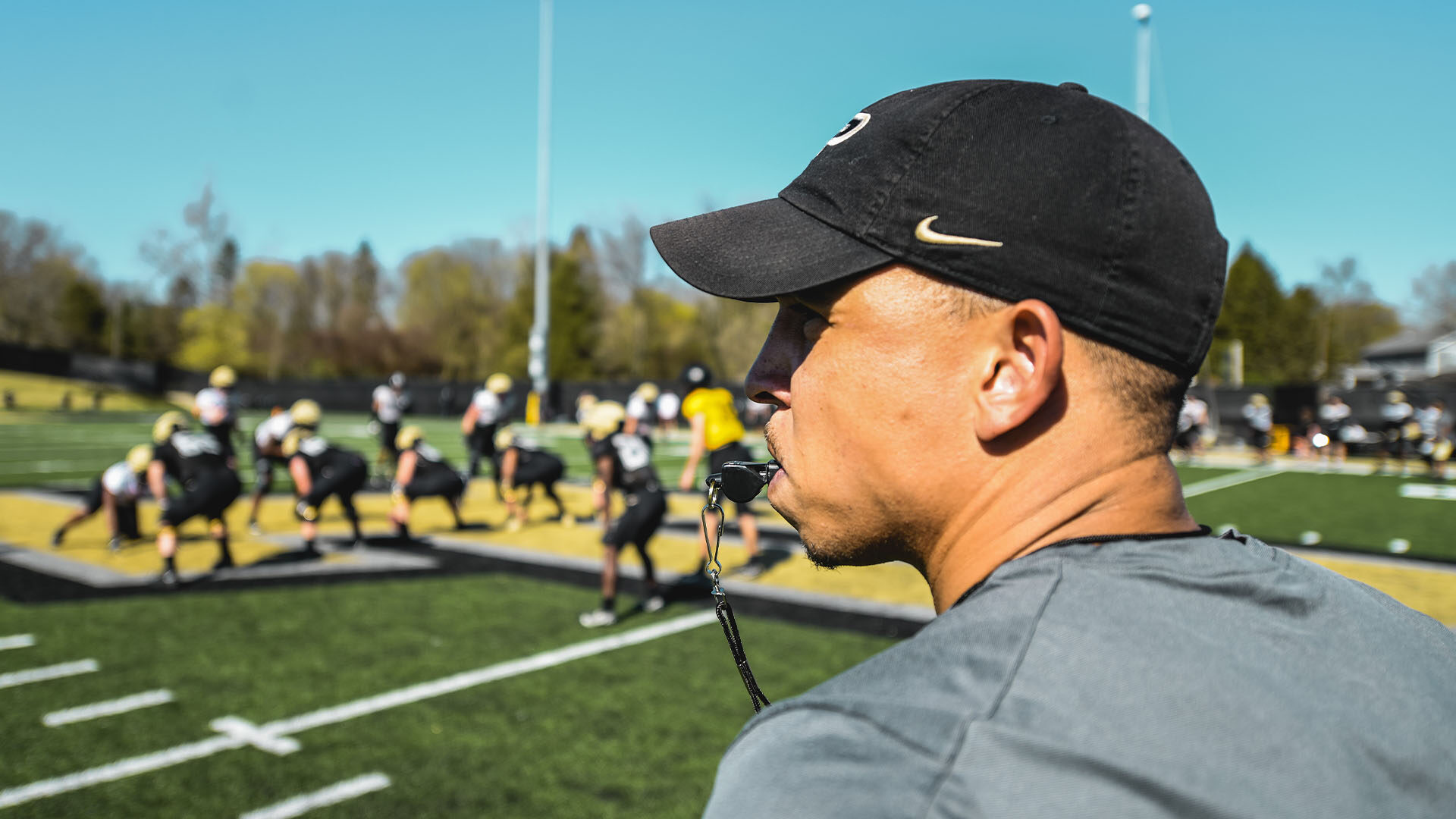 Competitive? You bet. As a junior, Walters sustained an injury to his throwing shoulder. He couldn't even raise his right arm. And a big game against powerhouse Cherry Creek loomed. Walters wasn't going to miss it. Safety, receiver, running back … Walters wanted to help. Whitworth had an idea: Play the one-armed quarterback.
No big whoop for the smooth-operating Walters. Grandview won. And Walters led the way, not attempting a pass.
That "just get it done" mindset was melded with a persona that allowed Walters to move effortlessly and authentically among social circles with an inviting personality that drew people in.
"His parents were a great, eclectic group of folks," Whitworth says. "His family was just outstanding. His father, his mother, his grandmothers, from the church they went to when he was in high school to the community, they were just involved."
Walters grew up alongside his parents as they matured.
"My relationship with my parents is awesome because it feels like we grew up together," Walters says. "I think I was more mature than most kids my age just because I probably saw some things most kids 10 and under hadn't seen. I probably heard some things they hadn't heard, too."
Growing up with two Black parents from Los Angeles in Boulder was a culturally unique experience. The Walters' house was much different than where his friends lived and where he would attend college. That's at the root of the ease and comfort of Walters' manner.
"I felt comfortable sitting in someone's house in the suburbs because I went to school in the suburbs and grew up with many suburban friends," he says. "Yet I would hang out with my parents' friends at home. I would get that side of it, too.
"That helped mold my perspective on society and being culturally accepted and understanding."
Walters also learned to lean on others for help. Namely, younger brother Cole.
"Sometimes Ryan was a big brother, but he was also kind of, to a lesser degree, sometimes the third parent in the house," Marc Walters says. "And that was just kind of the dynamic."
Ryan is five years older than Cole, but they were close, and remain so – a bond forged through family struggles. Cole, a University of Chicago graduate, lives north of Seattle with his girlfriend and does consulting work for Microsoft.
"We couldn't be more different, but we leaned on each other a lot," Ryan Walters says. "As you can imagine, when you have a couple that started their relationship as 15-, 16-year-olds, married at 18, they'd had their problems. When they did have their issues, my brother and I leaned on each other. That experience makes us very close to this day."
Walters also leaned on his girlfriend, Tara. Ryan and Tara were a high school couple straight from central casting. She was a cheerleader; he was the star quarterback. They first met in middle school and started dating during Walters' junior year. They would later marry in his parents' house – and are now parents to two young boys, Aaron and Cason.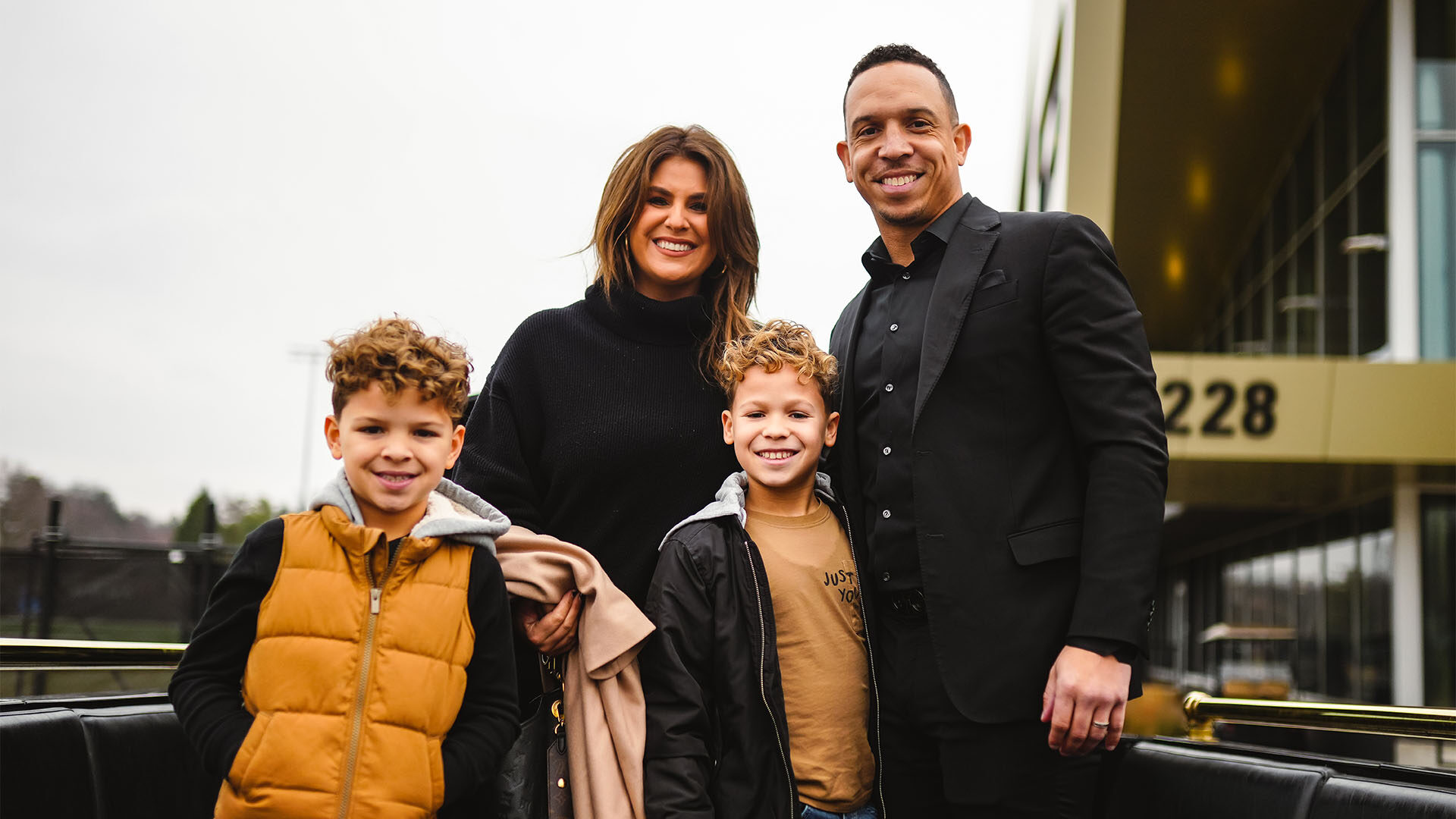 Shaped by life's challenges
Ryan Walters is sleeping.
The place: his Colorado freshman dorm. He awakens to find his pillow soaked red in his blood.
What's going on?
A stitch from his tonsil procedure had popped, causing bleeding from an artery in the back of his throat. His roommate hurried him to the hospital.
"I didn't eat much for about three weeks and lost a lot of weight," says Walters, who had graduated from high school early and enrolled at CU in the spring of 2004. "I was about 168 pounds. My confidence was shot. I salvaged my grades but didn't go through spring ball. I was a shell of my athletic self."
Walters regained his form for fall camp. But the star prep quarterback was still off.
"I didn't feel like I was throwing well and was frustrated," he says.
Colorado had Joel Klatt at quarterback. The handwriting appeared on the wall for Walters' career under center.
"I knew if I wanted to play right away, I'd have to move positions," Walters says. "I wasn't used to sitting on the sideline. Looking back, I probably jumped the gun and moved positions earlier than I would've liked."
Walters' new spot: safety.
"Coach (Gary) Barnett gave me a week to try it," Walters says. "He said he didn't bring me there to backpedal. They put me straight into special teams drills. I got my butt kicked. But there was a play in a live situation where I lit up (fullback) Lawrence Vickers on the sideline. Everyone thought I may have a future at safety after that."
He did.
Walters had never tackled before but feared being called soft.
"So I would run as hard as I could into people," he says. "As a result, I had like seven football-related surgeries."
Walters had found a home. He thrived, serving as team captain as a senior in 2008 and being voted team MVP that season. But off the field before that year, Walters faced a real-world reality: His girlfriend was pregnant.
"We get to like the 36-, 37-week mark and lose the baby," Walters says. "It was during spring ball. I was coming off labrum surgery, so I wasn't in spring ball. It was tough. My perspective on adversity had changed. I was less self-centered at that moment.
"You are in the maternity ward going through the birth process. Tara is induced and has the baby – obviously, a very sad environment. Right next door, everyone is giving birth and celebrating. It was a huge contrast in emotions."
Adds Marc Walters: "It was devastating. We were all worried for them because it was a traumatic moment. That can sometimes change your life's trajectory. They came through it, but that was a really tough time."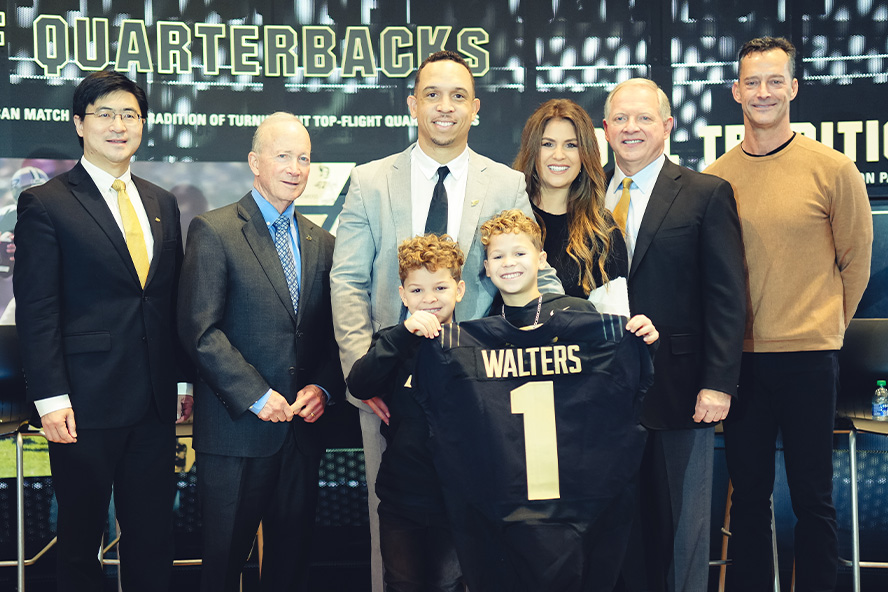 You have to lean on each other and people you can count on during tough times. Otherwise, you can eat yourself up because the world doesn't care.

Ryan Walters 

Purdue head football coach 
Ryan Walters walked out of the hospital afterward on what was a classic Boulder day: clear and 70 degrees. Beautiful.
"I recall thinking no matter what happens, the sun is still going to rise and still set," he says. "Time will go by. The world doesn't care what's going on. You have to lean on each other and people you can count on during tough times. Otherwise, you can eat yourself up because the world doesn't care."
Walters pressed on, finishing his college career and embarking on an eventful and still-evolving life that has him on the precipice of his first season as Purdue's head coach.
His meteoric rise through the assistant coaching ranks, culminating in ultra-successful stints as defensive coordinator at Missouri and Illinois, has been well documented. Ryan is on a pedestal in the college football coaching ranks because his passionate labor and strategic expertise at each stop make him respected in coaching annals, especially considering his relative youth. And, through it all, Tara and the boys have been by his side providing a rock-solid family foundation that has helped Ryan flourish.
"He's comfortable in his skin," Marc Walters says. "And it's not a cockiness, a false belief or a fake-it-till-you-make-it thing. He's ready to succeed or fail on those terms.
"He was never one to be influenced to do something that he didn't want to do. He was always the one to influence others to do something he wanted. He's always demonstrated leadership."
Ryan Walters' leadership skills will be tested. And so will his ability to influence others. But through it all, one thing is certain: Walters' time is now.
Written by: Tom Dienhart, tdienhart@goldandblack.com