Back To Top
Students combine technical skills with teamwork and take away an instrument
What does it take to create a one-of-a-kind class?
Mark French, professor of mechanical engineering technology in the Purdue Polytechnic Institute, leads one of the most popular courses on campus: MET 34900 (Stringed Instrument Design and Manufacture), better known as "guitar lab."
French finds that his background has greatly influenced his instruction style and created a unique ability to connect with students.
It's easy for students to assume that their professors have never struggled. French is the first to admit: "I have an advantage that most professors don't have – I was never an especially good student."  
Although French always had natural curiosity and a commitment to learn, he wasn't especially confident in college. His experiences led him to try to become the professor he needed.  
"I was OK in college, but I was nobody's star," French says. "No one was looking at me and saying, 'That guy's going places in academia!'"  
After graduation, French began working as an aerospace engineer and realized that, as a college student, he wasn't out of luck and unable to learn. He was unable to learn in the ways that his professors were trying to teach him.  
Watching professors write out equations on a board in front of a lecture hall was ineffective for French. Rather, he needed rewarding projects built around interesting ideas and practical applications. He brings these priorities to his approach in his current classroom.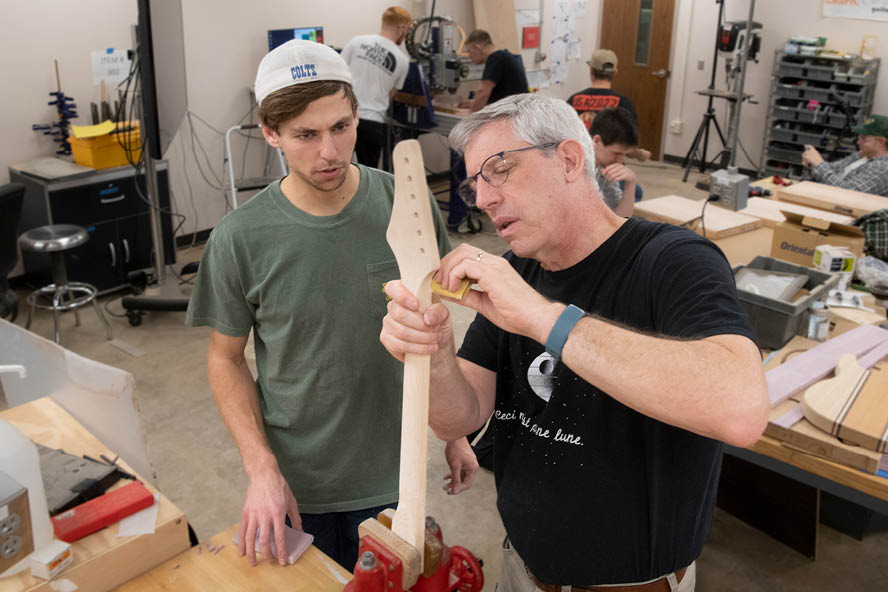 I'm a huge fan of getting as many different ways of thinking in the room as I can.

Mark French

Professor, mechanical engineering technology
Focusing on experiential learning  
Purdue professors create active-learning environments across campus every day, from visualizing supernovas to studying Shakespeare in small groups. Every student can find a hands-on class, no matter their major. 
It's no wonder that guitar lab is a student favorite. It's taught by French, an engaging teacher, who happens to also be a YouTube-famous professor. And the class results in hand-built guitars, all the while providing lessons that resonate with any career path. Through immersive projects, students learn lifelong skills, like how to work well within any team. 
"Students from all majors can come into class and start building, getting involved and running machines," French says. "They're able to experience the manufacturing process and say, 'OK, I know how to do this.'"  
Guitar lab looks like a hub where creativity thrives, with workbenches, advanced toolkits and shelves stocked with building materials. Starting from scratch, groups begin to brainstorm guitar designs and account for the production concerns and process variability they'll encounter along the way.
French is able to form connections and provide encouragement to all Boilermakers, from Polytechnic majors to art and design majors following their curiosities.  
"If the group is academically diverse, the whole process works better," French says. "With experience in the humanities or the arts, the groups are more innovative. They approach problems from different directions than I'd normally see."  
After all, there is an array of topics covered over the course of the semester. Teams take on acoustics, physics, electronics, project management and problem-solving. Bringing individual backgrounds and distinct skill sets can help the entire project. "I'm a huge fan of getting as many different ways of thinking in the room as I can," French says.  
Teaching lessons that last
Motivated by the mission to prepare students for life long after the semester ends, French promotes processes that can work in any job. From creating products on computer-controlled equipment to collaborating on a project plan, guitar lab lessons resonate.  
French has played a part in students' career opportunities. Recently, one of his former students landed a dream job at Gibson Brands Inc. in Nashville, Tennessee. Lyndsay Moye, currently a computer numerically controlled (CNC) engineer at Gibson, took guitar lab during her senior year at Purdue.  
"I wouldn't have this job without Professor French," Moye says. "Whenever I had a question, he answered intellectually and personably. Guitar lab was one of my favorite parts of my Purdue experience."  
Now, Moye's role as a CNC engineer involves many of the lessons she learned during her time in French's class. "The project taught me a lot of the terminologies that I'm using all the time now," she says. "It's helping open doors for me to learn even more here in my day-to-day job."  
French persistently trains Boilermakers to handle tough challenges and find innovative solutions. His work goes beyond his West Lafayette campus classroom – he's making an impact around the globe.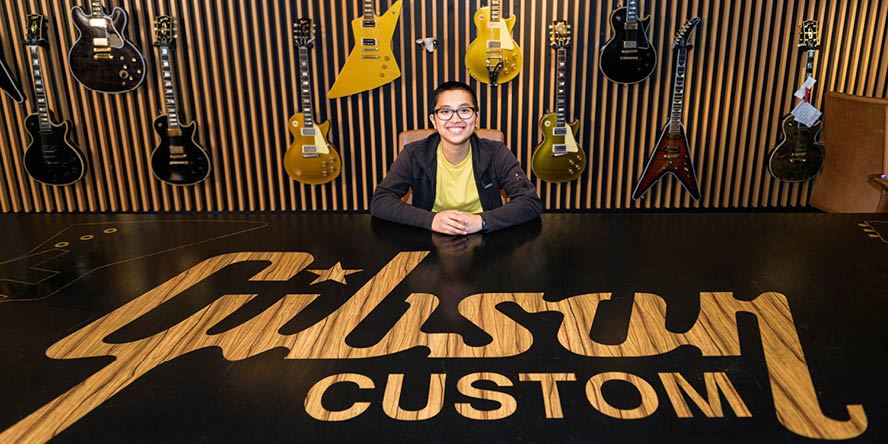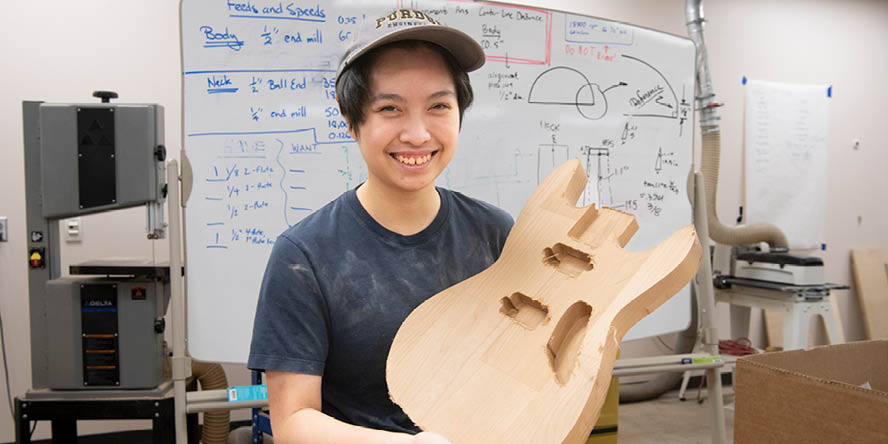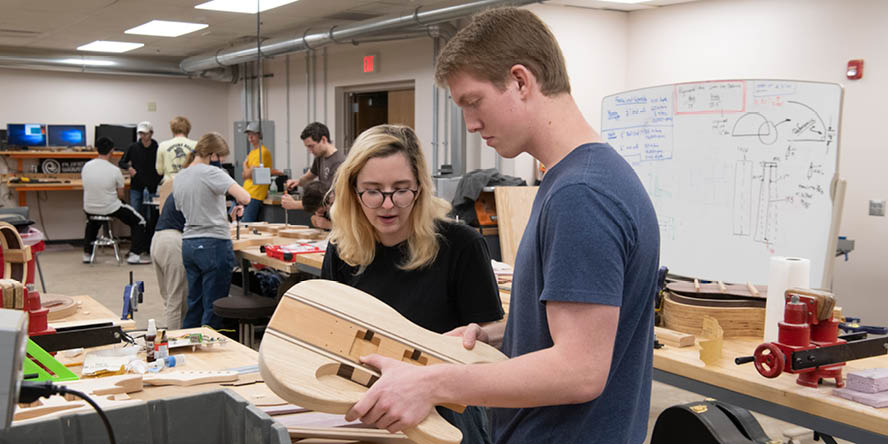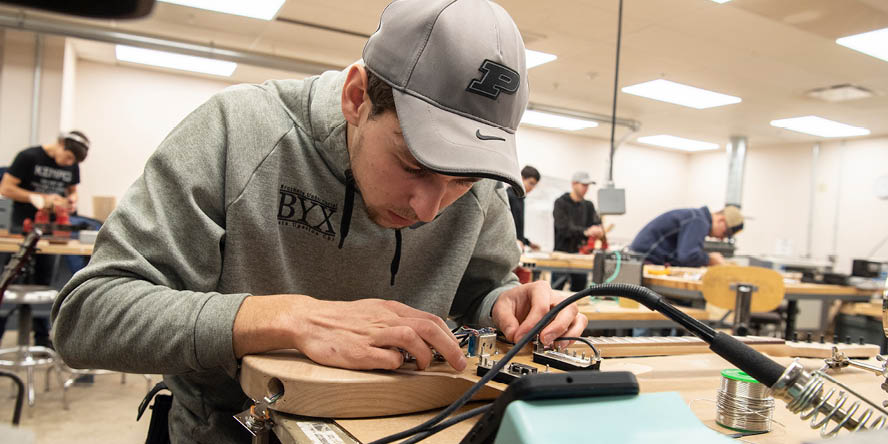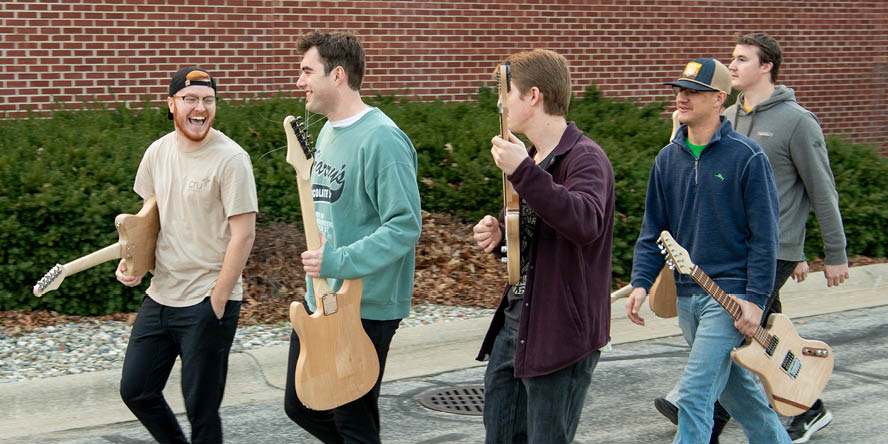 Expanding learning experiences
Guitar lab is only one part of French's effort to teach in impactful ways. From nationwide programs to popular YouTube videos, his informative but understandable methodology has helped millions of people learn more about engineering. 
For 11 years, French helped run a program called the National STEM Guitar Project, supported by research funding from Sinclair Community College and the National Science Foundation. STEM Guitar grew from a summer program for high school students and from summer workshops for adult learners. 
The program ended up educating all ages, including veterans transitioning to life after the military and learning new skills. STEM Guitar grew across 48 states and involved over 450 STEM educators, in total teaching more than 20,000 students nationwide. 
Since 2009, French has built a sizable YouTube following under the handle @purdueMET. Viewers enjoy videos with varied lessons, like learning how to calculate area moment of inertia of a T beam or even seeing a supersonic ping-pong ball in action.  
His worldwide following was formed completely by accident. 
French started his channel to show one of his classes how to complete some homework problems. When he checked in a few days later, he was shocked. 
"I realized there were 73 people in my class, and the video had over 500 hits. I thought, 'There's no way 73 people have watched this over and over again," French says. "Then, the first comment that I got was from someone in Austria."  
Now, French gets about 1,000 hits on YouTube every day, with a total of more than 8.8 million views. "I'm trying to be the professor I needed," he says. "I could have really used these videos."  
I'm trying to be the professor I needed.

Mark French
Professor, mechanical engineering technology
Continuing to connect and inspire
French strives to keep learning and evolving with his students, always on the lookout for new opportunities to teach and guide. He recognizes that acquiring new skills can be stressful or nerve-racking; no one becomes an expert without enthusiasm and a little humility. It's how guitar lab has had such a holistic effect on so many students.
At the beginning of every semester, French shows his undergraduate transcript on a screen at the front of the classroom. He is immediately forthcoming about the imperfect grades he earned.
"I show my transcript so that students see I remember how learning can feel," French says. "When someone comes into my office and tells me they're worried, I understand. I know how they feel. I can say, 'I got through it, and I'll help you get through it.'"
Whether French is at the front of that classroom or in front of a camera, his teaching style is changing the ways that Boilermakers can make a difference. Guitar lab prepares students for the opportunities everywhere.
Related Stories