Back To Top
The fraternities and sororities of the National Pan-Hellenic Council
In discussions at Purdue, when we talk about diversity and inclusion and making sure marginalized communities own a sense of belonging at Purdue, first thoughts are usually Purdue's outstanding cultural centers. But an equally excellent community has been another force for good on campus for almost half a century — the National Pan-Hellenic Council, Inc.
The NPHC was founded as a unit when a handful of historically Black fraternities and sororities (which were founded in the early 1900s) came together in 1930 to provide a haven and community for Black students on predominantly white campuses. Over the years, what started out as a handful of organizations grew into the affectionately nicknamed "Divine Nine." Today, the NPHC celebrates the spirit of Black excellence at Purdue and beyond — many of its loyal members, spanning generations and continents, are Purdue's most prominent and accomplished alumni.
Seven of these nine fraternities and sororities are currently active at Purdue. We sat down with representatives of each one to talk about why they believe in their organizations and things Black students should consider as they search for a community on campus.
Introducing the representatives of Purdue's NPHC organizations
Jerica Drew, Zeta Phi Beta Sorority, Inc. (Epsilon Kappa Chapter)
Joyce Adebonojo, Delta Sigma Theta Sorority, Inc. (Zeta Theta Chapter)
Andrea Gibson DuPerry, Alpha Kappa Alpha Sorority, Inc. (Epsilon Rho Chapter)
A'manii Brown, Sigma Gamma Rho Sorority, Inc. (Epsilon Gamma Chapter)
Joshua Gregory, Omega Psi Phi Fraternity, Inc. (Rho Sigma Chapter)
Carey Walls, Alpha Phi Alpha Fraternity, Inc. (Gamma Rho Chapter)
Tosin Ogunjobi, Phi Beta Sigma Fraternity, Inc. (Zeta Phi Chapter)
It's striking how every single one of these representatives talk about their organizations in the same way — with contemplative reverence and a strong sense of honor for the hallowed tradition that's made Purdue their home.
These seven students discuss their experiences and why belonging to an NPHC organization is so rich in meaning for them.
A haven for Black students
The camaraderie among Black students belonging to NPHC organizations is very significant to its members. Can you tell us about the impact your community has had on your Purdue experience?
Jerica: Students of color are all spread out and scattered across campus. So, to have an opportunity not only to congregate but to work together and build that unity has really enhanced my time here on campus.
Carey: I was struggling to find my community, so I started to look into Greek life, specifically Alpha Phi Alpha. Getting to know the chapter on campus definitely helped me to realize that there is a community here for me.
Joyce: It's inspired me to become a lot more involved, and it's inspired me to be more active in the change I want to see on this campus.
Andrea: I feel like I now have a dependable community that I can rely on, really, for the rest of my life. I've been able to grow with like-minded individuals, build my leadership skills and also understand the value of sisterhood.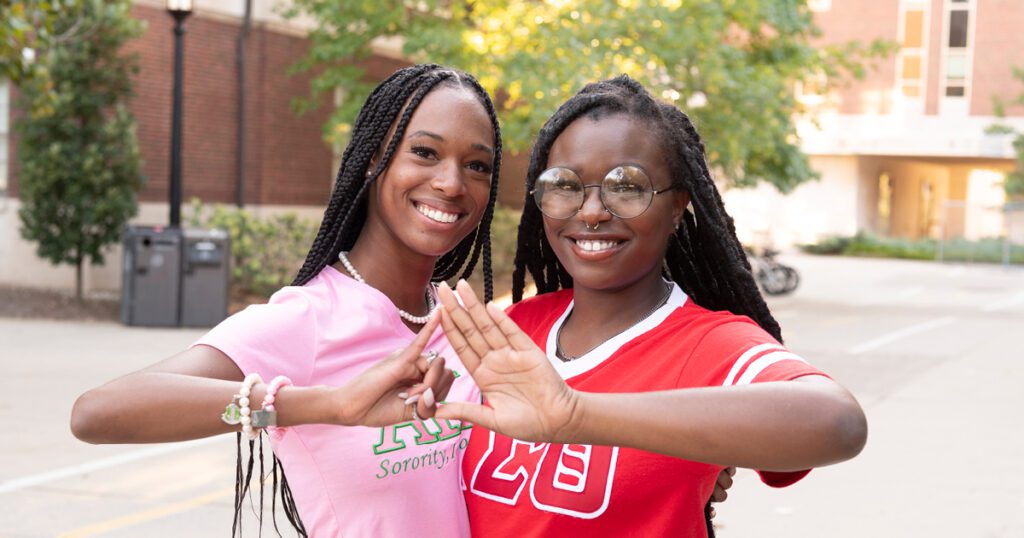 A better, fuller educational experience
A major driver for the activity in NPHC-affiliated fraternities and sororities, as with many Greek letter organizations, is giving back to the community. How do members feel that their organizations make Purdue a better place?
A'manii: We're heavily focused on community service, on making sure everyone in the community is comfortable, and we try to make sure that every voice is heard, regardless of who they are.
Carey: We bring a different culture that some campuses don't get to experience. NPHC is nationwide, but not every campus gets to see exactly what NPHC embodies. At Purdue, we're definitely able to show that we're not just here to be social organizations. We're also here to serve as a lesson, a guide to those other students just to help them along their way, even if they aren't a part of our organizations.
Tosin: I feel like our organizations have helped our community become more diversified and given an outlet to some students, especially African Americans. I feel like we've given people an opportunity to succeed, make connections and network with others, and just giving them the best possible chances to do what they want in life.
A community full of meaning and pride
It's clear that members have deep pride and connection to the heart and soul of their organizations. Where does that meaning come from, and what inspires the pride you have?
Joyce: It means that I get to be the change I want to see. I was inspired to be a part of this organization because of women on this campus I looked up to, who were there for me when I needed help, who encouraged me when I wasn't feeling very confident in myself … these are the kinds of things I would like to do for other girls on this campus who experience the same thing I did when I was struggling my freshman and sophomore years.
Joshua: It means everything to me. It's something I've wanted to do for a long time, ever since I started doing community service, whether it was soup kitchens, loading up water for the Flint Water Drive — I always saw members of Omega Psi Phi there. Now I'm part of a great brotherhood. Anywhere I go, I have family.
Andrea: I'm proud to be a member because it's the first Black sorority and also because it really is the embodiment of being a strong woman and understanding how you can have an impact in the community. And our long lineage of sisterhood throughout Alpha Kappa Alpha history is so important to all of us.
Carey: What it means to me is to remember where I come from. Alpha Phi Alpha is a conglomeration of like-minded brothers; however, we do come from different backgrounds. It definitely forces me to remember that I'm part of a greater organization now, so I have to hold myself to different standards.
I'm proud to be a part of Sigma Gamma Rho because it feels comfortable. It feels like home. And everything I do, I always know that I'll be supported by my sisters.

A'manii Brown, Sigma Gamma Rho Sorority, Inc.
Tosin: Other people before me have made a difference, and I feel like I can also make a difference in the world around us. Just for everything the African American community has gone through, I feel like I can help empower us to make a difference in the world.
Jerica: It's about not only taking pride in all that your sisters have accomplished, but using that to push yourself farther forward. Even though I am here at Purdue trying to get my degree, this is not the end at all. It's just one step toward being a better, finer woman — as we say in Zeta!
Lifelong memories
A significant moment for every member of a fraternity or sorority is the day they're welcomed into their organization as an official member. What do you remember about your day?
Tosin: It didn't feel real. Because the work that you put in to get to that point, just everything you learn along the way, it's just surreal. I was ecstatic to know that, forever, I'll be a part of a historically Black organization such as Phi Beta Sigma.
Joyce: I had this really pretty white dress. Unfortunately, because of COVID, we weren't able to do an in-person ceremony, but I was happy. I grabbed my dress out of my closet anyway, I put it on and I got in front of my camera. I was really proud because my stepmom, who's also a Delta, was able to be on the call in that little ceremony, too.
Andrea: I was very emotional because it was something I wanted for so long, and I felt like I finally had a sisterhood I'd wanted my entire life. I ended up being an only child, so having sisters to connect with and love on has been an amazing addition to my life.
What you need to know about joining, from insiders
A few of you referenced this earlier, but joining an NPHC organization isn't a group you just sign up for and show up. It's a thoughtful decision, and a process goes with it. What should Black students know before they express interest in one of your sororities or fraternities?
Joyce: DO YOUR RESEARCH! Do your research! I knew I wanted to be a Delta because I'd researched several organizations. Not even just Greek organizations, but a whole bunch of groups on Purdue's campus. It's so important because you can find what I have in Delta anywhere, but you can't force that kind of love. It really has to come out of your heart. Talk to its members, not just as members of the organizations, but get to know them personally. A big part of the organization, obviously, is the people who make it up. So, you want to make sure you get to know who it is you're going to be working with to make the chapter better.
Jerica: You should feel free to reach out. I know it can seem intimidating at times, but everyone is incredibly friendly, and we love to see our community grow here on campus.
Joshua: The NPHC is a great way to unite the Black community on campus. We talk about important issues, and we do a lot of great community services. Just recently, we had people donate to the Boys and Girls Club in Lafayette. We host blood drives, we work with soup kitchens and tutor underprivileged youth in the area. We do a lot of great things.
Carey: Don't give up. Don't lose hope, because there is a community here at Purdue for you. We have roughly 1,000 different clubs and organizations, so even if it's not Greek life that you're looking for, there's something out there for you.
A'manii: Just be yourself. Talk to people, network and get to know people for who they are, and let people get to know you for who you are. Don't be afraid to go out and adventure on campus, attend fun events, attend educational events. Everything is a learning opportunity for you to get to meet someone, get to network or get to know new friends.
I feel like our organizations have helped our community become more diversified and given an outlet to some students, especially African Americans. I feel like we've given people an opportunity to succeed, make connections and network with others, and just giving them the best possible chances to do what they want in life."

Tosin Ogunjobi, Phi Beta Sigma Fraternity, Inc.
Andrea: Be willing to branch out to learn what you like and what you don't. If you try something and you figure out that's not the route that you want to take, that's a positive thing. It's going to direct you on the path you want to follow.
NPHC organizations are making a difference in individual lives — and on Purdue's campus, in the community and around the world. To get started on your journey, visit purdue.edu/fscl/councils/nphc/.
Related Stories