Back To Top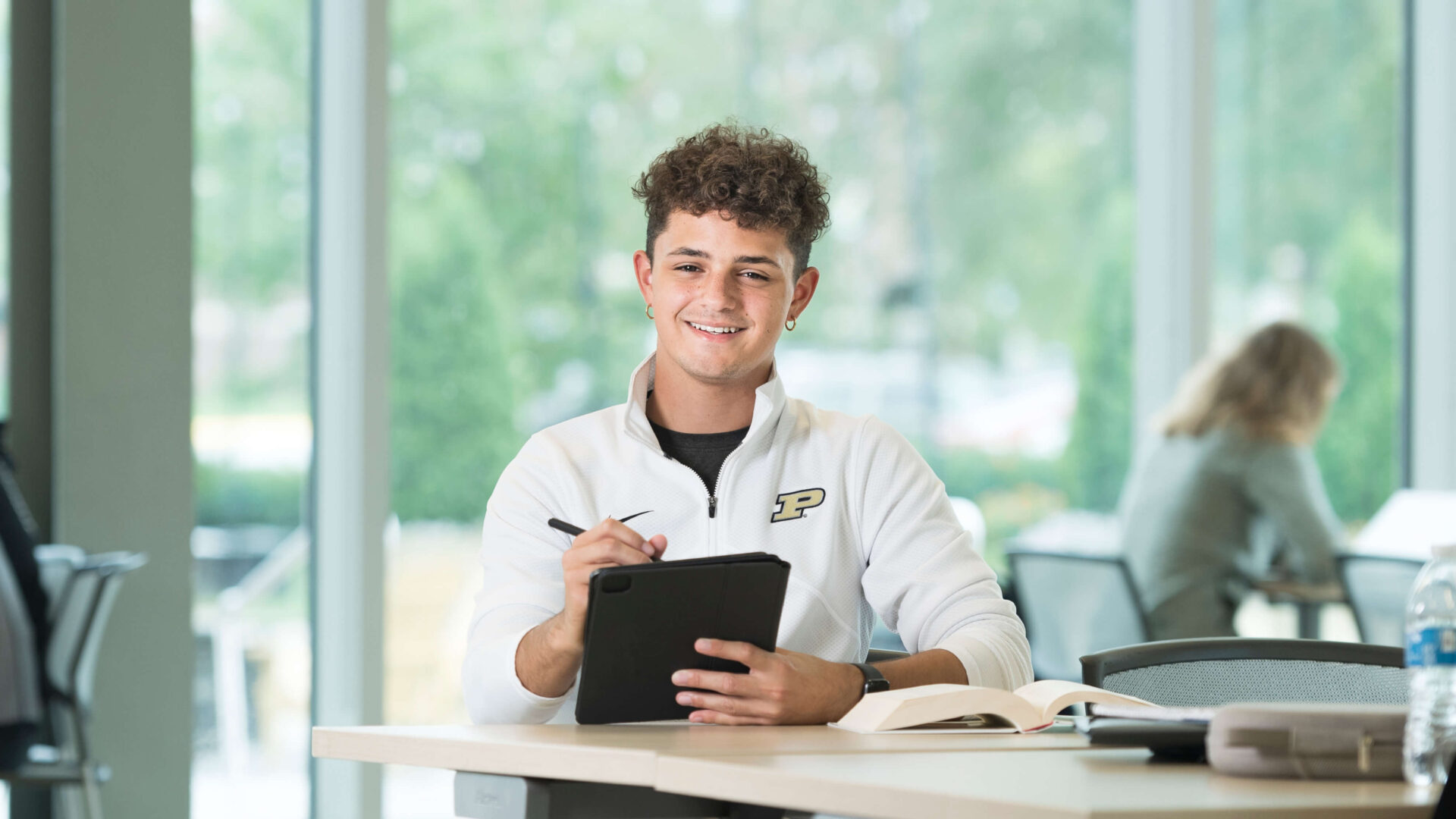 Purdue Polytechnic High School grad creates connections on Purdue's campus
What does it take to become a strong leader? Colten Lewis has learned it begins with community.
Never missing the chance to create connections, Lewis discovered his passion for leadership while collaborating on peer projects at Purdue Polytechnic High School Schweitzer Center at Englewood on Indianapolis' east side. Now a sophomore at Purdue University, Lewis continues to expand and network through volunteering in student programs like the Purdue Summer Experience and Boiler Gold Rush (BGR).
Lewis has always wanted to pursue a career in entrepreneurship and help guide organizations toward success. His community involvement at PPHS and Purdue is already helping him do exactly that.
I loved leadership roles in my projects at PPHS. When I found out that Purdue had a major specifically for my interests, I knew that was the way to go.

Colten Lewis
Sophomore, organizational leadership
Building a strong foundation with PPHS
Looking for a hands-on learning environment, Lewis chose to attend PPHS because it offered teaching styles that other high schools couldn't — educational opportunities like collaborating with peers on projects and networking with professionals in interesting industries. Through these projects and connections, he discovered his clear calling: leadership.
"I loved leadership roles in my projects at PPHS," Lewis says. "When I found out that Purdue had a major specifically for my interests, I knew that was the way to go."
Lewis had an array of factors that made Purdue University his number one choice to continue his education. Along with having found the right major, he looked forward to living on a campus he was already comfortable on, due to PPHS programs and trips to campus. During these visits, he became well acquainted with faculty members and got to know Purdue's energizing environment.
"Coming in as a freshman, it already felt like home," Lewis says. "Even before my first year, I had spent a total of seven or eight weeks on campus already, thanks to camps and visits."
Creating first-year connections on campus
The perfect path for a self-proclaimed extrovert, Lewis is majoring in organizational leadership, a degree offered within Purdue Polytechnic Institute. Courses center around developing policies and practices that improve organizations and provide real-world solutions.
Lewis loves the curriculum and appreciates his Purdue professors, who are accommodating and understanding of students' challenges. After being forced to miss classes due to a medical issue, Lewis benefited from professors who were happy to help him learn what he had missed and kept communication lines open for support.
Classes and campus life also have come with new friendships and network connections. Lewis has made friends that share his values and enthusiasm.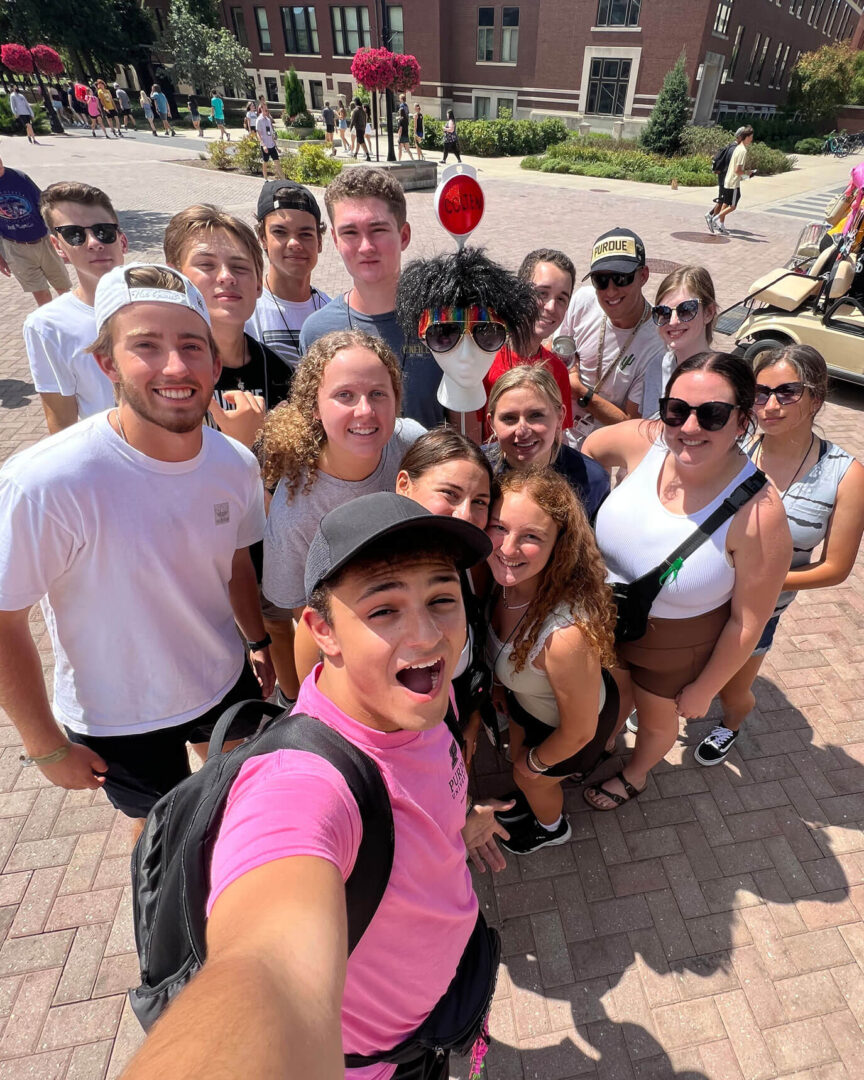 "I connected with all of these outgoing people who are also in my major," Lewis says. "It's been really cool and opened me up to different things."
Lewis is a part of the John Martinson Honors College and lived in a dorm with other Honors College students. Getting to know the other people living on his floor expanded his connections even further.
The very best part about classes and life on campus? "Community," Lewis says instantly.
"Community is something that has been truly significant to me," he says. "I've loved the Purdue culture. There were so many awesome things that happened in my first year, like BGR and football games. It all goes back to community."
Lewis learns to find balance between social life and academics, maintaining time in his schedule for both. He also volunteers in student programs and takes on roles as a PPHS summer program mentor and a BGR team leader.
Making the most of student programs
Ever since Lewis enrolled in his first summer program at Purdue, he knew he wanted to be more involved. He got his first glimpse into life at Purdue during the Purdue Summer Experience, a five-week program where PPHS students stay on campus and take college courses for credit.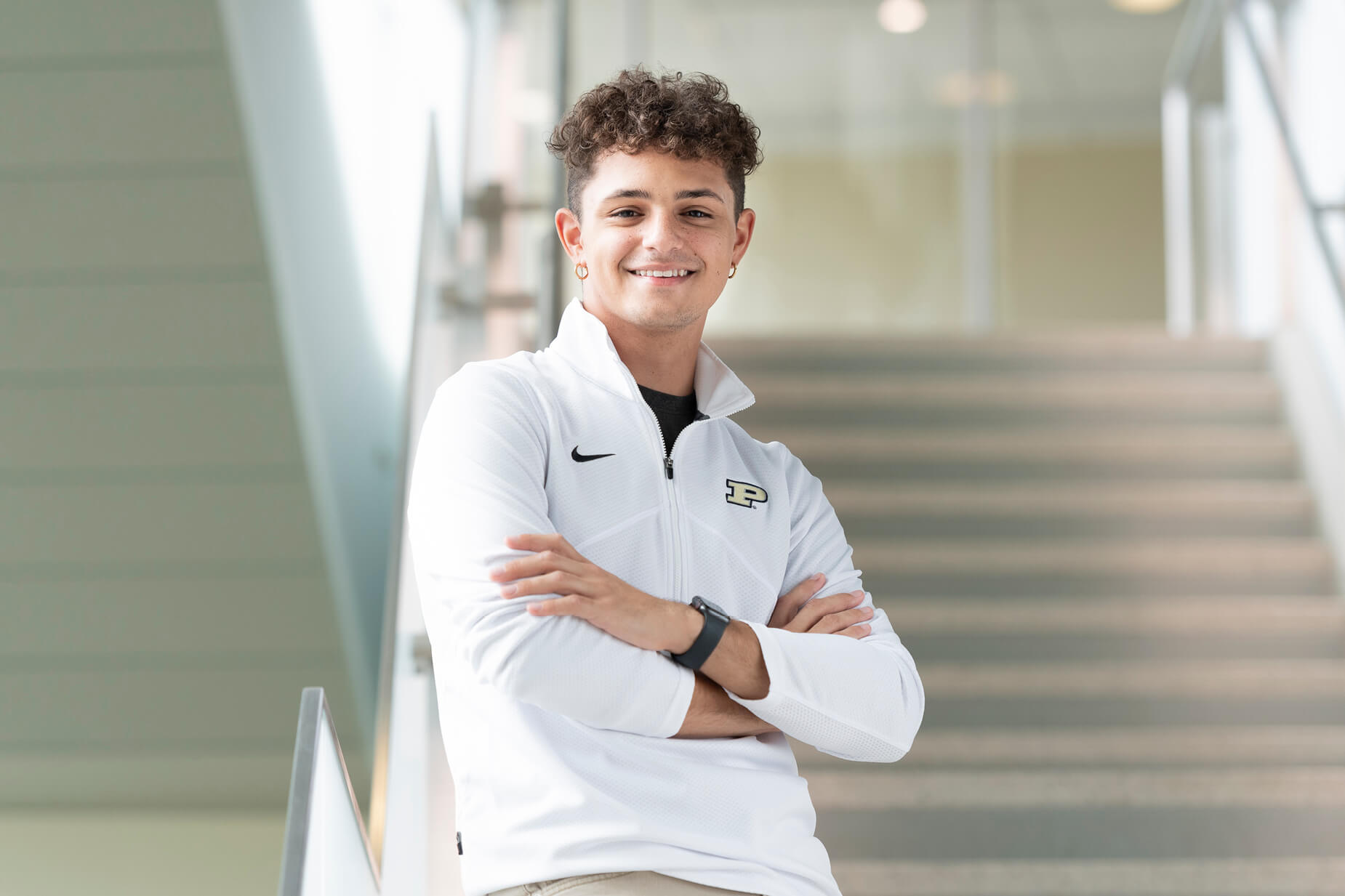 I wanted to get involved and give back to others. I understand where PPHS students are coming from and can relate to their experiences.

Colten Lewis

Sophomore, organizational leadership
Now, Lewis is a PPHS summer mentor himself. After years of asking the staff how he could help, it's been a gratifying experience to go from program attendee to program leader.
"These great mentors were helping me succeed," Lewis says. "I wanted to get involved and give back to others. I understand where PPHS students are coming from and can relate to their experiences. I feel like it's really beneficial."
Lewis is also a team leader for BGR, Purdue's welcome week orientation program for all new undergraduate students. His role lets him introduce and connect new people, setting them up for success in their college experiences. In other words, the perfect fit for his interests and friendly personality. He was eager to join the program after having such a positive experience prior to his first year.
"It was one of the most fun times I've ever had," Lewis says. "I became friends with the team leaders while I was there, and they told me I should become one — so now, here I am, getting to be a team leader."
In his first year, Lewis found opportunities to grow, network and gain experience in leadership. He's looking forward to carrying that momentum right into his sophomore year and beyond.
Pursuing the next giant leap
A strong and supportive foundation has empowered Lewis to fully dive into every endeavor. He can still count on support from PPHS and first-year Polytechnic Institute connections.
PPHS mentors ensure that Lewis has the resources he needs to succeed academically, checking in with him to hear how he's doing. Faculty from the Polytechnic Institute also make sure students are doing OK and understanding class materials. Encouragement comes from an entire community.
Lewis looks forward to meeting more people and working on new projects. His career goal is to become an entrepreneur and advocate for philanthropy and involvement.
"I plan on going back home and starting businesses to help the community out," Lewis says. "Entrepreneurship has always been my main goal."
Devoting his time to leading, connecting and helping others, Lewis is already building a better world every day.