Back To Top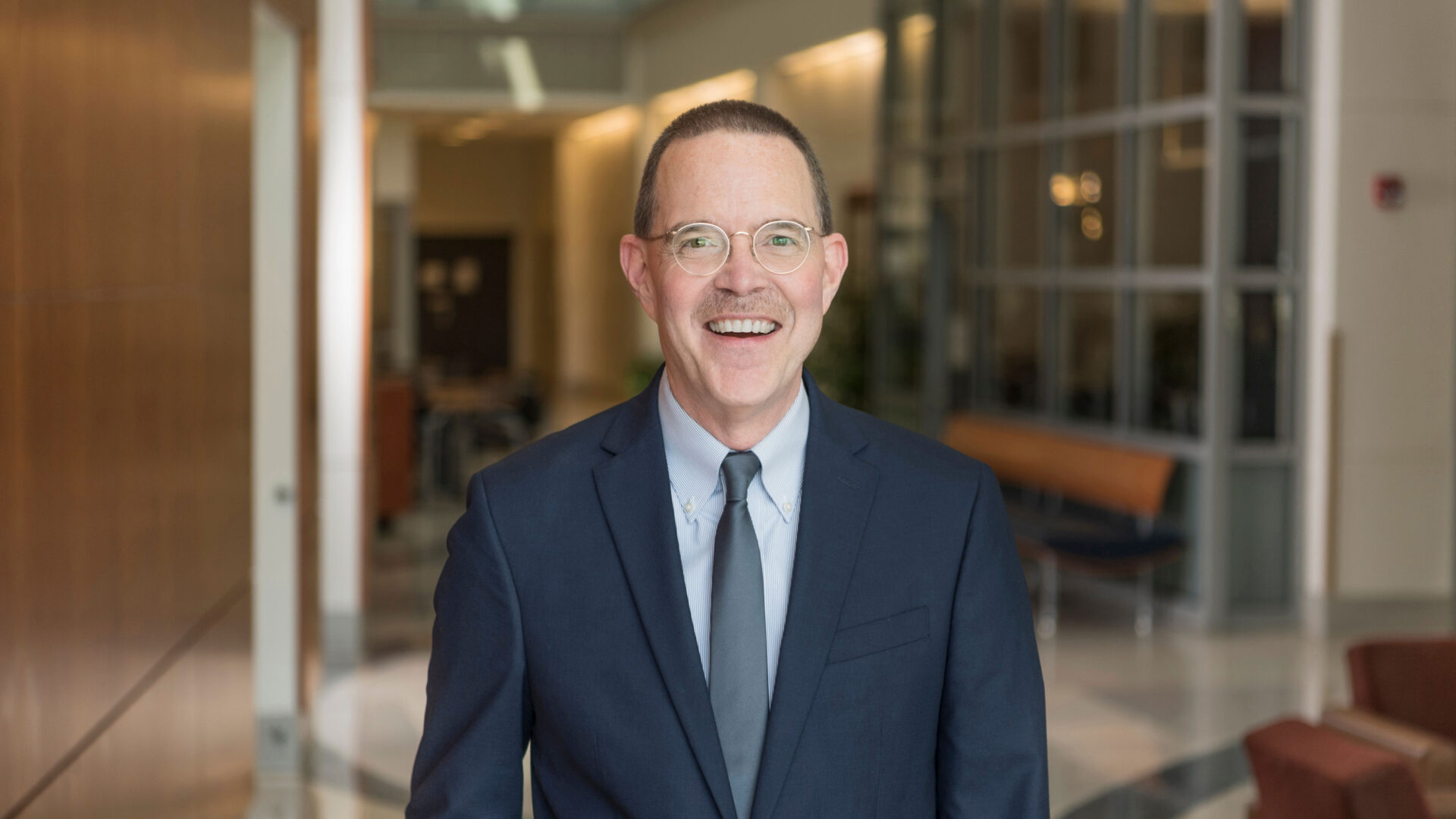 Culture of innovation helped distinguish biomedical engineering program
Simply saying George Wodicka is a big thinker would undersell what he accomplished in two-plus decades leading Purdue's biomedical engineering program.
His thinking has been bigger than big, transforming a small research center into the renowned Weldon School of Biomedical Engineering, whose work impacts millions of patients worldwide.
However, for all the landmark partnerships formed, technological advances introduced, clinical problems solved, patents earned, funds raised and businesses launched during his tenure, the Weldon School's success in one fundamental area brought Wodicka the most joy.
"I'm proud of the students that we've educated," says Wodicka, who in 1998 was selected as head of the newly formed biomedical engineering department. "First of all, they're absolutely outstanding and they're doing amazing things, and that was at the core of what we always hoped for. It also reflects the tremendous collaborative effort of our staff, of our faculty, of fellow students. This makes it a unique place where people really strive to help each other and work well together."
Injecting engineering principles into the sciences of medicine and biology, biomedical engineering is, by design, an endeavor where collaboration is key. That certainly has held true at Purdue, where innovative partnerships have produced treatments and technologies that meet patients' needs.
From the beginning, however, Wodicka understood that Purdue's ability to succeed in any external endeavor would be greatly enhanced by building a strong foundation at home.
"Education is our mission, and students are our top priority," Wodicka says. "That is a principle we have never wavered from, and if you do it right, all the other things work well. The research goes well, the connections with companies go well, the connections in the clinic go well. It's a model that maybe isn't so obvious from the get-go, but we had it, and it continues to pay dividends."
Wodicka stepped down as head of the Weldon School in June 2021, passing the baton to David Umulis, the school's former associate head for research. Now, Wodicka is able to capitalize upon the many campus partnerships he helped build as a member of the Weldon School's full-time faculty.
"Our faculty are spectacular, and very smart and bright," Wodicka says. "Going ahead, what's really nice is they are now my research collaborators even more. So, in a sense, I'm benefiting from the talent-filled environment we created."
Growing the program
Wodicka has long had a passion for acoustic science, and that interest only grew during his academic journey through Johns Hopkins University as an undergraduate and the Massachusetts Institute of Technology while completing his master's and PhD.
"I fell in love with the place in about 10 seconds," Wodicka recalls.
Richard J. Schwartz, the dean of engineering, also envisioned a huge opportunity for Purdue in biomedical engineering. He shared that optimism with Martin C. Jischke, who in 2000 became the University's 10th president.
Jischke credits the program's early growth to a combination of serendipity and preparedness. For starters, an organization called the Whitaker Foundation was offering millions in grant support to develop biomedical engineering programs at U.S. universities. Second, Wodicka was willing to use Purdue patent royalties — a portion resulting from Purdue biomedical engineering pioneer Leslie Geddes' landmark research — to contribute to the necessary matching funds.
"I was very impressed with George's cleverness and thoughtfulness and long-term thinking about saving up that money for an opportunity like the Whitaker Foundation's," Jischke says.
Another fortunate opportunity arose in 2002, when Jischke learned that Gov. Frank O'Bannon was searching for projects to stimulate Indiana's stalling economy. Citing Indiana's sizable footprint in the orthopedic industry, Purdue's president suggested expanding the University's biomedical engineering program. By helping Purdue construct a new building and add faculty, Jischke reasoned, the state of Indiana would also benefit from the resulting workforce and economic development.
O'Bannon liked the idea, and he exceeded all of Jischke's expectations with his financial commitment to Purdue.
Between state funding, Whitaker Foundation grant support and Purdue fundraising, "all of a sudden we held the possibility of $25 million for a new building for biomedical engineering," Jischke says. "And on top of that, to my surprise, the governor put $5 million in the operating budget for biomedical engineering faculty growth. So instead of going from five to 10 faculty, we went from five to 30 faculty. And, of course, who's doing all of this recruiting of faculty? George Wodicka."
With the expansion underway, Purdue introduced an array of additional degree options, including an undergraduate biomedical engineering program that enrolls more than 500 students today. Additional academic credentials are available in collaboration with the Krannert School of Management, College of Science, College of Pharmacy and College of Veterinary Medicine, as well as via an innovative relationship with Indiana University School of Medicine that yielded multiple dual-degree paths.
The Weldon School — so named in 2004 after alumnus Norman Weldon and his family's donation to support creating a full-fledged school of biomedical engineering — dedicated its new building in 2008. Fittingly, it was named the Martin C. Jischke Hall of Biomedical Engineering after the University president who was instrumental in its development.
"We had a tremendous run as president here, and a lot of things happened for the University. We raised a lot of money, we expanded the faculty, lots of facilities," Jischke says. "And among all of those successes that we had, elevating biomedical engineering, creating that building, creating the program is one of the highlights. It's really satisfying to see."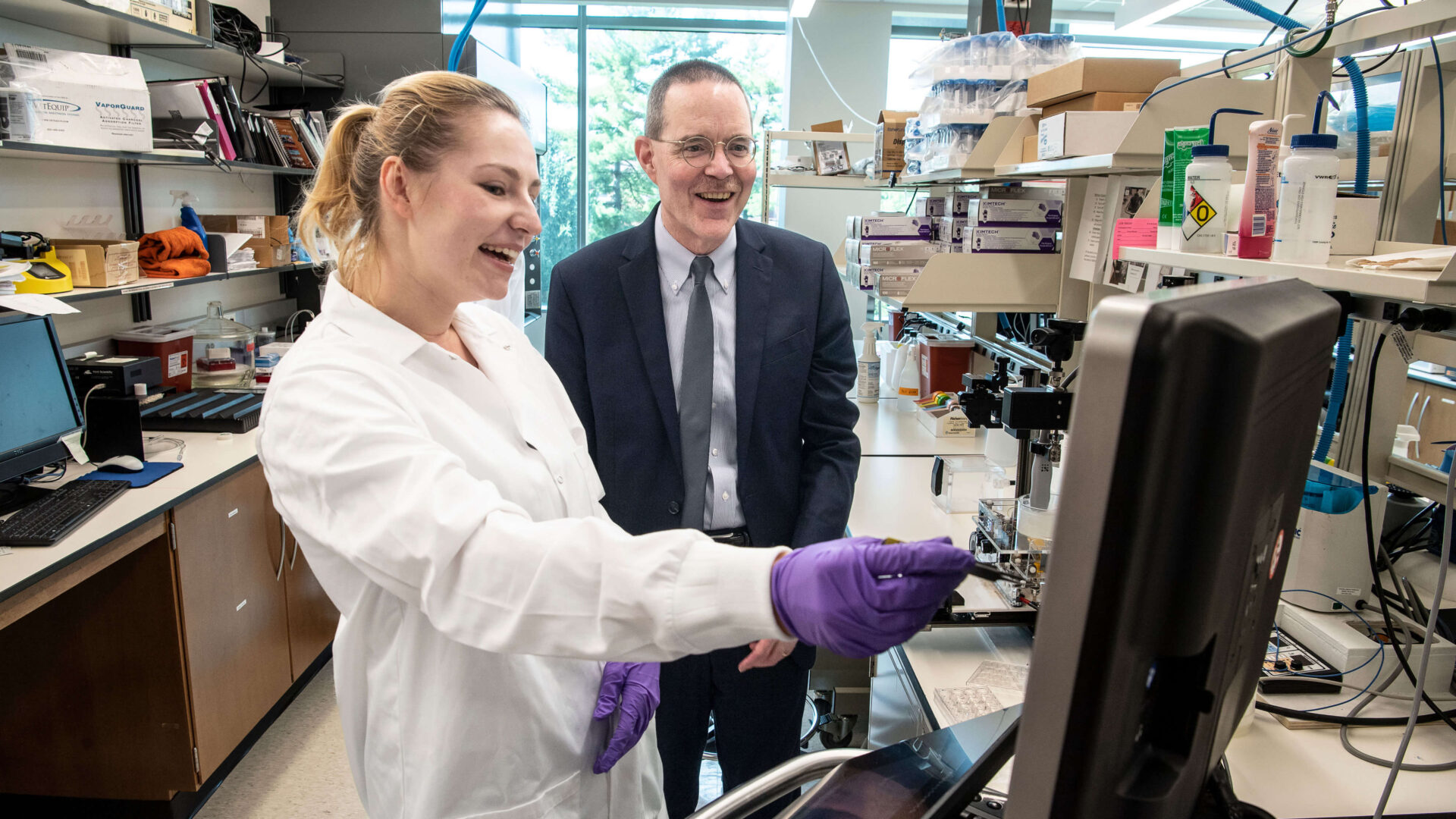 A fruitful partnership
The Weldon School cultivates relationships with Indiana-based industry partners like Cook Medical and Eli Lilly and Co. to conduct applied research. This enables researchers to involve company partners in their projects from the outset, which helps deliver new solutions to patients more rapidly.
The source of many of these solutions? Cooperative work among the industry partners, the clinicians at IU School of Medicine and Riley Hospital for Children and the scientists and engineers at Purdue.
Indiana is unique in that it boasts expertise in all three realms, creating fertile conditions for collaboration.
"You have Purdue that's a top-ranked engineering college, and I'm not just saying that, but it's U.S. News & World Report and The Wall Street Journal," says D. Wade Clapp, physician-in-chief for Riley Hospital for Children and chair of the Department of Pediatrics at the IU School of Medicine. "In the Department of Pediatrics is a faculty of 380 ranked No. 8 in the country in National Institutes of Health funding that involves pediatrics departments. And Riley Children's Hospital is the only comprehensive children's hospital in the state, providing tertiary and quaternary care for about 1.8 million children. And then combined with that, biomedical devices for children is an area that is sorely needed."
Clapp estimates that more than 80% of biomedical devices approved in the last 20 years were not designed for pediatric purposes. That shortcoming allows Indiana-based collaborators to make an enormous impact within the pediatric space.
Wodicka says, "We can take an idea through device design, through preclinical testing, all the way back to the original hospital where the problem arose and test it there in clinical studies. That's an amazing set of capabilities that Purdue doesn't uniquely have. We don't have the clinical side of things. The IU School of Medicine doesn't have the engineering component, the device-design component."
Since 2001, when the two universities launched their joint MD/PhD program, which is an NIH-backed Medical Scientist Training Program (MSTP), they have developed additional joint educational initiatives, including an MD/MS dual-degree track and a scholarly concentration for MD students in advanced medical technologies.
The universities also work with investigators from the University of Notre Dame and company partners in the NIH-supported Indiana Clinical and Translational Sciences Institute (CTSI). Wodicka directs Purdue's portion of the CTSI initiative.
The work done by the uniquely skilled Purdue and IU researchers will especially benefit the children of Indiana.
"It's thinking beyond just a published paper or a single project, but how can we do something to be the best in the world, which is what I think we will be. I think we will be the best in the world at this," Clapp says. "We have the potential to do something significant for biosciences in central Indiana."
Wodicka agrees, adding, "I'm very Indiana-centric in my desire to make us the best in whatever we can be truly world-class in, and pediatrics is an area of that opportunity. I think there's a growing realization countrywide, no less worldwide, that pediatrics is a realm where additional attention and investment need to be made. Because if you do well by pediatric patients, you set them up for healthy lives. If you don't have the ability to provide really high-quality health care to these patients early in life, then they require health care their entire lives."
I'm very Indiana-centric in my desire to make us the best in whatever we can be truly world-class in, and pediatrics is an area of that opportunity

George Wodicka
The Vincent P. Reilly Professor and former Dane A. Miller Head, Weldon School of Biomedical Engineering
Difference-making device
Wodicka has a deeply personal connection to one such pediatric solution that is changing the lives of neonatal intensive care unit (NICU) patients.
In 1990, Wodicka first imagined a device that would help NICU nurses consistently monitor the positioning of a ventilated newborn's breathing tube. Ideally, the device would reduce unplanned extubations, avoiding costlier, lengthier hospital stays and health consequences such as lifelong disability or even death resulting from a lack of oxygen to the brain.
Purdue graduate students Jeff Mansfield and Eduardo Juan joined the effort to develop the device, years apart, after knocking on Wodicka's door while searching for a professor to serve as their adviser. While describing his objectives, Wodicka convinced them that his concept had merit.
Mansfield became Wodicka's first student to join the project in 1990, working on it throughout his graduate and PhD studies. He helped Wodicka prove that it was feasible to monitor airways by transmitting soundwaves from a tiny speaker placed at the near end of a breathing tube and measuring the reflections from the airways with adjacent microphones.
Upon joining the project in 1997, Juan worked to miniaturize the technology, making it suitable for the smallest patients.
It took 15 years to develop a workable prototype, but their patented airway monitoring system became the first and only FDA-approved product of its kind. Instead of using X-rays to check the breathing tube's placement, their device informs clinicians on a screen in real time where the tube is located and whether there is an obstruction.
In 2005, Wodicka, Juan, Mansfield and Purdue alumnus Greg Ayers started a company, SonarMed Inc., to advance their technology. Juan believes the company's turning point arrived when it targeted vulnerable NICU patients as primary beneficiaries.
"From a technological standpoint, it was a more difficult product to make," Juan says. "In a sense, the market is smaller than for adults, but the need was greater so the adoption rate is going to be a lot higher. From my perspective, this is going to be a standard of care in the NICU. This is going to be in almost every NICU because it's a very useful instrument and integrates well with the others."
Medical technology giant Medtronic acquired SonarMed in December 2020, making the startup's SonarMed™ Airway Monitoring System more widely available by adding the device to its product line.
It was the culmination of 30 years of work by the device's co-developers.
"I've spent over half my life working on this technology," Mansfield says. "To have gotten to this point where we were able to commercialize it and people are using it and it's helping babies is a dream come true for me."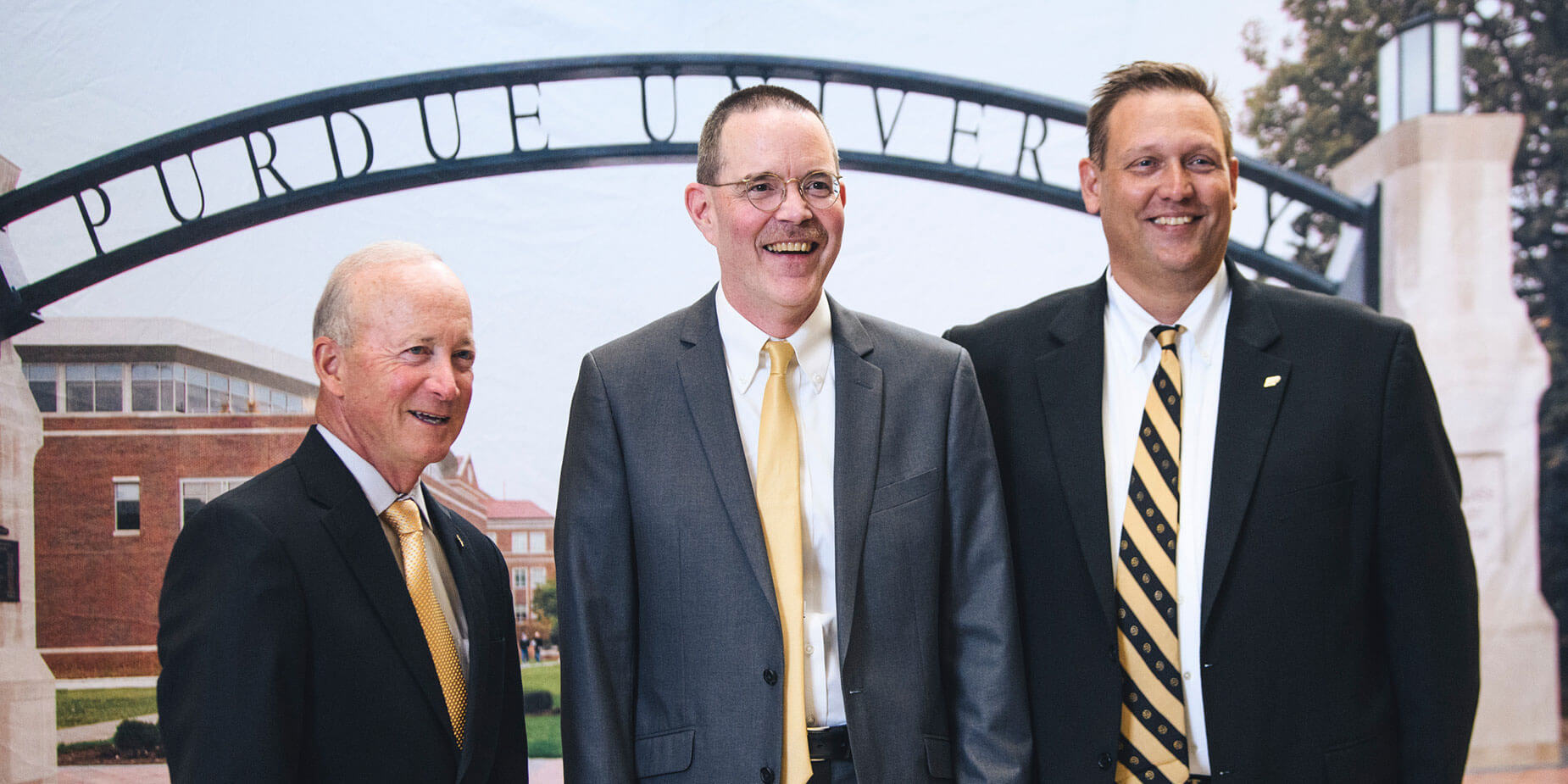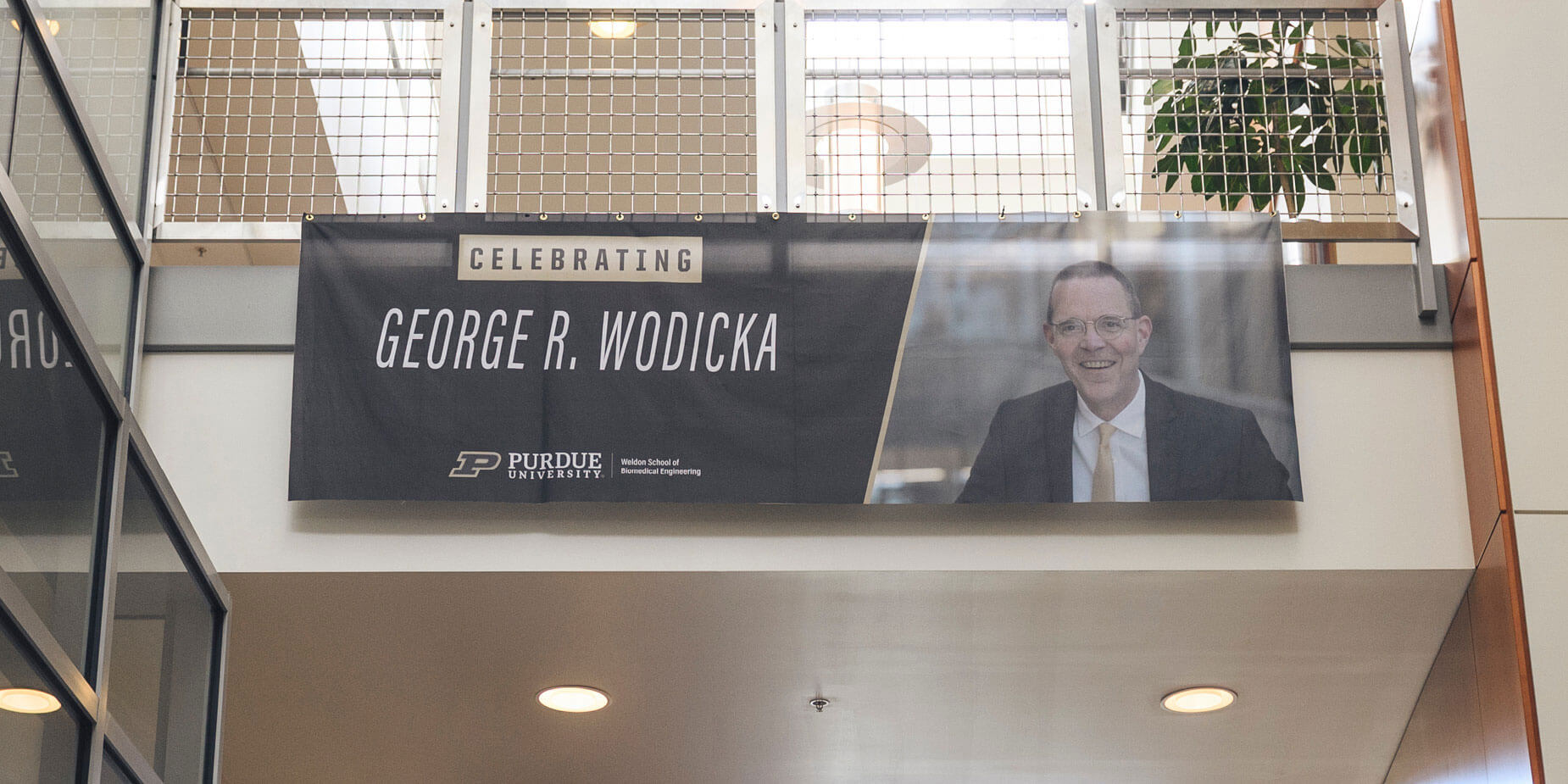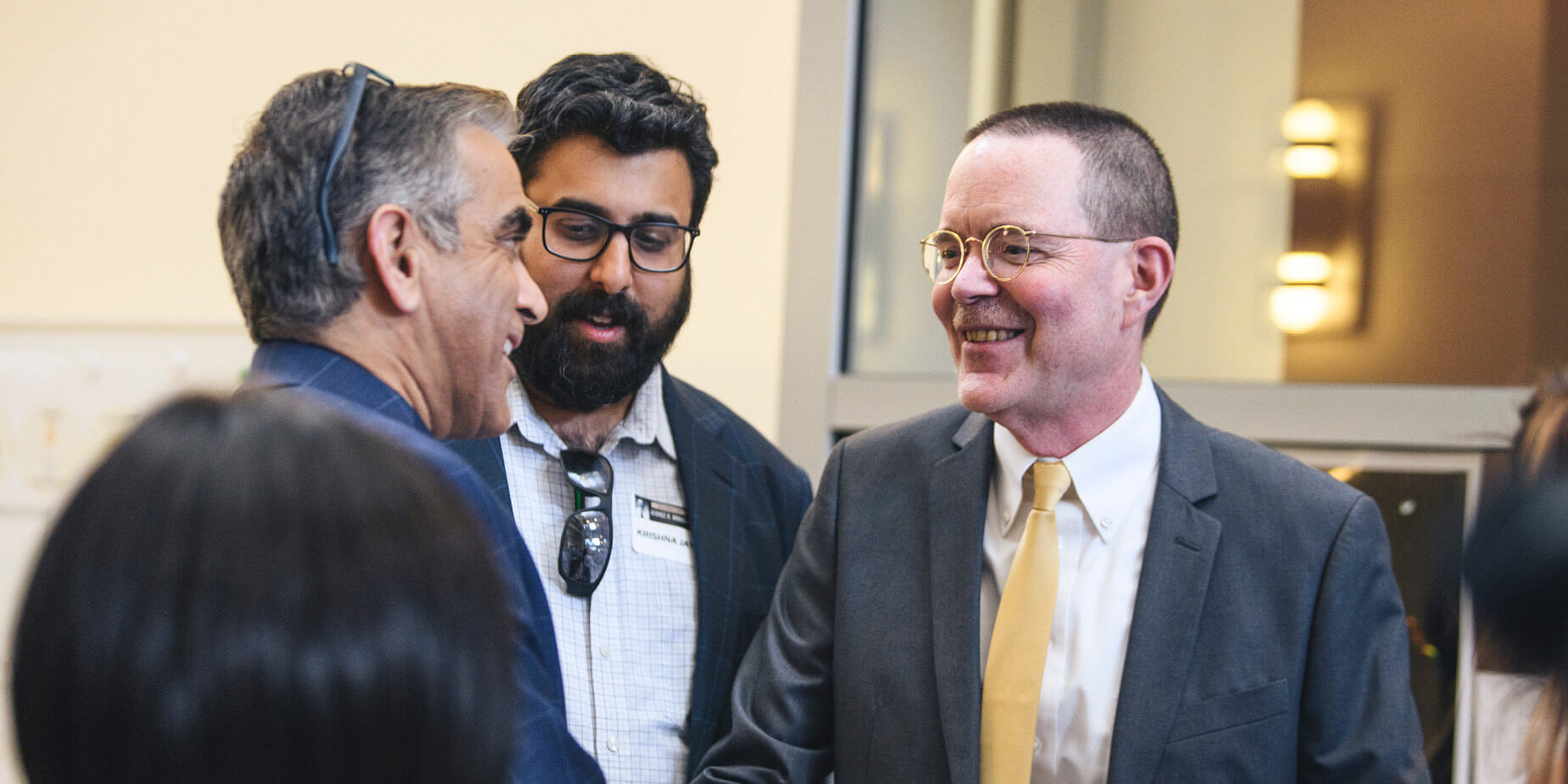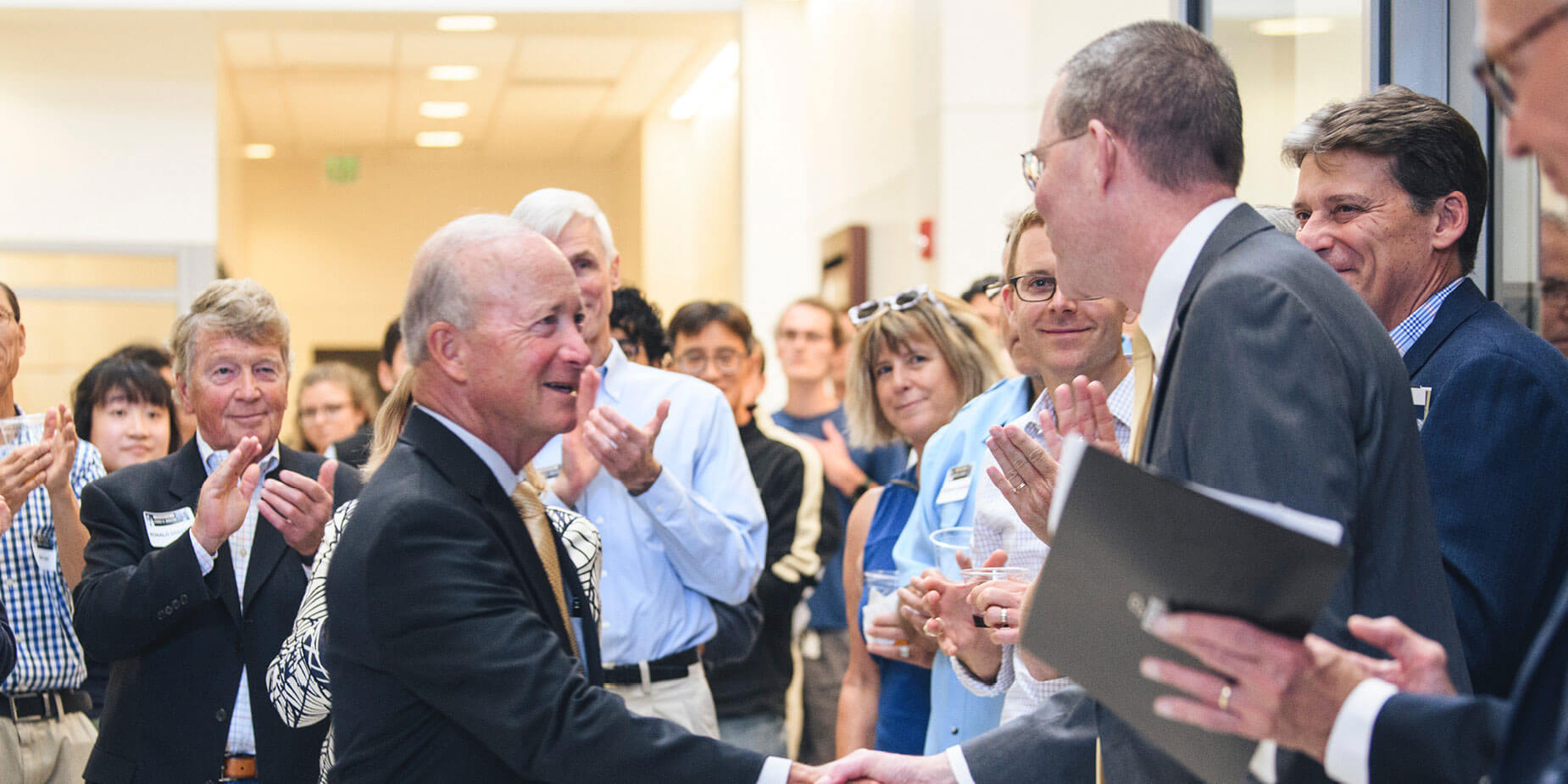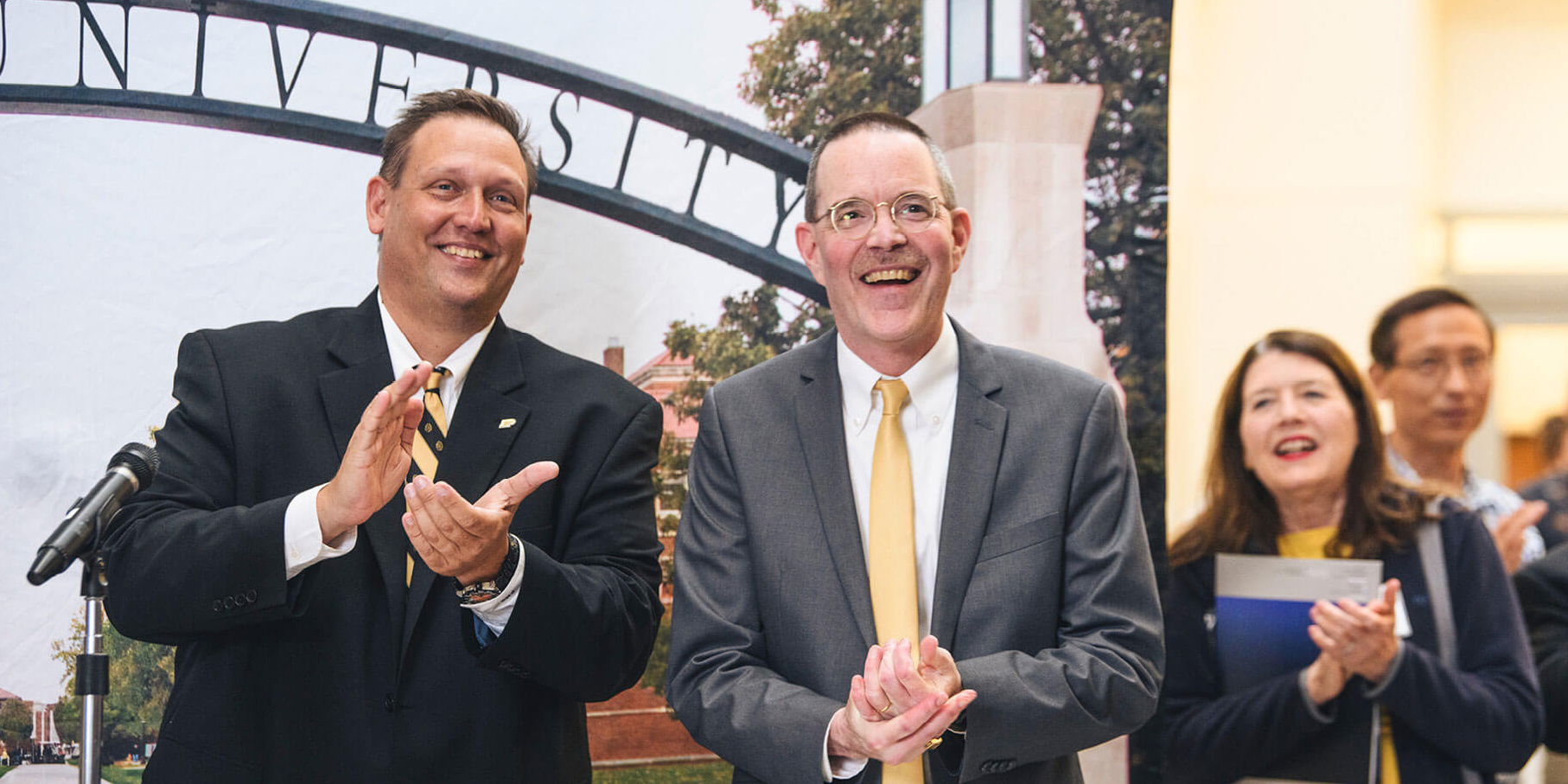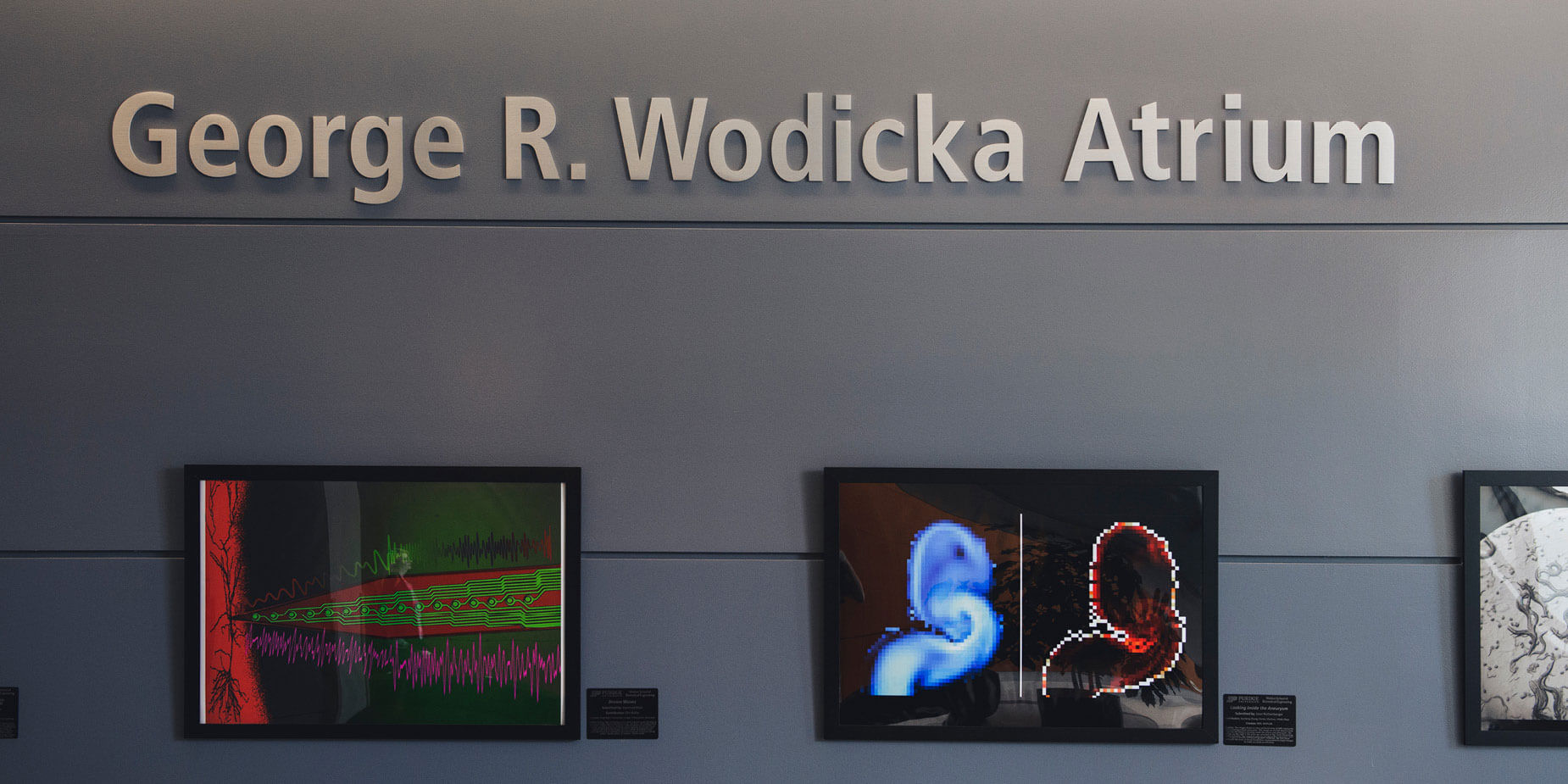 Future of the Weldon School
Thanks to the hard work put in by Wodicka and his many collaborators, the Weldon School boasts prolific partnerships, more than 25 companies launched and an $18 million, 30,000-square-foot Innovation Wing added to Jischke Hall in 2020. Now it's Umulis' responsibility to steer Purdue biomedical engineering toward future growth.
"My focus is on now that the tree has grown, making the tree produce the most and the biggest and the best-tasting fruit," says Umulis, who took over July 1, 2021, as the Dane A. Miller Head of the Weldon School.
As former associate head for research, Umulis continues to support research by junior faculty. He also wants to optimize use of the new research space in the Innovation Wing.
He is excited about achieving National Science Foundation institute funding for the EMBRIO Institute — a rare accomplishment for a biomedical engineering program — that will capitalize upon the unique attributes of Purdue and its neighboring affiliate institutions. Such opportunities will continue to expand the Weldon School's capabilities.
Wodicka says, "You have to develop a faculty-based collective research infrastructure that has bigger grants that are thematic in nature, that has more investigators working on interrelated discoveries and projects — kind of a whole next level up, if you will. That's what David is really good at. That's why I think he's perfect for the job and this component of a next step, because he's a fantastic scientist and he's able to see these broader pictures."
Umulis and Clapp envision a future where the Purdue-IU collaboration yields breakthroughs in areas like wearable and implantable devices, targeted therapeutics and artificial intelligence. Purdue is uniquely positioned to apply technological expertise in realms like data analysis and security.
Clapp says Cook Medical is "all in" as a partner to assist with marketing, regulatory and intellectual property guidance.
"We have some of the best people and companies to work with in this domain, and so we'll continue to focus and reinvest in those areas," Umulis says.
One of those people will be Wodicka, who can dedicate more time as Vincent P. Reilly Professor to academic and research pursuits after relinquishing his former administrative responsibilities. A native New Yorker, he and his wife Mary Jo view West Lafayette as a permanent home after raising three children — James, Daniel and Maggie — there during three decades at Purdue.
"I'm never going to leave because I just feel that Purdue is a wonderful place for people who are passionate about what we do," Wodicka says. "We help each other, and I believe it will always stay that way."
Lasting impact
As someone who also built a biomedical engineering program, Juan is amazed by what Wodicka accomplished after Purdue established the Department of Biomedical Engineering in 1998.
"He didn't do it alone, but it happened under his leadership. It's been amazing," says Juan, who leaned on Wodicka's mentorship while launching the biomedical engineering program at the University of Puerto Rico at Mayaguez. "It was a graduate program, then a department, then they had the building and the school with the undergraduate program, hiring all these faculty, this new wing. Wow."
Beyond having assistance and good fortune on his side, Wodicka also proved to be the leader Purdue needed to push the program forward. Using what Mansfield described as Jedi-like powers of persuasion to establish a collegial working environment, Wodicka convinced partners from across the Purdue campus and beyond to bring their best ideas to the table.
"He has to be one of the most thoughtful, innovative, charismatic and completely positive leaders I've ever seen," Clapp says. "I know he's done that for biomedical engineering. I know he's brought that to the CTSI that Purdue and IU are part of and to the MSTP program. George just expresses that absolute humble confidence and optimism that, frankly, we can take on any big challenge. And I think that's infectious."
With that leadership style and the people around him, Wodicka built the robust academic and research engine that Jischke and Schwartz envisioned when they threw support behind the developing program.
"The promise was realized," Jischke says. "The students in biomedical engineering are very, very talented. The research program has grown dramatically, and it continues to develop commercializable research ideas that end up affecting medical treatment for people. Companies have grown out of that research.
"It's a wonderful success story, and no one has played a more pivotal role than George Wodicka."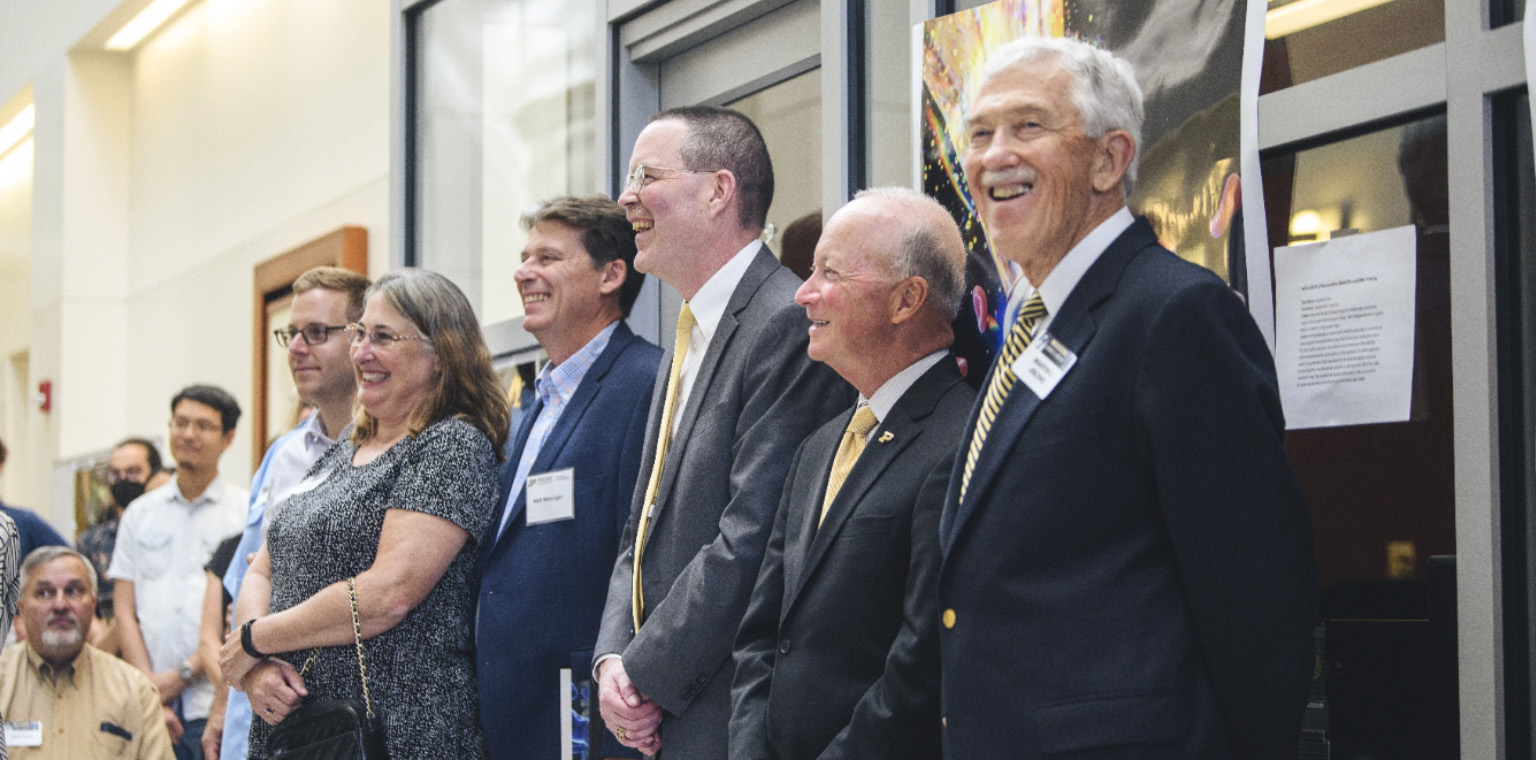 It's a wonderful success story, and no one has played a more pivotal role than George Wodicka.

Martin Jischke

Purdue University's 10th president