Back To Top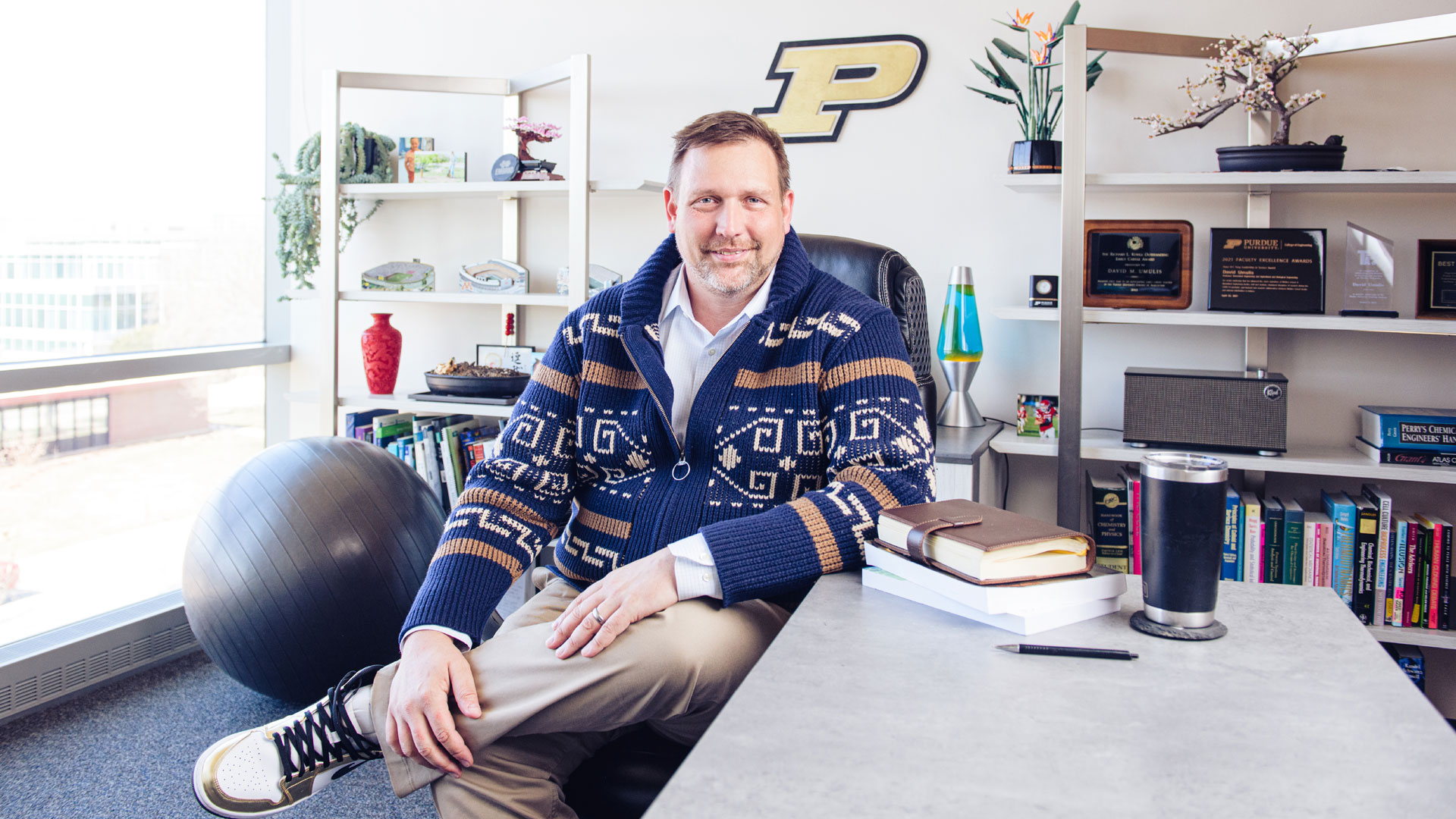 Once the beneficiary of a mentor's support, Weldon School head David Umulis now embraces opportunities to encourage his students and faculty in biomedical engineering.
David Umulis didn't plan to speak when he attended the Purdue Board of Trustees' October 2021 meeting, where he was introduced as the University's new Dane A. Miller Head of Biomedical Engineering.
But when invited to address the trustees and audience, Umulis gave an impromptu speech that came from the heart.
He told those in attendance about an adolescence in Lake Ann, Michigan, that was anything but easy. When Umulis was just 14, his father suffered a disabling condition that prevented him from working and lost his business. Umulis took on a paternal role for his three younger siblings, helping the family make ends meet by working odd jobs like plumbing and water softener repair while also excelling in high school.
He told them how a family friend and local pediatrician, Meg Meeker, helped him apply to the University of Michigan and supported a doubt-filled, first-generation engineering student by convincing him countless times to stick it out in Ann Arbor until he finally believed he could succeed.
And he described an often-frustrating journey through academia in which he frequently learned how to accomplish objectives by failing at them first. Those life experiences, and their essential lessons about persistence and mentorship, shaped the educator who stood before the trustees at that meeting. Now, Umulis told them, he relishes opportunities to assist and encourage his colleagues – and especially his students – thanks to a personal understanding of how much that support can mean.
"It wasn't about her helping me get into college. That was the easy part," Umulis says of Meeker's guidance. "She was there to help me stay in. She was accessible and told me what it would take to stay in. The best thing about the job that I have right now is that I get to be that person every day for students who are going through similar types of experiences and similar challenges. That's why I love my job."
Why mentor?
Umulis already has more than enough on his plate in roles as head of the Weldon School of Biomedical Engineering, senior research fellow for the Krach Institute for Tech Diplomacy at Purdue and director and principal investigator of the new Emergent Mechanisms in Biology of Robustness Integration and Organization (EMBRIO) Institute, which the National Science Foundation awarded $12.5 million in funding shortly before he began his tenure as head.
So why does Umulis dedicate so much time to mentoring colleagues and supporting their work?
"I think intrinsically he's just a really good guy and he cares a lot about people," says Luis Solorio, assistant professor of biomedical engineering, whom Umulis has mentored since Solorio joined the Weldon School faculty in December 2016. "I think it's a simple answer. I think he cares a lot about the people, and he cares about the department."
It wasn't about her helping me get into college. That was the easy part. She was there to help me stay in. She was accessible and told me what it would take to stay in. The best thing about the job that I have right now is that I get to be that person every day for students who are going through similar types of experiences and similar challenges. That's why I love my job.

David Umulis, the Dane A. Miller Head of Biomedical Engineering, on mentor Meg Meeker's guidance
He also has a long memory. Umulis remembers doubting whether he belonged. He knows what it feels like to face rejection, when his inexperience navigating the grant-application process caused him to wonder whether one of his projects would ever achieve major funding.
"It took me five years after becoming an assistant professor to really get my first major grant. I was very concerned," Umulis recalls. "One year, I submitted 12 grants and I didn't get a single one of them. But I just kept doing what I knew to do, and that was to keep trying. And then I got one. And then I got four more in rapid succession. And then things changed, and I became a little better at it and learned some techniques about how to write grants and approach the various review panels that changed my percentage of success."
Once he got a handle on the application process specific to National Institutes of Health projects, Umulis created a color-coded system to ensure that his applications sufficiently covered each of the five categories grant reviewers would evaluate. Then he shared the template with his Purdue colleagues to aid their own pursuits of grant funding.
"It's helped move the needle and they've been much more successful now because it's part of the gamesmanship of applying for grants, just knowing how to communicate what the importance of it is and how to approach the review panels," Umulis says.
Mentorship comes in many different forms, some of which are far more subtle than supplying colleagues with knowledge, tips or tricks. Sometimes mentees simply need encouragement to give themselves a break – especially in a field like biomedical engineering, where researchers can feel unreasonable pressure to introduce the next life-changing innovation.
Solorio recalls one such situation in June 2021, when he was frustrated by his inability to compose a compelling grant application with its deadline rapidly approaching.
Umulis suggested what turned out to be the perfect solution for Solorio's writer's block. He took his colleague fishing on Lake Freeman.
"I finished everything up on the grant that night," Solorio says. "He said that was one of his go-to escape tools, to just go fishing sometimes, and that it helps him. It really helped me, too. It was something that I desperately needed and didn't even realize it, but he knew I needed to get out. It was so awesome. We had so much fun, and it was so nice just to get out for a little bit and reset."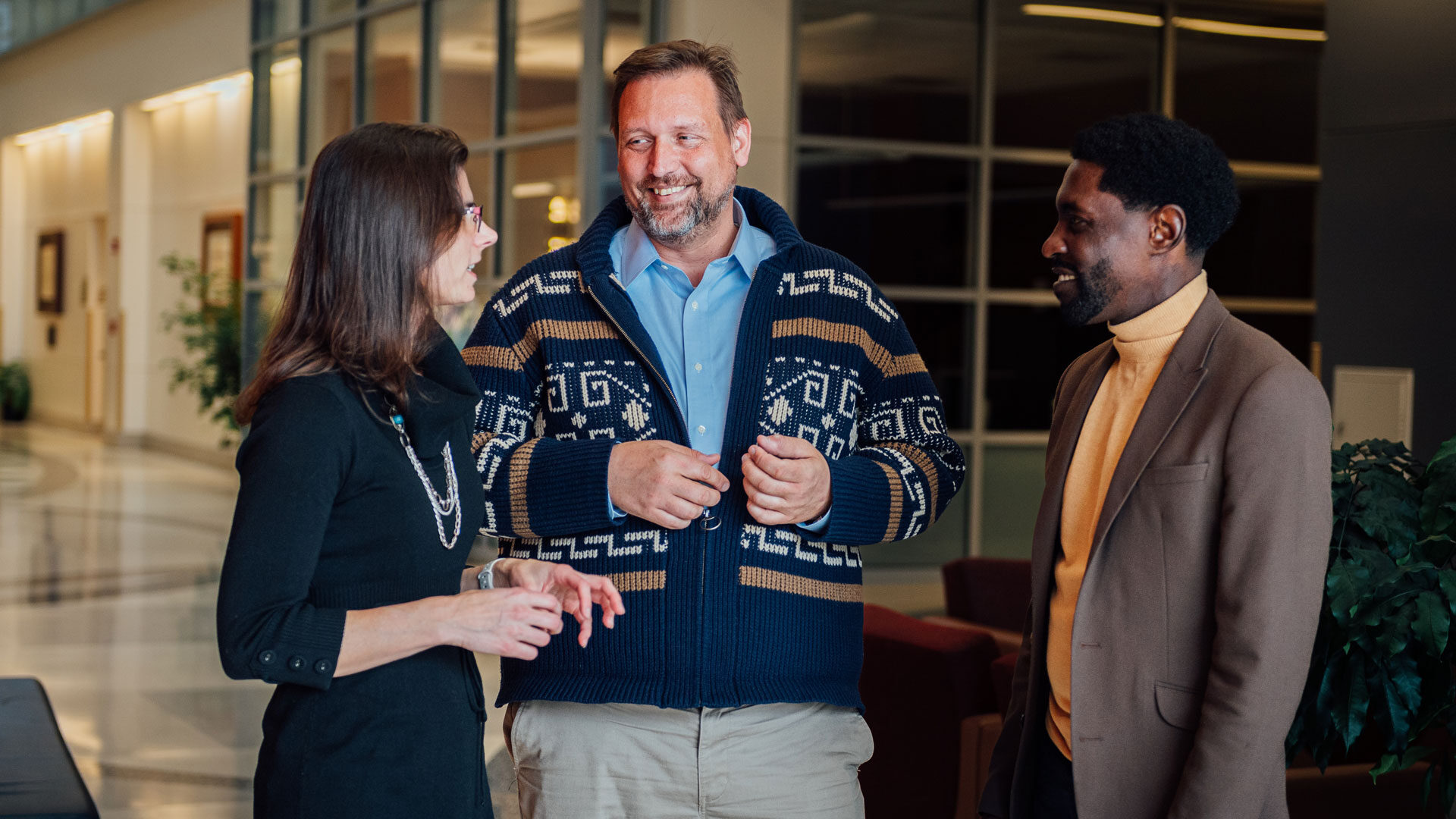 Setting the tone
Umulis would never claim that he is the reason for the friendly atmosphere that reverberates within the Weldon School. That environment existed well before he succeeded George Wodicka as head in July 2021 and is a consequence of numerous factors, including the collaboration required within an interdisciplinary field.
"The field may be more collaborative than most, but the department is definitely more collaborative and collegial," says Jacqueline Linnes, the Marta E. Gross Associate Professor of Biomedical Engineering. "The faculty are very close-knit and supportive of each other. It's a nice place to be. It's a really great community."
The Weldon School's newest faculty member, assistant professor Leo Green, has certainly found that to be the case since arriving at Purdue in August 2021.
"Every day I learn something new from pretty much everyone in the department – assistant professors all the way up to full faculty like David," Green says.
Umulis has long contributed to the Weldon School's supportive vibe, first as a junior faculty member, then as associate head for research and now as school head.
When Green began the often-uncomfortable process of negotiating his salary and lab budget, he was surprised that Umulis acted more like a partner than as an opponent. "David is so charismatic that, from the beginning, I felt like he was on my side. He was just showing me the ropes," Green says. "He told me what I should be considering when I'm negotiating the budget and how to start my lab. He even mentioned that in talking with other faculty, maybe they have an instrument I need, so I can still budget for that, but maybe consider something else. He was very influential."
Because of her interest in diversity, equity and inclusion issues, Wodicka named Linnes as the Weldon School's DEI director. Since she assumed that role, Umulis has helped support her efforts by introducing her to others with experience researching and implementing DEI initiatives. Umulis brought Linnes into the EMBRIO Institute proposal and connected her with Ignacio Camarillo, associate professor of biological sciences and DEI director of the EMBRIO research group, which includes 70 scholars from six different universities.
"Part of it was David saying, 'I found you another mentor who knows this space and who you can learn from,'" Linnes says. "At the time, I was uncomfortable, and I was thinking, 'I don't know how to do any of this stuff. I'm still working on our department level, much less across universities.' And David said, 'Well, here's Ignacio. Here's how he makes this work, and you can learn from him.'"
Umulis also creates opportunities for faculty to leverage their colleagues' experience and expertise to improve their chances of success when applying for competitive research grants. One such opportunity is the periodic workshop where Weldon School faculty gather to hear their colleagues' project ideas, then respond with questions and advice on how to strengthen their grant applications. Linnes credits the feedback she received in one of the workshop sessions for helping her land NIH R01 funding for a project that aims to create a point-of-care rapid test that can detect early cervical cancer.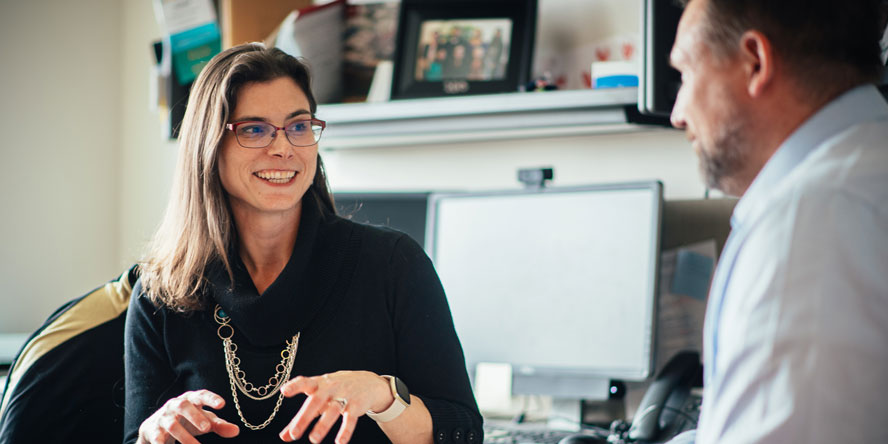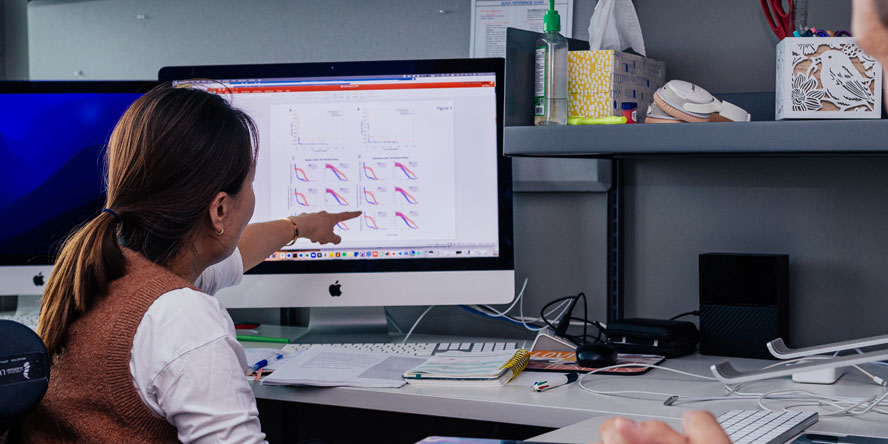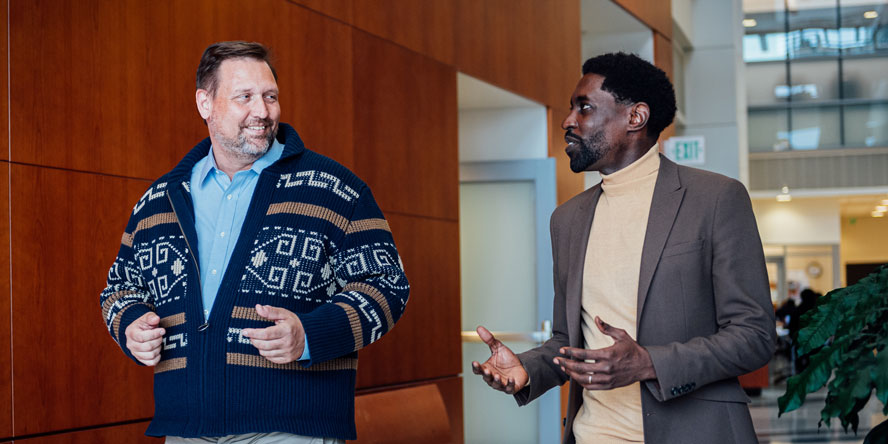 "It ends up feeling to me more like a brainstorming thing, and what I really like is that everybody always gets excited about everybody else's projects. It's fun to hear in detail what everybody else is doing," says Elsje Pienaar, assistant professor of biomedical engineering. "I like when the more senior faculty who have a lot more experience come. They can say, 'Oh, I've gotten this reviewer comment before' or, 'When I was on a panel, this is the thing that they really latched onto, so be careful with how you phrase that.' Getting that inside scoop is great."
Even when junior faculty members do not pitch an idea at a workshop, the discussions provide invaluable guidance on approaching the application process.
"Every time I walk away from it, even if I'm not presenting, I'm learning so much about how to organize and structure my ideas and make them stronger and design hypotheses and things like that," Green says.
Lessons from strong women
If mentorship and hard work are strengths for the scientist and educator who now leads the Weldon School, Umulis certainly saw two strong women – Meeker and his mother, Sheryl – model those qualities during his formative years. Umulis was in middle school when Meeker and Sheryl became friends, but it wasn't until hardship struck the Umulis family that Meeker took a more active role in supporting her friend and her children.
When Umulis' father became disabled, Sheryl did her best to support her family – first by trying to keep the business going, then taking on additional jobs.
"It takes a strong person to stand in and try to take care of four kids when suddenly your income has evaporated and the networks were kind of gone overnight," Umulis says of his mother.
Because his family needed steady income, Umulis might have continued working in plumbing and water softener repair for the new owner – which he did, for a season – if Meeker hadn't encouraged him to pursue his college ambitions.
"I believe you're given gifts and you want to use those gifts," says Meeker, who later became a renowned parenting expert and bestselling author. "His gift was his mind, and his gift was being able to find his niche and use that and develop that. I could kind of see where it was supposed to go. I didn't know exactly how, but I could tell he's very, very smart and has an engineering mind."
Meeker coached him on how to write his college application essays, paid his application fee and helped him fill out the applications for student aid. Once Umulis enrolled at Michigan, Meeker gave him her phone number and instructed him to call if he ever needed to talk.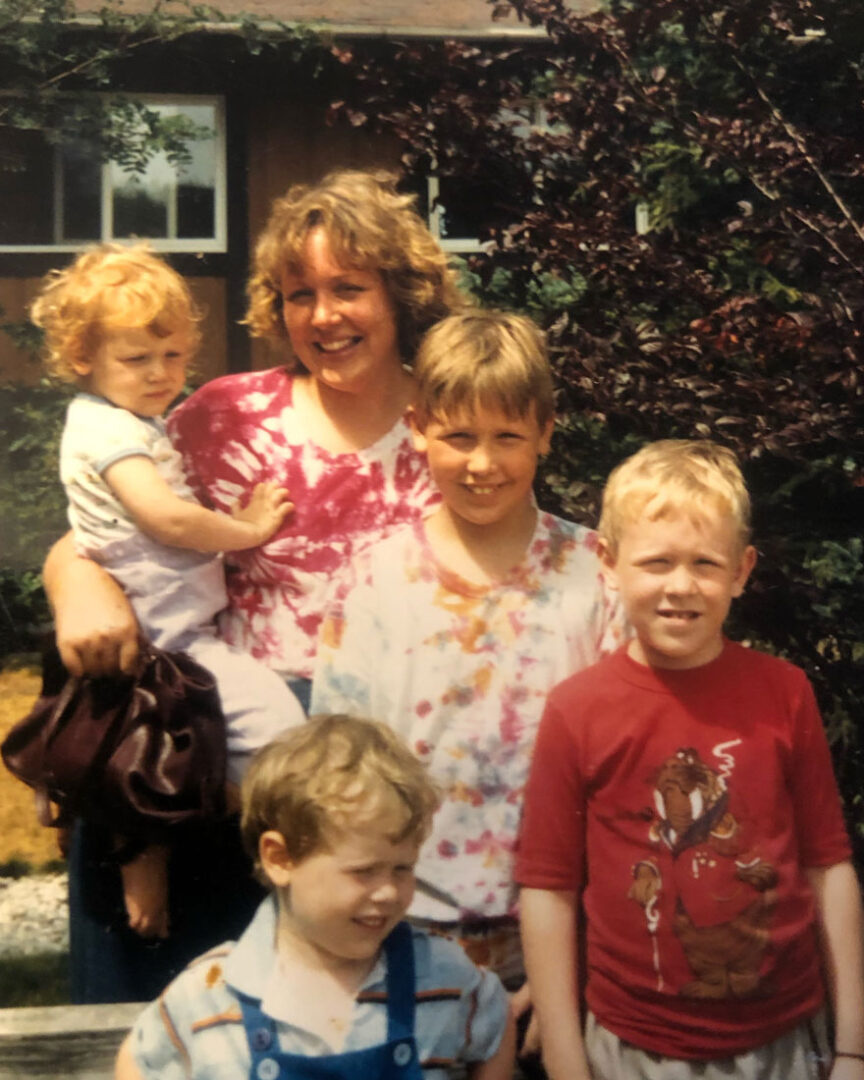 "Multiple times I'd call her and I was like, 'I'm done. I shouldn't be here. It's not the right place for me.' And she said, 'Whatever you do, don't stop. Just keep trying. Figure it out.' And I did," Umulis says. "I started to get through some of the shock and started to do well in the courses in engineering and just kept my nose down and kept wanting to do it. It was something that I could see as a way for me to make money. I basically realized you've got this short window to do something. Otherwise, you're going to have to beg for opportunity forever. It helped me focus in on that work ethic."
Meeker has similar recollections about their conversations.
"He'd hit a wall and say, 'I just don't think I can do this. I really don't.' Or, 'Am I on the right path? And even if I am, is it worth it?' Because he certainly had a lot of reason to turn around, start making money and take care of his family," she says. "I saw that. I saw his temptation to say, 'Am I being selfish by going to grad school?' I said, 'No, you're not. This is what you're called to do. This is what you're made to do.' And the rest of them were all fine."
It was touch-and-go for a while, but Meeker's prediction proved to be correct. Two siblings went on to graduate from Michigan State University. Another became a police officer.
And his mother, Sheryl? When David was in graduate school, she launched a family business that went on to succeed through sheer perseverance.
Sheryl began selling cherry vinaigrette salad dressings at Michigan farmers' markets and found an enthusiastic audience for her products. In 2005, she established Six Lugs, named after the wooden containers Sheryl and her siblings would fill with sour cherries that farmers paid the children to pick. Picking six lugs in one day requires persistence and was considered an accomplishment at the time, before machines changed how cherries are picked.
Today, Six Lugs' artisanal cherry products are available online and at shops throughout Michigan, and the vinaigrette is available at all 254 Meijer locations (including the store in West Lafayette).
"It was remarkable because she didn't have any business experience or background, but she said, 'This is what I have to do and I'm going to do it.' And she did it, and she worked so hard," Meeker says. "I've often said to her, 'You are my hero.' She's a tremendous example of saying if you think you can't, then you can't. And if you think you can, then you can. She just always said, 'I can, I can, I can and I'm going to do it.'"
A unique, accessible leader
Visitors to Umulis' office in the Martin C. Jischke Hall of Biomedical Engineering should not be surprised to find him decked out in a Pendleton sweater, partially in tribute to the late, great Fred Rogers, or Nike Air Jordan 1s in Purdue gold and black or Chicago Bulls red and black. He might even be playing a selection from an eclectic record collection that ranges from Louis Armstrong to Jack White to the soundtrack from "Blade Runner."
Obviously, Umulis does not want to give off the impression that he's a stuffy department head. His style of dress and his informality speak to his quirkiness. They also scream relatability and accessibility – understandable qualities for someone who long felt like an outsider in the world of academia.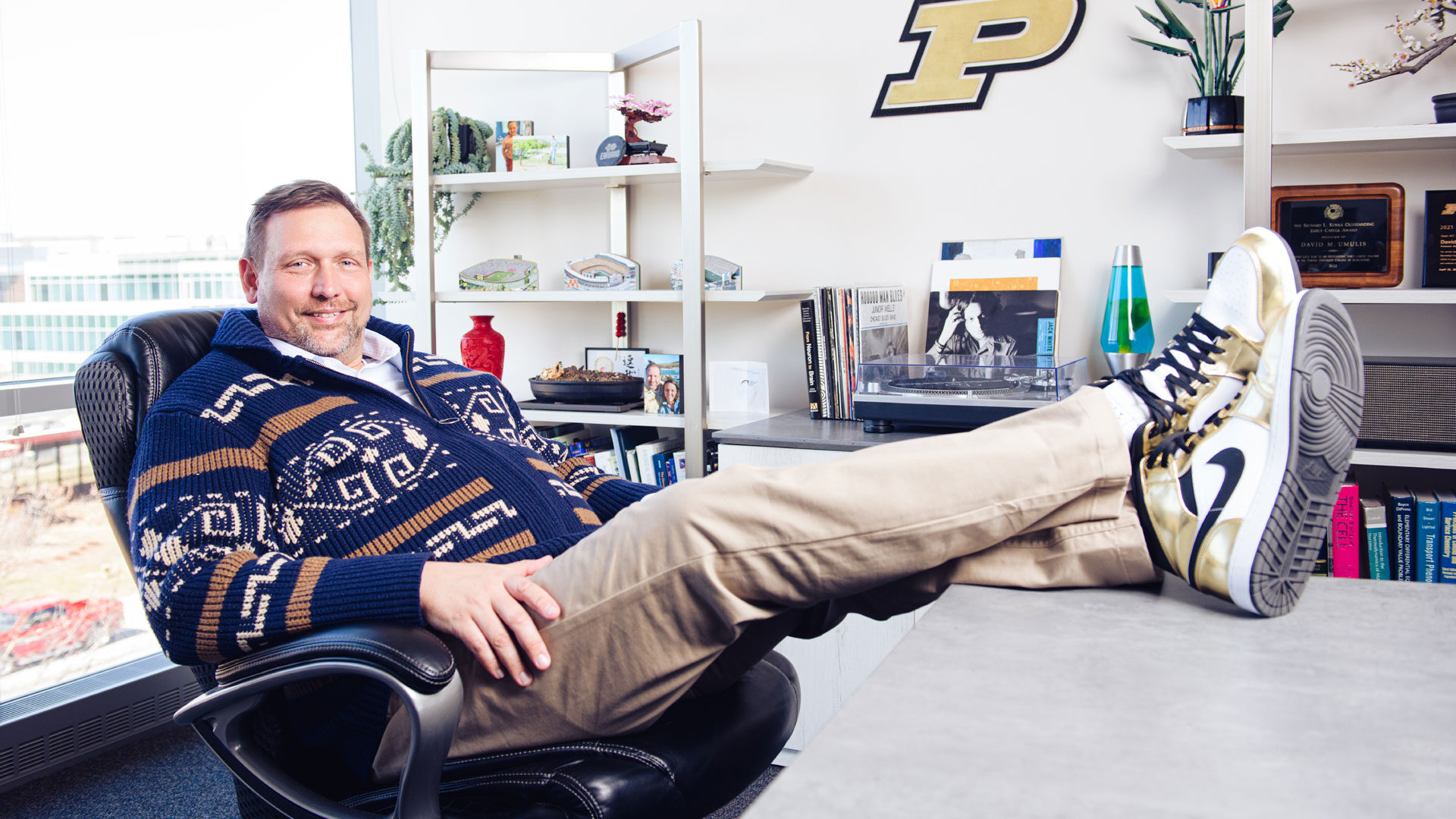 His ability to recall those feelings of inadequacy and relay how he overcame them are useful when encouraging young professors like Green.
"David once shared a story about grant writing and related that to his upbringing, and that's exactly how I felt coming into the department: I have no idea what it means to be a faculty, I'm just passionate about teaching," Green says. "When he shared his perspective on that, it was just so comforting to know that I'm not the only one who has doubts about what it means to be a professor and becoming a successful faculty and the grant writing and all of that. He found a way to be successful even after a few years of not being able to receive funding as an assistant professor. All of that just highlights his leadership, his compassion and his transparency."
Pairing those qualities with what Pienaar describes as Umulis' "multi-dimensional mentorship" – providing assistance via networking, teaching resources and research guidance – has further enriched the positive environment that exists within the Weldon School.
"He's just such a helpful guy that he sees when you need help, and he's always there to help you out when you need it and help push you over the edge a little bit," Solorio says. "He's a great leader, great guy and I think we're all lucky to have him in the department and in the position that he's in."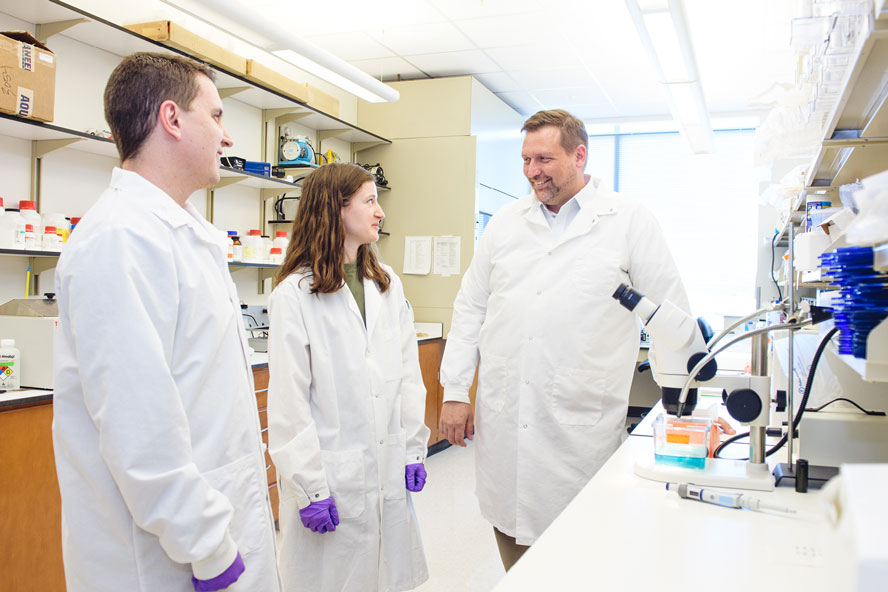 I think intrinsically he's just a really good guy and he cares a lot about people, I think it's a simple answer. I think he cares a lot about the people, and he cares about the department.

Luis Solorio

Assistant professor of biomedical engineering