Back To Top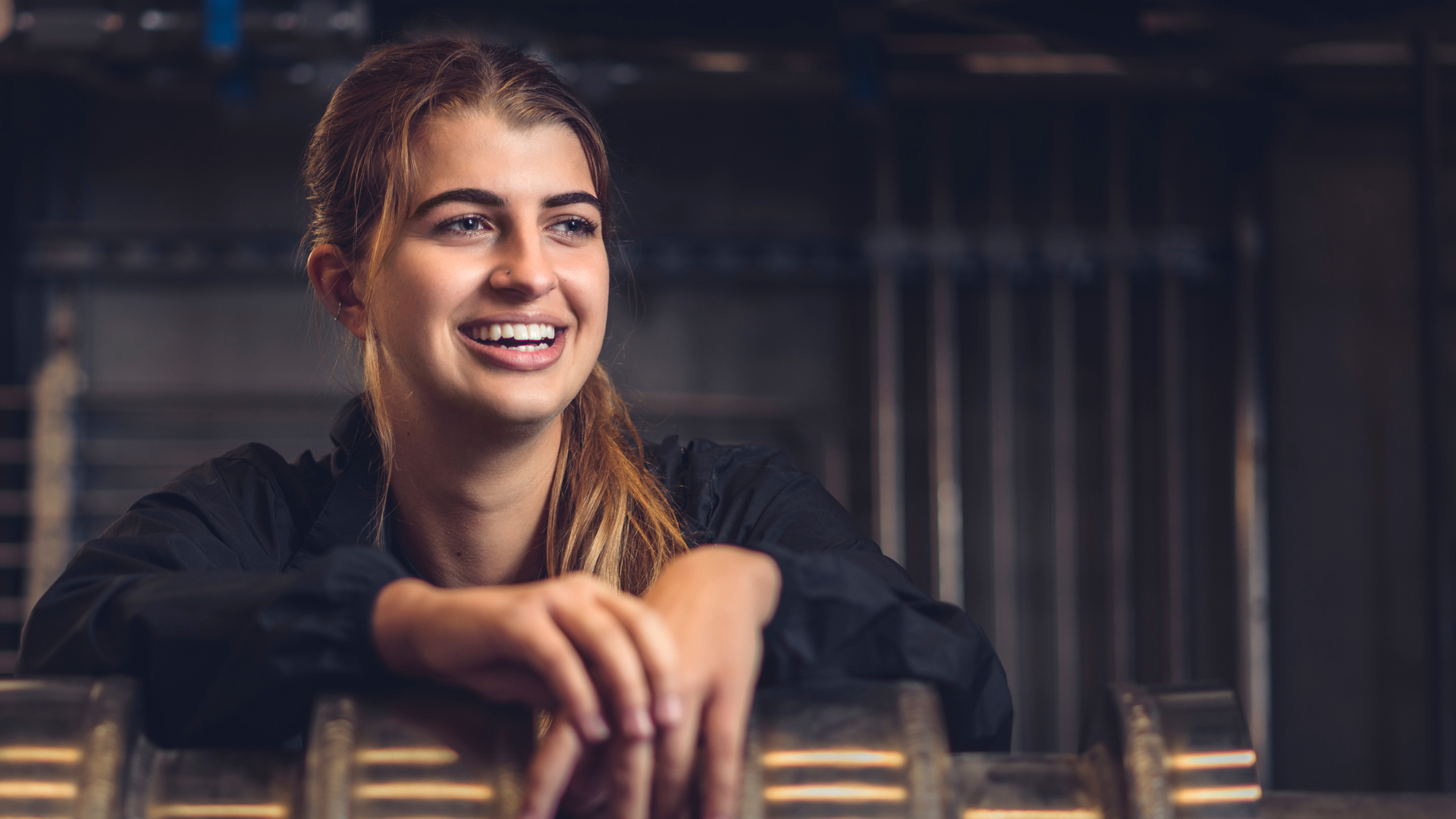 Student from Seattle says life at Purdue blends academic rigor, social life and discovery
What brings a West Coaster like Brynne Hunt to a university in the heart of the Midwest for her undergrad years? She has one answer for that.
"I'm the direct byproduct of STEM community outreach," she says, laughing.
When Brynne was growing up in Seattle in the early 2000s, the city was beginning what would become a staggering tech boom. One of the outcomes? The major tech and aerospace companies offered significant community outreach, especially to young women. And Brynne caught the bug.
In particular, she loved space, and the programs that helped cultivate that interest empowered her to see herself as an engineer someday. And when she was old enough, Brynne was given the opportunity to attend an aerospace-themed high school — which, of course, she took full advantage of.
Her schoolwork led to internships and networking throughout high school, helping narrow her interest to rockets. And when it came to discussing college plans with those members of the tech community, no matter who she asked, the answer always came up looking gold and black. "Rockets?" they would say; "Go to Purdue University!"
She heard it over and over.
Reputation known worldwide
Global regard for a Purdue education extends to disciplines across all of its 250-plus majors. And that reputation enables a worldwide demonstration of its community. In fact, it's her favorite part about being a student at Purdue.
"I love the strong Boilermaker community," Brynne says. "I could be hiking mountains, traveling abroad or in the U.S., or just going to work, and I'll run into Purdue alumni and share a 'Boiler Up!' It means a lot to be a part of a community so large that I can find alumni practically everywhere."
Another advantage to that global reputation, she notes, is the overwhelming number of companies who want Purdue interns. Brynne has landed internships with the leading players on the cutting-edge of today's aerospace industry — Blue Origin, Relativity Space and, her final undergrad internship yet to come this summer, SpaceX.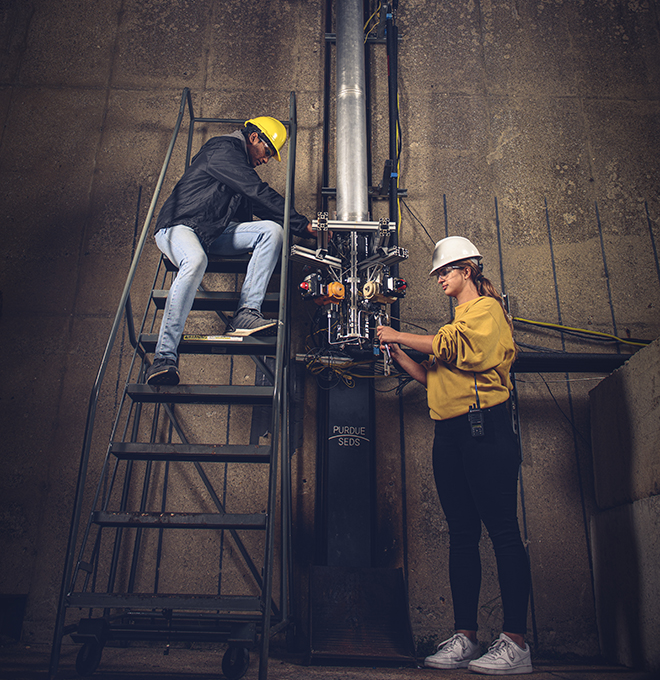 Life-changing value
Given its globally respected reputation, what was incredible to Brynne was how affordable she found Purdue. She notes that, while she did have private scholarships, even prior to those, Purdue's out-of-state tuition was significantly more affordable — even before any financial aid was applied — than others she considered.
And when she graduates this spring, she enters the workforce with a significant advantage.
"I will not have any student debt after undergrad," she says. "Purdue's frozen tuition has meant so much to me because, by not raising tuition, they've shown their commitment to affordability. I'm able to use my private scholarships to cover the majority of my tuition."
That 11-year freeze on tuition is a major point of pride for Brynne and her fellow Boilermakers. In fact, when the Liquid Propulsion Rocket Team she leads was naming its ground support equipment, one special name rose to the top.
"We almost named it The Tuition Freezer," she says. "We take so much pride in the 11-year tuition freeze. It's something Purdue is doing that makes us stand out, and it's changed my life."
We almost named it The Tuition Freezer. We take so much pride in the 11-year tuition freeze. It's something Purdue is doing that makes us stand out, and it's changed my life.

brynne hunt
A place of belonging for everyone
She saw right away that Purdue's powerful draw from 2,000 miles away wasn't an overestimation. But adjusting to differences in climate, food and social norms ("Everyone says hello here! I'm used to what we call the 'Seattle freeze,'" she says, laughing) was going to take some trial and error. And she didn't want to do it alone.
Brynne followed her interests to a couple of the University's 1,000-plus clubs and organizations — Purdue Space Program (PSP) and club sports, in particular, Women's Ultimate Frisbee. In those two organizations, she found her people, and with them, an unlimited trove of support.
"I have met the most incredible people here. It makes me miss the Midwest when I go home. There is nothing like Midwest hospitality," she says.
Those friendships and connections helped her bond with her surroundings. She and her friends have an ongoing list tallying their favorite things about the Midwest.
"I love these potato chips called Grippo's — you can only get them in Kentucky, southern Indiana and I believe some parts of Cincinnati. I love Culver's. Sunsets over cornfields when we're driving to Frisbee tournaments really far away," she says. "Even cold weather!"
And as someone who, previously, wasn't used to experiencing temperatures lower than 45 degrees, the best piece of advice she always offers to fellow West Coasters: "Just … just get a huge coat."
On the whole, Brynne has a powerful connection to Boilermaker pride.
"I have found the strongest sense of belonging. The friends I have met here are there for me in my rough patches and my accomplishments, and they share the same passion and drive I have myself," she says.
"To have communities of people I care so deeply for and want to do crazy things with — like go to Frisbee nationals or launch liquid rockets while balancing schoolwork — that's one thing. But to have those communities also filled with some of the most caring and compassionate people I know? I am grateful for Purdue."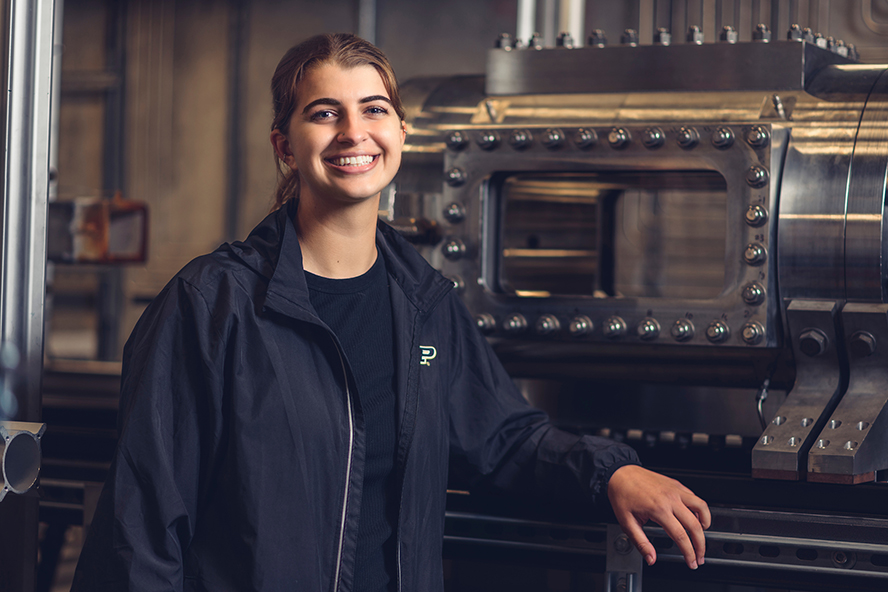 I have found the strongest sense of belonging. The friends I have met here are there for me in my rough patches and my accomplishments, and they share the same passion and drive I have myself.

Brynne Hunt

College of Engineering