Back To Top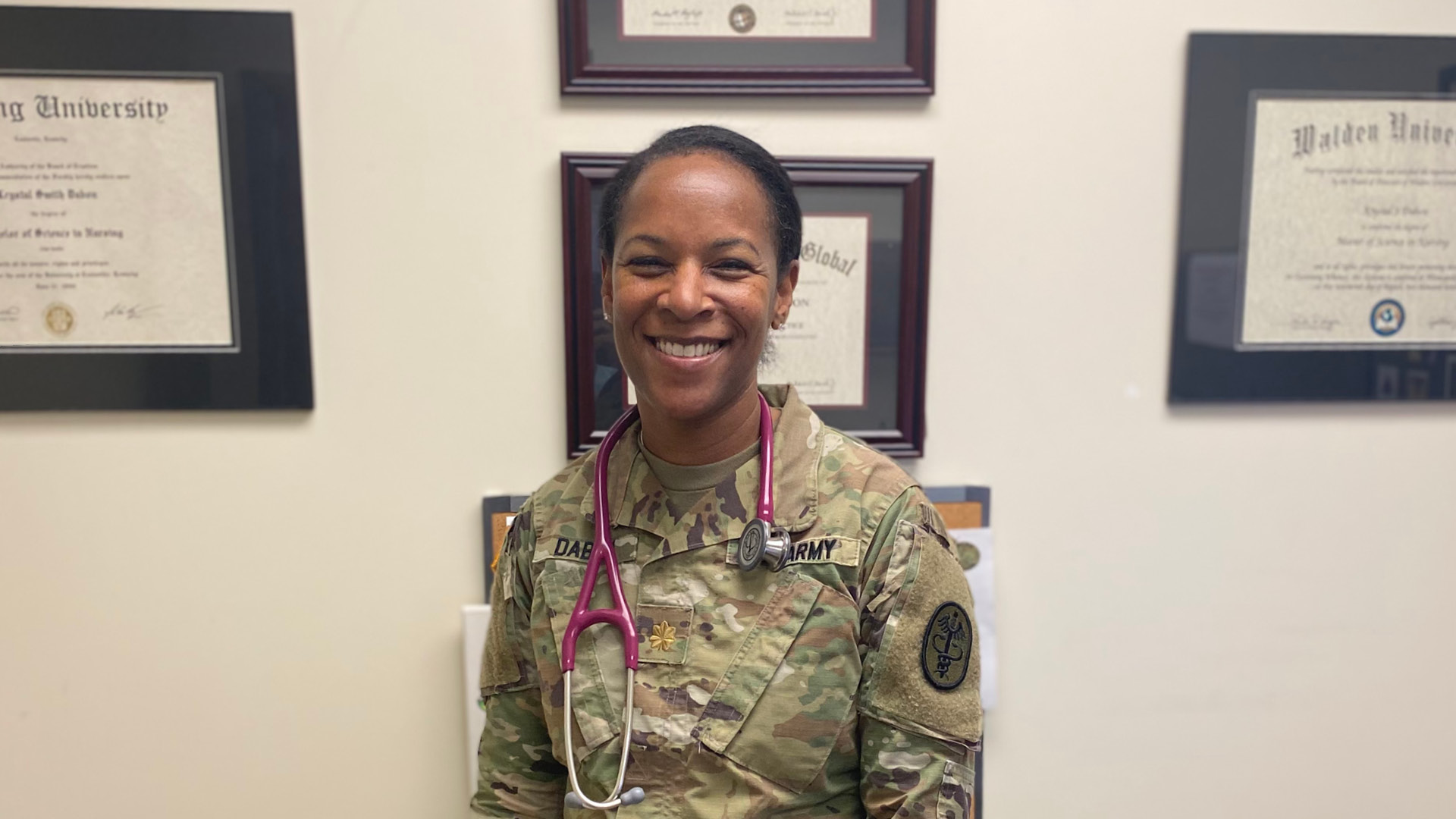 Adversity brought Krystal Dabon to a career she loves in the U.S. Army
The Krystal Dabon of 2022 is a far different person from the one who entered the nursing profession two decades ago.
She didn't initially plan to become a nurse, despite growing up with a grandmother who worked in the field and an aunt who was the first African American to complete a master's degree in nursing at the University of Kentucky.
But when trying personal and financial circumstances compelled her to give nursing a try, she found the job to be a perfect fit – one that encourages her to persistently grow, learn and develop new skills.
"As it turned out, it became so natural for me," says Dabon, who recently completed an online Doctor of Nursing Practice (DNP) degree via Purdue University Global. "It became a part of who I am, like, 'Wow, this is really what I was supposed to do.'"
Two of her DNP program leaders at Purdue University Global overwhelmingly agree with that assessment, having watched Dabon remain committed to her academic and professional goals regardless of the obstacles she faced.
Amy Daly and Angela Owens first worked with Dabon as instructors and mentors within the DNP program, but over time their academic interactions evolved into genuine friendships. They provided support as Dabon, a single mother and active-duty nurse in the U.S. Army, worked diligently to complete the program. And they appreciated her sunny disposition and refusal to make excuses.
By the time Dabon graduated in December 2021, they had presented her with two of the DNP program's most prestigious honors – the DAISY Award and the Rising Star of Research and Scholarship award from the Sigma Theta Tau nursing honor society – demonstrating their view that Dabon personifies the type of nursing graduate that Purdue University Global aims to produce.
"What I see more than anything is such a level of competence," says Daly, the DNP program lead who taught Dabon in multiple courses. "She's just very positive and happy about who she is and what her role is. What we wanted to see is that she can be a leader and she can be a direct-care provider. She can be both, and then she can also do many other things like participate in research.
"That's what I think the DNP graduate is all about: multitasking and having skills and experience to move into any role or position that might be available."
That includes a leadership role at Fort Benning, one of the world's largest military bases – a position she was qualified to pursue because of the DNP on her résumé.
'We lost it all'
Twenty years ago, Dabon put those multitasking skills to use as a stay-at-home mother of three who also helped her husband operate their small business, a recruitment service.
However, their customer base dried up during the period of economic uncertainty that followed the Sept. 11, 2001, terrorist attacks. They were unable to keep the business afloat.
"When 9/11 hit, everything in the world stopped," Dabon recalls. "Nobody was hiring, nobody knew what was going on, what was going to happen. We lost everything. We had two cars, a truck, a house. We lost it all."
Before long, Dabon's marriage also dissolved. Now a single parent of three – with a fourth child on the way – she returned to her hometown of Louisville, Kentucky, and moved back into her grandmother's home.
Seeking stability after the financial trauma her family had recently endured, Dabon was suddenly willing to reconsider the career option she initially ignored.
"I said, 'I'm never going to be in this position again. I'm going to get into a profession where no matter what the economy does, I'm going to still be able to work,'" she says. "And that is how I chose nursing."
Dabon enrolled in her first Certified Nursing Assistant course in 2002. Six years later, thanks to significant help from family members who helped her juggle child care and schoolwork, she completed nursing school.
She joined the Army in 2010 when a previously enlisted colleague shared details about the available benefits – namely that she could receive assistance paying off her student loans.
"I said, OK, if I can do the push-ups and the sit-ups and the runs, I'll do it," Dabon says. "And I could, so I joined."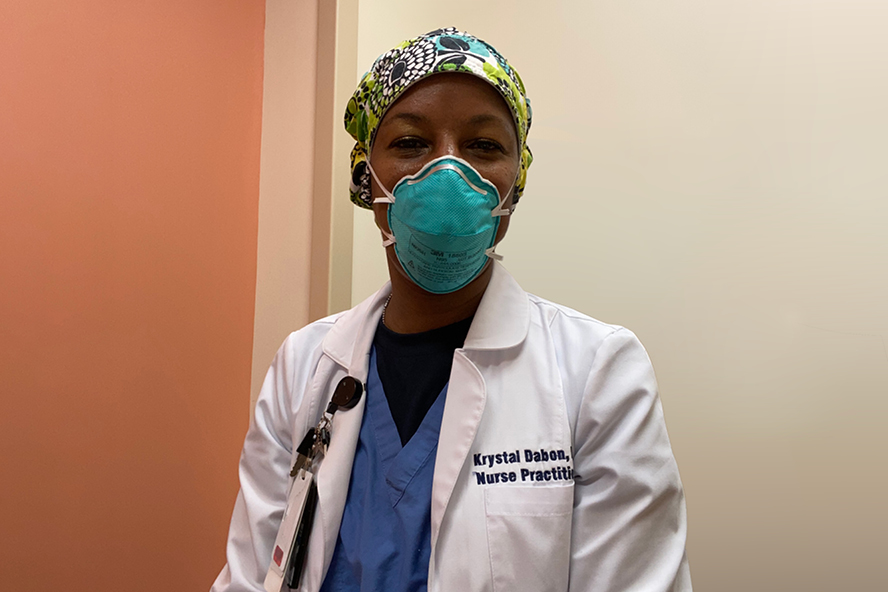 I said, 'I'm never going to be in this position again. I'm going to get into a profession where no matter what the economy does, I'm going to still be able to work.' And that is how I chose nursing.

Krystal Dabon

On becoming a nurse in 2002 after her family's business collapsed
Growing as a nurse
Dabon occupied a few different nursing roles – medical surgical staff, intensive care, operating room, nurse practitioner – before the Army promoted her to manage the medical reception station at Fort Benning, the Army post in Georgia that is home to more than 27,000 active-duty soldiers. She says she truly discovered a passion for her profession while working as an operating room nurse.
"I was an OR nurse for about six years, and I absolutely loved it," she says. "I loved going to work every day. When I was on vacation, I would be glad to go back to work. I think it was because of the teamwork."
Dabon says becoming a nurse practitioner felt like the next logical step in her career progression within an Army framework designed to prevent anyone becoming stagnant. Luckily, once Dabon started working toward her nurse practitioner certification, she found that she also loved that job.
"One thing I like about the Army is that it requires that you continually grow," Dabon says. "You don't stay in one spot long. You're moving from one rank to another, and you take on new responsibilities at every rank, at every position. I love to grow, and I love to learn."
A model student
Positive word-of-mouth testimony from a fellow nurse convinced Dabon to first enroll in a Purdue University Global nurse practitioner certificate program in 2018.
Prior to enrolling at Purdue University Global, Dabon was most comfortable in a traditional classroom setting where in-person dialogue can resolve lingering questions about coursework and reading assignments. Her transition to online learning was uncomfortable at first, but once she caught onto the weekly routine embedded in most Purdue University Global syllabi, Dabon appreciated how weekly discussion board assignments provided similar opportunities to learn from her classmates and share knowledge.
"I felt the discussion boards were absolutely fantastic from that perspective, that you didn't have to do all the research," she says. "You could do some of the research and then your classmates did some of the research, and you were able to read and respond to what they learned."
Once Dabon completed nurse practitioner certification in the summer of 2020, she decided to pursue a DNP and repeatedly impressed program leaders Daly and Owens with her hard work and concern for patients' well-being.
"She's really passionate about improving outcomes for vulnerable populations," says Owens, academic department chair of the DNP program. "It would be easy to rise through the ranks in a military setting, or in a nursing setting, and lose sight of the patient and the outcomes for the patient. But she does not. That's still in the forefront of her mind. She wants to, in leadership, be able to empower people to provide better care for patients.
It would be easy to rise through the ranks in a military setting, or in a nursing setting, and lose sight of the patient and the outcomes for the patient. But she does not. That's still in the forefront of her mind.

Angela Owens
academic department chair, Purdue University Global Doctor of Nursing Practice program
"The types of qualities that we want to see are that once you graduate with our DNP, you are paying it forward and going out into your communities and helping to level the playing field with health equity."
Owens cites Dabon's final project – the equivalent of a thesis – as one example of this concern. She created a text messaging program that encourages African American patients to adopt healthier eating habits in an effort to reduce negative outcomes related to high blood pressure and cholesterol.
"She is very driven," says Owens, who served as Dabon's mentor on the project. "She sees a goal and she goes after it."
As a Rising Star honoree, Dabon was invited to present her project research at the Sigma Theta Tau convention last November in Indianapolis. There, she finally met Daly and Owens in person after building friendships with the program administrators through the University's online platform over the previous two years.
"When we met in November, she said, 'I feel like I'm meeting my best friend,'" Owens recalls. "It's just nice to think about the connections that you make and how you have this network of people that you can depend on. I love what I do."
Dabon is similarly enthusiastic about the bonds they developed, with Daly offering consistent support during her coursework and Owens providing positive feedback as she worked to complete her project. She says that completing the DNP program was not easy, making her accomplishment all the more noteworthy.
In May 2022, Dabon reunited with Daly in Indianapolis when she returned to participate in spring commencement.
"The thing that stands out to me the most is how positive she is," Daly says. "She was beaming at this graduation – just beaming. You could not get the smile off her face. She is so positive about Purdue Global, so positive about nursing, so positive about her career in the service."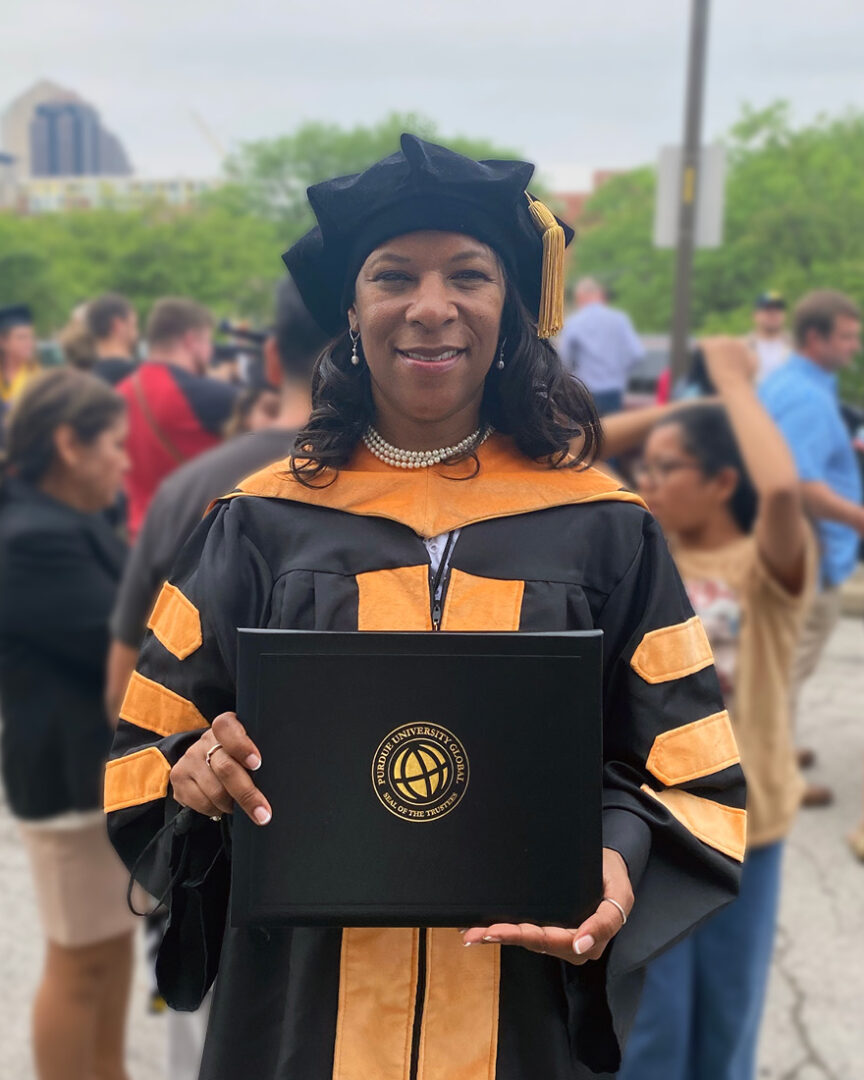 'We always end up where we need to be'
In extolling Dabon's virtues as a nurse, Daly and Owens both cite leadership as one of her strengths.
"She's one of the people where if she's in the room when you walk in, you want to talk to her and see what she's about," Owens says. "She has that kind of presence."
Dabon says it has not always been that way, however.
As a child, she was an introvert with an extroverted twin sister who made decisions for both siblings. She credits becoming a nurse – especially one holding a leadership position at one of the world's largest military bases – for forcing her to become a more dynamic presence.
"I definitely had to cultivate that as a nurse," Dabon says. "You're advocating for your patients. You're speaking up for those that can't speak up for themselves. And being in the Army, right now I do have 14 employees. I'm over the medical reception station at Fort Benning, so all the recruits come through my section for in-processing."
In August, Dabon will begin a nine-month deployment overseas, where she will serve as a medical care provider for soldiers.
She previously served a 15-month stint in South Korea and was able to travel to Beijing and Bangkok during her down time. She hopes to make a side trip to Dubai during this deployment.
"I rode an elephant when I went to Bangkok," Dabon says, laughing at the memory. "I thought, 'Wow, I never would have done this if I hadn't joined the Army.'"
Dabon plans to remain in active service for another seven and a half years in order to achieve the 20 years of service time necessary for full retired pay. Currently a major, she will be eligible for promotion again in 2024 and believes that her DNP will strengthen her case to be promoted to lieutenant colonel.
This is yet another way that she has evolved since finding her calling as a nurse. Maybe it wasn't her initial plan, but Dabon found a field where she excels, does fulfilling work that she loves and continues to grow as a health care provider and leader.
"Sometimes we get there in roundabout ways," she says, "but we always end up where we need to be."
Learn more about Purdue Global.