Back To Top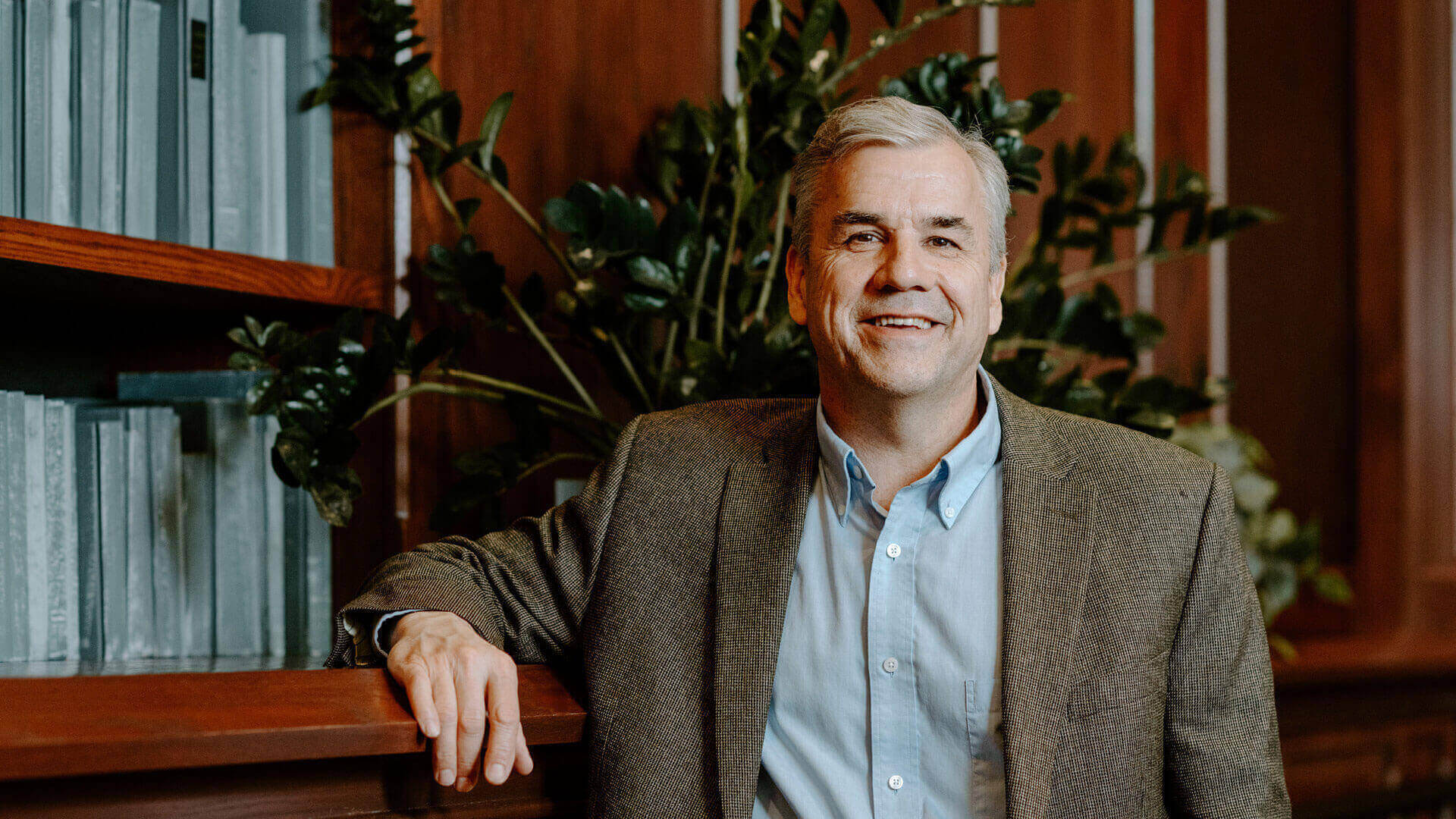 Charles B. Murphy Outstanding Undergraduate Teaching Award: Bryan Hubbard
Others might have been intimidated their first time setting foot on a campus as big as Purdue's. Bryan Hubbard wasn't. If anything, he felt grateful for the chance to fade into the background. Hubbard (BSME '88, MS engineering '90) hails from a small town in Iowa, the sort of place where everyone knows everyone.
"I had 50 people in my graduating class in high school," Hubbard says. "When I arrived at Purdue, I was always the one that sat in the back of the room. I just wanted to do my own thing."
That was back in 1983. More than a decade after graduating from Purdue and later obtaining a doctorate in civil engineering from Texas A&M, he found his way back. But this time, he was the one standing in front of the classroom.
Now, his students have recognized him with Purdue's highest undergraduate teaching honor: the Charles B. Murphy Award.
The road back to Purdue
Although Hubbard enjoyed a successful career in industry, his passion for teaching and mentoring students was beckoning. His then-employer, SPX Cooling Technologies, offered him a taste of this, as he was able to work with company interns.
Then, his wife came across a job listing for a position at Purdue that would take things a step further as the director of internships for the construction engineering and management program. It turned out to be a great fit. He even got the opportunity to teach a handful of classes, confirming that this was the right direction for his career.
"As my work moved more into administration, that's when I realized, 'Well, wait a second. I really like teaching and working with students,'" Hubbard says.
That settled things. In 2008, he joined the faculty of what was then known as the Purdue College of Technology — today, the Purdue Polytechnic Institute.
As Hubbard talks about his time at Purdue, it's obvious just how much the Murphy Award means to him. Despite getting, in his words, a little choked up during the surprise presentation of the award in one of his classes, he is also quick to quip that it comes with added pressure.
"I'm like, I have to go back and do a better job now if you're going to give me an award for this," he says.
This levity is typical of Hubbard, who sees it as a way to build rapport with his students.
"I shouldn't admit this, but the other day I was about two minutes late to class, and I admitted to the class, 'Yeah, I saw this squirrel running around with a salted nut roll wrapper, and I wanted to get a picture of it for The Exponent's squirrel-of-the-week picture."
I think my role is really to tie the fundamentals into what's currently going on in industry.

Bryan Hubbard
Professor, Construction Management
Purdue Polytechnic Institute
Preparing students for the real world
In fact, this isn't Hubbard's first teaching award from Purdue. As a graduate student, he was given a Magoon Award for Excellence in Teaching. The prize money, he recalls, was enough to purchase a bicycle.
Hubbard's time away from the classroom played an important role in preparing him to teach. With his industry experience, Hubbard built connections and gained practical firsthand industry knowledge.
"We're here to teach the fundamentals that students need, and I think my role is really to tie the fundamentals into what's currently going on in industry," Hubbard says. "It was very helpful for me to be in industry to see how things worked."
The nomination submitted by Hubbard's students highlights his ability to convey the importance of real-world connections and applicability. They detail how Hubbard "works with construction professionals and gets them involved" to provide "real-world examples of the material we need to learn to work in industry, and by working with industry to ensure he is teaching the current tools, such as the latest software."
One of Hubbard's great strengths is that he knows his limitations.
"I've been out of industry for 20 years, so it can be harder to keep up with what's going on with industry," Hubbard observes. "I rely heavily on bringing people in and staying connected. I'm always asking, 'Hey, how are you doing this?'"
This mindset informs how Hubbard conducts his classroom at all times, not just when he's bringing experts in to speak with students. Speaking on his philosophy of teaching, Hubbard says, "Don't try to be the all-knowing expert. It's OK to back up and say, 'Hey, you know, I have to go look at that a little bit. I'm going to look that up tonight, and I'll have some answers for you.'"
Getting out of your comfort zone
Under the spotlight when students are asking questions in the classroom, it can be uncomfortable to take a step back and admit that you don't know. But Hubbard sees an important lesson in modeling what it looks like to operate outside of your comfort zone.
Taking students on study abroad trips, Hubbard finds, is one of the ultimate ways to accomplish this.
"When you are in a different situation and you have to fend for yourself a little bit, I think that's important, and you see that in study abroad," Hubbard says.
Over the years, Hubbard has had opportunities to take students to China, Mexico, Puerto Rico, and — most recently — Barcelona.
Hubbard has seen the impact of international study in his own life.
"When I was an undergraduate student, I had the opportunity to go to Russia when it was the USSR," Hubbard reflects. "It was part of what was called glasnost, which was a Gorbachev movement to try to move more into the West. I still look back at that experience as something that opened my eyes to the world."
But Hubbard doesn't have to take students to another continent to challenge them to get out of their comfort zone. He intentionally uses open-ended assignments to the same effect.
"Rather than spoon-feeding them every step, I would much rather say, 'OK, you've got the tools; now let's see what you come up with,'" Hubbard says. "I want students to stretch a little bit — and I'll help them with it. But you know, I want to see what they can do versus spelling out each individual item.
"I think that's when they learn a lot more."
That wonder and curiosity continues to drive Hubbard today — both as an instructor and researcher. Today, he's got his mind on becoming a Fulbright scholar, a coveted fellowship program that promotes international exchange for students and faculty alike.
"I've gone after a Fulbright twice, and I'm going to go after it a third time," Hubbard shares. "I've been a finalist twice, and I was just like, 'Man, this is on my bucket list. I'm just going to keep swinging until I retire.'"
Asked about the most rewarding part of his job, Hubbard is quick to point to student impact.
"I think first and foremost, I love to see when students get jobs and they're out there working," Hubbard says. "I think what I find probably most rewarding is students who come back and I get to hear about what they're doing."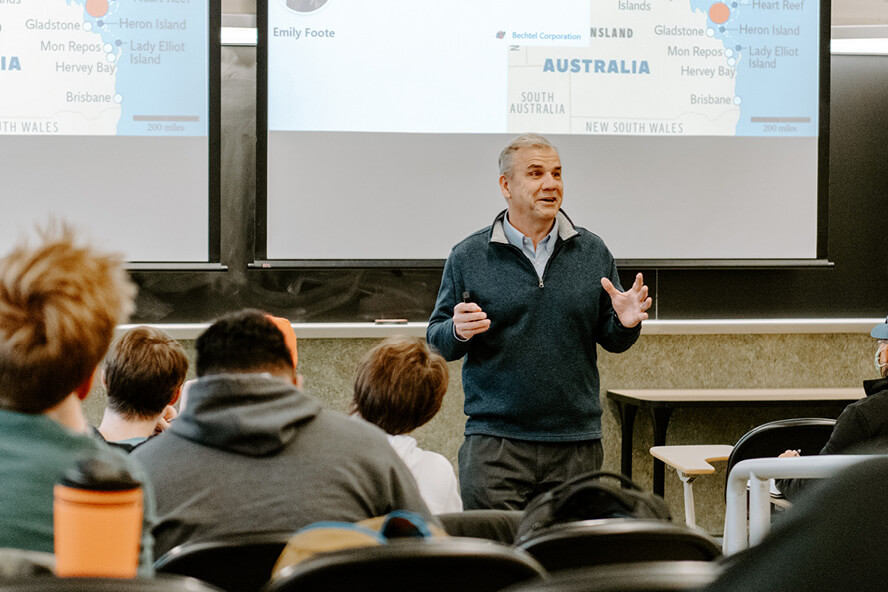 I want students to stretch a little bit — and I'll help them with it. But you know, I want to see what they can do versus spelling out each individual item.

Bryan Hubbard

Professor, Construction Management Purdue Polytechnic Institute