Back To Top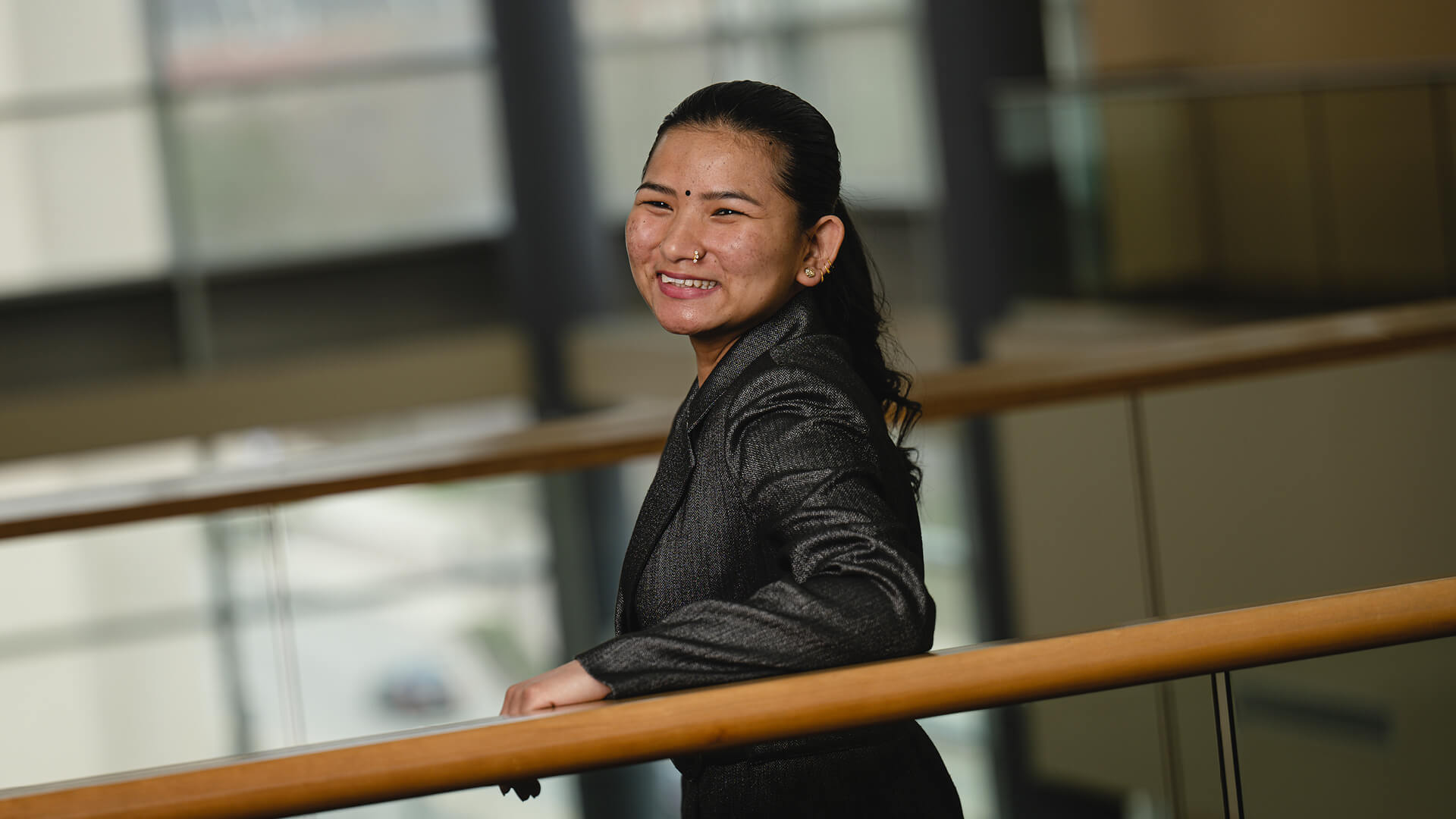 Pre-med student hopes to give back through programs and mission trips
Reflecting on the first eight years of her life, Soneya Tamang recalls a happy childhood. She spent a lot of time playing outside with siblings and friends. She filled her days with games like ek khutte, similar to hopscotch, with lines and squares chalked on the ground, and chungi, similar to "Hacky Sack," where participants use their feet to jockey a ball made from rubber bands. At night, she shared a bed with her older sister, while her mom and two younger sisters slept in another bed in the same room.
The bamboo huts were tightly packed together with dirt walkways in between. Food rations containing rice, lentils, vegetable oil, sugar, salt and some vegetables were distributed every two weeks. The community gathered water from a communal pump. Overtaxing the power grid led to rolling blackouts, with electricity cut off sometimes for 14 hours.
It wasn't until she was much older and her family had relocated to the United States that Tamang began to understand that the idyllic childhood home where she was born was actually a refugee camp in Nepal.
After arriving in the U.S., Tamang began an educational path that would eventually lead her to new opportunities and the chance to pursue a dream career, changing the course of her life. Part of the first graduating class of Purdue Polytechnic High School Schweitzer Center at Englewood, she gained experience with STEM disciplines and discovered her passion for health care. PPHS's student-directed learning environment helped strengthen an understanding of what an education can make possible.
PPHS offered a pathway to Purdue University, where Tamang could continue her journey and meet more students with interests in scientific fields and helping others. She is now pursuing a double major in nutrition science and brain and behavioral sciences through the College of Health and Human Sciences.
"I've done and seen so much already that never would have been possible if I were still back in the refugee camp," Tamang says. "I had a happy childhood, but it was also a hard one. At the time, I was too young to understand how difficult life in the refugee camps was."
I've done and seen so much already that never would have been possible if I were still back in the refugee camp.

Soneya Tamang
Sophomore, nutrition science, brain and behavioral sciences
She plans to become a surgeon and has joined the Pre-Physician Associate Club at Purdue. She hopes to participate in some of the club's medical mission trips, where she'll be able to help others around the world. As the first in her family to attend college, Tamang feels responsible for honoring her heritage and fully applying herself to all the opportunities she's been granted.
"There are others who are still living in the refugee camp, still going through the hardships that come with being displaced from your homeland," she says. "I share my story because it's important for people to understand how much a life can be altered through the opportunity of an education."
Like thousands of other Nepali-speaking Bhutanese people, Tamang's parents fled Bhutan in the early 1990s amid interethnic conflict.
"Even though I was born in a refugee camp in Nepal and speak Nepali, I still identify as Bhutanese," Tamang says. "In Bhutan, my family had a nice house with some land with orange groves and apple orchards. But the Bhutanese government forcibly removed anyone who refused to stop celebrating Nepali culture."
According to the United Nations, the influx of ethnic Nepali refugees from 1990-91 wound up in seven refugee camps located throughout the southeastern lowlands of Nepal, where many of them stayed for decades. Tamang and her family lived in the Morang Sanishchare Pathari camp. Between 2007-16, the U.N. High Commissioner for Refugees helped resettle more than 113,500 Bhutanese refugees to eight different countries in one of the largest global group resettlement programs in history.
Tamang's brother came to the United States first and helped their parents navigate the process of obtaining visas and applying for resettlement. Tamang was too young to understand the magnitude; she just knew they were moving somewhere. Once her family received a date to fly to the U.S., her excitement grew.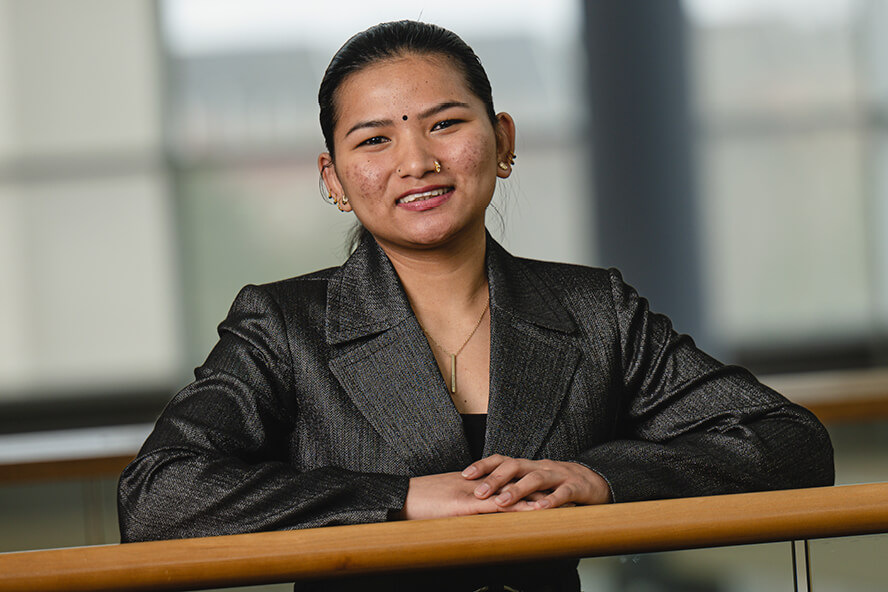 It's important for people to understand how much a life can be altered through the opportunity of an education.

Soneya Tamang

Sophomore, nutrition science, brain and behavioral sciences
"When we moved to Indianapolis from the refugee camp in 2011, I didn't speak any English," Tamang says. "It was an entirely different world. I remember when I started school in the U.S. in third grade, I couldn't get the electric pencil sharpener to work. In the refugee camp's school, we just used a knife. I didn't have the words in English to ask for help so I just stood by the pencil sharpener gesturing until a classmate finally noticed and showed me that I just needed to push the pencil in a bit farther."
Exodus Refugee Immigration, a nonprofit organization that facilitates and supports refugees resettling in Indiana, played a vital role in welcoming the Tamang family to their new home. Exodus helps refugees obtain housing and find work. It also offers English-language training and cultural orientation and provides financial support to help families get established in the U.S.
"They gave us everything we needed until we were able to get settled," Tamang says. "Our first apartment had a landline, which I thought was very cool. I'd never used a phone before. I would pick it up, pretend to talk and then hang up the phone just like I'd seen in the movies."
Living in Indianapolis allowed Tamang the chance to enroll at PPHS and join its first class of students. PPHS reengineers the high school experience and prepares students who are underserved by traditional schools and underrepresented in higher education. These students are ready and able to pursue their careers with confidence because of their experiences.
In Nepal, Tamang's father worked as a physical laborer, plowing farm fields with oxen to provide for his family. After resettling in the U.S., Tamang realized she had educational opportunities available to her that she'd never dreamed of in the refugee camp.
"With a Purdue education, I have the ability to find a better job," she says. "I have taken on the responsibility of caring for my parents financially. That motivates me to keep pushing forward, even when I want to quit."