Back To Top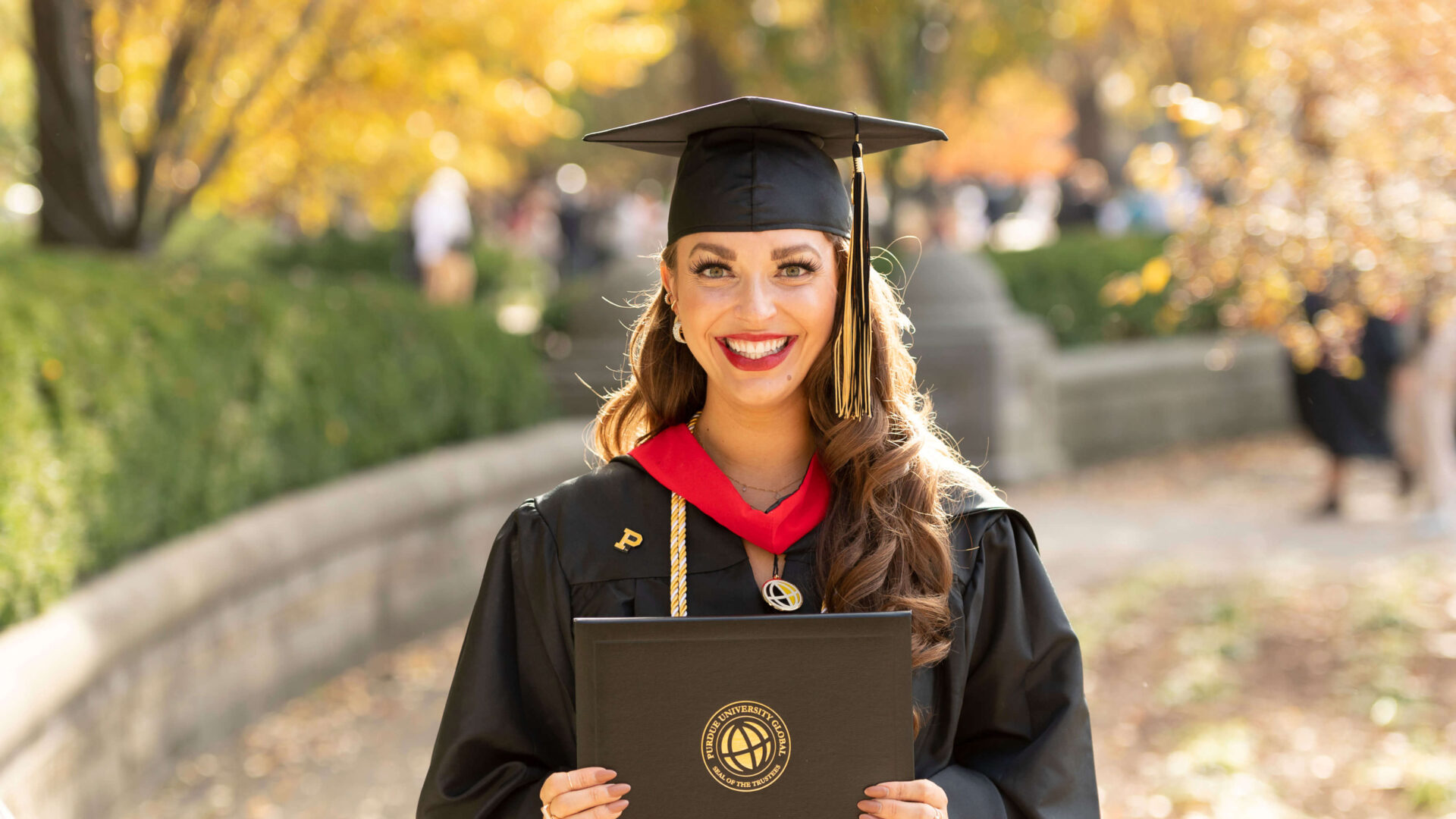 A master's degree in data analytics helps Lisa Holman persistently progress
Practice makes perfect. For Lisa Holman, this rings true in every endeavor, from rehearsing songs to processing data sets.
Holman is all in on everything: her job, education, family, friends, music. She has a commitment to commitment and an understanding that grace and ease are the by-products of grit and determination.
The whole art of performance is that you never know the hard work behind the actual show. That holds true for everything.

Lisa Holman
MS data analytics '22
"The whole art of performance is that you never know the hard work behind the actual show," Holman says. "That holds true for everything. You never know how hard someone has worked to get to where they are. If they seem at ease, then there was blood, sweat and tears to get there."
Steadfast dedication to goals led Holman to her success as a manager, student and singer. Purdue Global helped her advance in her career while pursuing her passions and creating a fulfilling life for herself.
Purdue Global had the flexible schedules and easily accessible resources that Holman needed to earn her Master of Science in data analytics, graduating with a 4.0 GPA. Though her path has been unpredictable, her educational experiences have aligned with all of her ambitions.
Persistently pushing herself to achieve dreams, Holman not only walked across the stage at Purdue Global's October 2022 commencement — she also performed the national anthem as the ceremony's featured vocalist.
Becoming a top performer
From music to math, Holman has always been adept across interests. Her journey as a vocalist began at an early age and accelerated as she started singing solo in high school. She first majored in math while attending the University of Minnesota Duluth for her undergraduate degree. After deciding to take more of a liberal arts track, she switched studies and double-majored, earning her Bachelor of Arts in music and French studies.
Combining an interest in numbers with creative talents, Holman formed a steady foundation for her future. After graduation, she began her job at a credit union while she performed with her band, Laura Velvet. She juggled work goals and Laura Velvet stage rehearsals, finding time to both balance books and cover songs by icons ranging from Aretha Franklin to the Eagles. 

However, Holman's balancing act was abruptly interrupted. The coronavirus pandemic caused her to part ways with her then-job and put all performances on pause. She began to wonder what came next.
Pivoting career ambitions
Holman heard about data analytics from her father, whom she credits as her biggest influencer. He advised her to earn her master's degree in a technology-driven field, where the demand for talent across industries was sure to only increase. Like any good Midwestern dad, he provided insight and a positive outlook, supporting her throughout her struggles.
"Hindsight is always 20/20, so it's funny to look back," Holman says. "We all have those moments. There's lots of crying, lots of comfort food, lots of calls with Dad."
She began researching schools, finding Purdue University familiar from when she first started looking at colleges in high school. Purdue Global quickly became her first choice for her master's degree.
"The dots connected, and everything aligned," Holman says. "When I applied, the admissions department made it so simple. September 2020, there I was: going back to school!"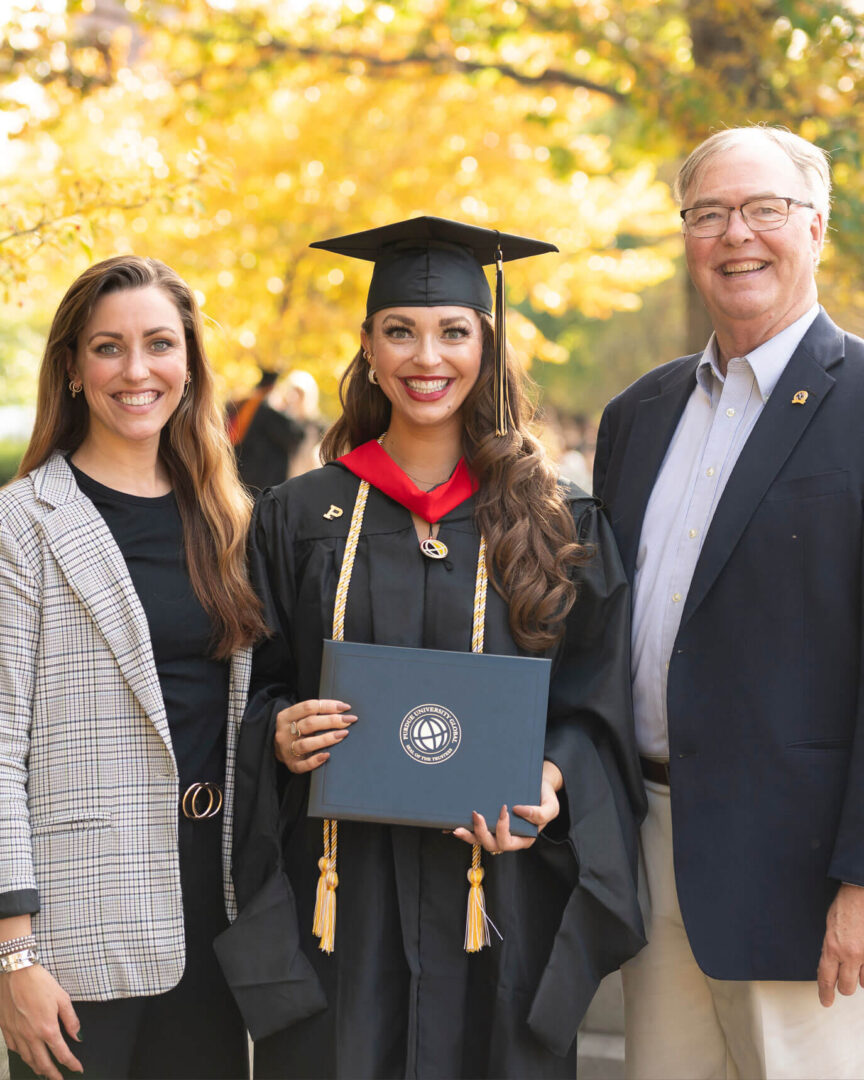 Integrating school in everyday schedules
Purdue Global instantly provided an accommodating platform for Holman. She enjoyed the way that professors conducted courses, outlining the assignment parameters and giving support as needed. She was able to fit her education into her life.
One of Holman's first classes helped her understand writing formats and processes, allowing her to head into her courses confidently. Her continual challenge was balancing her time — a process she finds completely gratifying.
"I thrive in chaos," Holman says. "That has been one thing I've really come to own as I've gotten older. I've always enjoyed being busy. I found that I was able to orchestrate all of these different things. 'OK, classes on Wednesday night, discussion done on Thursday, find a spare half-hour to write on Friday.' I love that fast pace."
A fast pace is the only tempo Holman knows. She excelled in coursework while applying to jobs and performing onstage again, thankful for Purdue Global's flexibility.
"There were moments where I would be on the road with the band, all dressed up, and I'd be listening to a class with my laptop and headphones," Holman says. "I loved being able to do that."
Prioritizing persistence
Holman found her current role at a credit union because of a connection to information technology. During her interview, she learned that the supervisor had a background in IT.
"Even though he was supervising a bunch of different managers of credit unions, his core understanding was in IT," Holman says. "I thought it was kismet. The stars were all aligning."
Holman moved from Duluth to Minneapolis in April 2021, stepping into her new job and immediately experiencing the bigger city's perks. She loves that there's always something to do, from exploring trails to trying restaurants.
It's full circle that I've ended up in this position. I've really enjoyed being able to flex different muscles.

Lisa Holman
MS data analytics '22
Today, Holman is a regional branch manager of a credit union in Minneapolis, where her day-to-day responsibilities require adaptability at all times. There are members to meet, books to balance and technology tasks to troubleshoot. From helping someone with their checkbook to building schedules across branches, she applies her work ethic to every task.
"It's full circle that I've ended up in this position," Holman says. "I've really enjoyed being able to flex different muscles."
No matter what setbacks or stresses have come Holman's way, her outlook has never shifted.
"Persistence is looking back so you can keep moving forward," Holman says. "My dad reminded me of this time and time again. I would call him whenever I was exhausted or cranky or frustrated. He would always say, 'When you feel overwhelmed, look at how far you've come.' It's all about navigating how to progress."
Achieving more — again and again and again
At Purdue Global's Fall 2022 commencement, Holman received her degree that will help her manage more. She also performed as the ceremony's featured vocalist, a spot she got after auditioning on a whim. The opportunity factors into her path perfectly.
"When I got the email that I had been selected, I kid you not, I fell out of my chair at work," Holman says. "My music career and school have worked in conjunction."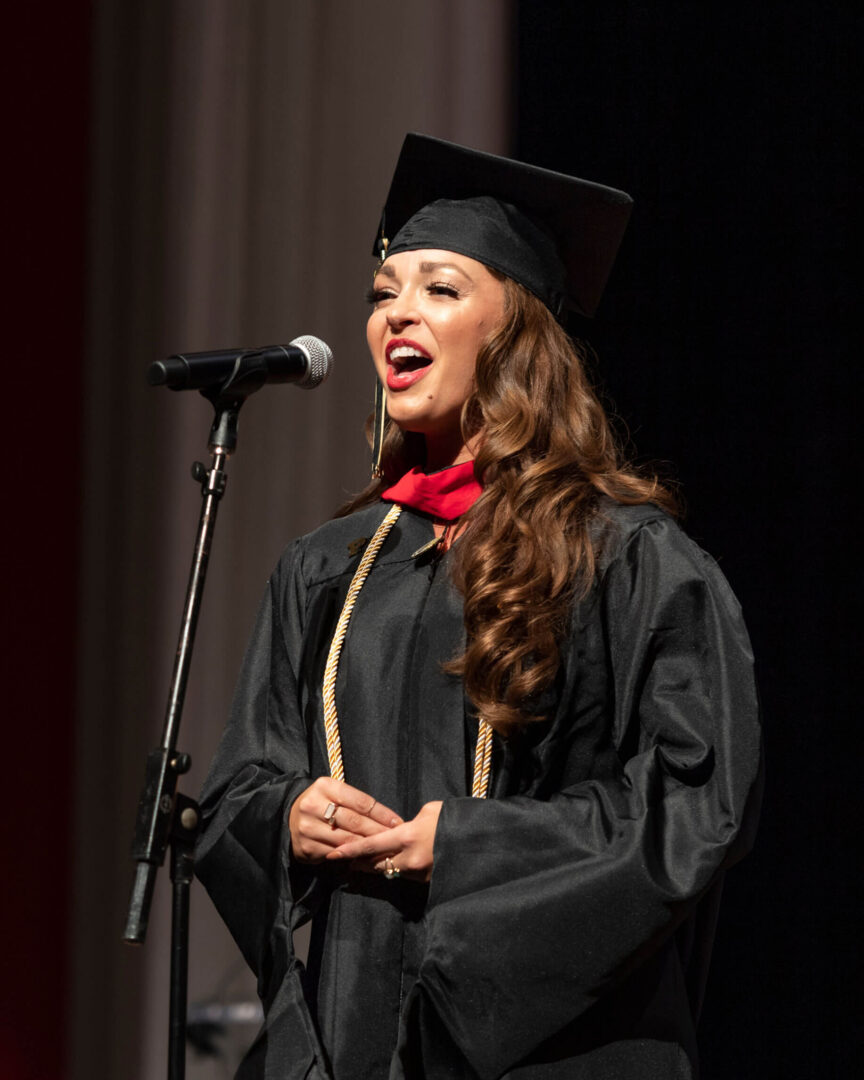 What's next on Holman's ever-expanding list of goals? She wants to continue finding her work-life balance (or, in her case, her work-band-life balance). She loves her current role, workplace culture and the opportunities she's had in Minneapolis to create a fulfilling life. Through everything, she remembers that even in chaos, a plan is happening.
Holman will continue to put in the hard work that makes the performance perfect — and well worth all of the effort.