Back To Top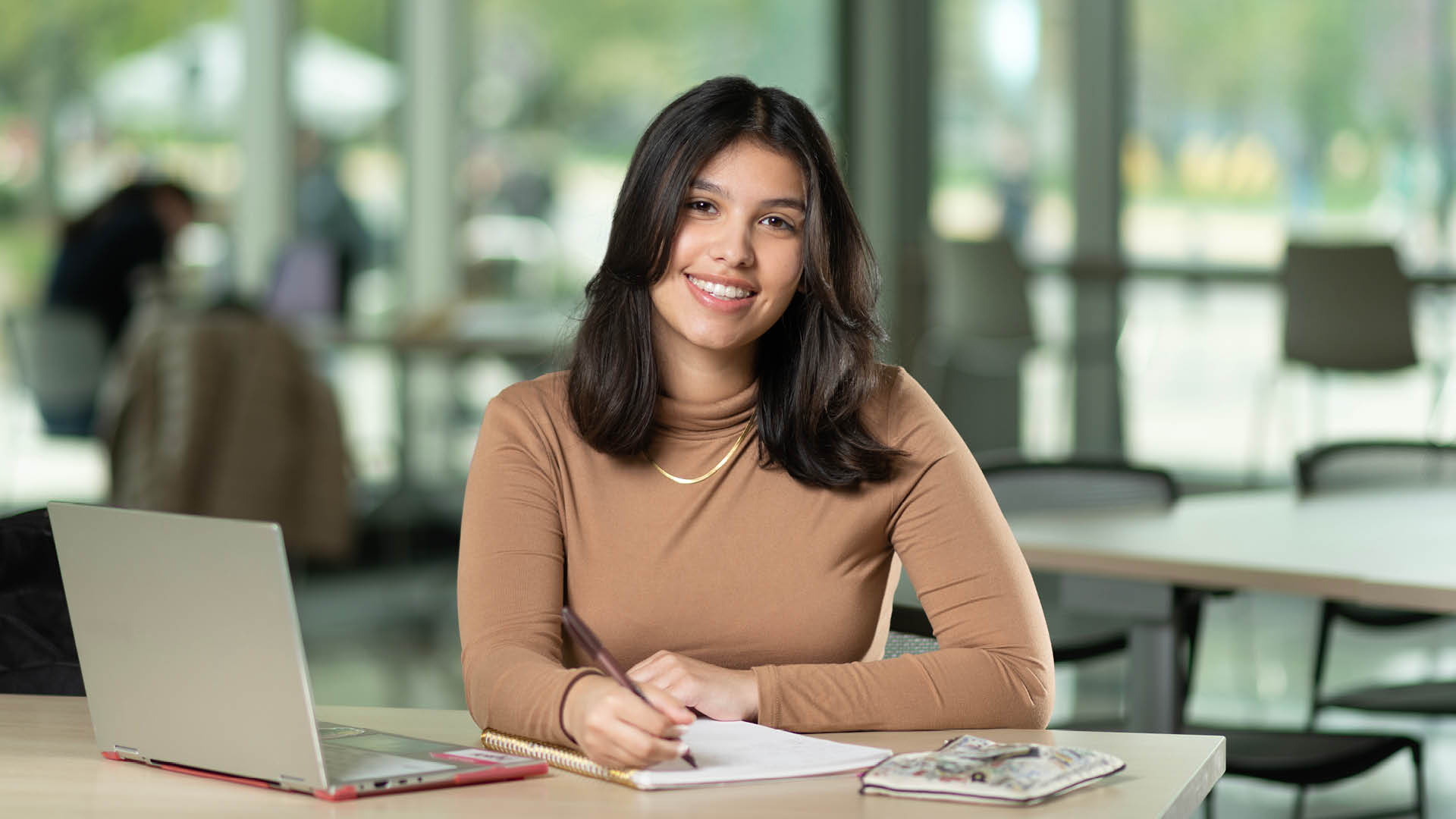 Purdue junior Alyssa Rodriguez reflects on her journey from PPHS to Purdue
After years of changing schools and a move from New Jersey to Indianapolis, Alyssa Rodriguez craved stability. So when her mom received an email about Purdue opening a brand-new high school in downtown Indianapolis, Rodriguez was hesitant.
"At first, I didn't really want to go," Rodriguez says. "Moving schools wasn't the best."
But it turned out that Purdue Polytechnic High School was exactly where she would find that stability she had been seeking.
When Rodriguez was a freshman, Purdue opened its first high school: Purdue Polytechnic High School Schweitzer Center at Englewood.
As a self-motivated learner, Rodriguez felt right at home.
"I like to have all my stuff done in advance so that I don't have to worry about it later," she says. This gave Rodriguez more time to focus on other things, like getting a pharmacy tech certification and enrolling in a college course at Purdue.
"I got an opportunity to take a summer course at Purdue," Rodriguez recalls. "I always had this notion that college courses were going to be the hardest thing in the world, and I wouldn't be able to do it. I thought maybe I won't be cut out for it. But taking a communications class, I realized that this can be fun, as long as I'm invested and giving my all to it."
The coaches at PPHS really engage with students. They always reached out and made sure that everything was going OK, to see if I was behind on anything. All the coaches there were amazing.

Alyssa Rodriguez
Junior, human resources development
Two years into her journey at Purdue, Rodriguez takes pride in her persistence and credits it for her success.
"Everybody says it's so hard to get A's in college," she says. "Coming out of my sophomore year, I'm proud of how many A's I've had. I'm really proud of the way that I've maintained myself and that, even if I have a little bump, I go back and work on it."
Family plays a big part in Rodriguez's life, including helping her move forward through those inevitable bumps in the road. Her two older sisters — twins — both work in human resources. Today, she is following in their footsteps as a human resources development major in the Purdue Polytechnic Institute.
"I've always been a people person," Rodriguez says. "I love connecting with new people, which led me to HR. If I can help somebody, it makes me feel like I've contributed something. If somebody needs something and I can help them, it's just a nice feeling."
When she needs them, Rodriguez knows that she can count on her sisters for help.
"I call them if I ever have a question, and they explain things to me, like, 'Well, you know, this is really how it works,'" Rodriguez says. "It's nice to have that insight to help me understand my classes better."
Rodriguez also gets some unique hands-on experience through her parents, who own a furniture store in Indianapolis, and her uncle, who owns a barbershop.
"It does give me the chance to be able to really work on what I'm learning in class," Rodriguez says. "My uncle has a lot of employees, so I help with sorting out their compensation."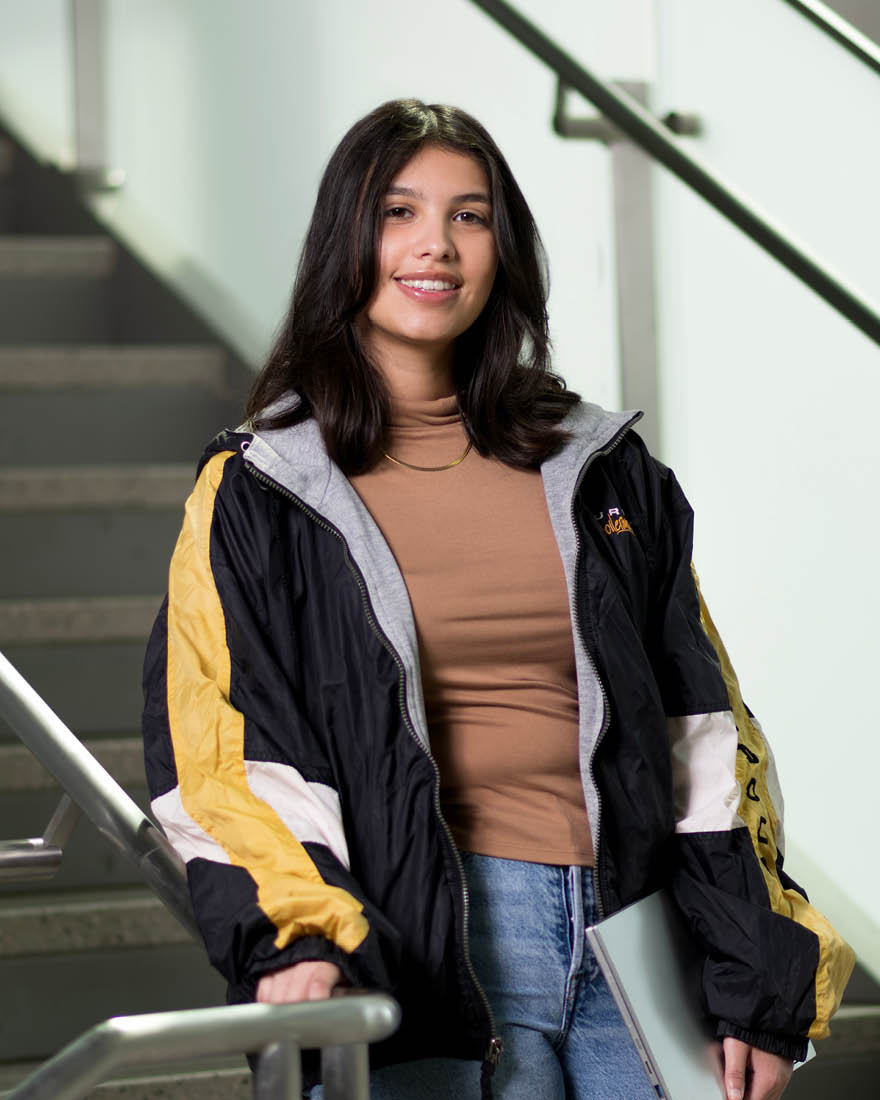 Preparation for the college classroom
Arriving on Purdue's campus was initially a bit intimidating for Rodriguez, especially after being in a unique high school environment with a graduating class of just over 100.
"I was so used to being around a very small group of people, and we all kind of knew each other," Rodriguez says. "It was a little bit scary at first, but I decided I needed to look at it more as an opportunity to meet new people."
Once she shifted her perspective, what started out as intimidating turned into perhaps the most rewarding part of Rodriguez's experience at Purdue.
"I go to a lot of callouts for student orgs, even if I don't join," says Rodriguez, who is an active member in the Society for Human Resource Management. "I love all the events Purdue holds — block parties, club meetings. They're open to everyone, and I love how inclusive they are."
Today, Rodriguez is a rising junior. While the college classroom is different from what Rodriguez experienced in high school, she says PPHS prepared her to handle the added responsibilities of college life.
"I was already used to going onto Brightspace (a digital learning platform) to check what I had to do," she says. "Getting in that mindset made it really easy to transition to Purdue. I might not have the same relationships with my professors, but I know how to stay on top of things myself."
Speaking of relationships, Rodriguez says her experiences with PPHS' teachers (or "coaches," as they are known at PPHS) were formative.
"The coaches at PPHS really engage with students," Rodriguez says. "They were very helpful. They always reached out and made sure that everything was going OK, to see if I was behind on anything. All the coaches there were amazing."
Even though it's been two years since Rodriguez graduated as part of the first-ever senior class at Purdue Polytechnic High School Schweitzer Center at Englewood, she still hears from them on occasion.
"I do get a lot of emails, just kind of checking in on me to see how I'm doing," Rodriguez shares.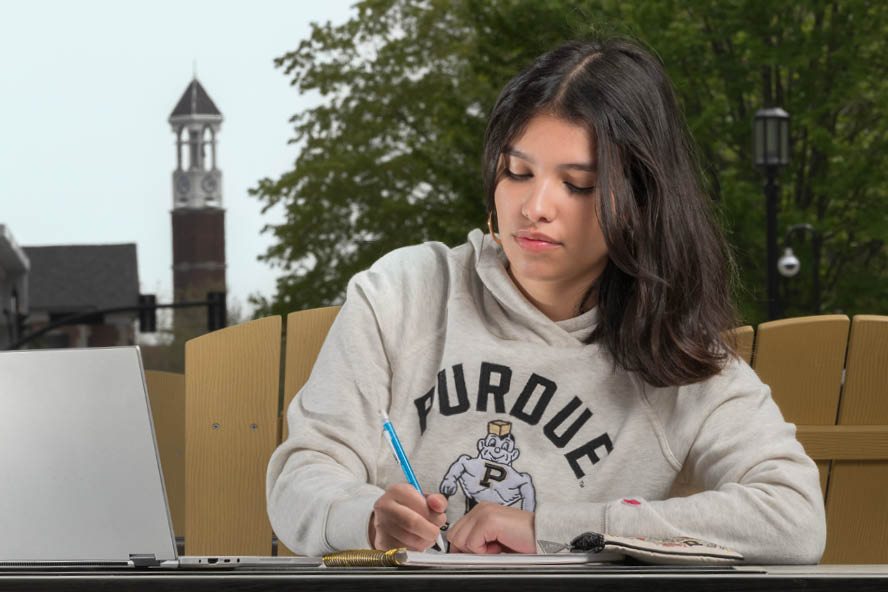 I'm really proud of the way that I've maintained myself and that, even if I have a little bump, I go back and work on it.

Alyssa Rodriguez

Junior, human resources development