Back To Top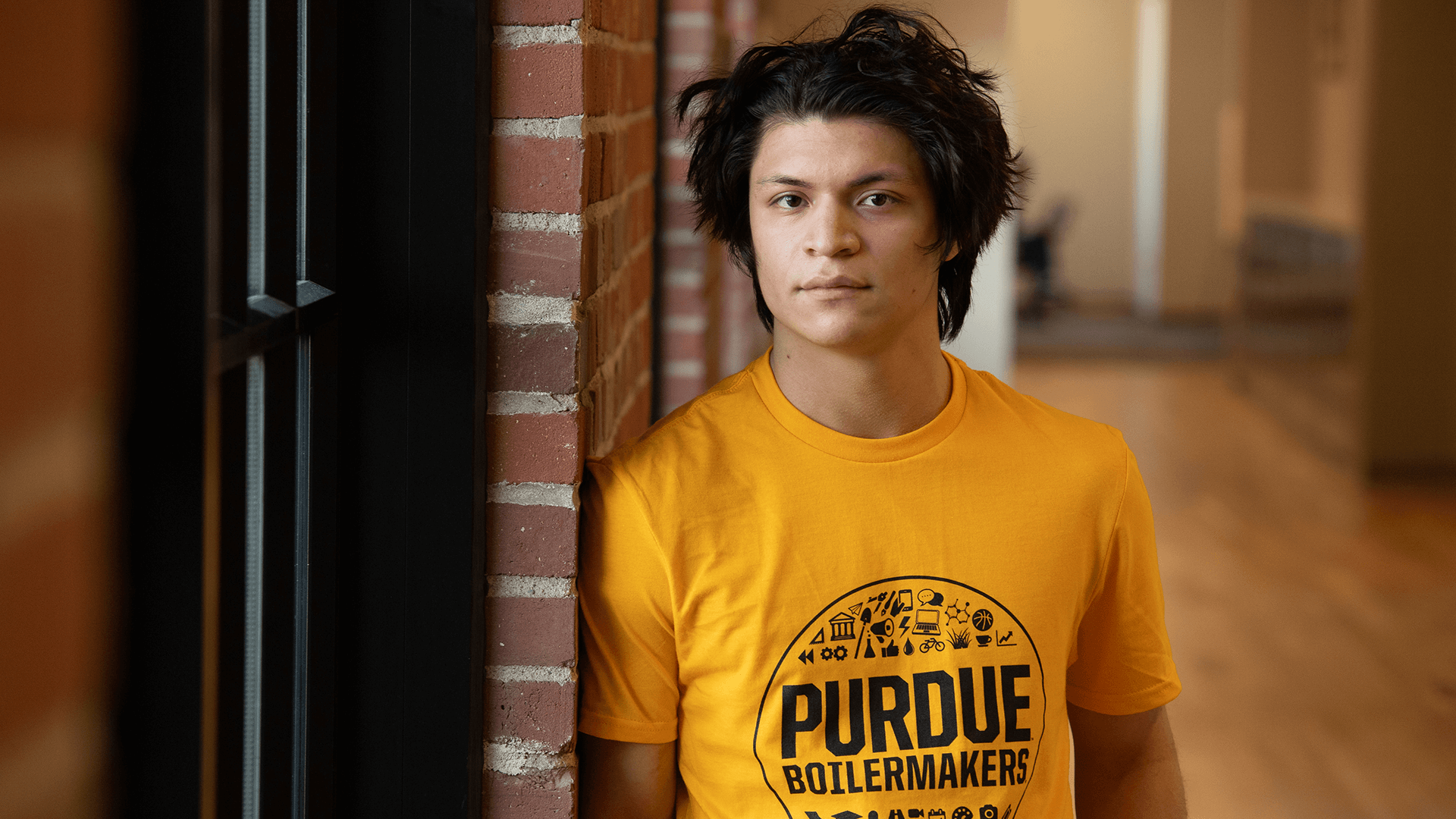 Student melds industrial design, architecture and engineering in construction of cardboard chair
Eric Martinez doesn't remember a time when he wasn't building things. He always enjoyed playing with Legos and K'NEX. He once tried to build his own Newton's cradle. So when he learned of Purdue Polytechnic High School's project-based, hands-on curriculum, he jumped at the chance to enroll.
"I've worked with my hands since I was a little kid," Martinez said. "When I heard PPHS was a STEM-focused school with project-based learning, I thought, 'I'm down for that.'"
PPHS coaches, as instructors are called, devise project cycles that incorporate different STEM-focused concepts. The students, who are encouraged to self-direct their learning, select the projects they're interested in completing. Martinez, a senior, recalled a project from his freshman year where students were challenged to construct a boat out of cardboard that could cross a swimming pool. He built a carboard kayak and paddled across the pool.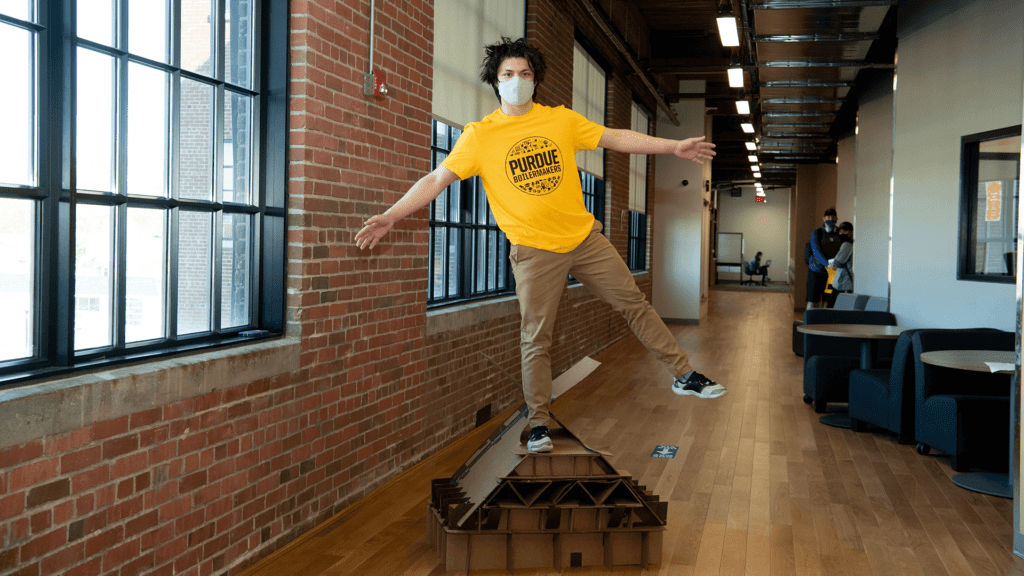 When the engineering coach announced a cardboard furniture project this semester, Martinez was up to the challenge. Students were instructed to research architects and use elements of an architectural style to inspire the design of their furniture piece. Although constructed from cardboard, the piece had to serve its function, meaning the chair needed to withstand the weight of a person seated.
"I started by sketching and then building a prototype of my design," Martinez said. "With that smaller model, I could test the load on the chair to see where my design was bending or twisting. Then I had to figure out how to counteract that force."
The elegant, flared rooflines of Japanese pagodas inspired Martinez's cardboard chair design. Much of his building and design process revolved around trial and error. Initially, Martinez thought he could construct his chair using reinforced structural supports around the exterior, but the chair wasn't strong enough. He redesigned the interior, creating a grid structure to provide more support.
He planned to build the entire grid out of alternating triangles, but that proved too time consuming. Instead, he built a jig out of two box cutter blades and some wire to cut precise slots in each cardboard strip, allowing them to fit together easily to form a diagonal grid.
"I have lots of experience working with tools from helping my dad with remodeling projects around the house," Martinez said. "The project-based curriculum at PPHS allows me to use my building skills combined with critical thinking to solve problems."
During the six-week passion project, Martinez addressed an industrial design challenge while incorporating elements of architecture and principles of engineering. Effectively executing numerous projects such as this during his years at PPHS has prepared him for his next giant leap. He plans to train as a mechanic with Caterpillar after graduation.
"At PPHS, our passion projects present us with so many different types of problems to solve," Martinez said. "It's built my confidence to learn that not only does every challenge have multiple solutions, but I have the ability to think through the different options because I've had the experience of project-based learning."For more information on student registration, donations or business partnerships, and media requests, contact PPHS Network Office at info@pphs.purdue.edu.