Back To Top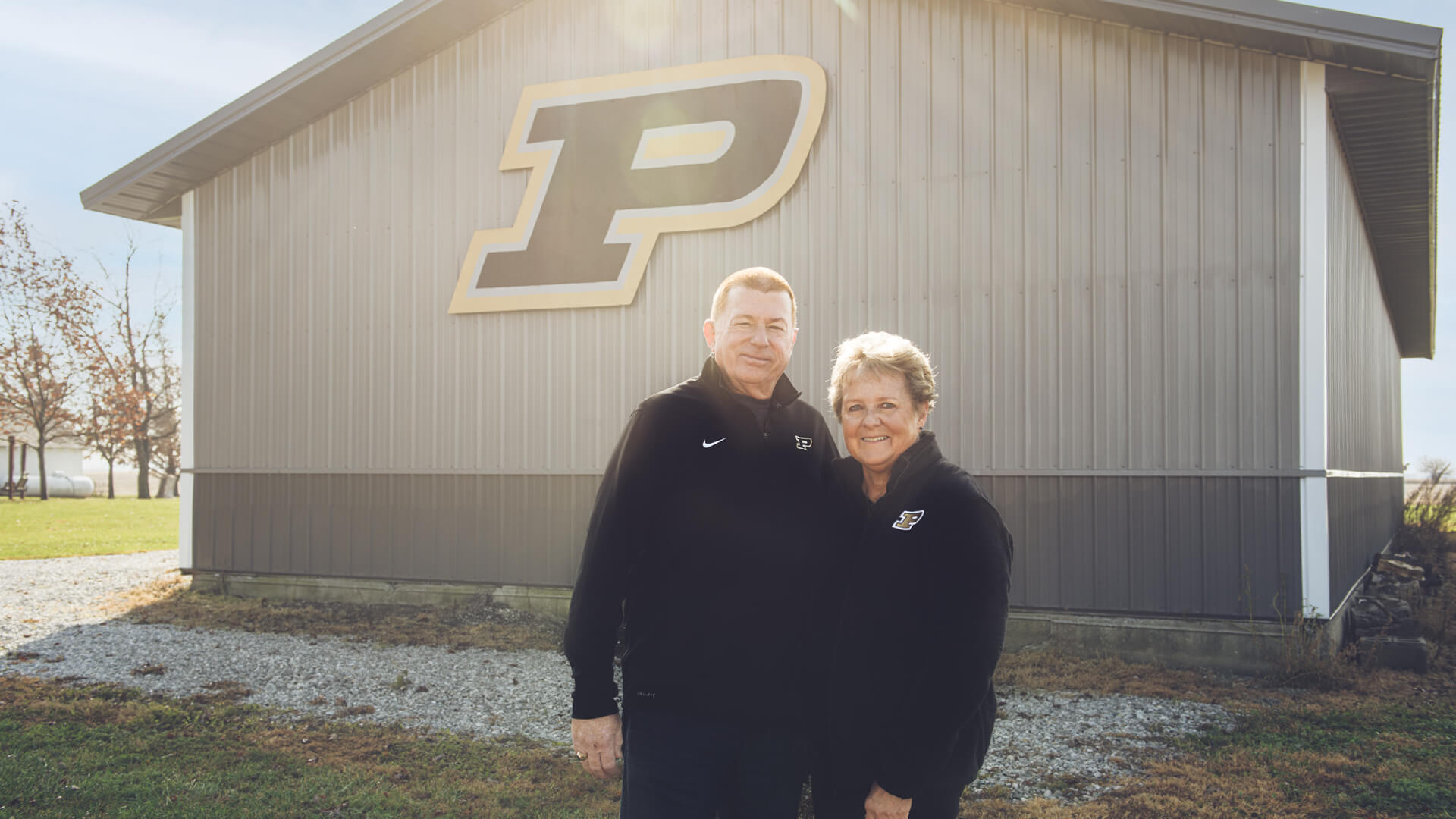 Meet the Boilermaker fan family that handcrafted Purdue's Motion P logo on their barn
Rick and Dee Rietz come from a family of die-hard Boilermakers. Rick (BS management '76), Dee (BS consumer and family sciences '79) and their son Adam (BS aeronautics and astronautics '04) all graduated from Purdue University.
"Our family has always loved Purdue. We are a family full of Purdue graduates," Rick says. "Before we had this farm, we used to live in Minnesota and fly our Purdue flags there. That's when my wife's family told us we had inherited their farm in Indiana. It was great because we missed living near Purdue, and we were happy to move back."
Making their way back home to the small town of Atlanta, Indiana, was only the first of many steps in showing their love for Purdue. The homestead and 13 acres of farmland have been in Dee Rietz's family for 100 years.
"When we got here, we knew we would need to renovate much of the home and farm. It's been in the family for generations, and it's old. We wanted to put extra love and care into it ­­— as well as show off our Purdue pride."
We fly Purdue flags for every game and wanted to extend our Purdue pride 24/7.

Rick Rietz
The Rietzes' original barn was built in 1952 and housed many things during its time. Now it's mainly used for machine and equipment storage. When they started updating their home and barn, the family decided to up their Boilermaker fan game by creating and building a giant Motion P to place on the front.
"We fly Purdue flags for every game and wanted to extend our Purdue pride 24/7. We contacted the Purdue marketing department in 2018 to make sure we were using the correct colors for the Motion P. We wanted to be in brand," Rick says. "Then I got to work hand-drawing the Motion P design on two 4-by-8-foot sheets of plywood and painted it to finish."
But that wasn't the stopping point for the Rietz family.
"The hardest hurdle wasn't building the Motion P ourselves but trying to mount it high up on the barn," Rick says. "We ended up using our Polaris 4×4 with the winch and a block and tackle to hoist it up into position. Purdue engineers would have been proud!"
Once the Motion P was up and lit, the Purdue logo was a sight to be seen and the talk of the neighborhood.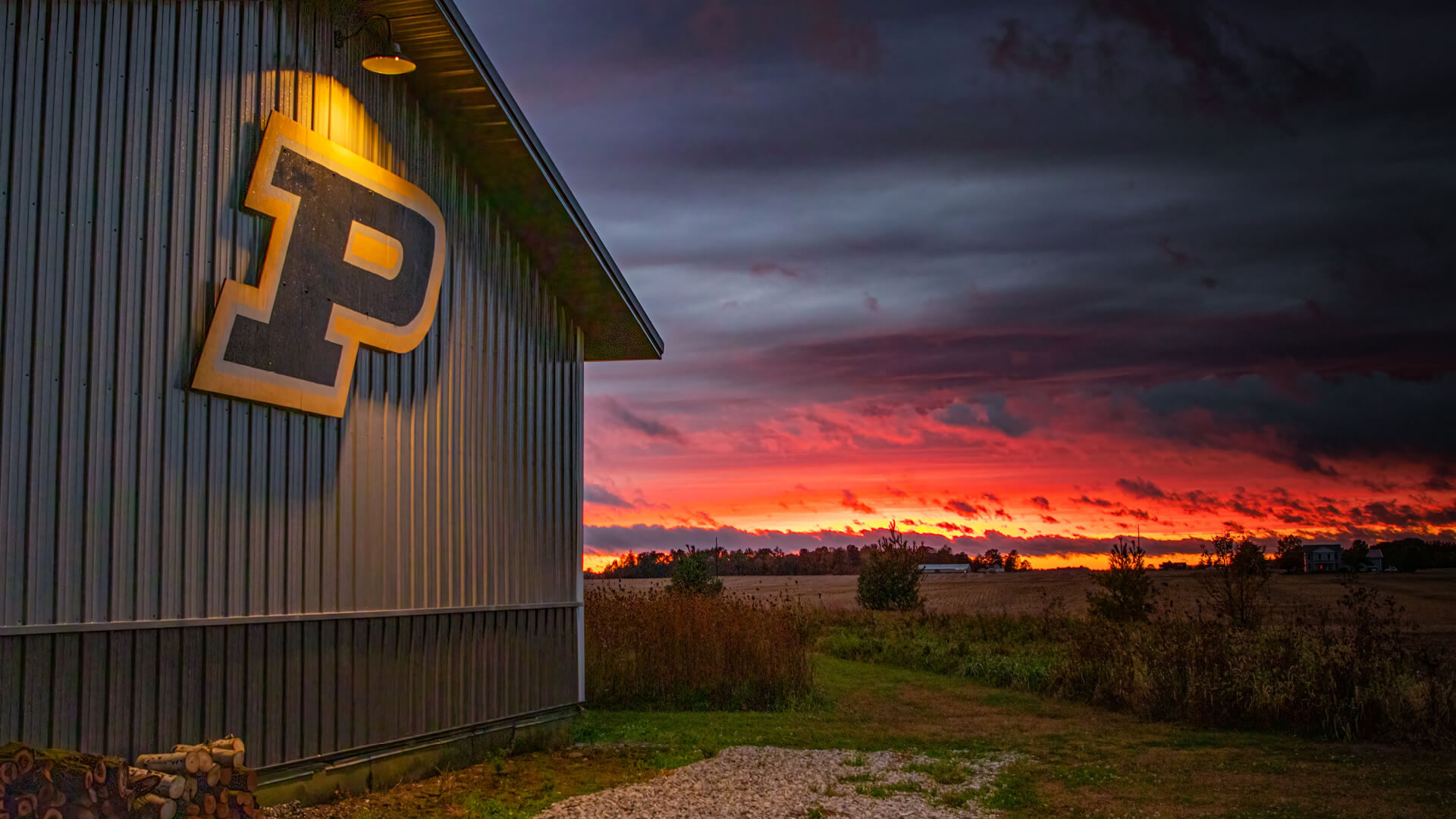 About three years ago, the Rietzes had the barn rebuilt and updated by an Amish construction company. They coordinated with the company to make sure the barn paint and colors would complement the Motion P that Rick had built. The Motion P was to be the focal point facing out to the road, as if to say, "Boiler Up!" to passersby.
"When the construction foreman was on-site for the estimate, he said, 'I guess you'll want us to remount the logo on the new barn, correct?' I replied, 'Yes, of course!' He turned and took a few steps back, turned toward me and said, 'If that were an IU, the answer would be no. But we'd happily do it for Purdue!'" Rick recalls, chuckling. "Turns out the Amish construction workers were huge fans of Purdue and were big Purdue football and basketball fans. Obviously, we hired the right crew to take on the new build of the barn."
Now that the work is complete, Rick likes to take out his camera for his hobby as a landscape photographer and snap a few photos of the barn for all to see.
"I am proud of the barn. This barn has appeared on our Christmas cards, note cards and even on social media! We love to tell people to visit the farm if they want to take any photos with it," he says.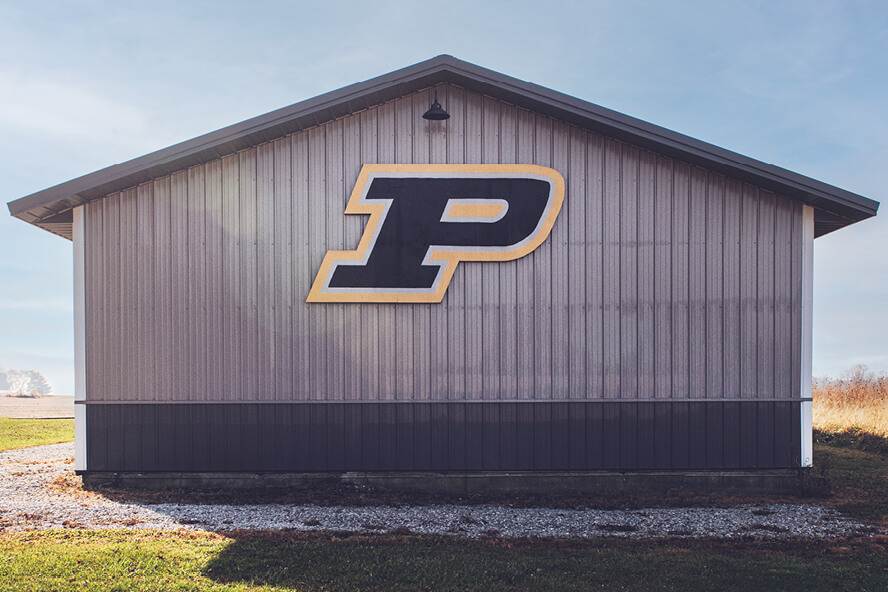 I am proud of the barn. This barn has appeared on our Christmas cards, note cards and even on social media! We love to tell people to visit the farm if they want to take any photos with it.

Rick Rietz