Back To Top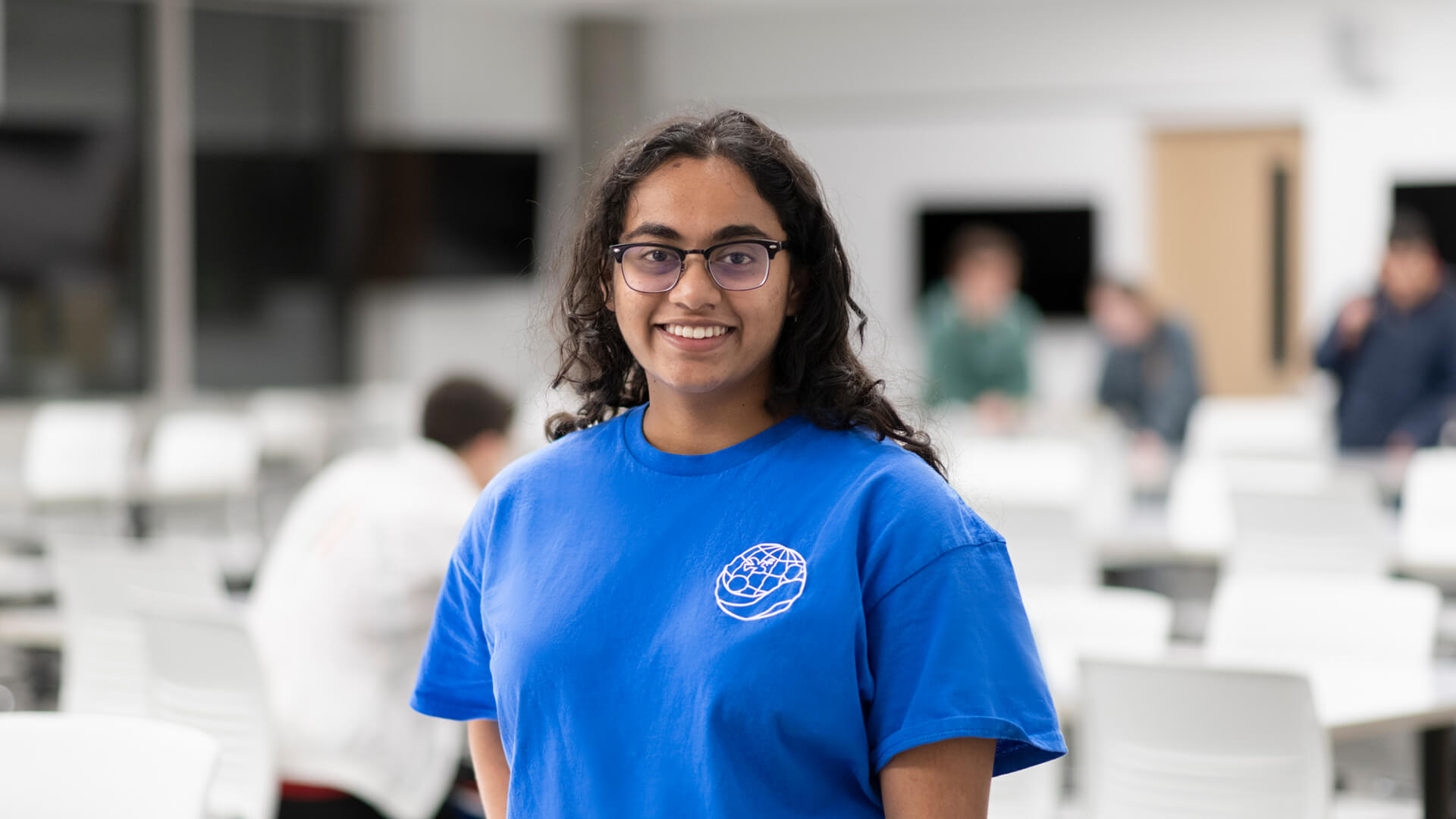 How Purdue students help their community and bond with their peers
Boilermakers do a lot of things well, but they're known for using what they're good at to do good in the world. That's why, when it's time to start making friends, a popular choice among students is to connect with a cause.
Among the 1,000-plus student organizations on campus, nearly 100 are community service-based. And there's something for everyone, no matter your area of interest, the time you're able to commit or your goals.
Here's a small sample of what students say about the campus organizations they love.
If you want a resume builder that creates tangible solutions for real-world problems, try an org like … EPICS
What they're about: Junior Chelsea Schripsema is an ambassador for Engineering Projects in Community Service (EPICS). She describes the organization as equal parts experiential learning with a course component, community service, and personal and professional development.
"It's an interdisciplinary course, and we split this massive group of people into teams. Your team is put on a project where you're given a real-life client, and you're presented with a problem they have," she says. "And you work through the process of considering what they need, how we address the issues, how to design it and manufacture it, ensure that all of it is up to industry standards and make it all work. In the end, if you go through all of the testing and manufacturing, everything works and it passes all the standard testing, it actually gets sent out to your client and it's used in the real world in your name."
But, for an organization with "engineering" in its name, Schripsema says, it's an interdisciplinary effort.
"We also have education majors and nursing majors and computer science majors," she says. "It's a really great opportunity for students to work in these multidisciplinary groups because that's what industry is! We've got all these different majors and all these different class levels, and we work through the whole process, start to finish, together."
We're not meant to be alone, and you feel that every day when you work on your project.

Chelsea Schripsema
Junior, EPICS
As someone who operates on a team that specializes in accommodations for people with special needs, Schripsema finds the work incredibly meaningful. "There's something intrinsically human about helping other people," she says. "I think it's truly what humans are meant to do. We're not meant to be alone, and you feel that every day when you walk into the lab and you work on your project."
Junior Isha Reddy agrees. Having grown up in India and being intimately familiar with the realities of life in the developing world, it was actually her interest in the EPICS team that works with Engineers Without Borders that drew her to Purdue. "I feel like it's the perfect way for me to apply the skills I'm learning and do something good to give back to the community," she says.
Even though the most important component for Reddy was applying her skills to the community's needs, she found so much more.
"I've learned about communication and design work in engineering. It's helped me talk to recruiters. It helped me succeed in my internship because I have practice in project management now. I've grown so much. It's not something you do just for fun; it's actually helping me grow as a person and as a professional," she says.

Freshman Aaliyah Crawford has had a similar experience with EPICS, though it wasn't necessarily her intention.
"The first semester, I switched my schedule around, so I didn't really choose my team; I just ended up on my team," she says. "I absolutely love those people now. We're so close, and they're great people. We hang out inside and outside the lab. That's why I came back to EPICS for a second semester."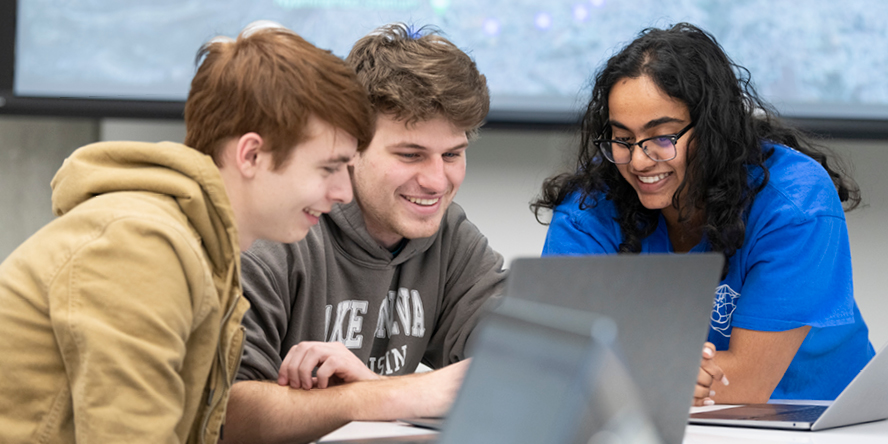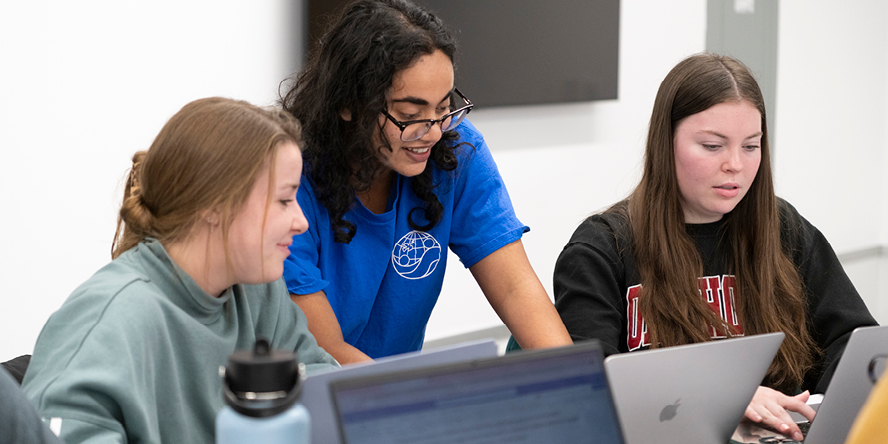 The part that might surprise you:
Crawford was amazed by how much influence she was allowed to have in the strategy and design as a freshman. Along with her team, she's partnered with a community in the Baltimore area to design a new community center there.
"I wasn't expecting to be as much in charge of my project as I am," she says. "What's really unique about the EPICS program is you get to actually be an engineer. You're not just taking the classes — you're applying what you know and working with others to be an engineer in that moment."
"The most meaningful thing I've done so far was during fall break. They actually sent us up to Baltimore to meet with the community we were designing a community center for. We got to talk to the church and get to know the people. I feel very connected to it now because I know who I'm doing the work for and what it means to them."
Why you'll like it:
Unexpected skill building. "When I started, I didn't have a lot of the technical skills that I have now. I know two new coding languages instead of the one I would have gotten already in First-Year Engineering." — Aaliyah Crawford
You get to know the people you're helping. "A few people on the team went to Rwanda last summer for the project, and they felt a really strong connection with our NGO partner. They invited him to America, and we hosted him for two weeks. All 50 of us got to have that one-on-one interaction with him. In fact, he recently texted me to wish me a happy new year. He shared pictures of his family and everything." — Isha Reddy
Your work gets credit — and practical use. "I started this project from scratch the beginning of my freshman year, and I got to see it delivered at the end of my freshman year. And now something I made, something I designed, is keeping a little girl safe." — Chelsea Schripsema
Learn more about the EPICS teams and how you can join.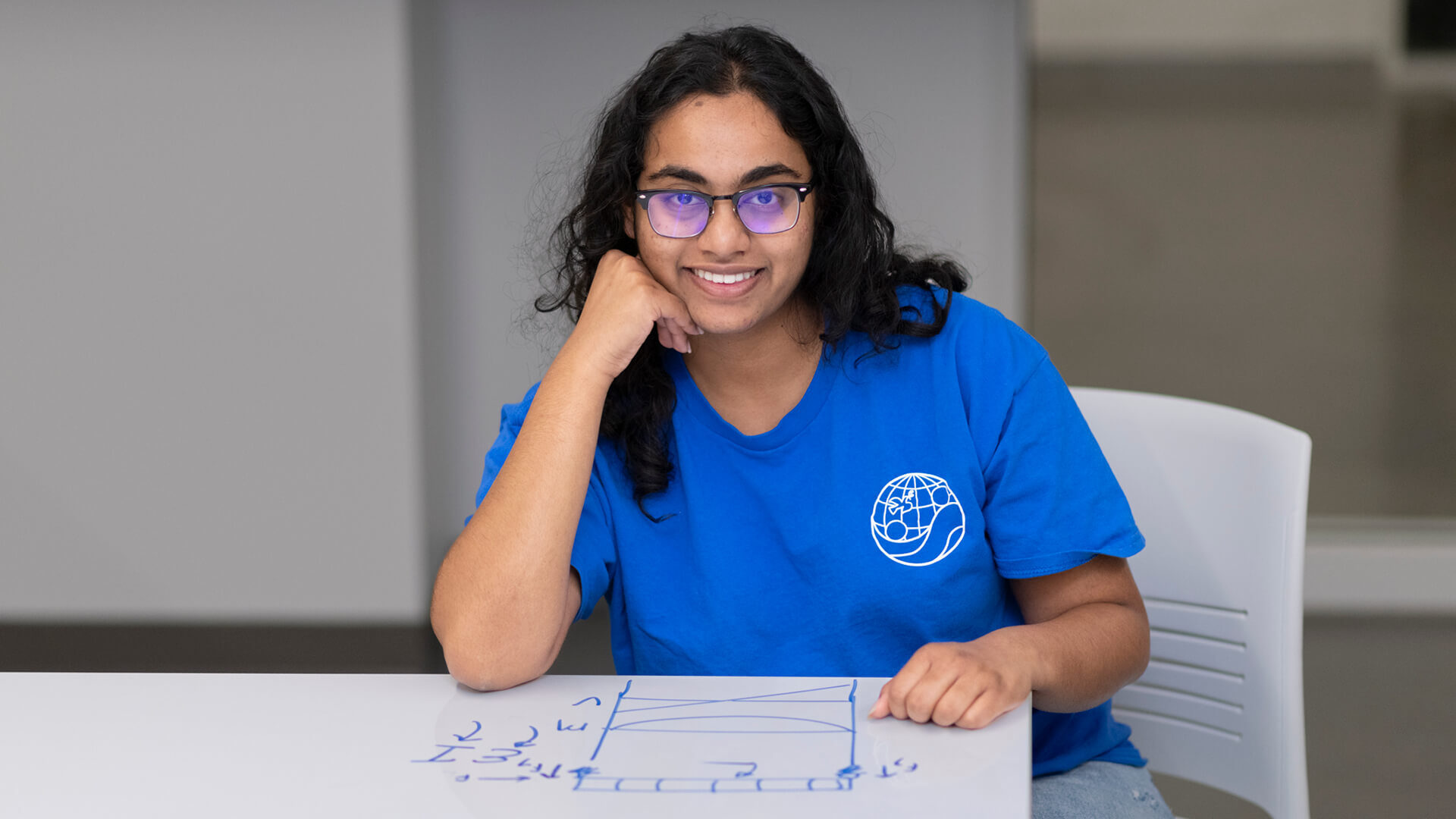 If you want to make a difference and also have some scheduling flexibility, try an org like … College Mentors for Kids
What they're about: College Mentors for Kids is a group that pairs volunteers with a "little buddy" who could range in age from first to sixth grade. Volunteers like organization president Myles Marciniak provide their little buddies with weekly on-campus activities, mentorship and a firsthand glimpse into college life.
"My favorite event that we've done is when we had the Science Club come in and make elephant toothpaste. It was really cool because all the buddies were like really surprised by it," Marciniak says, laughing.
Senior Elena Krizman, who serves as vice president of activity planning, says that being a part of this organization is incredibly meaningful to her. "I joined this club later in college, but I noticed right away that I was actually doing something," she says. "I like to see the results of my work, and I really felt like that actually happens in this club. My little buddy grew, and I feel like I grew, too."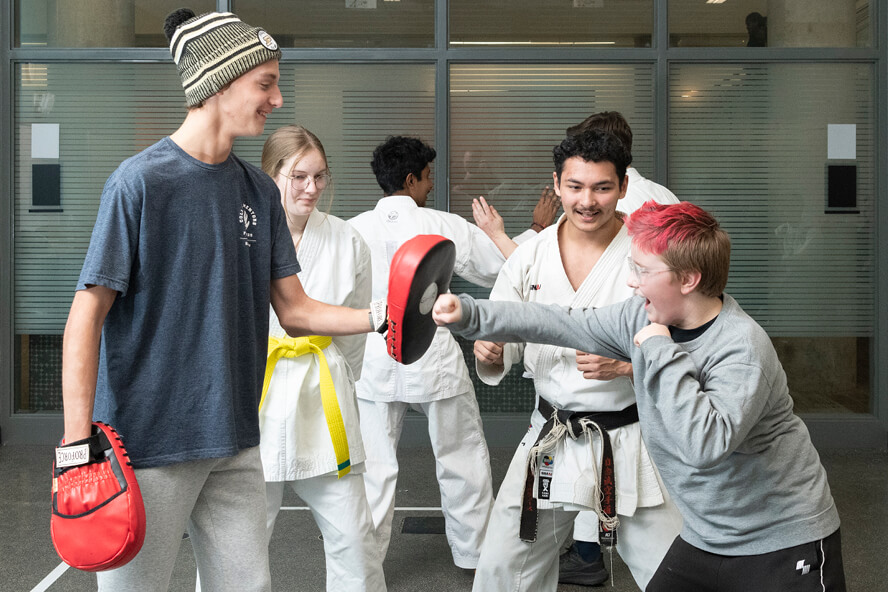 It's a great way to start your college life. With this, you can give back right away.

Myles Marciniak

Senior, College Mentors for Kids
The part that might surprise you: Marciniak says people are sometimes hesitant to commit to an organization over the long term, but College Mentors for Kids is perfectly structured for those who might need some flexibility during a semester with a tougher course load.
"It's a really easy thing to phase in and out of and participate as you want, based on your schedule and whatever comes up," he says.
Why you'll like it:
Beat imposter syndrome. "It's a great way to start your college life. Some people might feel like they aren't good enough for some clubs yet, maybe because they don't have experience. But with this, you can give back right away." — Myles Marciniak
Major doesn't matter. "A lot of people think College Mentors for Kids is for education majors, but right now my whole executive team is made up of STEM majors!" — Myles Marciniak
Watch kids start to develop their own dreams. "Seeing them notice that they don't have to pick the same career path as their parents, seeing them observe firsthand what real people on college campuses are doing and how achievable the goal is … It's really motivating." — Elena Krizman
Learn more about College Mentors for Kids on their BoilerLink site.
If you want to build a serotonin boost into your schedule, try an org like … A Cause for Paws
What they're about: Whether you're missing your pets back home or really feeling the buildup to midterms, nothing cures it quite like your standard doggo cuteness. Junior Ella Malik, who serves as president, says joining her organization is the perfect way to combine a love for animals and a love for helping others. At A Cause for Paws, their mission is all about loving on the animals and helping local shelters (and even organizations without a physical location) to do what they do.
"Some of the meetings, we make dog blankets, cat toys, play dog trivia. It's a fun break from studying," she says. "And we volunteer at Natalie's Second Chance (a local dog shelter) pretty much every weekend; a group of five or six members can go and walk the dogs, play with them and help clean."
But recently, Malik says they've begun forming committees within A Cause for Paws to help with more specific needs, at Natalie's Second Chance in particular. And, since the true endgame is helping pups find their forever homes, these committees are being strategically formed to offer what employees don't have the time or resources to do.
"One of our committees is going to be taking pictures. Dogs come in so quickly and workers are so busy, they don't really have time to do things like photo shoots and update the website to help them get adopted," she says.
I didn't realize how big of an impact we could make.

Ella Malik
Junior, A Cause for Paws
The part that might surprise you: Malik joined because the thing she missed most about home was her animals. But she couldn't believe the effect she actually had on her community, or the feeling it gave her.
"It feels rewarding to help the shelters. That was kind of unexpected. I didn't realize how big of an impact we could make," she says. "I love getting ideas from the members and being able to implement those. And now as president, the other officers and I have the authority to make decisions that are really making a huge impact."
Why Malik thinks you'll like it:
Cuddle with puppies. "Petting puppies is a really great way to relieve that stress that comes with adjusting to college life and being in a new situation."
Bond with people who miss their pets, too. "Sharing with each other and talking about the different animals we've had was a good way to connect with everyone."
Organize events with names like Howl-o-ween. "We bring dogs dressed up in Halloween costumes to Memorial Mall, so everyone walking past can pet them."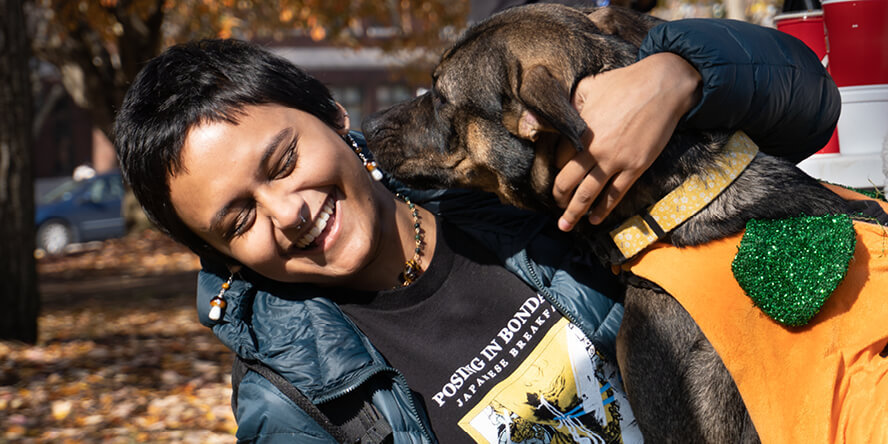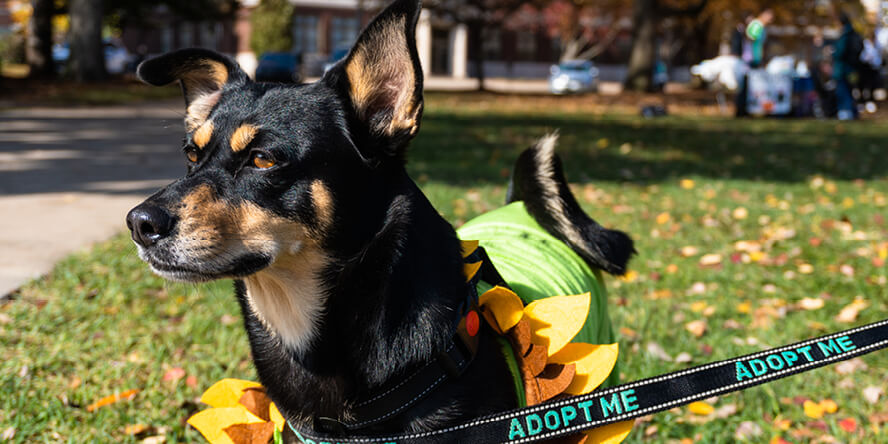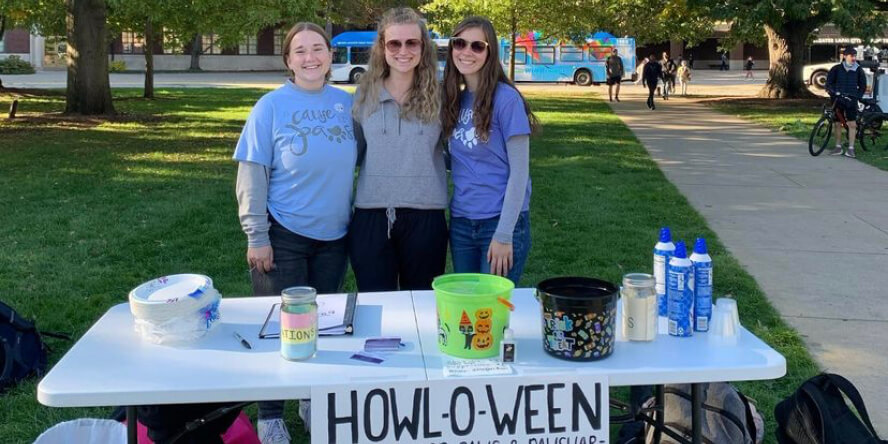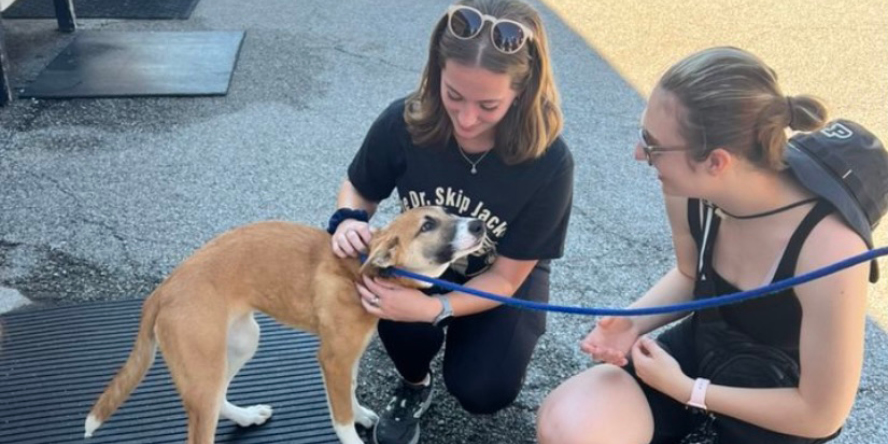 Learn more about A Cause for Paws on BoilerLink, or just check out their stress-busting Instagram gallery for adorable photos of adoptable animals and event callouts.
No matter who you are, what you like or what you want to commit to, there's a way to make a difference alongside fellow Boilermakers by being you and doing what you love.
To explore the full list of current clubs and organizations, visit boilerlink.purdue.edu/organizations and keep your eye out for callouts at the beginning of each semester. Don't see what you like? Learn more about starting your own organization.