Back To Top
2021 Excellence in Instruction Award for Lecturers: Jennifer Hall
When Jennifer Hall started graduate school, she hadn't planned on pursuing a career in education. Now, stepping into her classroom at Purdue University is the most energizing part of her week.
"I didn't plan on being a teacher, but by the end of my second year, I was hooked on both interacting with the students and being part of a campus community," Hall says. "It's an energy – there's so much going on and so much potential, in both the students and the campus."
Now a lecturer and director of COM 114 and 217, Hall has been teaching in the Brian Lamb School of Communication since she started her master's degree in 2002. She decided to stay at Purdue after receiving her doctorate in health communications in 2010.
Hall is a 2021 recipient of the Excellence in Instruction Award for Lecturers. The award recognizes lecturers who have demonstrated excellence in three areas of undergraduate instruction: improvement and innovation, instructional effectiveness and dissemination of pedagogical excellence. Hall was chosen unanimously by the selection committee.
"I was genuinely shocked. It means so much to be recognized and to have my students be a part of the surprise," Hall says of the surprise announcement that took place during one of her classes in March.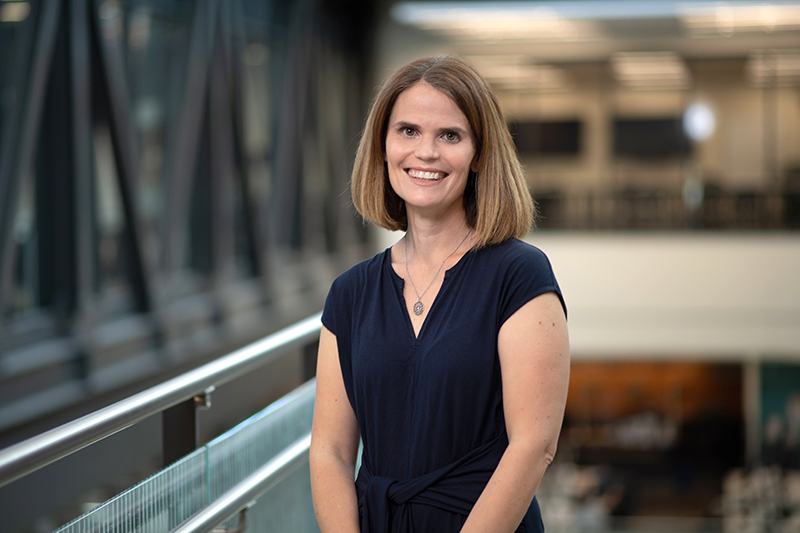 Providing transformative education
As director of COM 114 and 217, Hall approaches course curriculums, assessments and instruction with an eye for innovation. Whether she is teaching her own courses or training other instructors, Hall is serious about providing transformative education.
"In COM 114, students will have regular one-on-one interaction with their instructors, so meaningful instruction goes a long way toward long-term student success," says Hall, who regularly trains and coaches new and ongoing instructors. "If I can help other people provide a really excellent experience to students, then I can have a bigger impact, which means a lot to me."
In 2018, Hall and a colleague obtained a $75,000 Provost Innovation Grant to transform the former COM 114 Help Center into the Purdue Presentation Center. Equipped with recording, virtual reality and eye-tracking technologies, the center offers innovations that allow students to practice presentations in realistic simulations and receive advanced data on how they are interacting with their audiences.
Feedback provided by the center's equipment and staff helps students manage public speaking anxiety and, unlike the previous help center, is available to all students on campus throughout their time at Purdue. In designing the Purdue Presentation Center, Hall transformed an existing resource to meet the needs of a broader audience, ensuring that students have tools to be successful beyond the classroom.
"The fundamentals of communication don't change, but the world we live in changes," Hall says. "Equipping students with skills and knowledge to be successful, which is our main priority, requires innovation. We have to think about the real situations they will be in, and we have to keep up."
Equipping students with skills and knowledge to be successful, which is our main priority, requires innovation. We have to think about the real situations they will be in, and we have to keep up.

Jennifer hall
In the classroom, Hall has extended her impact beyond campus by integrating the Fraser Public Speaking Competition into COM 114 final projects. Students are tasked with identifying a problem and solution that they could carry out in the Lafayette area on a set budget, and they are asked to identify a potential community partner. Although previous models asked students to address imaginary problems with imaginary budgets, the new model helps them envision what actual change can look like.
Winners receive a prize, $3,000 of funding, and assistance implementing their project. Finalists have included ideas for addressing decreasing bat populations, 3D printing prosthetic limbs, and creating recipes for the local food pantries.
"I remember my mom and grandma being really involved in the community, which taught me the importance of being generous with both your resources and your talents or skills," Hall says. "I want students to know that there is a way you can do good, no matter your job. But you have to know how to use your voice effectively."
Pivoting to hybrid and hy-flex models
Hall modeled impact and innovation by leading the shift to flexible, virtual learning when Protect Purdue protocols de-densified classrooms. As faculty lead of Purdue's Impact X+ program, she helped instructors across campus pivot to hybrid and hy-flex models of teaching.
"The commitment to keep up with what students are experiencing has helped us be on top of transitioning through COVID-19. I'm always asking what the students need and what my instructors need to make that happen," Hall says.
"One thing I stress to my instructors is that, at the end of the day, it's 'you' that matters. We can set up a beautiful virtual or hybrid template, but it's your engagement that will make it work or not."
She has published two textbooks on communication and teaching and was inducted into the Purdue Teaching Academy in 2020, and her innovative teaching methods have earned her and her department numerous grants and awards.
"The real secret to being a great teacher is that you care and that your students know you care," Hall says. "Students may roll their eyes at your enthusiasm, but deep down, they will know and remember that you care."