Back To Top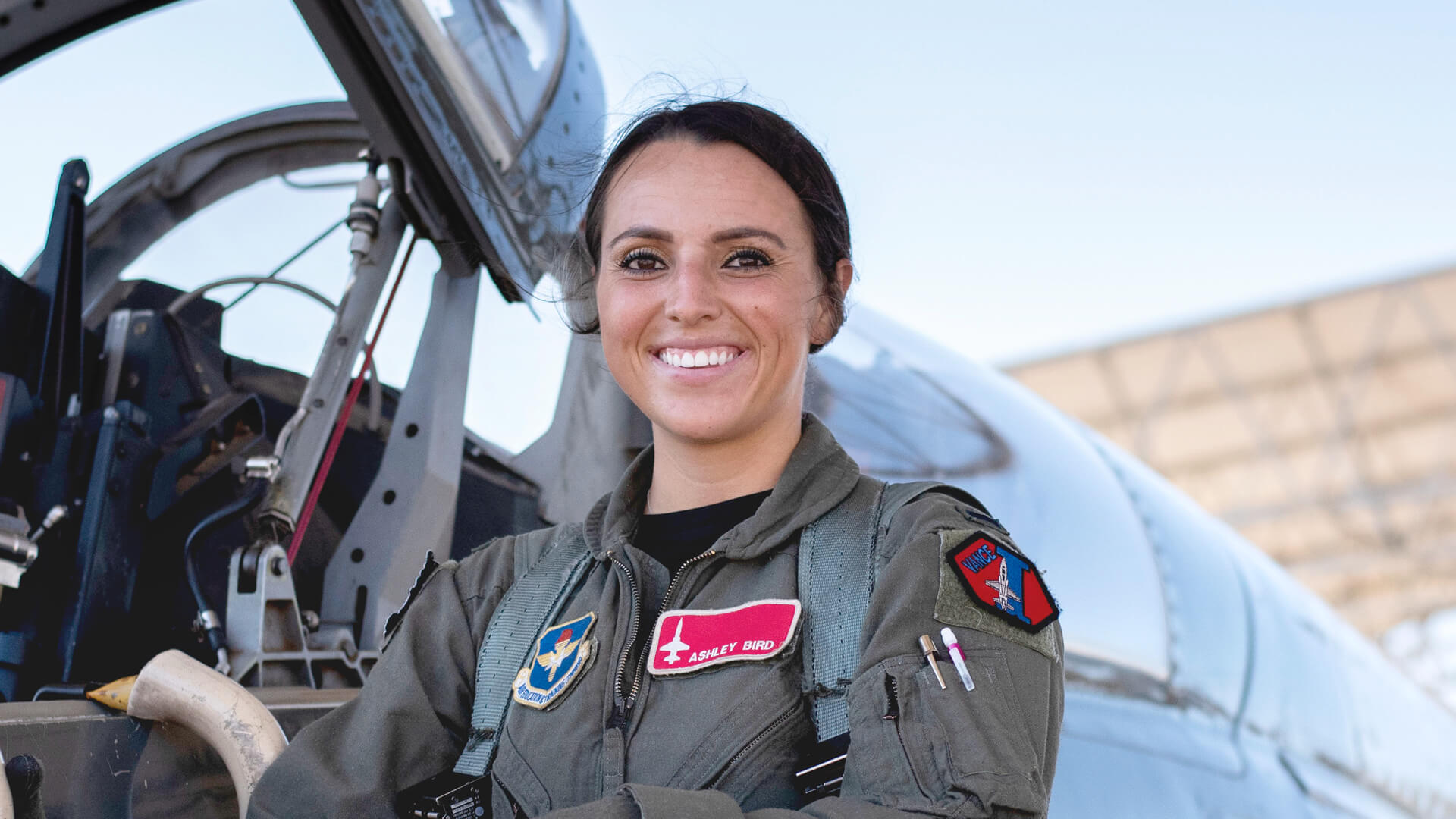 Air Force flight instructor Ashley Bird found her footing in Purdue's ROTC
Her freshman year at Purdue, Ashley Bird was in the middle of two worlds. On the one hand, she was a member of the Kappa Kappa Gamma sorority. On the other hand, she was enrolled in the Air Force ROTC program at Purdue. Soon, she would come to realize that the two seemingly opposite worlds have more in common than she first thought.
Purdue ROTC wasn't in Bird's original plans for college. She joined based on advice from her parents: her mom, an FBI agent, and her dad, a Black Hawk helicopter pilot. At one point, she joked with her dad, "Do I look like I'm somebody that would join the military?"
And she won't sugarcoat how difficult her first semester in the program was. Not feeling like she was fitting in, she was on the verge of giving up. Her parents' advice was to give it one more semester. "If you still hate it after one more semester," they said, "you can get out."
It was a perspective she took to heart, applying it throughout her career. Bird isn't one to miss out on an opportunity to push herself to something greater, even if doing so derails her original plans.
"I stuck with the ROTC one more semester, and I absolutely fell in love with the program. I got to really know the people that I think I could relate to more," she says.
"You really do grow that bond in the military, and it's so much like having sisters in a sorority."
Bird had originally planned on following in her mom's footsteps and joining the U.S. Air Force Office of Special Investigations (OSI), which, according to Bird, "is like the FBI for the Air Force." But she learned that if she joined the OSI, she would be unable to be a pilot in any branch of the military ever.
"I didn't want to close that door entirely," she says. "So I thought, 'Well, I'll just try the whole pilot thing. I don't even know what I want to do, but I'll just try it.'"
And she had already explored her interest in flight, using up all her elective credits to get her private pilot's license during her first semester. While it wasn't a requirement for Air Force pilots to have previous experience, it certainly contributed to her selection for the role.
"A lot of people think that in order to be a pilot or a military pilot, you have to have some sort of aviation experience," she says. "I majored in pre-law. You don't need a license at all to come here and do this."
But it wasn't just her ROTC experience and pilot training that she gained during her time at Purdue. "Purdue is an extremely diverse college," she says. "I was able to take what I've learned with me to the real world and articulate and talk with people about their backgrounds because of the opportunities that I had throughout Purdue."
Mentoring the Future of the Air Force
After graduating with a degree in pre-law and completing the ROTC program, Bird participated in Gold Bar Recruiting in New York. "I loved that I got to recruit for the Air Force," she says, "especially recruiting women and people for the academy, ROTC or OCS."
Part of her decision to go that route was influenced by another pilot she met in Purdue's ROTC program, who acted as a mentor and friend to Bird. "I kind of followed in her footsteps," she says. "Plus, I wanted more time to make sure that the piloting thing was for me."
Inspired by a handful of her peers as well as Major General Leavitt, the Air Force's first female fighter pilot, Bird prizes the opportunity to pay it forward in a male-dominated industry and be an inspiration for young girls who are interested in flight or in a career in the military.
I want to continue to encourage other women and girls that they can do this, too.

Ashley Bird
BS pre-law '18
"I want to continue to encourage other women and girls that they can do this, too," she says.
Now serving as a flight instructor at Vance Air Force Base in Oklahoma, Bird has the opportunity to inspire not only her students but also young girls across the country.
"There are students that will come through here, and they want mentors look up to," she says. "I try to encourage them: I did it. So can you.
"I've also gone to several air shows that encourage young people to be in the Air Force and to become pilots. It's crazy to me the number of young girls and even parents that would walk by and say, 'I didn't even know girls could fly in the Air Force.'"
According to the Air Force's Personnel Center, only 21.4% of Air Force personnel are women. Based on Bird's observations, an even smaller percentage of those women are likely to be pilots. "It is a man's world," she says.
Some have assumed that the only reason she earned her current role is because she is one of the small number of women in her military branch. "It's not because I'm a girl," she says. "It's because I'm good. Having to consistently try to prove people wrong can be emotionally exhausting."
Looking toward the future of the Air Force, Bird hopes that the terms "female pilot" and "girl pilot" disappear from the organization's lexicon altogether. "One thing that has really bothered me," she says, "is it's always 'She's a girl pilot. She's a girl military aviator. She's a girl-whatever-the-case-may-be.' No, I'm just a pilot.
"I think a lot of us, we don't want to be viewed as female pilots; we want to be viewed as pilots. But it is important to show that, 'Hey, I have long hair, I wear makeup, at the same time I have this career. And you can, too.'"
Balancing a Military Career and Life
Despite the hard work and personal sacrifice, Bird wouldn't have it any other way.
"The military is challenging and it's draining," she says, "but I don't see myself in a career field right now that doesn't involve some sort of competition."
As a flight instructor, Bird teaches her students to fly a T-6 plane, a single-engine, two-seat plane used to train all Air Force pilots in basic flying skills.
Always looking for the next opportunity for personal growth, Bird doesn't see herself staying in the position for too long. The mindset she learned while in Purdue's ROTC persists in how she approaches her next career move.
In less than two years, Bird will finish her stint as a flight instructor and will have the choice to continue flying in one of two tracks: either the T-38, which is the fighter track, or the T-1, the heavy track.
"There is a complete mentality shift between the two tracks," she says. "The T-1 heavy lifestyle is very chill, cool and maybe a little more family-oriented. The T-38 fighter lifestyle is more type A, aggressive and not so family-friendly."
Initially, she was drawn to the more laid-back lifestyle that would come with her choice to take the T-1 path. It seemed to align best with her goals for not only her career but also her personal life.
"My military career has been very hard on my marriage," she says. Bird's husband is also in the Air Force, and they live in separate states, seeing each other only a few times per year. She's currently at Vance Air Force Base in Oklahoma. Her husband is at Columbus Air Force Base in Mississippi.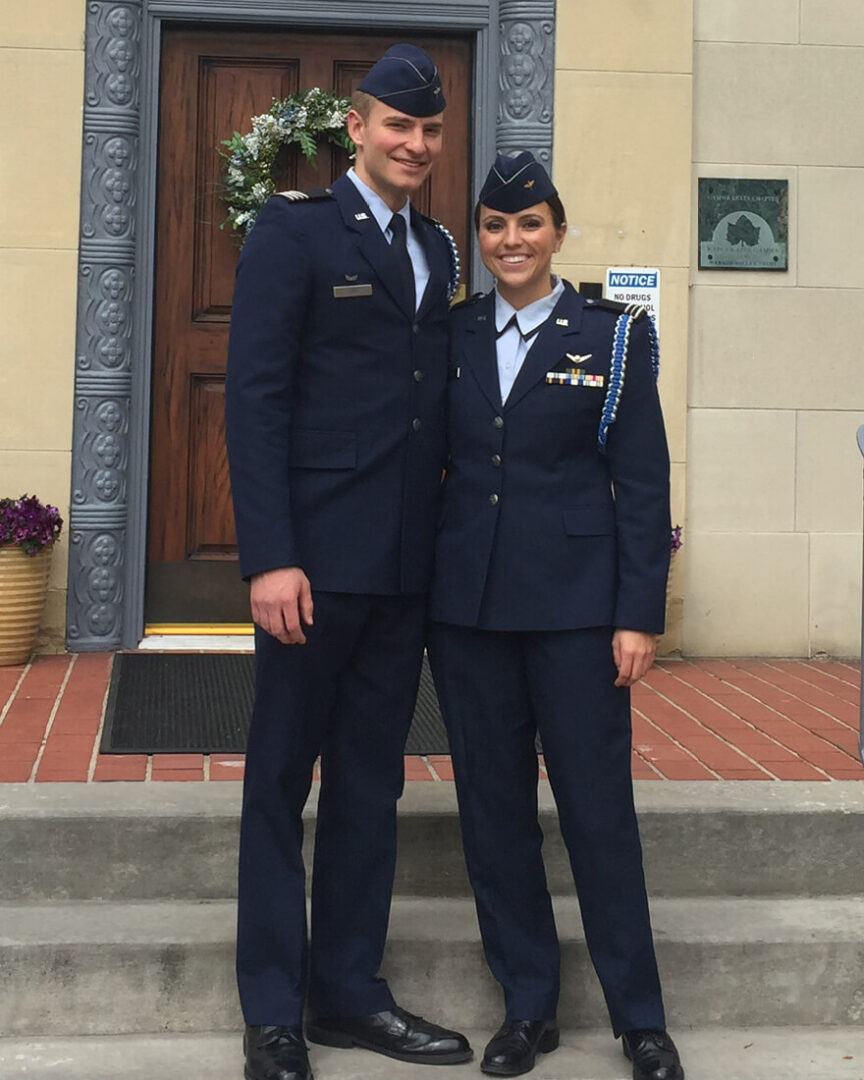 "I want three kids," she says. "It's hard because I don't know exactly where that's going to fit in. I want to have a career, and I want him to have his career. But at the end of the day, I want to be able to be a good mom.
"I don't want to look back and only see myself as a military pilot. I want to look back and think of all the people that I impacted and the things that I did with my life."
But Bird keeps coming back to what she learned during her time in the Purdue ROTC. She's not ready to let the chance of a lifetime pass her by.
"Similar to when I was in ROTC," she says, "I didn't want to shut anything down before having the opportunity to try it, so I thought, 'Screw it. The worst thing that's gonna happen is I hate it.'
"Everybody goes through these milestones in their life where they feel like that was the hardest thing. And then you hit the next thing and feel like that was the hardest thing."
In the coming years, Bird will be taking a giant leap into her next career move, likely going for the T-38 fighter track and hoping to eventually fly the A-10 Warthog. After all, she still refers to a quote she learned during her time in Purdue's ROTC: "Excuses are tools of the incompetent."
She says it's an idea that she has carried throughout her career and hopes to pass on to those around her.
"I want to remind them they can do it — if they are willing to put in the work to make themselves successful."
I didn't want to shut anything down before having the opportunity to try it, so I thought, 'Screw it. The worst thing that's gonna happen is I hate it.'

Ashley Bird
BS pre-law '18