Back To Top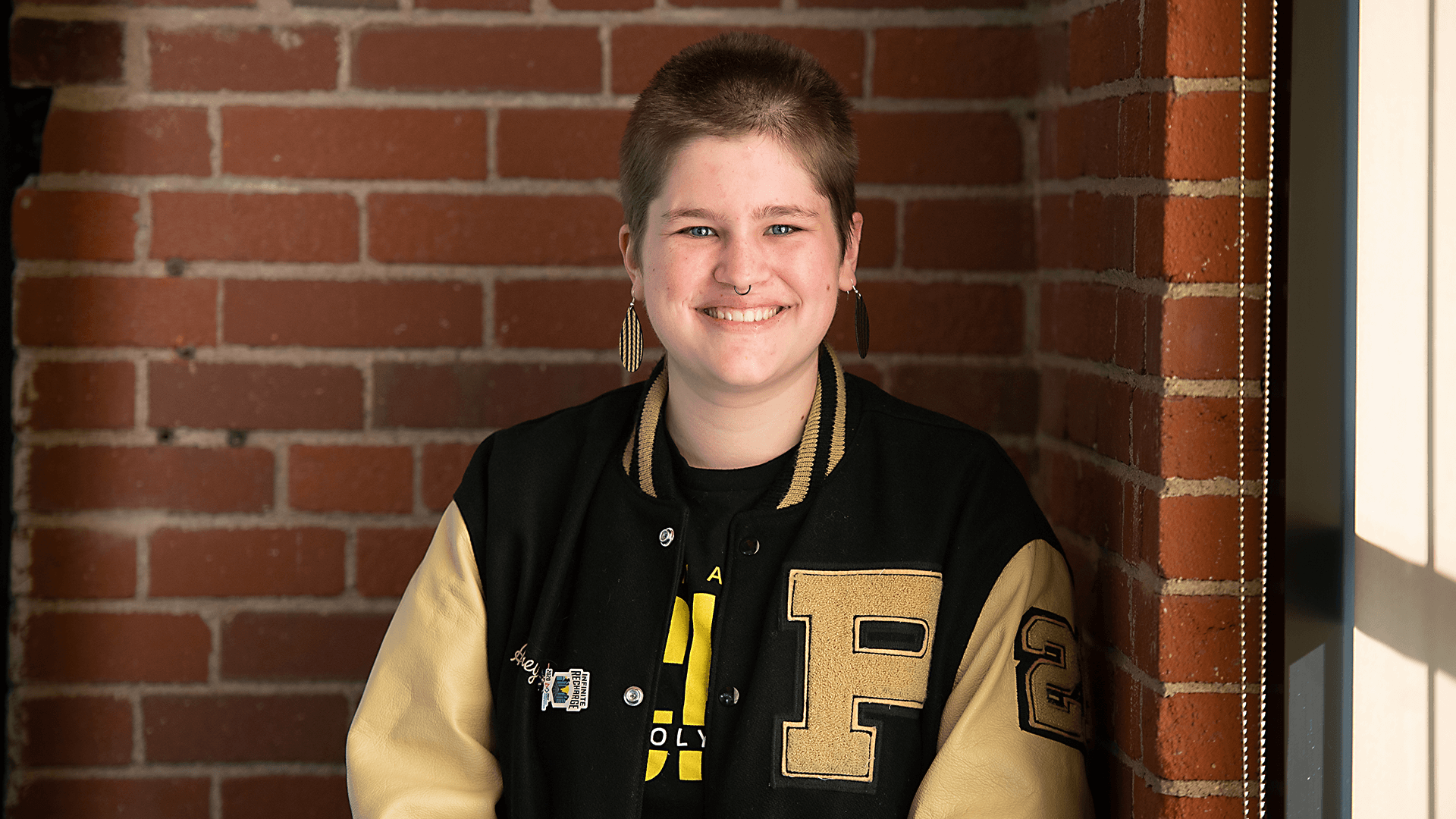 Project-based curriculum allows students to self-direct their learning
It could have been kismet. It was on Audrey Williamson's (they/them) birthday that their mother first heard a radio commercial touting an alternative, STEM-focused high school that encouraged self-directed learning.
"They just thought to themselves, 'That is so Audrey,'" Williamson says. "So, I thought I'd give it a chance. I had been planning to attend a Catholic high school. But I thought I'd apply to Purdue Polytechnic High School and if I got in, I'd just see how it goes. I thought I could always transfer back."
But Williamson was hooked.
In June, they'll join fellow seniors to celebrate the first graduating class at PPHS. Following graduation, they'll begin an internship in Purdue University's Weldon School of Biomedical Engineering. They plan to enroll at Purdue in the fall as a freshman pursuing a degree in robotics engineering technology.
Looking back, Williamson credits the PPHS experience with developing their communication skills and building confidence.
"Coming in as a freshman, I was pretty shy," they say. "I was reserved and would kind of cower away from people I didn't know. But at PPHS, I was exposed to so many different people. You're constantly interacting with students from all grade levels and through that, I became less nervous and more confident in communicating my ideas."
At PPHS, I've learned I'm capable of a lot more than I thought.

Audrey williamson
The school's focus on project-based learning allowed Williamson to select projects that not only furthered their academic knowledge, but aligned with their own interests. One of their favorite passion projects centered around "dungeoneering," akin to the popular tabletop role-playing game Dungeons and Dragons.
"I made my own character sheet, which I've done before, but this time I was able to have the unique experience of being a dungeon master," they say. "It taught me a lot about preparing myself for any outcome as well as how to help coach others to their potential. We had people of varying skill levels in the 'dungeoneering' passion project and I had to learn to be responsive to each individual and adjust to the level of support they needed."
Sound like an atypical high school project? Purdue Polytechnic is not a typical high school. It's an innovative approach to education that encourages students with drive and motivation like Williamson to learn at their own pace and design a personalized curriculum.
"At PPHS, I've learned I'm capable of a lot more than I thought," Williamson says. "Our robotics team qualified for the world championship in our rookie year. I've personally won several pitch competitions, something I never thought I would do. I've been nominated for awards that I never thought I'd be considered for.
"My high school experience showed me just how much I can achieve."
For more information on student registration, donations or business partnerships, and media requests, contact PPHS Network Office at  info@pphs.purdue.edu.