Back To Top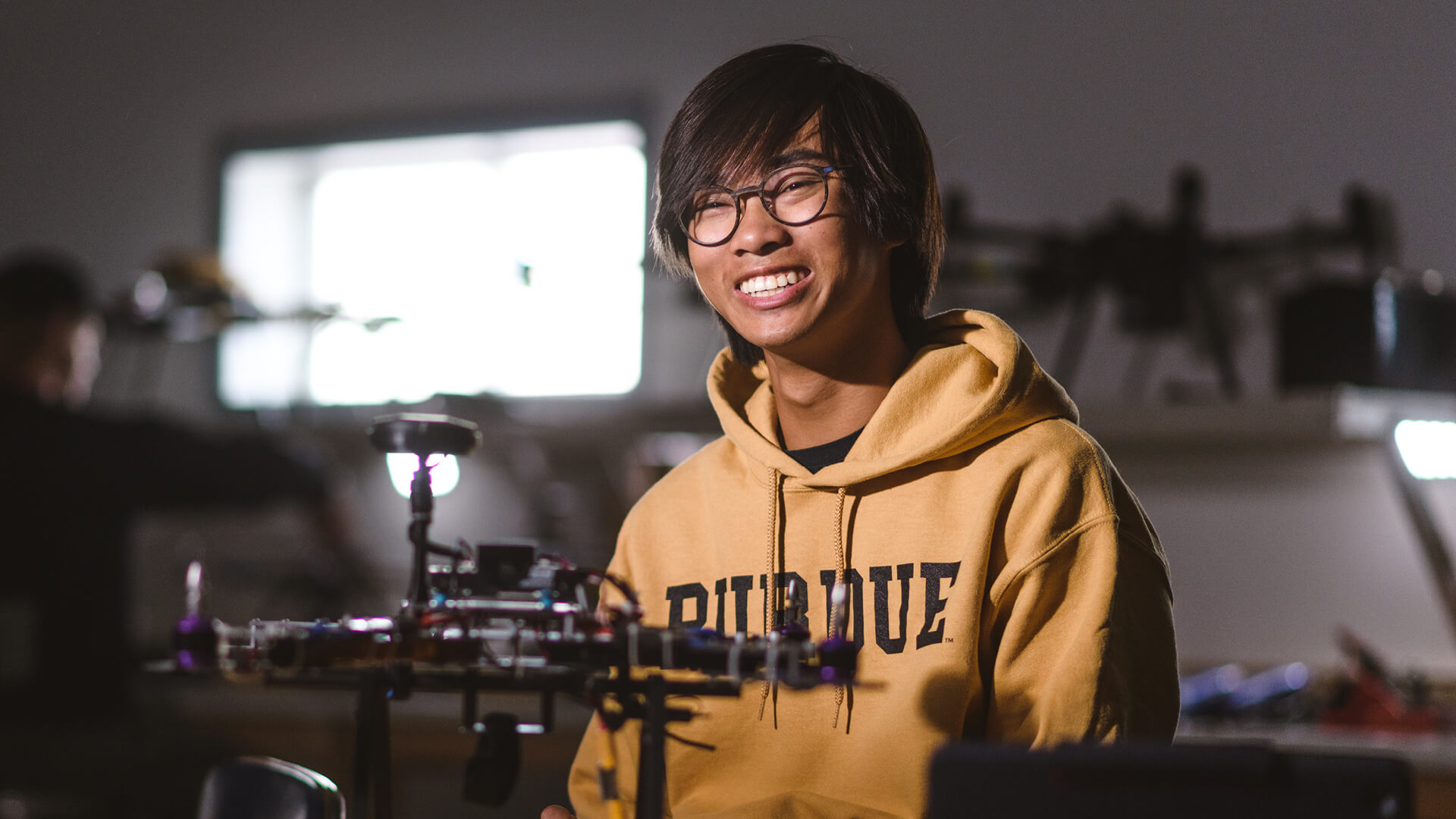 Drone pilot and Purdue Polytechnic student Hudson Tsang discovers a love for flight outside of the cockpit
Hudson Tsang wanted to be an airplane pilot for as long as he could remember. As a kid, he loved flying remote-controlled planes and helicopters and hoped to one day get his pilot's license and start a career in flight.
At the age of 12, he had to face an unfortunate truth: He couldn't become a pilot, at least not for another 10 years. The Federal Aviation Administration denied his medical certificate because of a small cyst that affected his eyesight when he was a child. He would have to wait a decade before he could submit another. 
"I was disappointed that my medical certificate had been denied, but since I was so young, I was ready and willing to wait to apply again," he said.
He appealed the decision a handful of times once his eyesight had returned to normal. Unfortunately, it wasn't in the cards for him — at least not the type of piloting he initially envisioned. He had to pivot to find another career, but he didn't let the situation hold him back.
After leaving his California home to come to Purdue, Tsang was still determining what he wanted to study, especially since he still was unable to submit a new medical certificate for another four years. After his first semester, his dad suggested he try out the unmanned aerial systems (UAS) major, a relatively new major in the Purdue Polytechnic Institute that focused on designing, operating and applying drones and other unmanned flying vehicles. His dad's advice proved to be invaluable — UAS was a perfect fit.
"UAS is a really cool field to get into because it dabbles in a little bit of everything," Tsang says. "You have to know a little bit of engineering and how to maintain your aircraft. You have to know about weight — your payload. And you have to know, of course, how to fly."
In the Polytechnic schools, we're like your 'practical' engineers. We're techs, we're mechanics, we're the people who work out on the field. We have a lot of practical knowledge.

Hudson Tsang
Senior, unmanned aerial systems
As a part of the Purdue Polytechnic Institute, UAS students like Tsang enjoy the benefits of a technology-centered curriculum, emphasizing hands-on learning, real-world experiences and industry partnerships. These values align perfectly with Tsang's love of tinkering and his interest in the field of engineering. The college also has a broad selection of majors to choose from, providing plenty of choices for multitalented students like Tsang, who plays the snare drum in Purdue's "All-American" Marching Band when he's not building and flying drones.
"In the Polytechnic schools, we're like your 'practical' engineers. We're techs, we're mechanics, we're the people who work out on the field," he says. "We have a lot of practical knowledge."
According to Tsang, UAS students have many opportunities to take real drones out to practice, logging hours and gaining real-world experience with the machines. For example, a recent class tasked Tsang and his classmates with capturing a 3D scan of a light fixture in the fields above the Birck Boilermaker Golf Complex using a specialized drone.
"We learn how to set a mission plan, how to fly the mission, what sensors to use for different applications and how to process the information afterwards," he says.
Drones are rapidly becoming a necessary part of industries across the world. Farmers use drones carrying fertilizer and pesticides to care for small patches of struggling crops. Search-and-rescue teams use thermal cameras attached to drones to find lost hikers faster than on foot. Real estate companies use drones to take photographs and videos of buildings from angles never seen before. And the U.S. military uses drones to conduct missions from a safe distance and deliver supplies to remote locations.
With this new demand for drones comes a demand for skilled workers who know how to operate them. According to the Association for Unmanned Vehicle Systems International, 70,000 new jobs will be created within three years after unmanned aircrafts are integrated into the U.S. airspace system.
"UAS is definitely a great option for you if you want to fly but don't want to be a pilot, or can't be a pilot, and if you want to also do engineering," Tsang says. "It's a great option if you want to do a little bit of everything."
Now a senior, Tsang will have graduated from Purdue by the time he is able to resubmit his medical certificate, but he doesn't think he will reapply. He's much more interested in flying a helicopter, hoping his drone-operating skills will translate nicely to helicopter operation.
Tsang's advice for other students who may also have to pivot from their original career plan is to keep their minds open to other options.
"Purdue has a lot of opportunities. And even if you can't do what you originally planned, there's a lot of other stuff that you could do," he says.
"Dig deep. See what you like. See what you've always liked doing but never fully paid attention to, and see if it's an option to pursue further."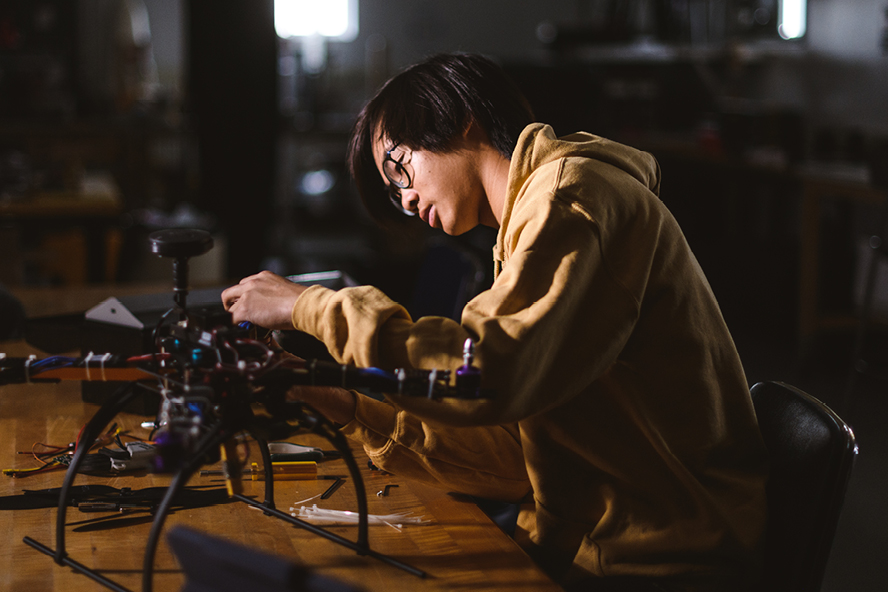 Dig deep. See what you like. See what you've always liked doing but never fully paid attention to, and see if it's an option to pursue further.

Hudson Tsang

Senior, unmanned aerial systems