Back To Top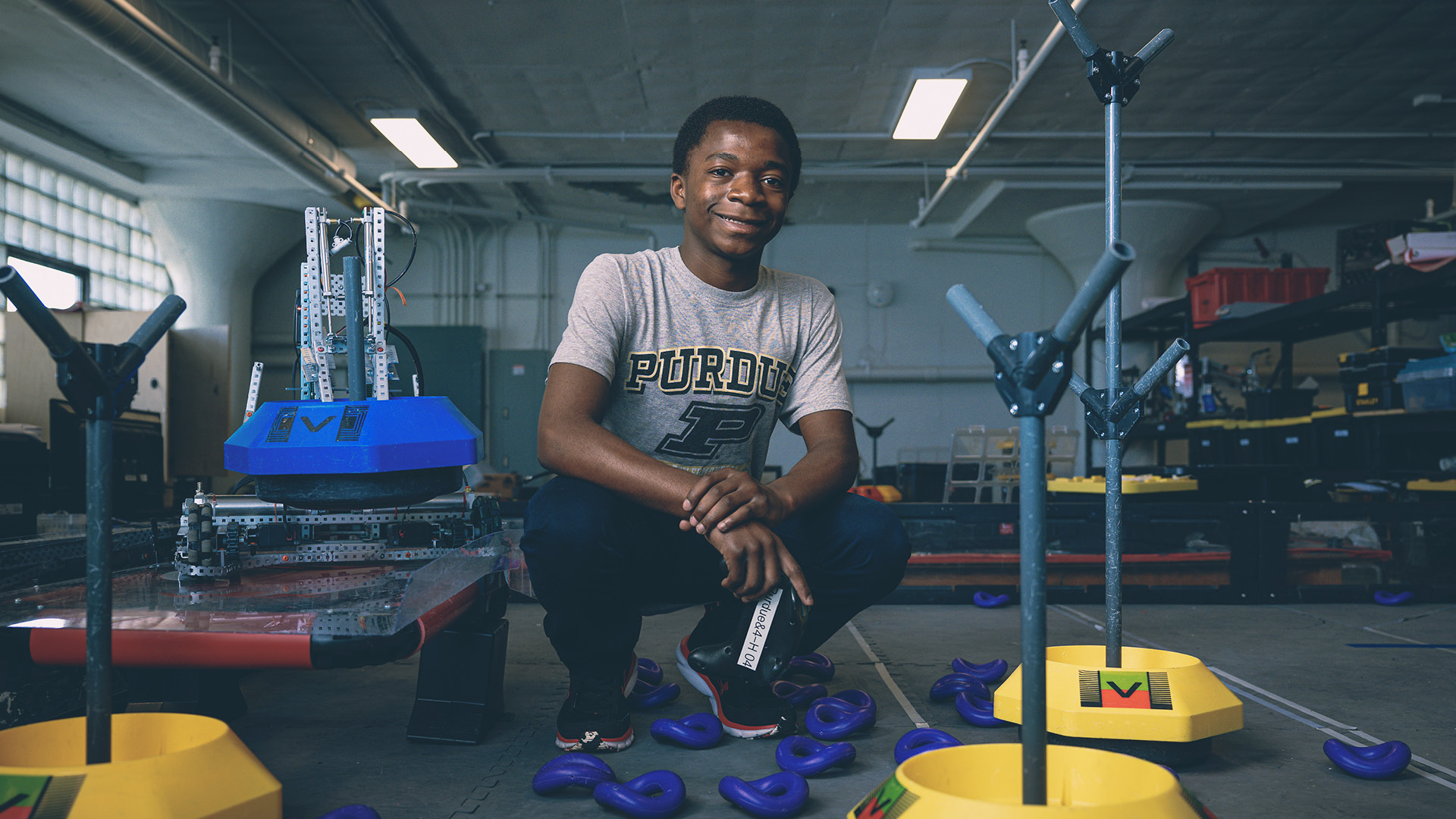 A year after arriving in the U.S., Purdue Polytechnic High School freshman poised to compete at VEX Robotics World Championship
One year ago, Asumani Gregoire Kalupala used a computer for the very first time. In May, the freshman at Purdue Polytechnic High School will compete at the VEX Robotics World Championship in Dallas. More than 11,500 high school teams from 40 countries compete in matches throughout the school year with 800 teams qualifying for the world event.
For the first 13 years of his life, Gregoire Kalupala lived in the Nyarugusu refugee camp in Tanzania where he was born. Gregoire Kalupala's parents fled their home in the Democratic Republic of the Congo nearly two decades ago along with millions of others displaced by the Central African country's widespread violence.
"My house in the refugee camp was very different than my house in America," Gregoire Kalupala says. "The floor was dirt."
Nyarugusu houses 150,000 refugees in brick huts with thatched roofs and reddened earth floors. The camp encompasses 142 villages across 17 square miles. Gregoire Kalupala grew up playing soccer on a red dirt field. He attended an overcrowded classroom within the camp, as refugees are not permitted to leave the camp to work, trade or go to school. One-third of the adult population has a grade school education. When Gregoire Kalupala learned his family would be resettled in the United States, his first thought was, "There, we'll be safe."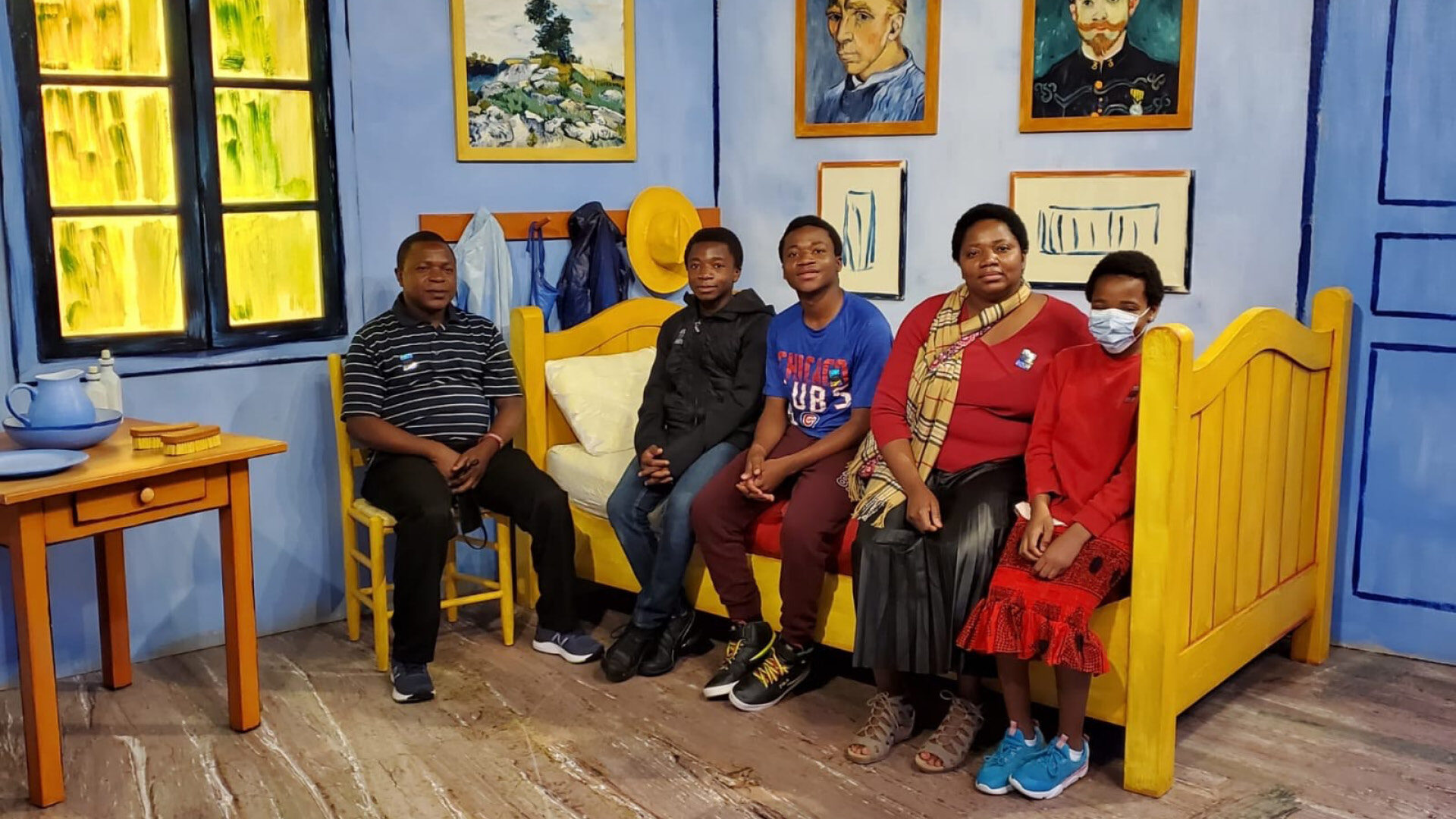 Approximately 1,000 refugees resettle in Indianapolis each year with populations from Burma and the Democratic Republic of the Congo representing the two largest groups. The transition to living in the U.S. is not without difficulty. Gregoire Kalupala and his siblings, an older brother and younger sister, spoke Swahili and little English. Their parents are deaf and while their father can lip-read and speak verbally, their mother relies primarily on French sign language to communicate. As soon as Gregoire Kalupala started using a computer, he quickly adapted to technology.
"I watched videos on YouTube of people making VEX robots," Gregoire Kalupala says. "It was cool to see how you could design a robot and then build it."
Once he knew he wanted to learn more about robotics, PPHS became the obvious choice for Gregoire Kalupala's education. Designed to help build a pipeline of underrepresented students to Purdue University, the STEM-focused curriculum at PPHS encourages students to complete passion projects that align with their interests. He also participates in soccer and wrestling.
I am proud to represent Purdue Polytechnic High School in the tournament.

Asumani Gregoire Kalupala
Robotics-centered projects are integrated into the coursework and students also have an opportunity to participate on the extracurricular team where they compete against other schools in VEX Robotics tournaments. In VEX, students design, build, program and drive a robot to face off in a game scenario with partnering teams randomly assigned at each qualification match to complete specified tasks that earn the team points.
"PPHS is incredibly unique and allows for a lot of creativity and innovation," says Scott Batic, data analyst at PPHS and one of the three adult mentors who coaches the VEX Robotics team. "We say 'fail forward' almost every day. At the beginning of the year, Asumani had a robot that he could barely operate. After competing with that robot, he realized he'd created a failing robot. He took that knowledge and sought help to improve using his failure as fuel to move forward."
Working together and failing forward, that's the spirit of PPHS.

Scott Batic, Robotics Coach
This season, PPHS fielded four VEX Robotics teams with three to four students each. Gregoire Kalupala's primary role on his team has been that of builder, although he's been learning how to program code from his teammates as well. Over the course of the season, Gregoire Kalupala competed in 10 different robotics tournaments across Indiana, one of the most competitive VEX regions in the world.
"Asumani was invited to compete at the World Championship based on his skill rank," Batic says. "Although his passion has been in designing and building the robot, there have been times when a teammate was not able to attend a competition. In that case, he had to step up and take over as driver for the match."
Gregoire Kalupala recalled a tournament in Walkerton, Indiana, in December following a large snowfall. Batic drove the pair 129 miles through the storm, but Gregoire Kalupala was the only student able to attend. He went 4-2 in his qualification matches and made it to the quarterfinals of the elimination round.
"That felt really good," Gregoire Kalupala says. "I was very happy that day."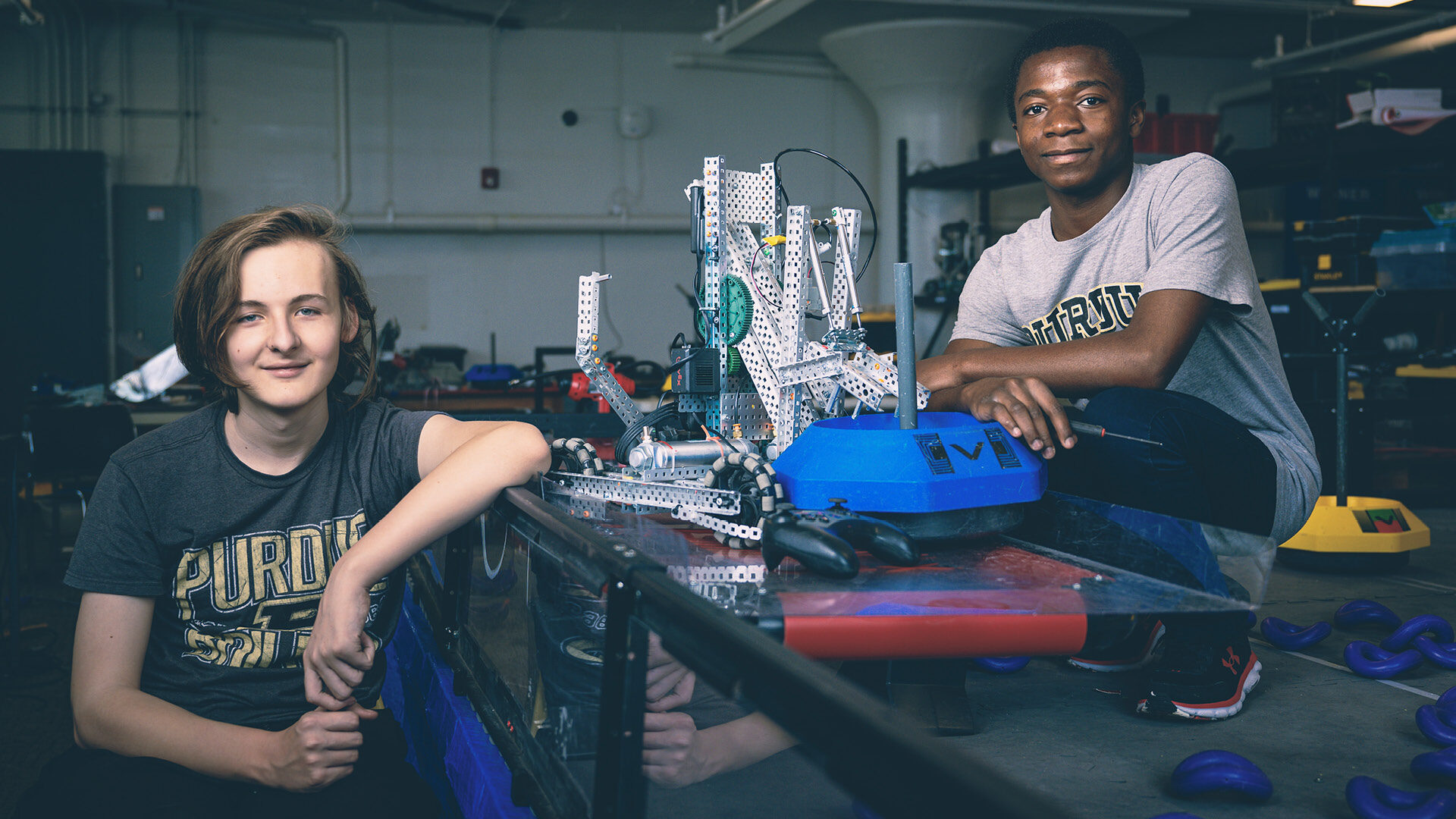 His hope for Worlds?
"I hope we can win it all," Gregoire Kalupala says. "But either way, I am proud to represent Purdue Polytechnic High School in the tournament."
Batic is thrilled for Gregoire Kalupala's opportunity to compete on a global level during his first year in VEX Robotics.
"Asumani is absolutely brilliant," he says. "He's also one of the nicest kids you'll ever meet. I love talking to him. And every time I see him, he has a huge smile on his face."
At stake for the World Competition — bragging rights, scholarship money, funding for the program and an opportunity for Gregoire Kalupala to showcase his hard work on a world stage.
"VEX is a great resource to learn basic engineering, design and coding skills," Batic says. "However, what I want our students to learn is compassion, integrity and personal growth. Win or lose, I want them to take away what's important. After a long day of losing, how do you handle that with maturity? After a great day of winning, how do you remain gracious and humble? At your teammate's first tournament, how do you help them grow to the level where you are today? Working together and failing forward, that's the spirit of PPHS."
Watch Building a Pipeline: PPHS Origins Story to learn how and why Purdue Polytechnic High School is revolutionizing education and changing students' lives.