Back To Top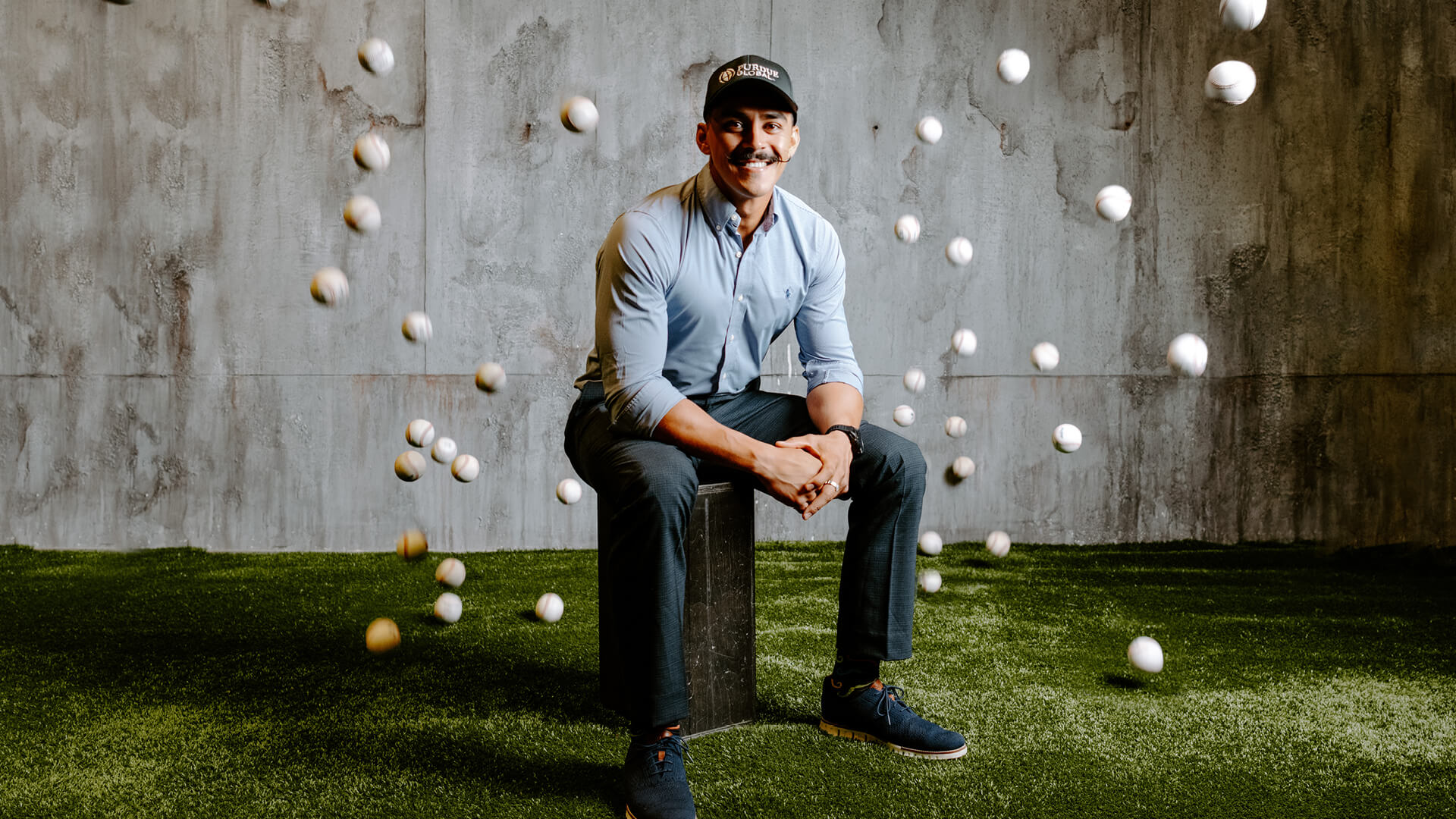 Nearing retirement from pro baseball, Juan Montes had to ask, 'Now what?'
Juan Diego Montes Incer (BS health and wellness '23, Purdue Global) remembers growing up in Guatemala City, watching the World Baseball Classic on the television with his mom. Someday, he told her. Someday that was going to be him.
And in the spring of 2023, it was him, at age 27, playing in the Classic for his mom's home country of Nicaragua. It was the first time Nicaragua had ever qualified for the world championship.
With the unreachable dream reached, he felt it was time to round out his skill set because he knew who was watching. He'd once been a kid, watching his heroes on TV, and if they heard any message from him, he wanted it to be the fact that he was about to graduate with his bachelor's degree from Purdue Global.
"Most players in Latin America either study, or they play baseball. I have to let children know that school is important," he says. "We can do both. We don't have to choose between them."
A foundation of family and faith
Montes says it all started at home. The love he finds in his family and faith, he says, is the solid foundation on which he built his dreams.
"We live in a very tight, very close, very Catholic family," he says. "We all, thankfully, have a very good relationship. Family and God have always been first in our household."
And family means a lot of people. "My mom was one of nine, so whenever there's an important family gathering, everyone comes in. You call everyone 'Cousin.' It's just too many names," he says, laughing.
Even if they can't remember all the cousins' names, this is the way of life for the Montes family – they show up for each other, no matter what. That's why, he says, that anytime he played a game, the people he wanted to see in the crowd the very most were his parents.
And they were always there, no questions asked, no matter how far away his dreams might take him.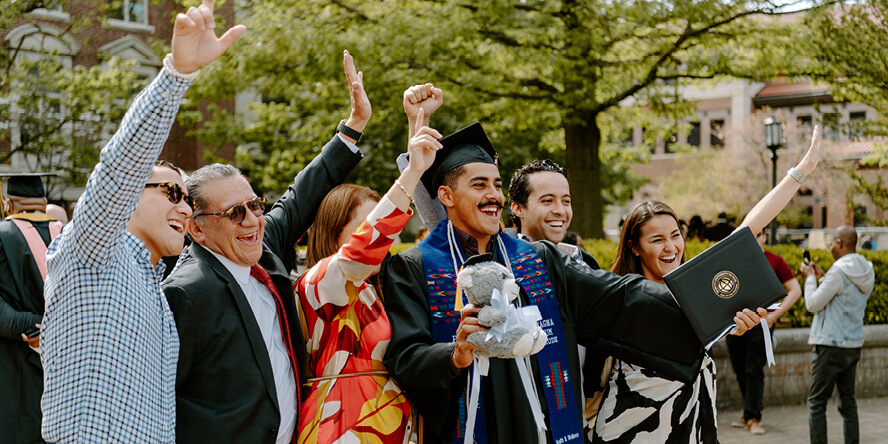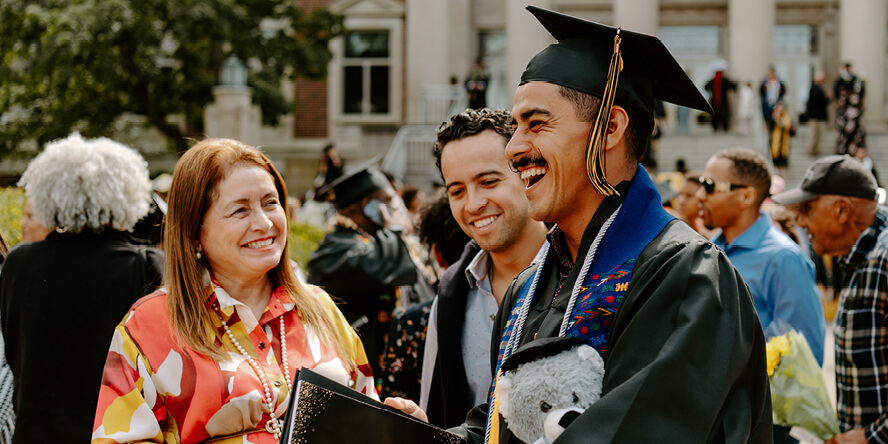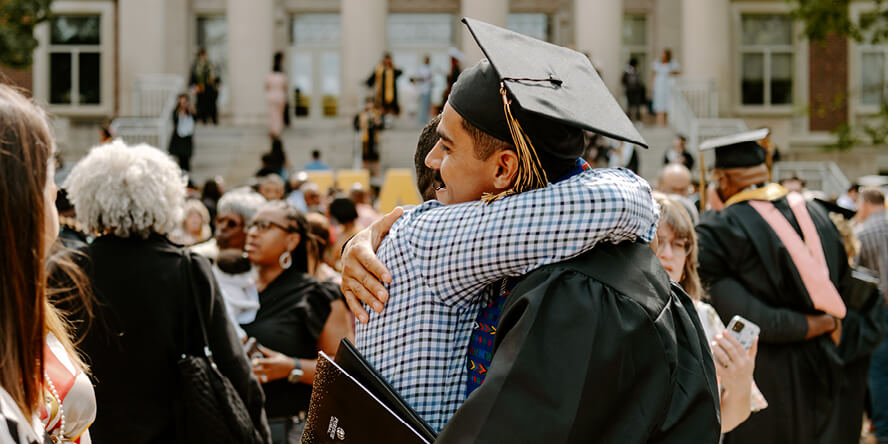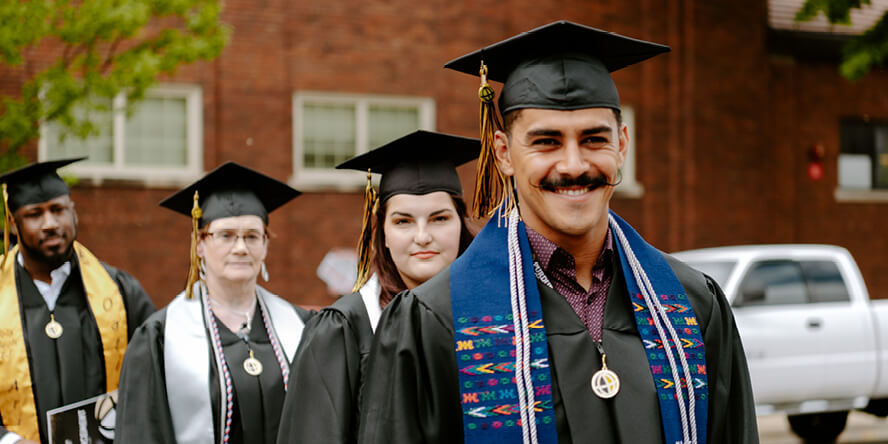 Baseball versus college
When Montes graduated from high school, he was strong in both academics and athletics. He'd worked hard toward that end because he knew he'd need an edge in both areas to do everything he wanted: attend a university in the United States, play baseball, study marine biology.
It was a tall order, and even though he was a strong candidate, it presented some difficulties.
First, the major he'd chosen wasn't a very good counterpart to baseball life. He loved science, so he'd put that together with his love for water and animals, and he landed on marine biology. But it was a complex area of study that would require travel – as would baseball – and he started to get uncomfortable with how manageable the workload would be.
Second, college in the U.S. was significantly pricier than what he could get at home. He would need both athletic and academic scholarships to make it happen. So while gaining admission and earning academic scholarships weren't a problem for him, American universities weren't sending scouts to his high school in Guatemala. He would have to find his own way into tryouts.
"I had around 25% of my tuition covered by academic scholarship, but I needed a lot more than that," he says. "So, with a couple of friends and my mom, we decided to go to the States and do some tryouts at a few universities."
And even though he's almost always played well, this tryout was an extraordinary exception.
"It was weird because I usually do very well in tryouts, but in these tryouts, I did terribly," he says. "I have no idea what happened."
Then, the unexpected. The Baltimore Orioles came to Guatemala, and Montes snapped up the opportunity.
The Orioles signed him to the organization's Dominican Summer League. Montes took it as a sign from God – a terrible fluke of a college tryout, followed by some of his best work in a right-place-right-time scenario – that baseball should be his focus for now. A degree could come later.
Time for a comeback
He played for minor league teams within the Orioles' organization for five years and was then released. While he figured out his next move, he knew, regardless of where he would land, this was his moment to get started on the degree he'd always wanted.
Through a program offered by Major League Baseball, Montes discovered he would be able to get most of his tuition covered. He just needed to pick a university and a major. He knew he wanted an online program, which immediately narrowed his options to a handful of universities.
"When I started in 2018, there were not many options," he says. And the pool was narrowed further because, by then, a very specific area of study had sparked his interest.
"On my path, I noticed how important psychology is in baseball. It's important in everything, but especially baseball," he says. "Because when you get to a certain level, everyone is talented. Everyone was talented enough to get here. But the mental side is what really separates the men from the kids."
Playing in a minor league was different from what he was used to. It was a lot more about individual performance than he'd ever experienced.
"It almost doesn't matter whether we win or lose; what matters is how I perform. Because they're not gonna move the entire team up. So the guys who were my teammates were, at the same time, some of my biggest competition," he says. "I struggled a lot. My head was very active, especially during the games."
It was when he met a sports psychologist that things started to change. He taught Montes how to quiet his mind and practice mindfulness. "I started learning that instead of fighting those ideas, I can organize them," he says.
That's why, Montes thought, it was time. Now that he'd played professional ball for a while and he was recognizable to young fans, he not only wanted to strengthen his own mind, but he wanted to empower them to be the best they can be. As he searched for a program, the reputable Purdue name caught his eye.
The greatest thing for me about Purdue Global was that it was self-paced … Professors were very flexible with me and my schedule.

Juan Montes
BS health and wellness '23, Purdue Global
"I thought, 'Wow, Purdue Global. That's a great university!' It was fully online, and the classes were exactly what I wanted."
He noticed the bachelor's degree in health and wellness had everything he was interested in, including some peripheral interests in nutrition and alternative medicine. Montes made his choice and got started. In the meantime, he began playing ball in Nicaragua – a country that always held a special place in his heart because of how important his mom's heritage was to his family. And that's where he completed his college degree: from the road, thousands of miles from West Lafayette.
"The greatest thing for me about Purdue Global was that it was self-paced," he says. "There are different leagues in baseball. You have the summer league and the winter league. In the summer in Nicaragua, you only play on the weekends. You've got like five, six months you only play on weekends. During that time, I chose to take three courses, which was the most you could take.
"Then in the winter, we would play almost every day. So, I had the option to only take two. And at the end, when the classes were getting more complex, professors were very flexible with me and my schedule."
Notably, his studies weren't a distraction, or even very separate from baseball. "The more I studied and the more I used the techniques I was learning, both in baseball and in school, the more I relaxed," he says. "It helped me trust – like, I'm doing my best right now, and there's a reason I'm doing this. This is the thing I can control."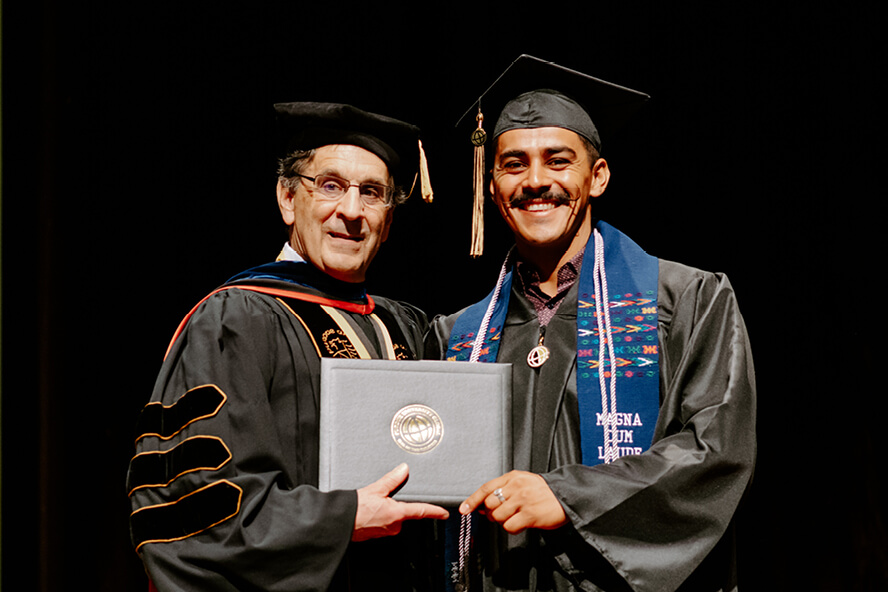 I believe those deep desires in your heart that don't go away, those are desires God puts in your heart … They're things we ought to fight for. We owe it to ourselves … and we owe it to the next generation.

Juan Montes

BS health and wellness '23, Purdue Global
Moving forward after a lifelong dream
Finally, in February 2023, a dream came true. As part of the Nicaraguan national team, he went to the World Baseball Classic.
"Going to the World Baseball Classic was a thing I dreamed about when I was a kid," he says. And even though his team never won a game in the tournament, it was the most memorable experience of his life.
"We were playing against players I had only seen on TV or when I was with the Orioles," Montes says. "I got to play against a couple of them. It was like literally living a dream."
Two months later, he crossed the stage in West Lafayette to accept his diploma. And he was surrounded by his family at both events.
As he begins playing for a new team this season – the Tri-City Valleycats in Troy, New York – he looks to the years he has left on the field and beyond without worry because he has a degree that's given him both the knowledge and the qualifications to start a new career once this one's over. He only has hope. Excitement. Love. Faith. And, of course, a driving passion to tell others to believe in themselves.
"The journey is the most important thing in our lives. I believe those deep desires in your heart that don't go away, those are desires God puts in your heart. They're there for a reason. They're there for us to accomplish them. They're things we ought to fight for," he says. "We owe it to ourselves; we owe it to those people who have invested their lives in us, and we owe it to the next generation."