Back To Top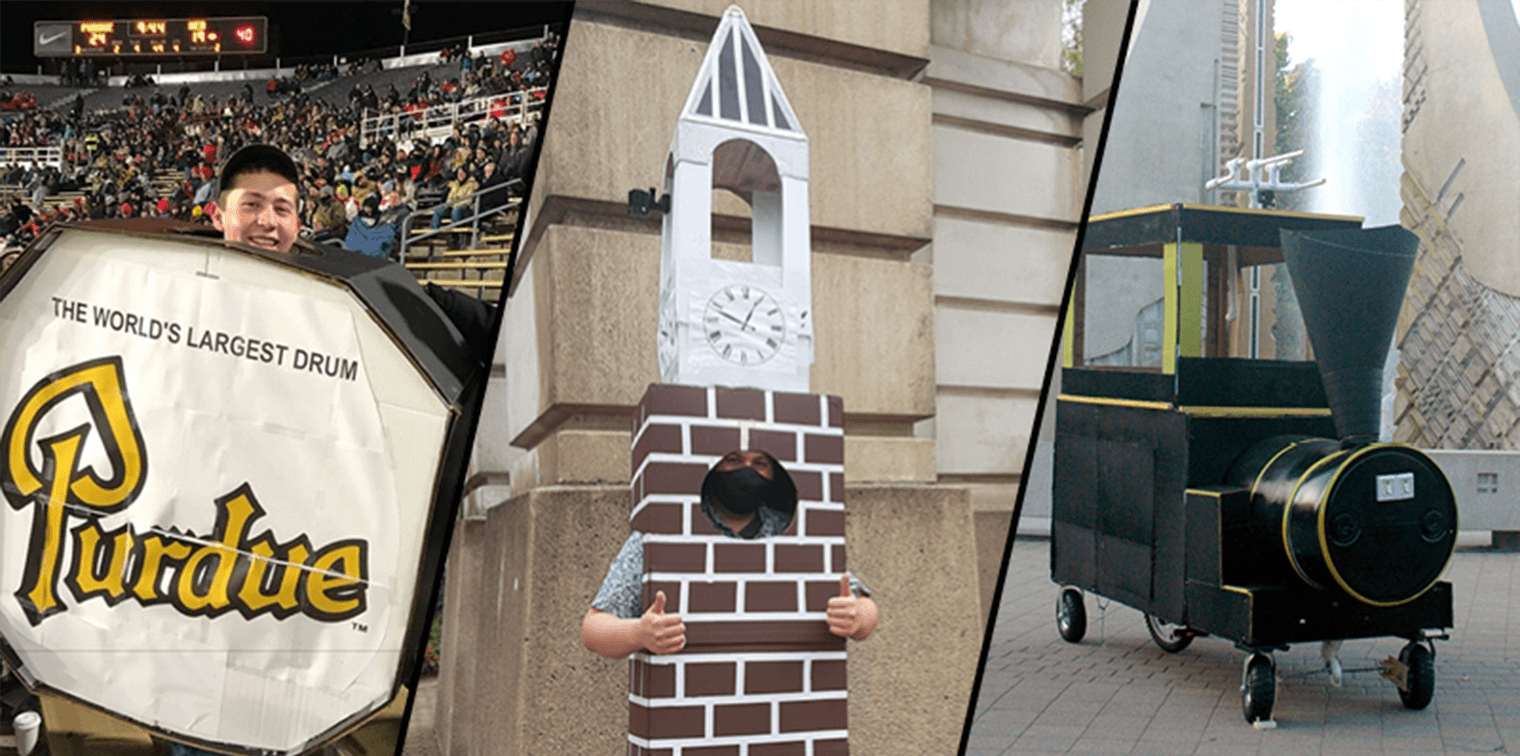 Not many students can claim on their resume that they designed and built wearable, miniature symbols of their university, except for a senior in mechanical engineering, Joe Navarra.
Navarra dressed as the World's Largest Drum in 2017, the Boilermaker Special in 2018 and the Purdue Bell Tower in 2021. During his freshman year, the Friday before Halloween, he had the idea to build a replica of the Big Bass Drum and wear it that evening as the "All-American" Marching Band performed its daily march down Third Street. With only a few sketches and the help of some friends in Shreve Residence Hall, he was able to design and build the costume in five hours. He finished the costume just in time to join the Big Bass Drum crew for its march back to Elliott Hall of Music.
"After that, I realized that Purdue icons made for great costumes, considering how recognizable they are and how much fun I could have with it," Navarra said. He dressed as the Boilermaker Special during his sophomore year, which proved to be a bit more of a challenge. "We've got TAs and office hours to help guide us through homework problems and lab reports, but when I designed the bicycle-powered Boilermaker Special, I had to do the research and the experiments myself to build the solutions I needed from the groundup," Navarra states. Much of the success of this project depended on hours of research, experimentation and self-reliance.
This past Halloween, Navarra put his engineering methodology and creativity to work in designing and building a miniature, wearable Purdue bell tower. Made of cardboard, foam board and packing tape, this project took only a week to complete. Dressing as the bell tower attracted a lot of attention from students and faculty on the days leading up to Halloween. Navarra claims he posed with dozens of students just below the actual bell tower.
"The best part of any costume like this is passing by down-trodden students who are in the throes of midterms and projects, and they see me, and they can't help but crack a small smirk. That's a very rewarding part of doing these types of over-the-top costumes.

Joe Navarra
Balancing the mechanical engineering curriculum and extracurricular activities is not an easy feat. Taking the time to research, design and build each of these three costumes showcases Navarra's commitment to creativity and his love for Purdue. Navarra pushes boundaries in mechanical engineering, handles challenges with creativity and exemplifies the Boilermaker spirit.
"I've certainly gotten better at balancing my work with my personal activities as time has gone on," he said. "but making time for projects like these is a great way for me to de-stress and do something I can be passionate about."