Back To Top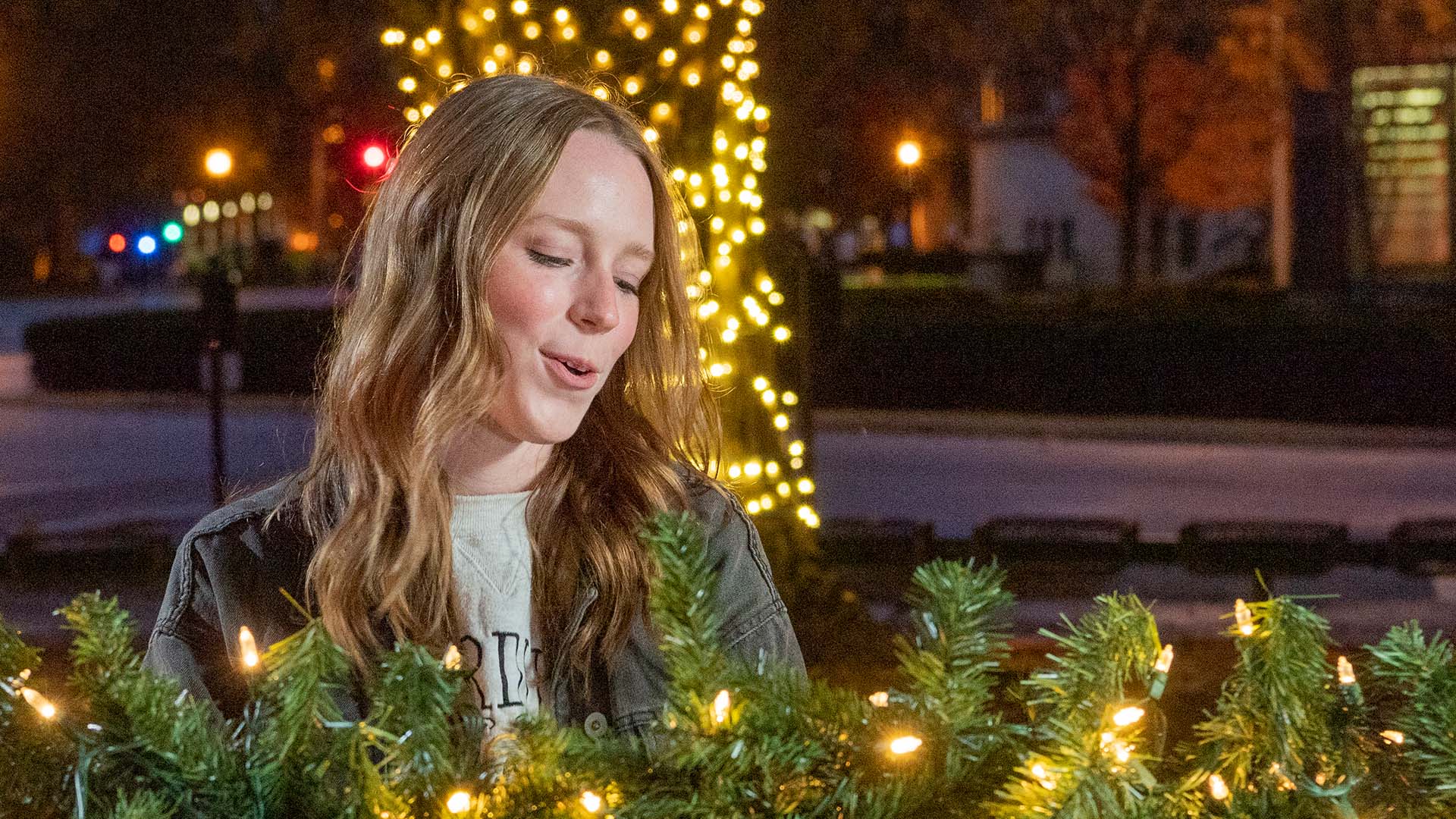 Student's appreciative note to campus pianist served as inspiration for holiday-themed rendition of 'Hail Purdue'
It all started with an anonymous thank you.
What began on Reddit, with one Purdue student thanking another for a much-needed pick-me-up, resulted in this warm cup of Boilermaker holiday cheer.
The University's new holiday spot, "A Boilermaker Carol," features a seasonally fitting rendition of "Hail Purdue," performed by vocalists from Purdue Musical Organizations. The featured students appear at iconic campus locations like Mackey Arena, the Gateway to the Future arch and the Purdue Bell Tower, alongside newer spots like the Third Street "Chill Zone" and the outdoor pianos that may be unfamiliar to many alumni.
A collection of students, administrators, University employees and campus organizations worked together to arrange, record and film a new version of the Purdue fight song, all with the same general goal as the anonymous student who unknowingly lifted a fellow Boilermaker's spirits a few months back.
They shared their time and talents with the hope that they might make this a happier holiday season for each member of the Purdue community.
"We show all the time people working together, and how Purdue acts as a mentor, and how there are so many people willing to step up to change people's experiences at the University," says Katie Ellis, Purdue's assistant director of marketing strategy, who conceived the spot. "This spot definitely demonstrated that through the creative process and through the final deliverable in a way that I haven't experienced before in my time with the University."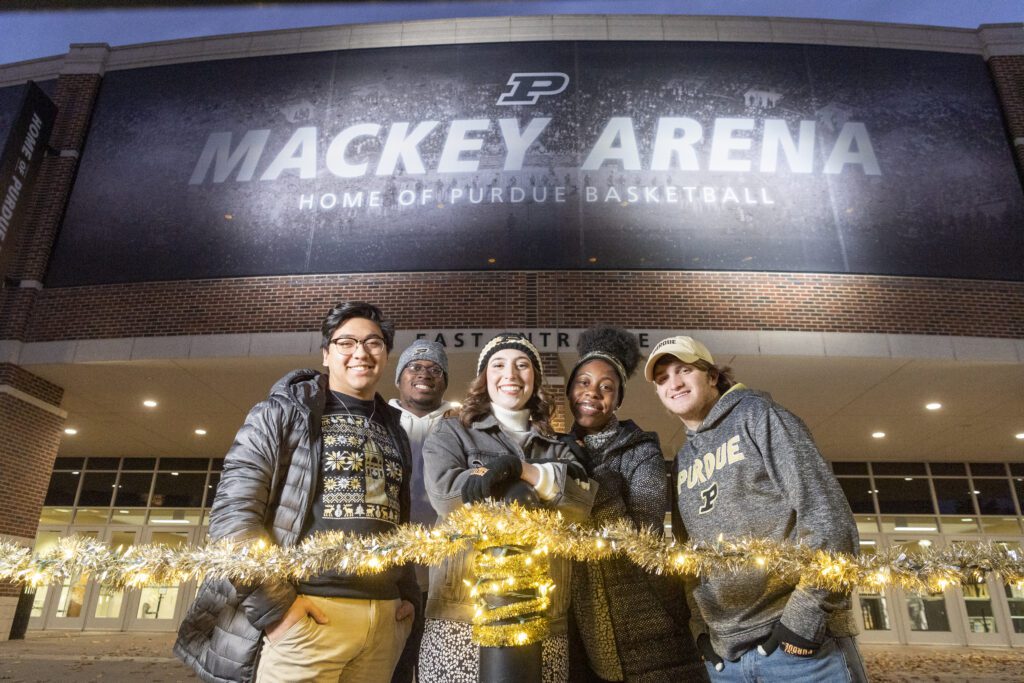 Musical inspiration
Flash back to the evening of Monday, Sept. 20.
A Purdue freshman left Elliott Hall of Music feeling upset over how she fared on her first calculus exam. What college student doesn't know that feeling? It stinks, and that negativity can linger for those who lack a sufficient distraction.
This particular student's disappointment didn't last for long, however.
While collecting herself outside of Elliott, the student heard the comforting melodies of two favorite tunes: "Once Upon a December," a Golden Globe-nominated song from the animated film "Anastasia," and the title song from Andrew Lloyd Webber's "The Phantom of the Opera." A few dozen steps away, a fellow Boilermaker — barely visible in the dark — was playing superb renditions of the songs on an outdoor piano situated near the Bell Tower.
It provided the emotional boost she needed. In a post that night on the Purdue subreddit, the freshman posted her thanks to the anonymous musician for the "absolutely beautiful" playing.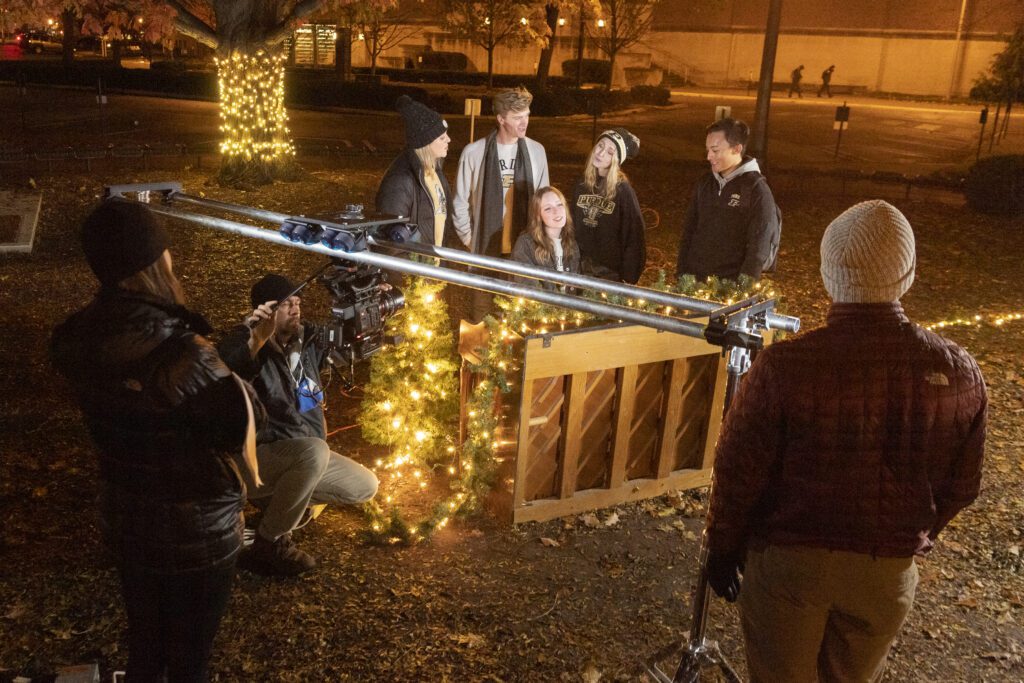 "Your music completely uplifted me," the Redditor wrote. "Thank you piano stranger, and thank you to all the other Purdue pianists. Our campus is indebted to you."
Many other Purdue students could also attest to how the piano players have made the campus feel like a brighter, more welcoming place over the last year and a half.
In an effort to encourage safe socializing during the COVID-19 pandemic, Purdue installed outdoor pianos near the Bell Tower, Purdue Memorial Union and Krach Leadership Center across from the Third Street "Chill Zone," an outdoor gathering space with patio furniture, fire pits and string lights. The new features proved so popular among students that they seem likely to stick around well after the campus lifts its "Protect Purdue" health and safety guidelines.
"The pianos are such a good idea," says Addison Schreiber, a junior in political science from Bluffton, Indiana, who serves as lead vocalist in the spot. "I love walking on campus and, all of a sudden, you hear somebody playing something on the piano. It just kind of lifts your spirits a bit and makes you feel a little less stressed about college life."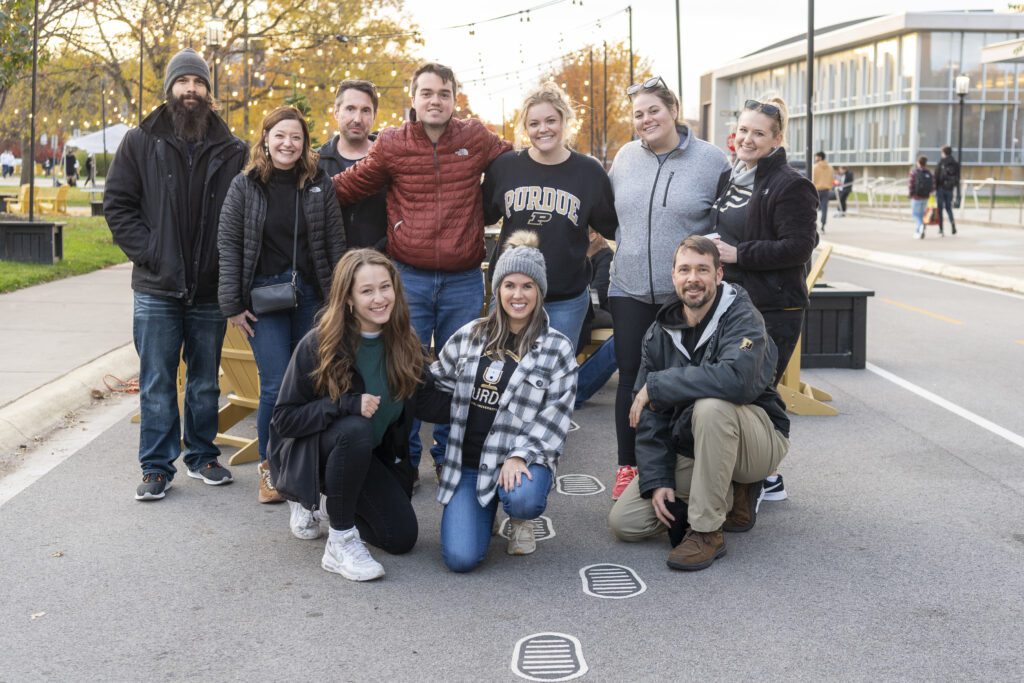 The Redditor's appreciative sentiment resonated with Ellis when she read their post.
At the time, Ellis just so happened to be contemplating how to elicit warm feelings among fellow Boilermakers via the University's holiday TV commercial. Recognizing how the pianos create such feelings on campus each day, Ellis decided they could also deliver a message of good tidings and joy to the world beyond West Lafayette.
"In December, you're allowed to try to help people feel a kind of way during the holiday season," Ellis says of the spot, which debuted on Dec. 9 during the TV broadcast of the Purdue men's basketball game against Rutgers. "There's only a handful of times a year that you can try something a little bit different or lean into one specific element like that. I'm glad we got to do it, and I'm glad it turned out as well as it did."
PMO comes through
Prior to becoming the lead vocalist for the spot, Schreiber thought she might be in trouble for some unknown reason when she received a text from Purduettes assistant director Jake Stensberg asking her to stop by early before a rehearsal.
Thankfully, Stensberg intended to make an exciting offer.
"I went to his office and he told me that there was this really cool opportunity and that the Purdue Marketing and Communications team asked if I would provide a solo on a cool, holiday version of 'Hail Purdue,'" Schreiber recalls.
With vocal support from a dozen PMO singers, Schreiber would soon record a slowed-down, holiday-inspired version of the fight song that Stensberg had arranged, with expert piano accompaniment from PMO assistant director Suki Wong.
"They're so talented over there," says Ali McNichols, Purdue's assistant director of brand content, who was a PMO performer as an undergraduate student and led the production of the spot. "Jake composed a 60-second version after all we said was, 'We're looking for something warm, jazzy, Norah Jones-esque, and if you have students who can sing it in that manner, we'd love to showcase student talent.' And they totally delivered. They were such a dream, so wonderful to work with."
Ellis and McNichols marveled at Stensberg's talents that allowed him to create the new take on "Hail Purdue" in a matter of days, producing an arrangement capable of eliciting the sentimentality they desired while also resonating among the many different groups represented within the University's student and alumni base.
Purdue's fall 2021 enrollment includes 8,956 students from 128 different countries, making it one of the most internationally diverse public universities in the U.S. But no matter their color, creed or religion, "Hail Purdue" is a song that carries significance for every Boilermaker.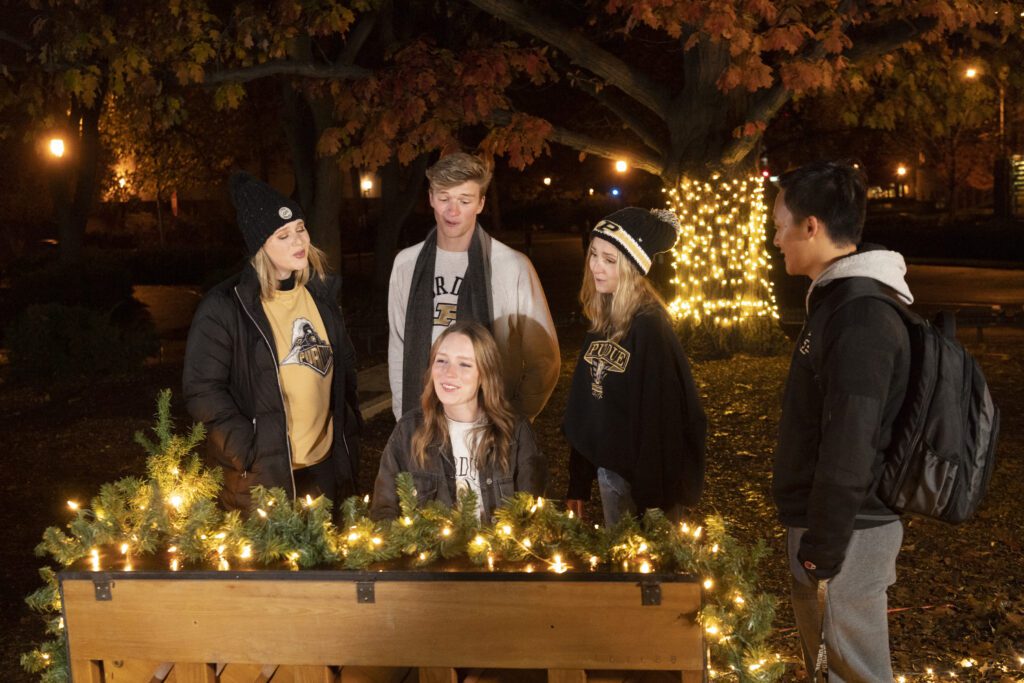 "I thought it was really cool that the song wasn't necessarily Christmas-specific because there are a lot of people that don't celebrate Christmas, but it still had that same warm-and-fuzzy vibe," Schreiber says. "Even though we shot the commercial in the middle of November, as soon as the fake snow machine turned on and there were all the lights out, I thought, 'Oh, it's the holidays. Winter is here. I want some hot chocolate.'"
Enjoying the music? Add it to your Spotify playlist.
Campus-wide collaboration
The PMO singers are the stars of the final product along with a collection of student ambassadors and other students. If not for considerable assistance from across campus, however, these Boilermakers never could have enjoyed this moment to shine.
It took Ann M. Shanahan, chair and professor in the Department of Theatre, pointing the creative team toward Barry Funderburg, a visiting assistant professor of theatre. Funderburg and his student assistants hosted the pianist and singers in a state-of-the-art recording facility at Yue-Kong Pao Hall and produced, engineered, mastered and mixed the "Hail Purdue" audio track.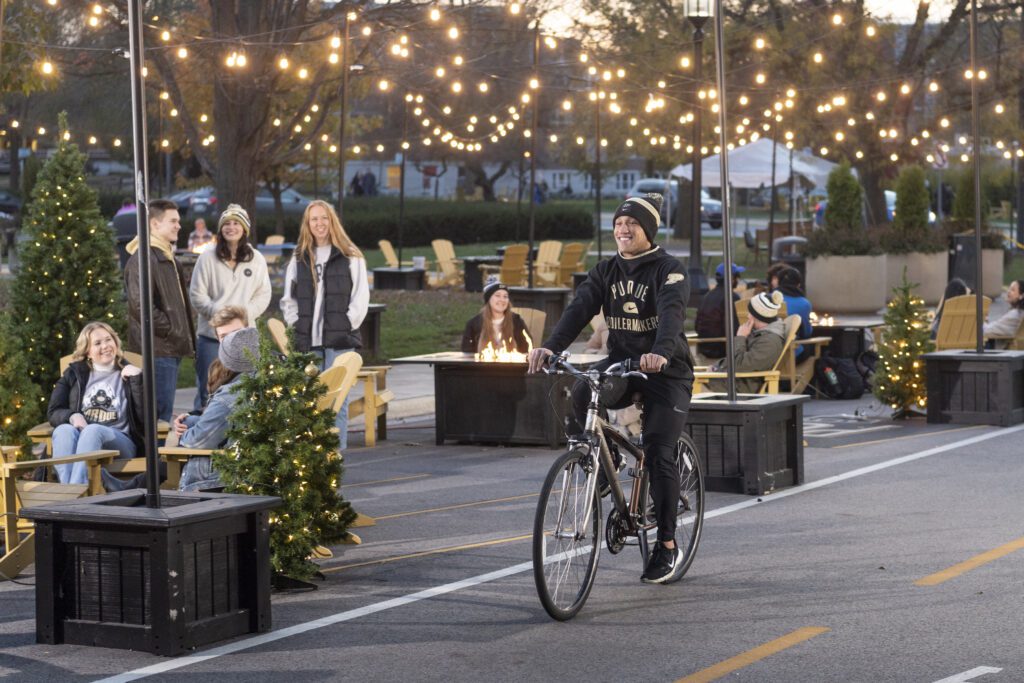 "I was kind of nervous at first because it's a real recording studio," Schreiber says. "But I got there and it was really cool, and everybody who was working there was really supportive. I felt like a whole pop star in there."
It took a host of University operations, facilities and maintenance leaders — including Todd Wetzel, Luke Vesprille, Dave Lucas, John Duncan, Patrick Jewell and Karla Draper — to tackle the many logistical challenges involved with filming the spot across three mid-November evenings.
And it required significant legwork from Boiler Ambassadors leaders Luke Lael and Bailey Leffler, senior brand manager in Purdue Marketing and Communications, to line up students to participate.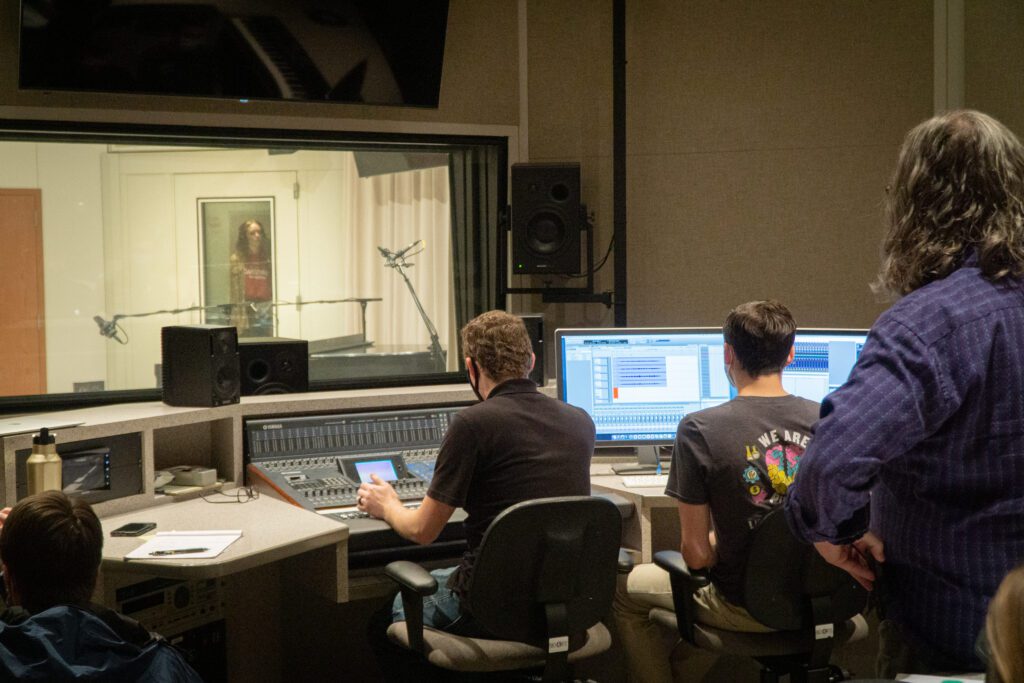 The campus partners' helpfulness throughout the process confirmed the very message of Purdue warmth and togetherness that Ellis and McNichols hoped the commercial would convey.
"The spirit of collaboration was unending," McNichols says. "Every single partner that I worked with on this project was beyond helpful, so accommodating. Thankfully nobody told me no. Everybody said, 'Yes, we can take care of that' or, 'It's here or it's there. I'll connect you with so-and-so.'"
Ever grateful, ever true
Maybe "A Boilermaker Carol" is not one of the Christmas songs that it resembles, but many traditional holiday themes are still present.
Togetherness. Welcoming. Home. Goodwill toward others. Friendship.
"I just hope that people see it and think Purdue is a good place for me," Schreiber says.
Ellis and McNichols are confident that they will, and that their fellow alumni will especially appreciate the nostalgic feelings that the spot — and its take on the fight song — will evoke.
"When you look back at it as an alum, it's only fond memories," Ellis says. "You forget the challenges and the difficulties you experienced. It's really just a lovely spot of time in your life. We wanted to evoke that nostalgia, that warm feeling that we know our alumni have for the University, and to bring that to life in a special way for the holidays."
Watch the original version of the holiday video:
RELATED STORIES