Back To Top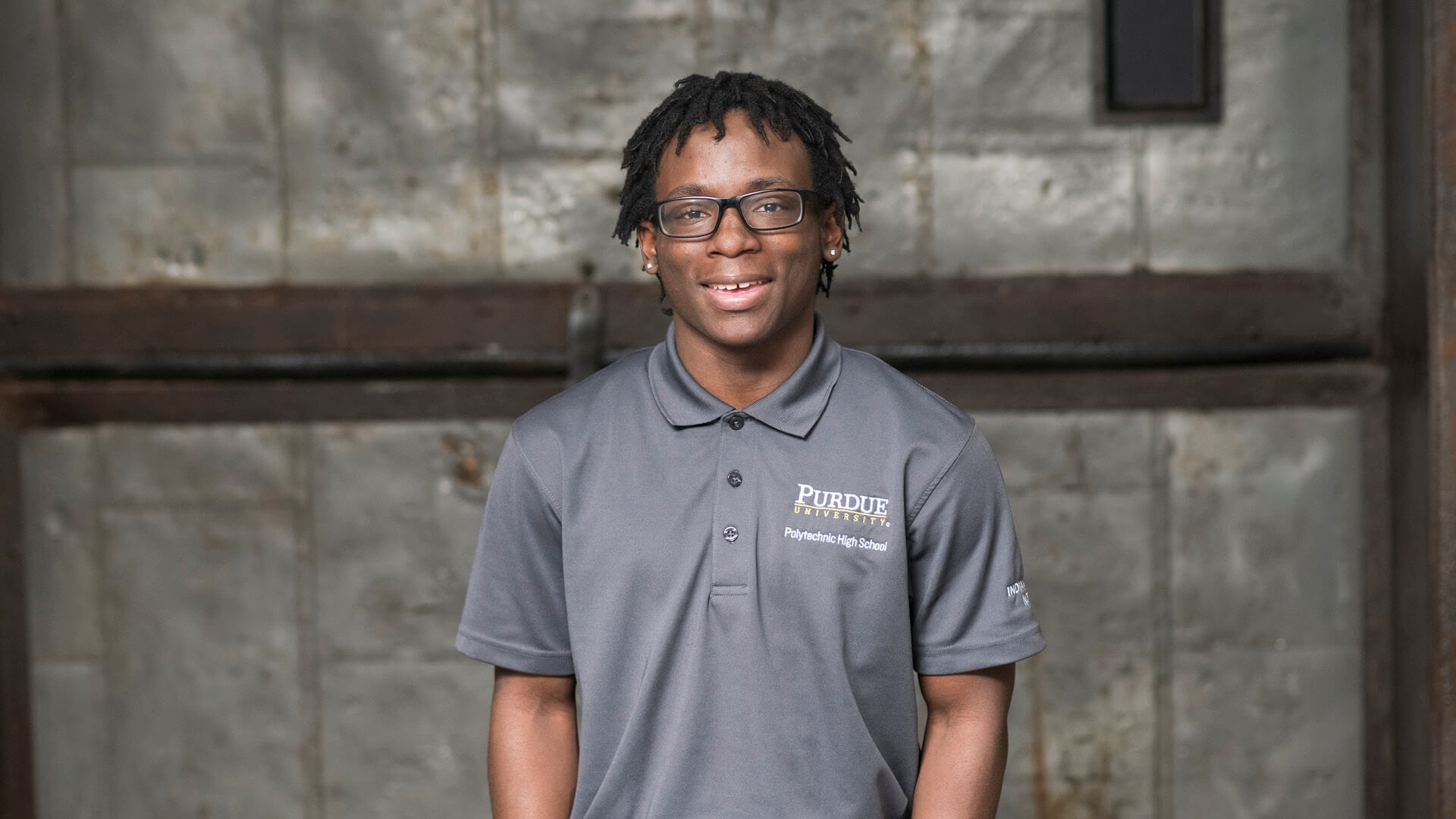 Purdue Polytechnic High School senior shares how an innovative approach to learning opened him to new challenges
Looking back at who he was his freshman year of high school, Medger Hansboro can barely believe his own transformation.
After the school he had been attending shut down, he visited an information fair to understand his choices moving forward. That was the first time he heard of Purdue Polytechnic High Schools.
"I was interested in a more hands-on experience," Medger says. "I got to talk with the coaches at the booth, and what really struck my mind was how they were trying to push this idea of an innovative school experience."
Part of that innovation is exemplified through the term "coach" instead of "teacher," reflective of the more dynamic atmosphere that Purdue Polytechnic High Schools foster.
And that atmosphere was exactly what Medger needed.
"Previous school years before joining PPHS, I didn't agree with a lot of the ways they ran the classroom," Medger says. "I didn't learn as much as I have now because of how they would handle class disruptions. It wasn't productive at all."
His experience at PPHS allowed Medger to focus more on his passions, primarily math.
"Math is most definitely my favorite subject," he says. "I love how structured it is and how the problems come across. It really feels like a puzzle."
Lessons learned
During his time at Purdue Polytechnic High School North, Medger was able to spend time as a coding intern with E-gineering, a software consulting firm based in Indianapolis.
"I had great connections and amazing experiences," Medger says. "I also learned a new type of work management, called Agile Scrum, and I got a certificate for it."
Through that internship, Medger learned some important lessons that he carries with him still today.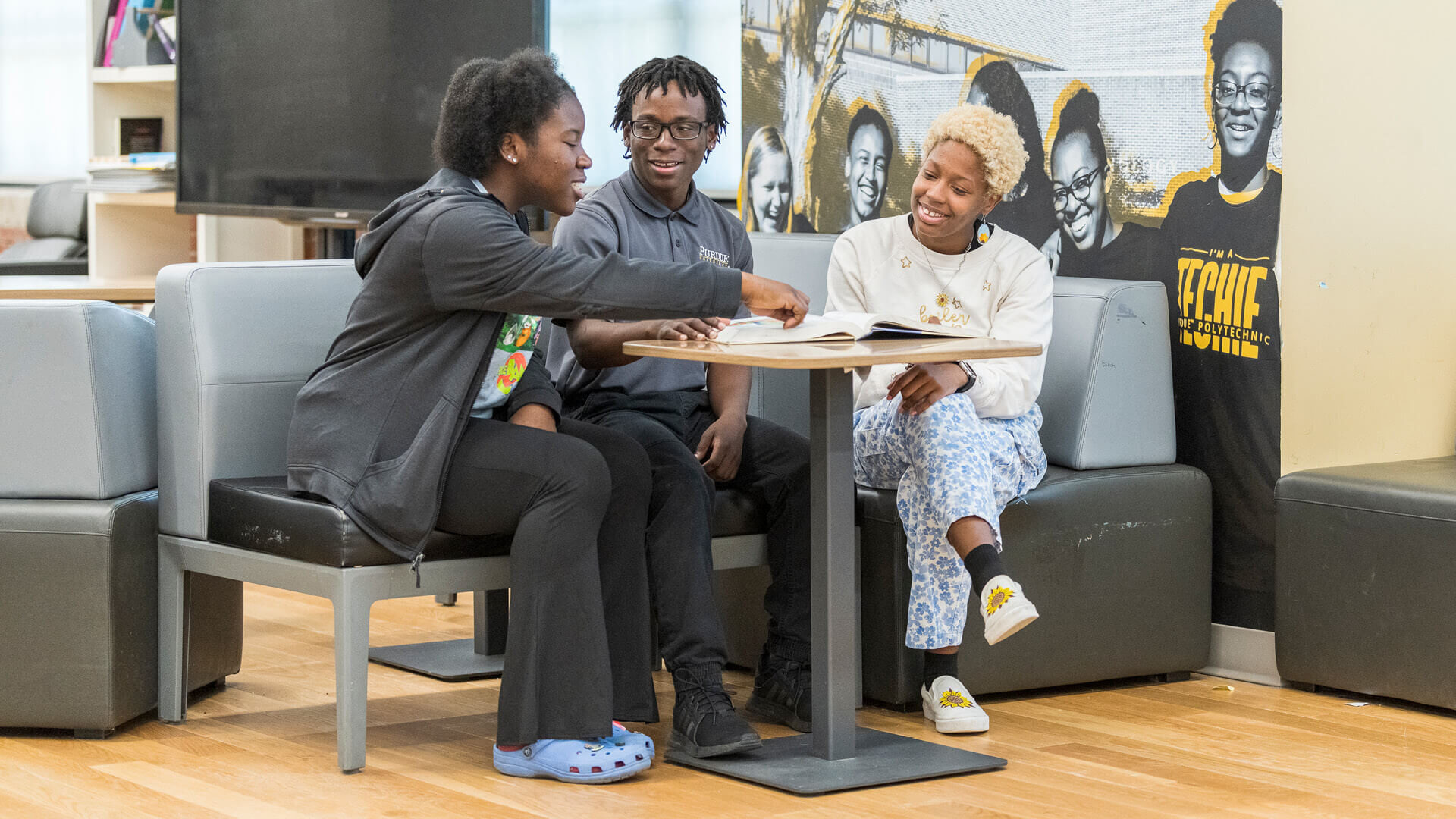 "One of the things I learned is that it's up to you if you get frustrated. You are old enough to handle your emotions, and you get to decide if you're going to get mad or get frustrated by something."
Medger saw this frustration play out at PPHS with his English classes.
"I hesitate a lot because I'm trying to pick and choose my words precisely," Medger explains. "And I wasn't very good at writing papers."
Rather than yield to frustration, Medger decided to embrace the challenge. Even if he isn't going to become a writer or an English major, he says that it's still important to be able to articulate your ideas.
"It's important for me to communicate and write down what I'm thinking — that's why I'm getting more passionate about it."
Medger's intelligence and thoughtfulness are only matched by his curiosity, something he's looking forward to cultivating as he moves into the next chapter of his life as a freshman at Purdue University.
"I love being able to talk about things and go a bit deeper into conversations with people," Medger says. "I'm looking forward to the struggles of learning new things and the amount of new people I'm going to meet and networking that I can do and having new experiences — I'm just looking forward to learning a lot."
This fall, he will be starting his Purdue career in the exploratory studies program.
"I'm kind of stuck in the middle of hardware and software, which is designing and actually building stuff, or doing the coding part," Medger says. "I'm really passionate about both of these things, so I'm kind of conflicted on what I want to do. I want to see if there's a field where it meets right in the middle."
Asked what he thinks about Purdue's West Lafayette campus, Medger's eagerness to start college is palpable.
"I just want to experience all of it. I've been there three times. I want to attend Purdue and fully be able to take in what I'm seeing and experience it for myself."
That's what kids need — just love and respect. A lot of times they lack it in other places. And the coaches do such a great job of providing that.

Medger Hansboro
PPHS Class of '23
'Love and respect'
As Medger graduates, he has already accomplished a lot. He's learned to open up with his peers and coaches. His school passion project saw him working on Rube Goldberg machines. And in his free time, he's been building a computer for his girlfriend on a tight budget, staying up late to teach himself how to do it.
"I found this really cute little case that I think she'll like," Medger says.
Reflecting on the past four years, Medger credits his growth at PPHS to two things: love and respect.
"That's what kids need — just love and respect," Medger says. "A lot of times they lack it in other places. And the coaches do such a great job of providing that."
Looking back, a few stood out for Medger: Keeanna Warren, the founding principal at PPHS North, now Associate Executive Director of Purdue Polytechnic High Schools; as well as Kacie Duffey, the school nurse; and Nolan Duffey.  
"Definitely strong love for them. Without them, I would not be here talking with you."
As he finishes his senior year, he's focused on sharing his experience and thoughts in the hope of encouraging others who have struggled in a traditional classroom and making sure that Purdue Polytechnic High Schools continue to provide an environment that nurtures students while challenging them to think — and act — big.
"To any person who doubts themself, I would love to share that there's more to life," Medger says. "If you cannot see over the wall or fathom what's beyond the wall, you have to constantly push — you have to walk through it until you're past the wall."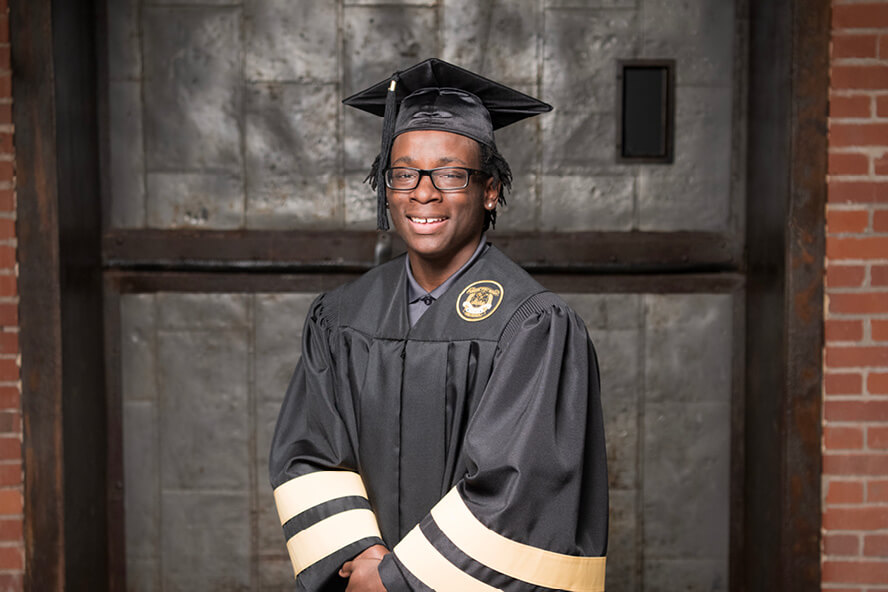 "To any person who doubts themself, I would love to share that there's more to life.

Medger Hansboro

PPHS Class of '23