Back To Top
Affordability, convenience and diversity are among factors that area residents appreciate
Greater Lafayette is one of the top housing markets in the United States, according to the Emerging Housing Markets Index, a collaborative effort between The Wall Street Journal and Realtor.com.
The collaborators used current real estate data and other economic indicators to specify which markets would both provide the strongest returns on housing investments and be nice places to live. Lafayette/West Lafayette ranked No. 6 out of 300 U.S. housing markets included in the inaugural index, released in April 2021.
In the following sections, Greater Lafayette residents who moved to the area within the last few years share what they enjoy about living in the community:
Room to Roam
Wendy and Zach Beauvais
While looking around the West Lafayette home she and husband Zach purchased in June 2021, Wendy Beauvais chuckles about how it differs from their first residence.
"When we first got married, we were very young and lived in the center of London," says Beauvais, who in October 2020 started a new role as assistant professor of epidemiology and public health in Purdue University's College of Veterinary Medicine. "Our entire apartment was the size of the deck here, I think."
Not true, says Zach. "Our entire apartment was smaller than the deck," he cracks.
The size difference applies not just to the living space, but to the overall property.
"We have much bigger gardens than we've ever had in our lives," says Wendy, who completed a PhD at the University of London's Royal Veterinary College in 2016. "We have a wildflower meadow just in the garden. I sat outside the other day and thought, 'In England, this wouldn't be called a garden. It would be called a field.' People would put a horse in here."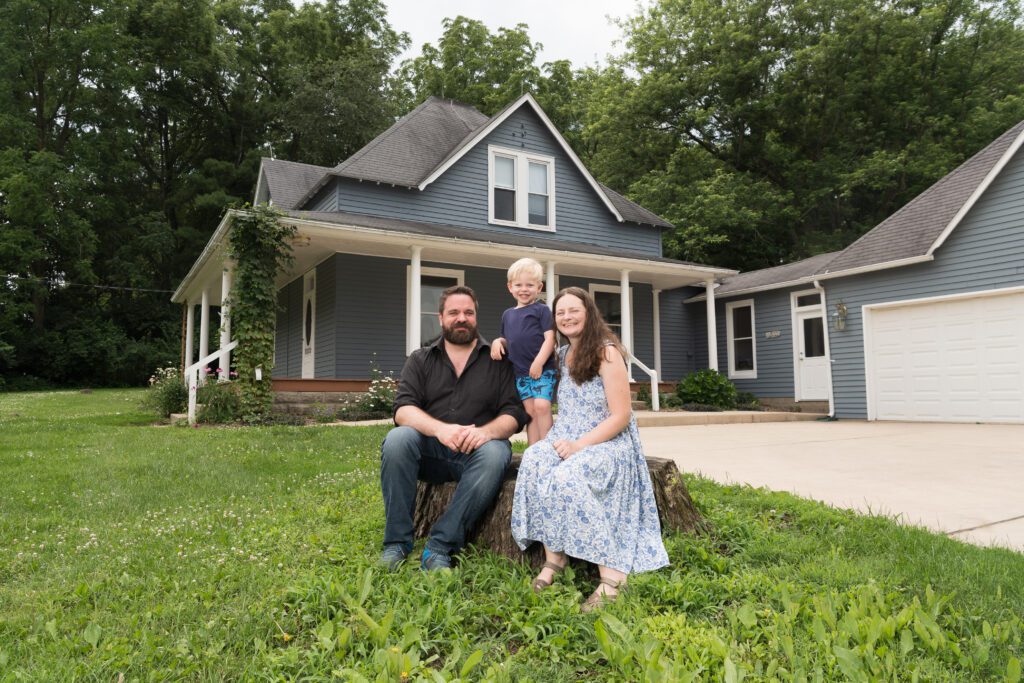 Few places in the world can match the wealth of professional, cultural and educational opportunities available in a global center like London. But for those who require elbow room, living in a major metropolitan area can be a bit of a challenge.
Conversely, moving to a small town in Indiana requires a lifestyle adjustment for those accustomed to the trappings of a big-city environment. Although Wendy and Zach spent four years working at Cornell University in remote upstate New York, they had no idea what to expect from Midwestern life when they moved to Greater Lafayette in September 2020 — in the middle of a global pandemic no less.
"I'm from Colorado and spent my adult life in England, so coming here was like a double culture shock because it's not like what it was like growing up in Colorado at all, and it's even less like it was in England," says Zach, who still works for Cornell, remotely, as assistant director of content strategy in its School of Industrial and Labor Relations. "If you'd given me a whole list of hundreds of places where it was like, 'Hey, you'll end up here for the next five to 10 years,' Indiana would never have made it onto the list."
Indiana's landscape certainly does not feature Colorado's mountainous terrain, nor is it dotted with the waterfalls and forests that surrounded their last home in Ithaca, New York. But the setting has nonetheless become a pleasant surprise for the nature-enthusiast couple.
Zach particularly enjoys visiting West Lafayette's Prophetstown State Park to photograph the birds who inhabit the area.
"There's more natural beauty here than I thought on first impression," he says. "I've spent a lot of time at Prophetstown Park. It's a nice place to walk, and I've taken some really nice photos there. There's tons of wildlife."
Just as Greater Lafayette's natural beauty was a pleasant surprise, so too was the home the couple managed to buy.
When they first entered West Lafayette's competitive housing market, they didn't plan to purchase a residence with a garden they would have to maintain. They also expected for it to be an energy-efficient home with all-new appliances. Instead, they fell in love with a charming place that crossed off only one of the boxes on their initial checklist: It was a beautiful home.
"When we saw this place, we said, 'You know, we're not going to go for all the easy stuff, we're going for the nice house that's like 110 years old that's actually really pretty,'" Zach says.
They submitted an offer for the home, and it was accepted, creating yet another serendipitous moment in the Beauvais family's Indiana adventure. The house wasn't what they expected, it was even better — providing their family with living quarters that are more spacious and affordable than what would have been possible in the pricier locales where the couple previously resided.
"Not only does it have way more space and it's way cheaper, but it's also completely finished as we would want it," Wendy says. "Even if we were able to find this space at this price, even in the whole of England, it would be something where we would have to do it up. Whereas we were able to move here and it was just very easy."
The Value of Diversity
Earl and Cleo Bicar
In two decades as an agricultural researcher, Earl Bicar has lived throughout the United States. During that time, he detected a trend among places that value diversity — and those that don't.
"In the different companies that I've worked with, I've gotten a chance to visit several places — country places, small towns — as part of my role because I'll go out and look at a farm or a field trial," Bicar says. "I've seen some towns that, in the past, they were not growing. But then with new diversity, you just see that before the town was (stagnant) and now it's starting to grow."
That is not just a casual observation. There are reams of economic data that corroborate what Bicar has observed.
Bicar moved to West Lafayette in September 2020 to become the new senior director of plant breeding and technology research at Inari Agriculture Inc., which is housed at the Purdue Research Park. He says Inari has assembled a diverse workforce in part because of associated bottom-line benefits like improved innovation.
"You could Google our company and see there's a lot of diverse people that we're hiring," he says. "It's part of our principles to really put an emphasis on bringing in new talent and diversity. I cannot agree with the economic benefits more. I've seen that in person."
The Wall Street Journal and Realtor.com's Emerging Housing Markets Index placed a similar premium on diversity by including a community's share of foreign-born residents in its formula identifying the best places in the U.S. to own a home and reside. According to the collaborators' methodology, there is "a strong correlation between the economic vitality of a region and the number of foreign-born residents."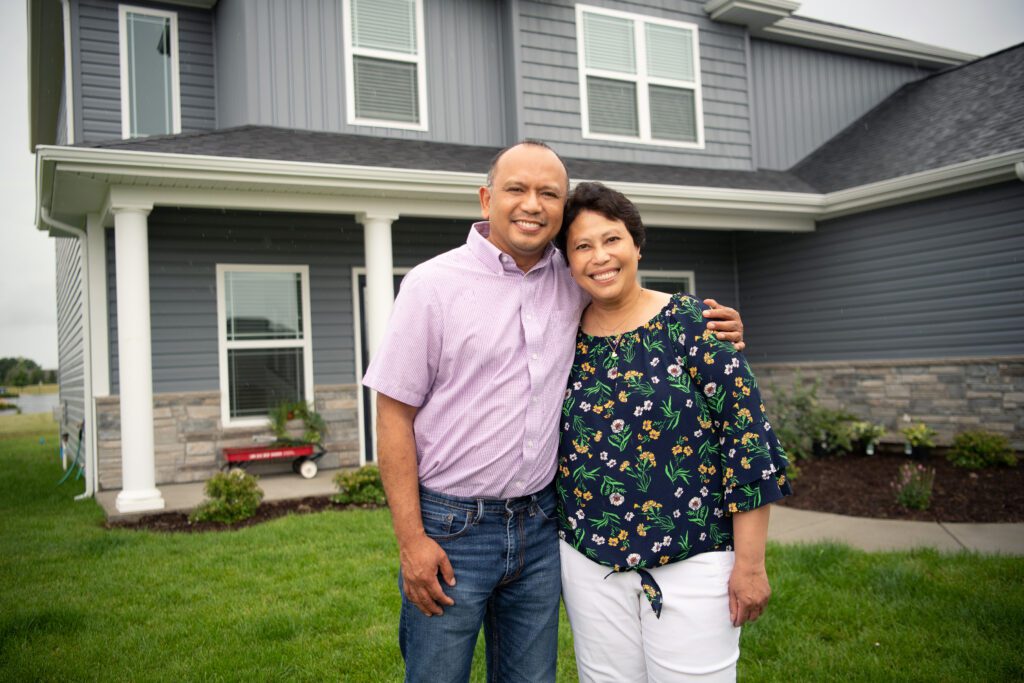 For one thing, entrepreneurship is particularly prevalent among foreign-born residents, who pack a significant economic punch. According to New American Economy, there were 3.2 million immigrant entrepreneurs in the U.S. in 2019. As of 2017, immigrant-owned businesses accounted for $1.3 trillion in total sales.
In the WSJ/Realtor.com index, which ranks the 300 most desirable housing markets in the U.S., foreign-born residents make up 10% of those markets' overall population. West Lafayette had more than twice that share (24.3%), according to U.S. Census Bureau estimates for 2015-19.
This is largely due to Purdue's presence within the community. In fall 2020, a total of 8,158 international students — 17.8% of the overall student body — attended Purdue from 132 different countries, joining 1,741 international members of the faculty and staff.
Bicar and his wife, Cleo, quickly noticed the town was a cultural melting pot after purchasing their home in West Lafayette.
"I love the diversity that the students bring here to the community," Cleo says. "The place is vibrant because you get these people from all places abroad and all places here in the United States. It's a good combination."
The couple agrees that vibrancy is especially noticeable when they go out to eat. The Bicar family loves to sample local cuisines, and they have discovered plentiful dining options in Greater Lafayette, including Japanese, Mexican, Korean and American establishments.
Earl notes that the wide range of culinary options provides a simple example of how diversity can benefit a community.
"We're talking about restaurants, but also the economics of it, the value that it brings to the community, the vibrancy that it provides," he says. "That is actually one of the things that I like about West Lafayette — there's variety."
A Short Commute Pays Off
Lindsay Mason and Dan Milisavljevic
As an entrepreneur who owns her own business — the handcrafted knitwear brand French Knot — Lindsay Mason has a unique understanding of how time equals money. That's why she can't help but appreciate the conveniences associated with living and working in Lafayette since 2017 after launching the company nine years ago in the Boston area.
"I'm able to spend a lot more time on my business because I was commuting over an hour in Boston. Take two hours out of my day and I can only get so much done," Mason says. "Here, I can walk to my office. It's really nice. If I forget something in my office on the weekend, I can just go grab it. That was never a thing I could do before."
Mason and husband Dan Milisavljevic, an assistant professor of physics and astronomy at Purdue, can walk from their home to French Knot's office in downtown Lafayette in about 10 minutes. By car, they can be there even sooner.
Such proximity to work is becoming increasingly rare for Americans, whose average one-way commute reached a new high of 27.6 minutes in 2019, according to the U.S. Census Bureau. Per the Census Bureau's annual American Community Survey released in March 2021, the average pre-pandemic commute in the Boston area took 32.6 minutes, with 15.6% of residents reporting an average commute of an hour or more.
Commuters in Greater Lafayette typically need about half as long to reach their workplace. The Census Bureau reported that Tippecanoe County residents' average commute time between 2015 and 2019 was 17.7 minutes, with West Lafayette residents able to travel to work even more quickly (15.3 minutes) than their Lafayette neighbors across the Wabash River (17.1 minutes).
The commute metric is one component in The Wall Street Journal and Realtor.com's new Emerging Housing Markets Index, which uses real estate market data and other economic measures to establish the best places to buy a home and enjoy living.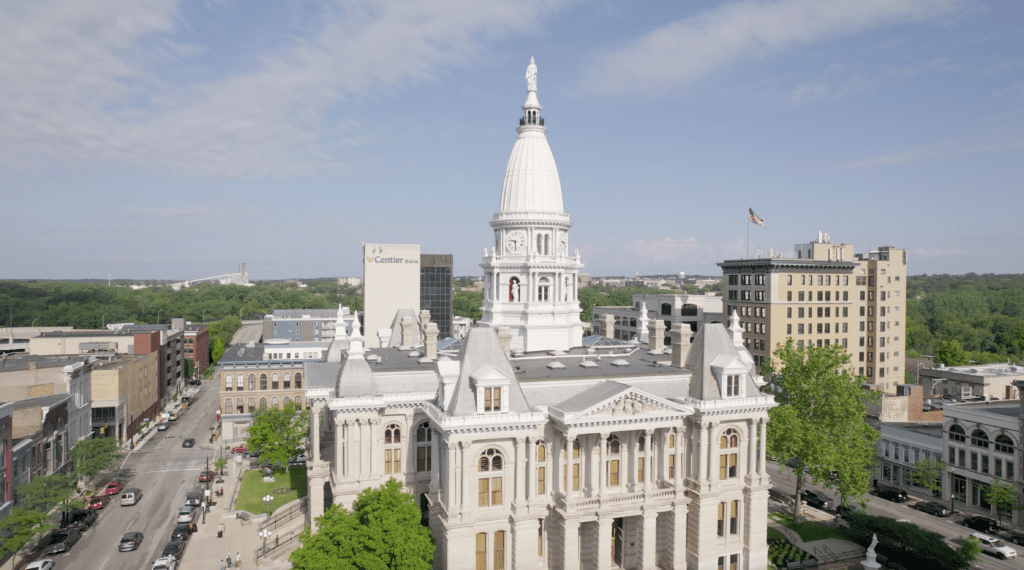 Because of its affordable housing and many favorable amenities like short commutes, Greater Lafayette ranked sixth out of the 300 most-populous U.S. housing markets included in the inaugural index, released in April 2021.
Milisavljevic is quick to point out that short commute times are appealing in every situation, not just when traveling to work. Milisavljevic speculates that he and his wife might actually visit museums or see live entertainment more frequently as Lafayette residents than they did in Boston because it's simply easier to do so.
"We don't have to worry about, 'Oh gosh, how are we going to get downtown? It's going to be terrible traffic. Will there be parking?'" he says. "It's much easier to do these things, to come and go."
Greater Lafayette's location, Milisavljevic adds, also provides opportunities to undertake projects that he would never consider if he and his wife still lived in a dense metro area.
"I'm an astronomer and I love observing the stars. I'm now inspired to find some land so I can build an observatory," Milisavljevic says. "Because the costs are low enough, and within a 20-minute drive it starts getting very dark because of the cornfields, I can now explore that opportunity. I'd never be able to do that in the Chicago, Boston area. There's things like that and a lot more that I'm just grateful to be living here."
Purdue Connection
Monique McClain
With a NASA fellowship among the many impressive entries on her résumé, Monique McClain had no shortage of career options once she completed her PhD in Purdue's aeronautics and astronautics program in 2020.
She chose to remain a Boilermaker, with a new assistant professorship in mechanical engineering set to begin in August 2021. While the decision was complicated, her reasoning was somewhat simple.
"Part of it was having familiarity with the area, which was obviously a pro," says McClain, who has lived in Lafayette since arriving as a Purdue graduate student in 2016. "The second part was knowing the housing market was pretty good here. I can actually afford a house and I don't even need a faculty salary to do that."
Even more compelling was the opportunity to continue her work at Purdue's Maurice J. Zucrow Laboratories, the world's largest academic propulsion lab.
"Zucrow is a very well-renowned lab and that's very appealing to me. Those resources weren't readily available at the other universities I was looking at, or at least not at the same scale," McClain says. "And then we also have a new Purdue Energetics Research Center called PERC that Professor (Weinong) Chen is a part of, and that's been new since I started here in 2016 as a grad student. It's developed into something really awesome, and it was something I wanted to be a part of."
Those research opportunities might not have been enough to convince McClain to remain at Purdue if not for her increased comfort living in Greater Lafayette.
The San Diego native says her biggest adjustment after moving from California to Indiana was not the weather, but the people. At first, she was suspicious when a stranger would strike up a conversation at the grocery store or when a neighbor offered to help with a chore. After a few years as a Lafayette resident, McClain now appreciates the gesture when an acquaintance offers to loan her their lawnmower.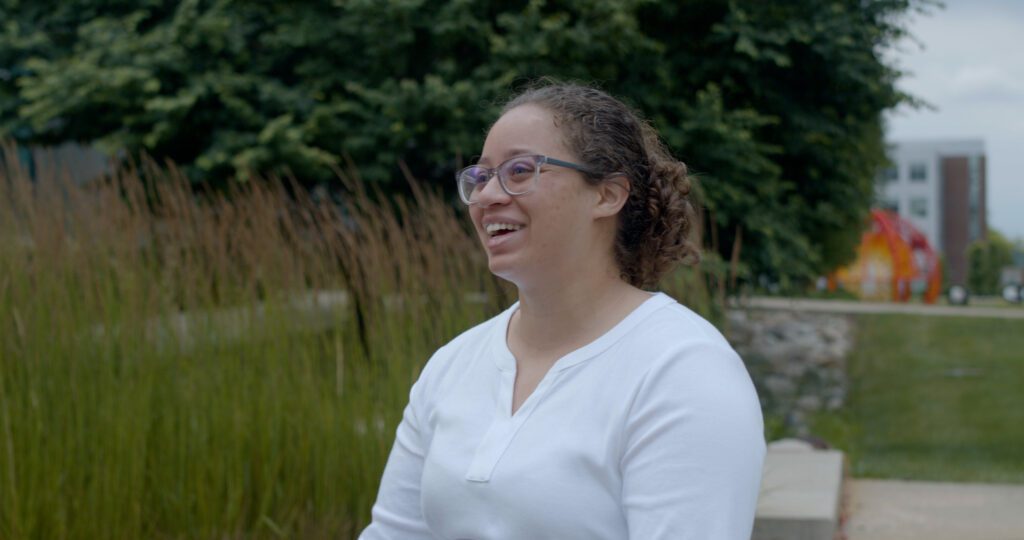 "People are more neighborly," she says. "It's just a little different because there's more space here, there's more time, so that's a nice benefit compared to where I'm from. It's also safer here. I used to be a lot more suspicious because it was like, 'Oh, someone might try to steal something from me.' It's very different here."
Another key factor was that she developed a reliable social circle and identified local activities that make living in the area more enjoyable. For instance, she enjoys cycling and found a number of excellent bike paths in the area that are utilized by Greater Lafayette's active cycling community.
Because of the area's overall appeal — affordability, attractive amenities and an outstanding career opportunity at Purdue — McClain elected to purchase a home in Lafayette in August 2020 and accepted her new position at the University.
"Over time, I realized there are more things to do here than I first realized," McClain says. "Indy's not that far away, so I go to Costco once a month or once every two months. And I definitely like the fall. It's really nice here.
"It was kind of like, 'OK, this is a good starting place for someone who's just starting a career, has no retirement and also wants to work at a great university.'"
Building Careers and a Family
Kayla Sis and Matt Jorgensen
As is often the case among researchers and faculty within the Purdue community, a unique career opportunity brought Matt Jorgensen and his wife, Kayla Sis, to Greater Lafayette.
Because of the nature of his training as an animal science researcher, Jorgensen has long expected to work at large, land-grant universities. So, when he learned of an opening with the USDA's Agricultural Research Service and its Livestock Behavior Research unit based in West Lafayette, he determined that the work and the people involved made this the type of opportunity he hoped to land.
"When this popped up on the U.S. government job website, it felt like, 'Here's a research position at a land-grant university in your field of specialty, yep, let's go for it,'" Jorgensen says. "Then reading more about the group here, both the USDA researchers and the Purdue faculty, it turns out there were several people that I already very highly respected, and that I potentially was going to be able to work with. At that point, it wasn't too hard to jump on at least applying for it. Then coming and meeting them really nailed it down for me."
Matt and Kayla had never visited Greater Lafayette before Matt traveled here for a job interview in March 2020, just before the COVID-19 pandemic swept across the U.S. and shuttered large swaths of the country.
Despite the logistical hurdles that COVID-19 created, the couple believed the Greater Lafayette community would be an easy place to call home after Matt accepted the position. For one thing, they were already acquainted with life in the Midwest as residents of Minnesota's Twin Cities area, just north of St. Paul.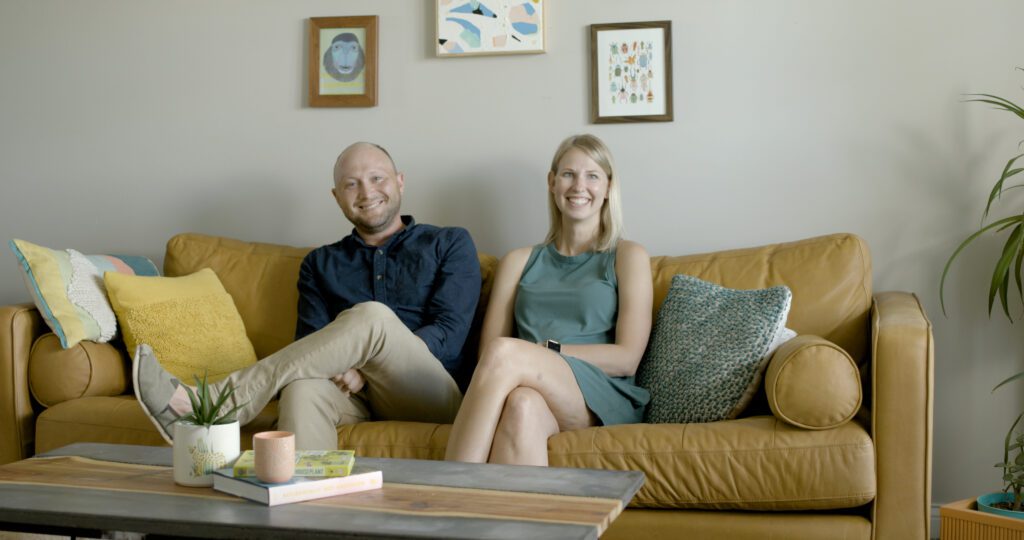 "Even in the couple of times we were able to come visit, we got a vibe that it was fairly familiar," says Sis, a physical therapist at WeeSpeak Therapy & Learning Center in Lafayette. "It wasn't like, 'Wow, we are really going to be out of our element here.' It was a place that, when the world is normal, you feel like you can really get to know people."
In addition, they liked Greater Lafayette's small-town vibe mixed with the entertainment opportunities available in the region.
"You have exposure to some of those cultural elements and are able to go to sporting events and things like that, but you're able to have that more rural vibe to it, too, that people have their little small-knit communities that they feel comfortable in," Sis says. "It's kind of the best of both worlds in that sense."
As outdoor enthusiasts, the couple found an ideal home in Battle Ground that features access to the Tippecanoe River and two acres for their standard poodles, Rudy and Ferdinand, to patrol. And before long, they will have a new family member to chase around the yard. Kayla is expecting their first child in October.
With a little one on the way, Jorgensen and Sis face an entirely new set of community considerations. Thankfully, Greater Lafayette has a well-earned reputation as a good place to raise a family because of its manageable cost of living, strong schools, low crime and vast array of family-friendly festivals and events.
Although Purdue is not solely responsible for these positive qualities, Jorgensen quickly recognized upon moving to the area that the University is involved with much of what makes it an appealing place to live.
"It's central to a lot of the important aspects of living in the area," Jorgensen says. "It brings in a diversity of people, arts, sports. I think having a school that size in a city this size is incredibly valuable."
Learn why The Wall Street Journal and Realtor.com ranked Greater Lafayette among the top housing markets in the United States.