Back To Top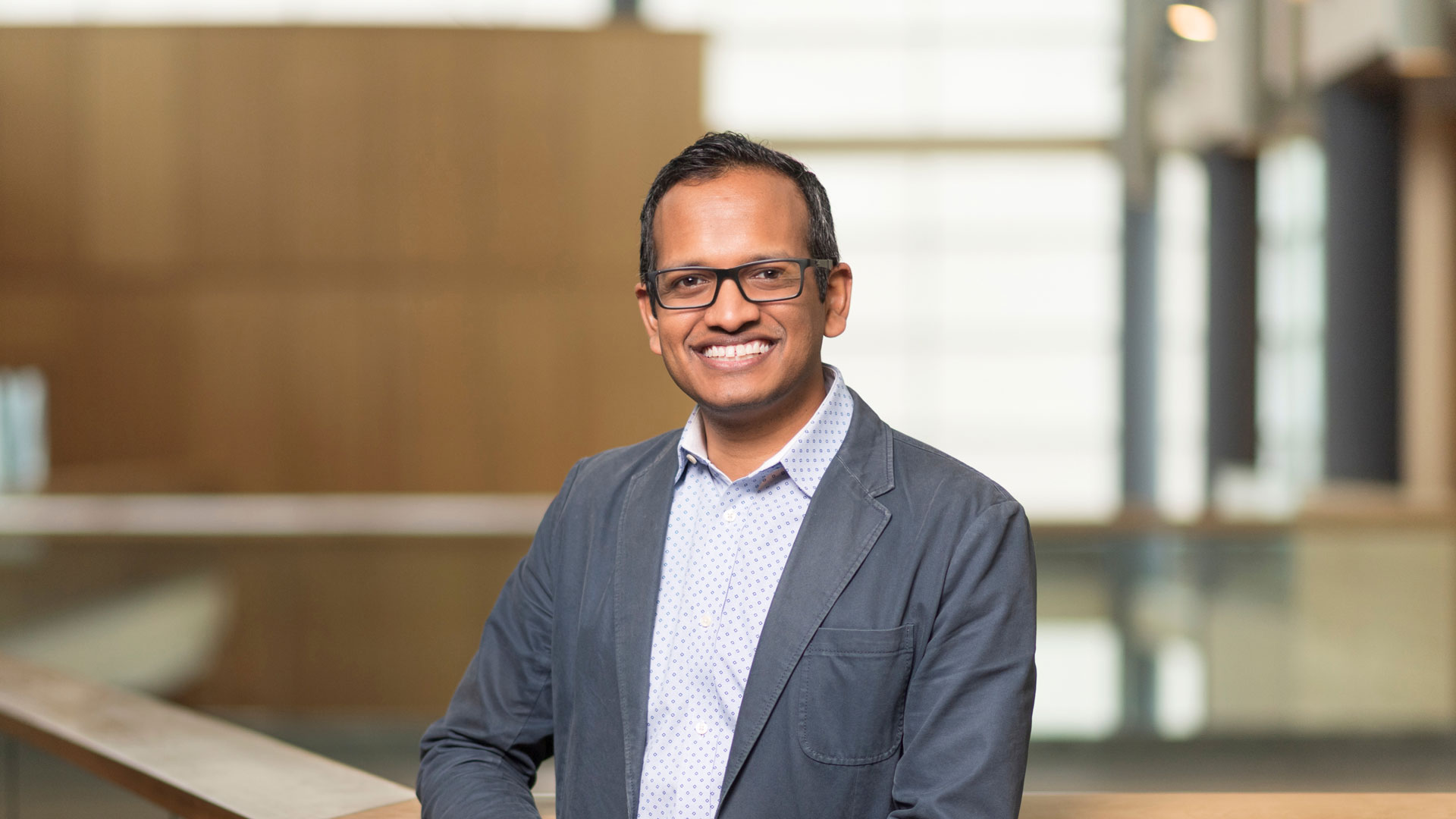 As a professor in the rapidly evolving field of computing, Milind Kulkarni prepares students to think through issues they might face in the future
Computing is constantly evolving.
Today's cutting-edge hardware or software solution may soon be cast into the dustbin of history as technology advances and new products overtake the once-ubiquitous market leaders.
Milind Kulkarni understands this reality, which is why the professor of electrical and computer engineering (ECE) is concerned with more than teaching Purdue students about current standards. And instead of emphasizing only the facts that they must regurgitate in order to pass the upcoming exam, he wants his students to train their minds to process issues they will confront many years from now.
"I think this is especially important in computing, where the field changes so quickly, and the things that I learned even 10 years ago are not on the cutting edge now," says Kulkarni, who was recently announced as a 2022 recipient of the Charles B. Murphy Outstanding Undergraduate Teaching Award, Purdue's highest undergraduate teaching honor. "What we try to teach students is, 'Here are these foundational concepts that train your mind to think about problems a certain way so that when you see the next new thing, it's easier for you to learn the next thing and the next thing.' We want people to think through problems in a systematic and logical way so that when they see the next problem, they know how to tackle it."
A puzzle to solve
As far back as Kulkarni can remember, he wanted to be the student in class who knew the answers to all of the teacher's questions. As an instructor, he wants to excel at the opposite end of that equation. Driven by the pursuit of the a-ha moment where a student finally, visibly grasps the complex concept he's conveying, Kulkarni will do whatever it takes to help that realization occur.
"I love to see a student's eyes light up because they suddenly realize that they figured something out," he says. "If I can give them that feeling, it's super rewarding."
A common issue he encounters is connected to the variety of learning styles present in the computer science and data science courses he teaches, especially in a class like ECE 369 (Discrete Mathematics for Computer Engineering), with more than 300 students enrolled.
With so many learners present in one room, he might have to adjust his delivery multiple times until he finds the analogy that resonates for a puzzled student. He additionally maintains an active presence on his classes' Piazza online discussion boards and maintains an open-door office policy, providing students with multiple avenues to resolve their concerns.
"The way that I learned something and the way that I understood something is not always the way that other people are going to be able to learn it or be able to understand it," says Kulkarni, who serves as associate head for teaching and learning in ECE. "I always have to come at problems from multiple angles to figure out how I can reach the students and how I can get them to learn something. It's a kind of puzzle to solve. How do I explain this idea to somebody so they can get it? And seeing them get it, that is the thing that excites me."
We want people to think through problems in a systematic and logical way so that when they see the next problem, they know how to tackle it.

Milind Kulkarni,
professor, electrical and computer engineering
Accessibility and patience
Kulkarni is known among his students for accessibility and a willingness to stick it out beside them – without judgment – until the lightbulb finally flickers on. Since he joined the Purdue faculty in 2009, students have frequently cited these qualities in course-review feedback that helped him win eight instructional awards across department, college and university levels before winning the 2022 Murphy Award.
Of course, Kulkarni is flattered by the positive reactions to his approach, but his knack for exerting the intellectual flexibility to change his message on the fly also has its challenges. It can be as physically exhausting as it is spiritually invigorating.
"When I come out of the classroom, I'm buzzing because it's been a ton of fun, but I'm also really tired," he says. "When I teach, it's not just reciting something you memorized or giving a lecture exactly the same way that you've given it 100 times before. You're reacting to what the students are giving you, you're reacting to the questions they're asking, you're reacting to the places where they look a little confused or they look like they're getting it and you're tailoring the message you're giving them to fit that." Kulkarni takes great pride in the impact he makes as an instructor, especially at a university at which the supportive environment allows him to teach and conduct research while also helping to raise two small children. But make no mistake, he remains fully dedicated to upholding the standard of instructional excellence that defines his department.
"There are a lot of top research universities where I wouldn't even say teaching is secondary. Teaching is tertiary. Teaching is just the thing you have to do to pay the bills," Kulkarni says. "I've never felt like that here. The top people in my department are people that really care about teaching."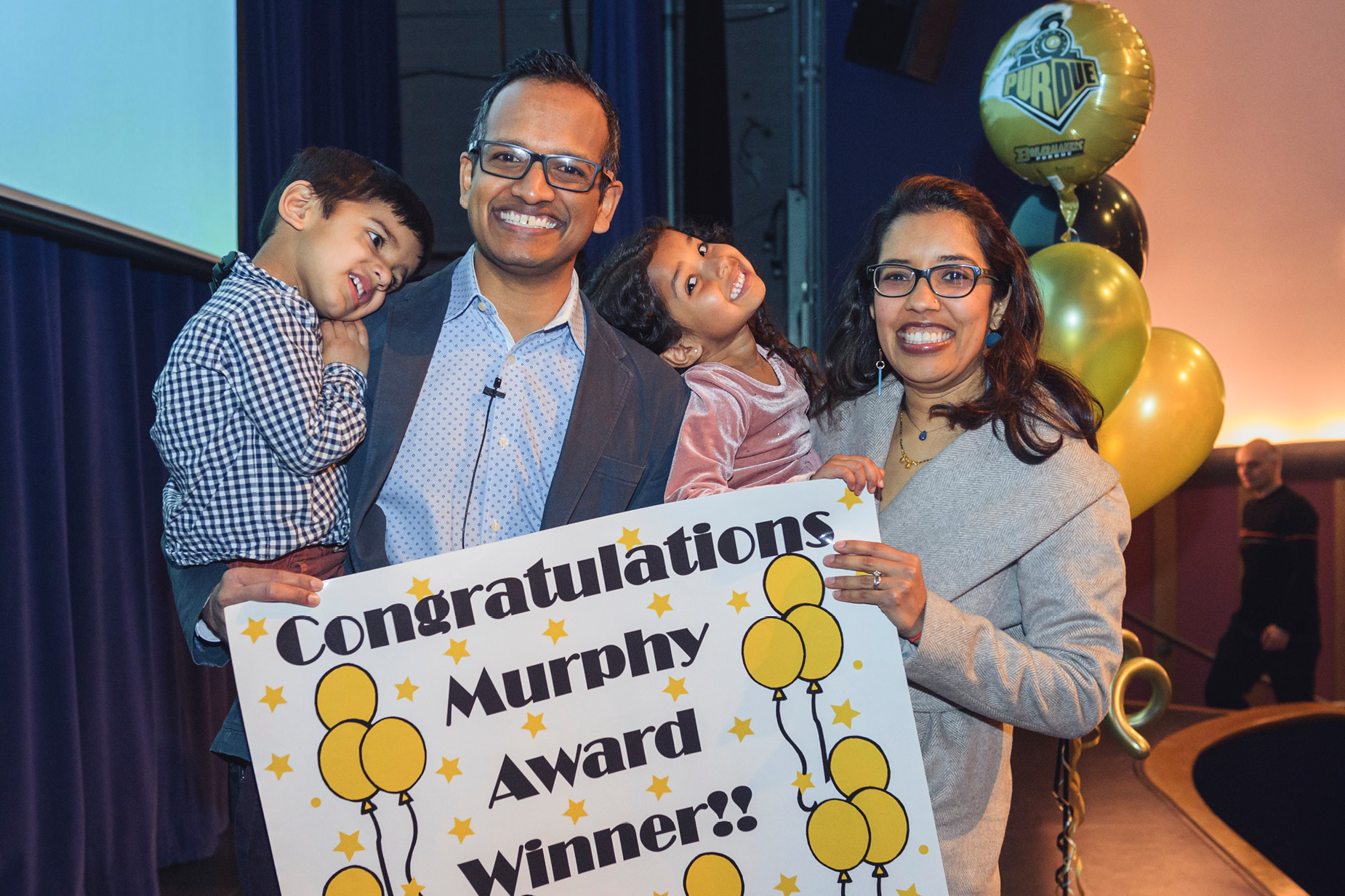 I always have to come at problems from multiple angles to figure out how I can reach the students and how I can get them to learn something. It's a kind of puzzle to solve. How do I explain this idea to somebody so they can get it? And seeing them get it, that is the thing that excites me.

Milind Kulkarni

Professor of electrical and computer engineering