Back To Top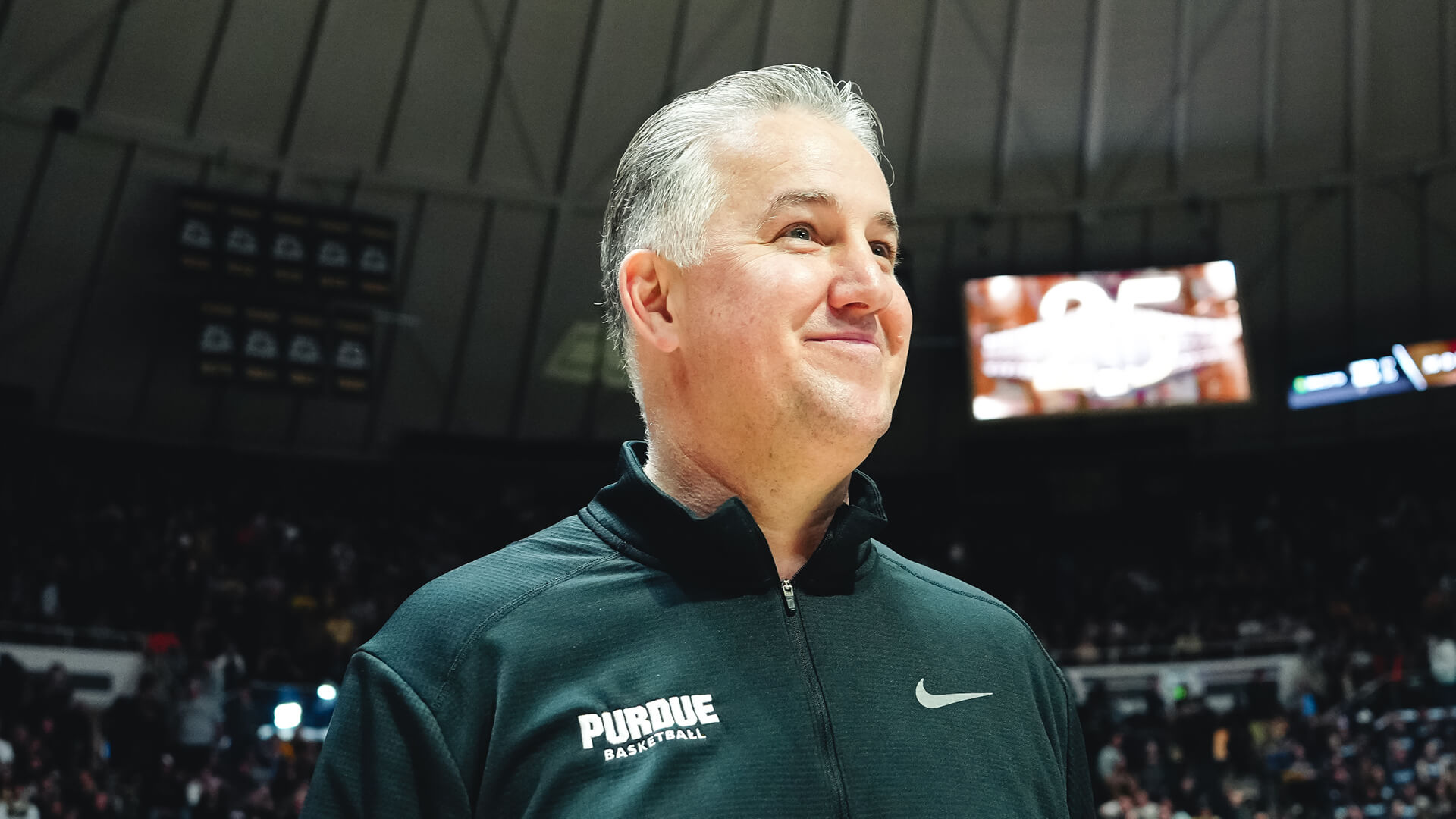 Purdue alum, now head coach Matt Painter's hoops program always evolving
When enduring the toughest moments of an otherwise tremendously successful 2022-23 season, Purdue men's basketball head coach Matt Painter reverts to what he knows best.
Process.
Work ethic.
Search for excellence.
Humility and gratitude.
"It's all about the process, and whether we win or lose, that is what we have to focus on," Painter tells the media following a rivalry game setback against Indiana.
Anybody can have a good team; a good program has sustained success. And they do it within the rules, and they graduate their players. There is nothing more, nothing less.

Matt Painter
Purdue men's basketball coach
Albeit with inevitable bumps in the road during the latest run by Painter's crew, there has been much winning lately. After all, the Boilermakers earned their 25th Big Ten Conference championship with two games to spare in the regular season. But that doesn't change anything for the Boilermaker team or staff. It's on to the next practice with a focus on improvement.
Painter's program has been among the elite in college basketball, reaching even higher levels in the past two years. The Boilermakers became the first Big Ten team in 45 years to be ranked No. 1 in back-to-back seasons. Yet the word elite isn't at the top of Painter's vocabulary.
He refers to legendary football coach Bill Walsh, who used the term excellence when working to build an NFL dynasty with the San Francisco 49ers.
"Excellence is just sustained success; that's all it is," says Painter, known in basketball circles for his "beautiful" basketball mind and the rare ability to communicate through simplicity. "Anybody can have a good team; a good program has sustained success. And they do it within the rules, and they graduate their players.
"There is nothing more, nothing less."
'He just outworked everybody'
But achieving that success has, indeed, been a process. After serving as coach-in-waiting for the legendary Gene Keady, Painter won just nine games in 2005, his first season at the helm. But that is where the rebuilding began – getting enough talent to compete at the Big Ten's highest level.
He spent the apprentice year in 2004-05 doing the things necessary to lay the foundation for winning and recruiting four top-level players, three of whom would be the basis for the program's re-emergence: Robbie Hummel, JaJuan Johnson and E'Twaun Moore.
"He just outworked everybody. It seemed like he was at every game of mine when I was in high school," Hummel says. "The Nike All-American camp, Peach Jam, it didn't matter. He was everywhere."
Painter is a rare coach who likes to see prospects in season in the high school environment. The week of the Indiana game, he trekked to southern Indiana to see a high school sophomore. And that work ethic in recruiting and other areas continues to this day.
"I look at it as I get the opportunity to see kids that might mold our program down the road," Painter says. "I need to see kids in their environment and evaluate what they are like on and off the court as much as possible."
There are no shortcuts in Painter's process.
And in recruiting, Painter and his staff have established the reputation of finding diamonds in the rough. Braden Smith, Purdue's standout freshman point guard, wasn't offered a scholarship by any program close to the Big Ten level. Zach Edey flew far under the radar of the "elite" programs.
"There's no politics at Purdue or Coach Paint," Edey says. "He is very straightforward. If you are good enough, you will get a chance to play."
But how things were done after Edey arrived in West Lafayette reinforced that the Toronto native chose the best college.
"It's all about accountability to the program and each other," Edey says. "I may be a candidate for national player of the year, but I have to do the same things as everyone else. I haven't missed a class (when Purdue's not traveling) in a couple of years because that is the expectation of my teammates and me. It is what you do in Paint's program."
Edey's teammate, Mason Gillis, says Painter models doing the little things well, ultimately leading to success.
"He is not a good leader. He is a great leader," says Gillis, who says the most significant difference between this year's team and last is that everyone buys into what the coaches are saying. "From a leadership perspective, I have learned it doesn't necessarily matter what you do when leading a group of people; it is sticking to what you do. And our coach does that every day, and it helps all of us stick together."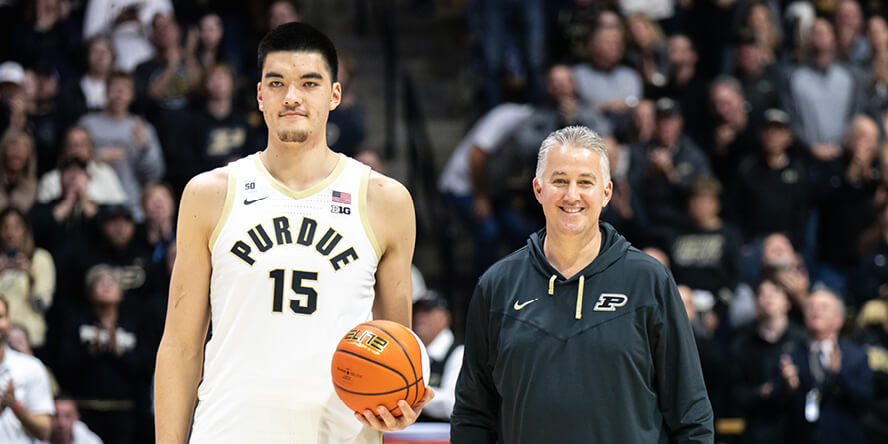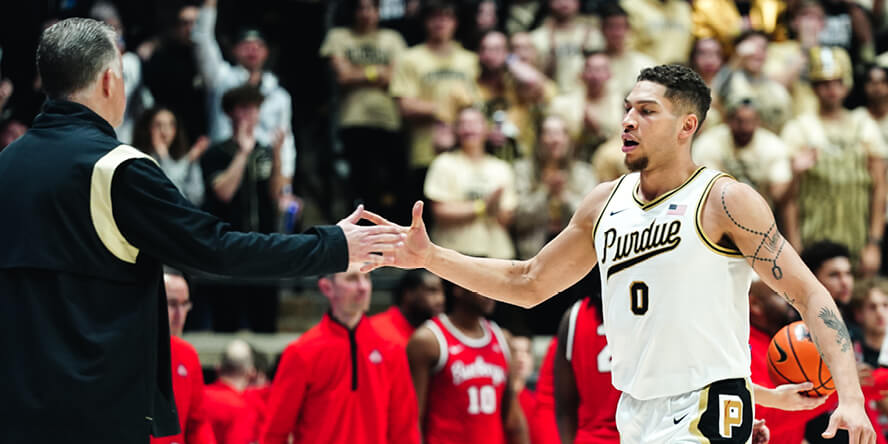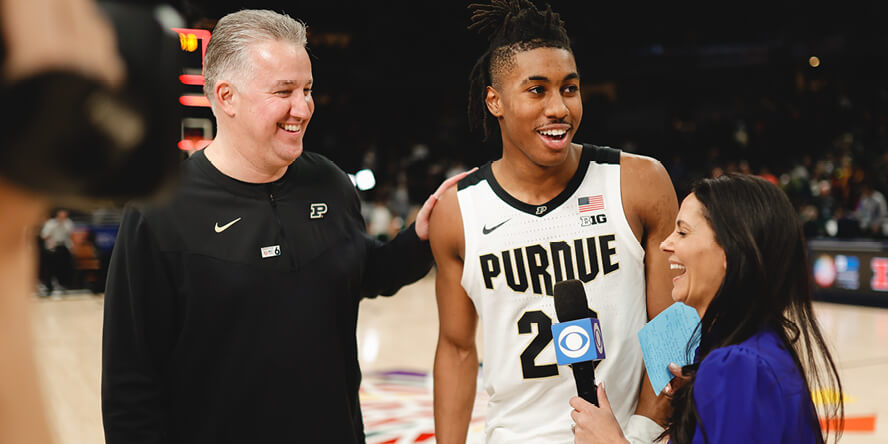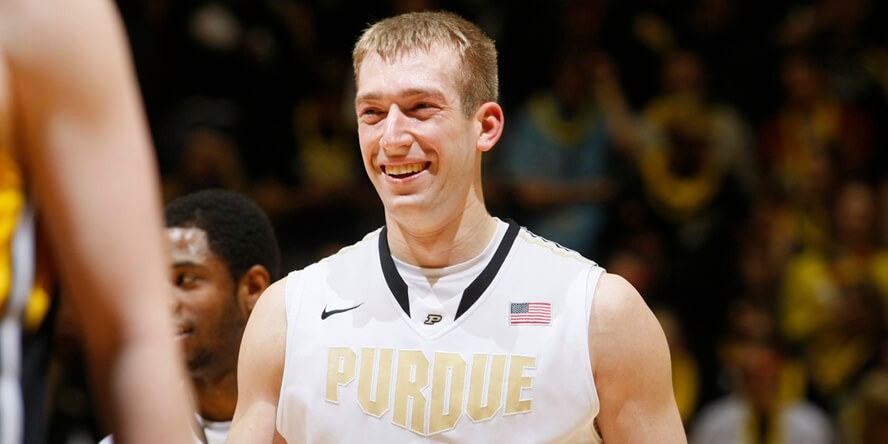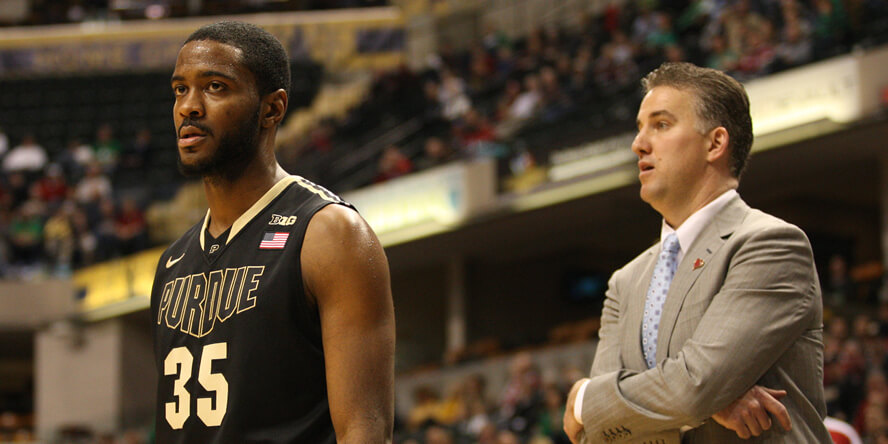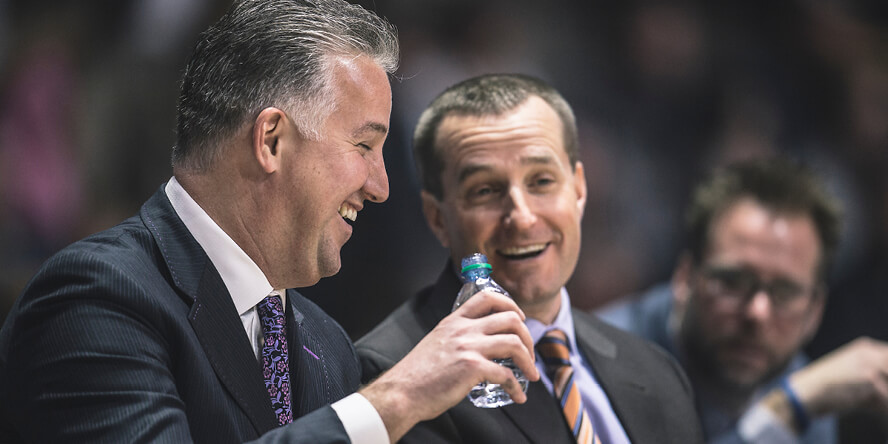 Overcoming challenges
And while Purdue is riding high now as a national contender, there have been tough times under Painter. Two subpar seasons, including a last-place finish, caused some to give pause about the program's direction. It is often said but rarely followed that we learn about our character when things aren't going to plan, in the lowest moments.
"In my junior year, we lost three straight games – to North Florida, Vanderbilt and Notre Dame," says Rapheal Davis, current Big Ten Network analyst and 2015 Big Ten defensive player of the year. "We were sitting around in the locker room, and I remember telling (teammate and current director of player development) P.J. (Thompson) that Paint is going to get fired.
"As a player, you don't want your coach to get fired, and we watched him stay the course and be true to himself. He knew it was a business, and the reality was he needed to win, but he never lost focus on what it took to get to the highest level."
In reality, university officials never lost faith in Painter. Purdue Board of Trustees chair Mike Berghoff, who served as the board's liaison to athletics for years, was confident things would turn around. And whatever patience university officials needed to show during those downtimes has paid off.
Still, an area that Berghoff likes most about Painter is the desire to always do better, and the fact that when the program needs to improve in an area that needs board support, Painter always has a solid reason.
"I understand the passion for getting to the Final Four and wanting to win a national championship, and I think it's appropriate," Berghoff says. "I think it's essential that the university and the coaching staff know that's the expectation, but I have no doubt they know it because they want it worse than we do. The men's basketball program lives every minute of every day with that as the goal."
Painter believes that expectation from every administration level is critical, as is the alignment between the university and athletic administration and the men's basketball program.
"We get everything we need to be successful," Painter says. "Yet it is a fine line. We want to have what we need without being needy. We strive to be low maintenance as a program."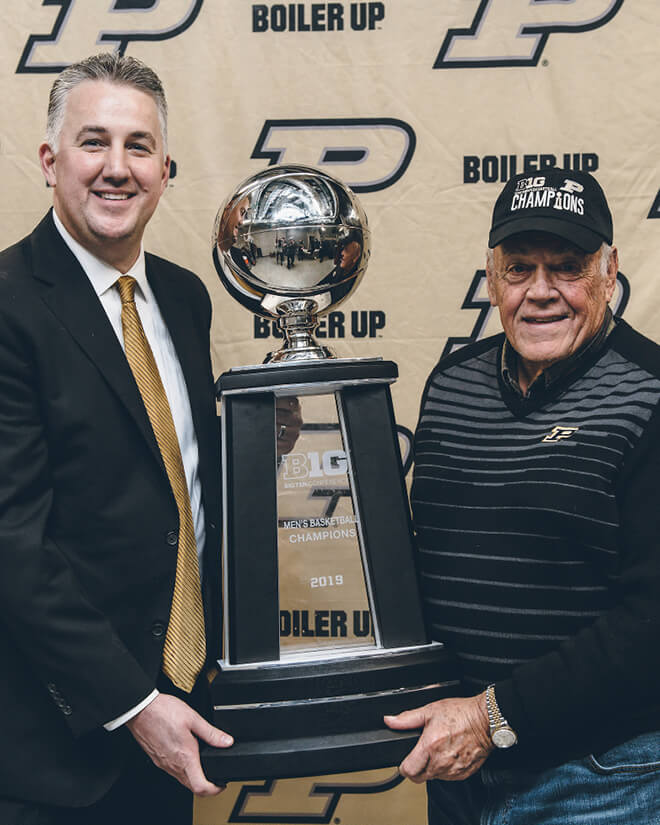 Approaching a breakthrough
Berghoff is confident Purdue will break through to the Final Four sooner rather than later under Painter. So is Hummel.
"He's so committed to doing it right," Hummel says. "And it takes them longer, it takes him longer, but he won't cut any corners. He's not going to cheat. He won't sell his soul to the NIL (name-image-likeness) or the transfer portal.
"He is confident in who he is, which makes him special. He has grown into exactly the coach he wanted to be."
Director of basketball operations Elliot Bloom, who has been around the Purdue men's basketball program since his college days in the 1990s, looks at getting to the top in college basketball like climbing Mount Everest.
"Each year, our base camp gets a little higher up the mountain, which leaves us a little less far to climb," says Bloom, who is one of Painter's most trusted associates. "We want to break through and get to the Final Four and put ourselves in a position to win a national championship.
"Until you get that, you're never satisfied, but at the same time, there are about 300 programs that would love to trade places with us."
Painter will continue building the best team with the best character individuals at all program levels.
"You have to make sure you're doing your homework, make sure you keep digging, make sure you're asking the right people to get the answer," says Painter, referring to recruiting but relevant to all areas of his operation. "You have to be grateful for opportunities; you have to be humble. You have to be coachable.
"If you have those qualities, having a competitive spirit and enough skills, you're getting somewhere. I call people with those qualities multipliers. Robbie Hummel is a multiplier, and Braden Smith is a multiplier. They are more than just one player; they make other people better."
In all, it is in the process of building, and continuing to build, a program that is a model in the college basketball world.
Written by: Alan Karpick, akarpick@goldandblack.com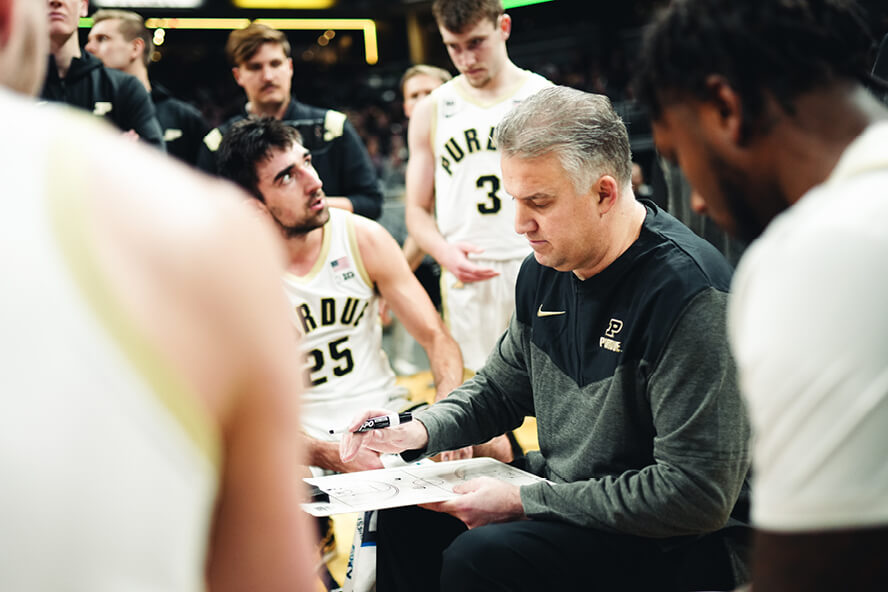 (Matt Painter) is confident in who he is, which makes him special. He has grown into exactly the coach he wanted to be.

Robbie Hummel

College basketball TV analyst and former Purdue All-American