Back To Top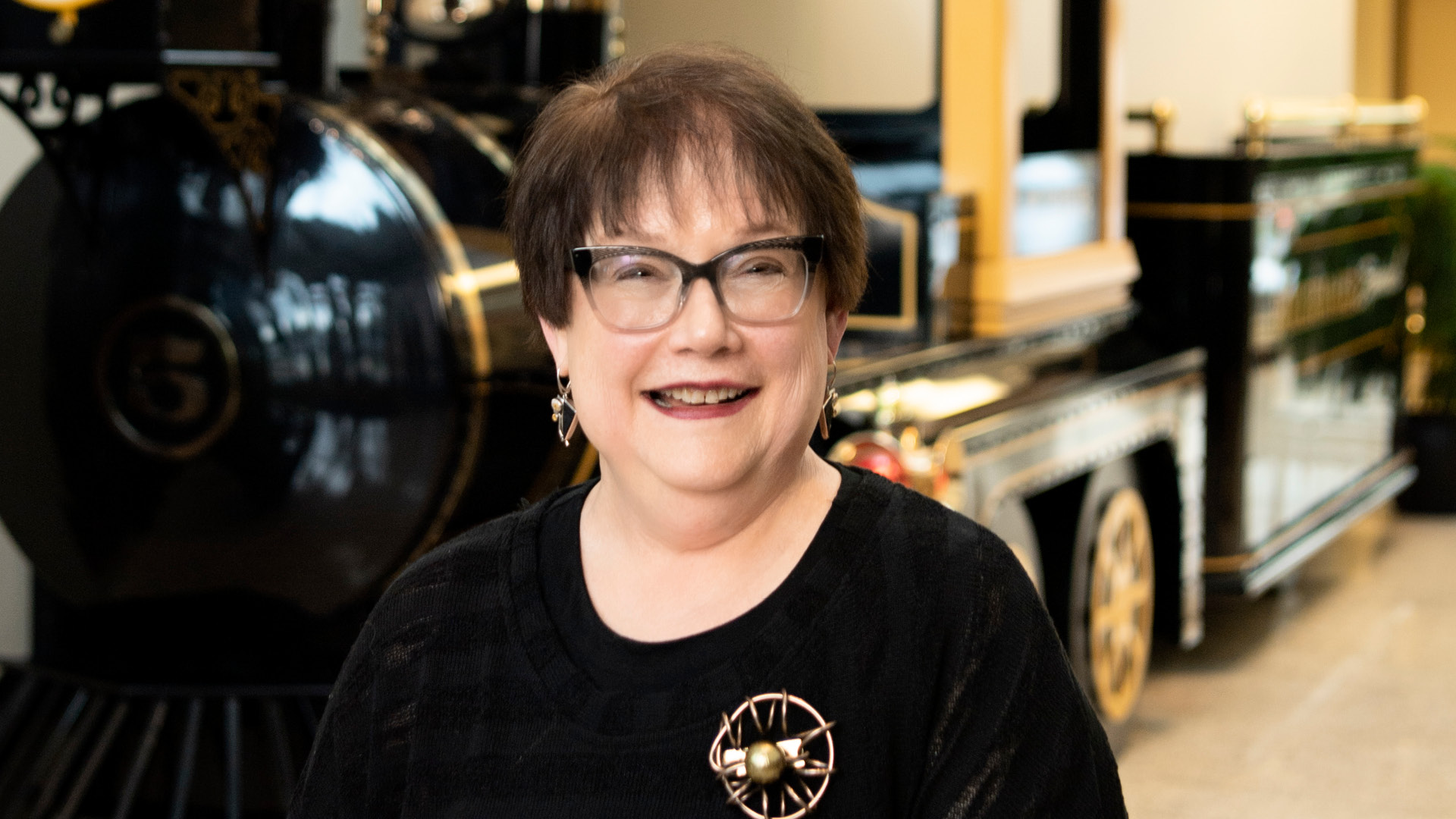 A Boilermaker's passion for education inspires investment in the future
For Joanne Troutner, Purdue University is more than her alma mater. It's a family.
"How could I not want to give back?" she asks, voice ripe with sincerity.
Troutner graduated with a bachelor's degree in English and media science in 1974 and then with a master's degree in library science two years later. She describes Purdue as a launchpad — "A place where I was allowed to be excellent."
Her decades-long career as a K-12 educator only makes her passion for giving back to Purdue burn brighter.
"Being an educator, you look at how can you impact the future. What can you do for students?" Troutner says. "Purdue gave me a lot. So they're entitled to expect me to do a lot." Troutner describes herself as someone who thinks broadly, and today she is translating that into giving broadly. She is one of the University's most frequent, and most passionate, donors.

Through her giving, Troutner supports diverse areas across Purdue's campus: the library system, a number of student scholarship programs (including one in the College of Agriculture named for her parents and another in the history department named in honor of her husband, Lary W. Troutner), the Purdue Women's Network and the College of Veterinary Medicine.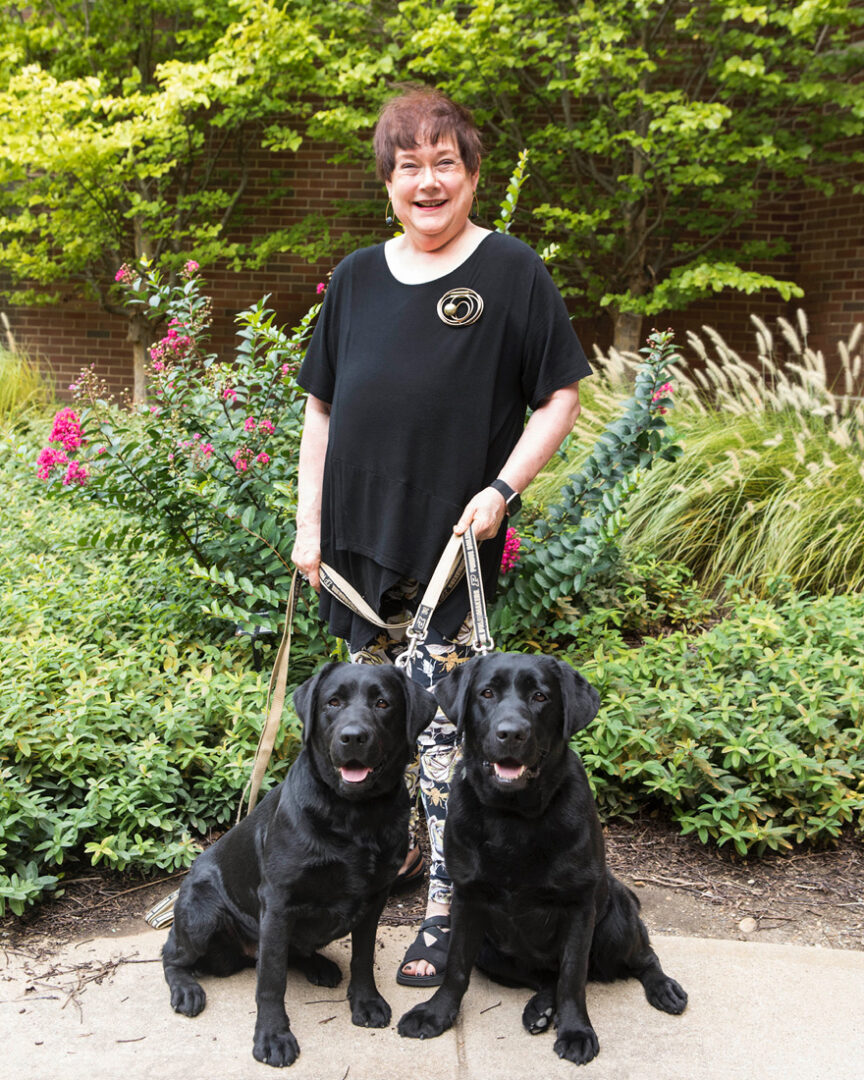 "The Troutner kids have always been four-legged, so they go to Purdue as their vet," she says. "Of course I would support the vet school."
For her, supporting the University is about securing the future and sustaining the community.
"That is the heartbeat and foundation of our University," Troutner says. "Without those relationships, you don't learn. You don't progress. You don't pursue excellence."
Troutner wants to do her part to make the Boilermaker community — the Purdue family — as welcoming and inclusive as possible.
"I felt it was very important to have an opportunity to give back in the area of underrepresented students, staff and faculty," she says. "We need to be ready to prepare leaders. It's essential that Purdue continue their pursuit of excellence by including underrepresented students and faculty and staff."
You can give back at whatever level is appropriate. And to wherever your passion is. Think about where you want to make an impact.

Joanne Troutner
A lifelong love for Purdue
Joanne met her husband at Purdue when the two were undergrads. They shared countless memories during their time together on campus: Lary's participation in the Air Force ROTC, the Armory, Angel Flight (now called Silver Wings) and working in the press box during football games.
The memories don't end there. Purdue remained integral to the Troutners until Lary's passing in 2011. And to this day, Joanne stands tall among the University's most enthusiastic supporters.
Mentoring young Purdue women is one of Troutner's biggest passions. "It's just part of who I am," she says. "I wish I had someone do that for me when I was that age."
Recently, Troutner had the chance to sit down with one of her mentees, Molly Grotjan, a graduating senior with a major in agribusiness.
Naturally, life after graduation is front of mind for Grotjan.
"What advice do you have for graduating Boilermakers, like me, who are ready to take their next giant leap?" Grotjan asks.
"My first advice is to celebrate your graduation — you have earned it," Troutner says. "My second piece of advice is, learn to look from multiple points of view. That skill serves you so well regardless of what profession you're going into. Look broadly because that's going to help you in your pursuit of excellence."
When it comes to mentoring relationships, however, Troutner is quick to point out that she has learned just as much from students like Grotjan as they have from her.
"I think lots of times when we look at the mentor-mentee relationship, you kind of assume it's one-sided — that is so not the case," she says.
"What lessons from mentorship stick out most to you?" Grotjan asks.
Smiling, Troutner has a list prepared, enumerating the ways she has grown through her mentoring relationships. "I have learned how to be a better person, how to be a more inclusive person," Troutner says. "I have learned how to support areas that I would not have been aware of. I've learned how to communicate in this current world. It's changed, certainly, since I was in college, and I have learned so much. It's helped me become more empathetic."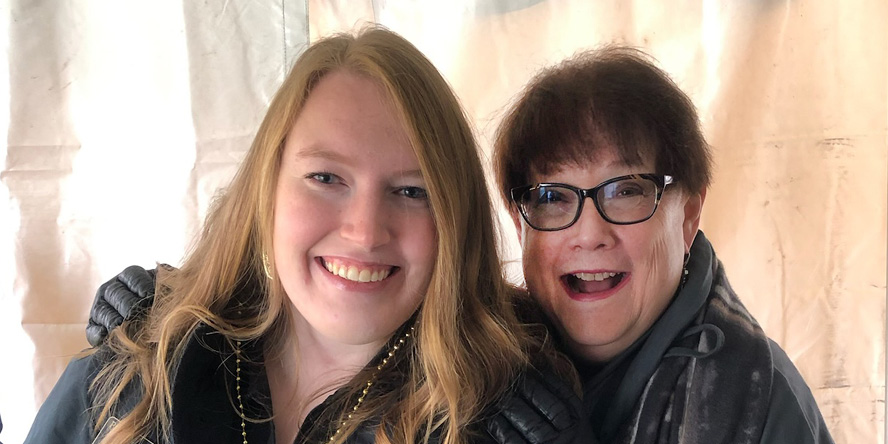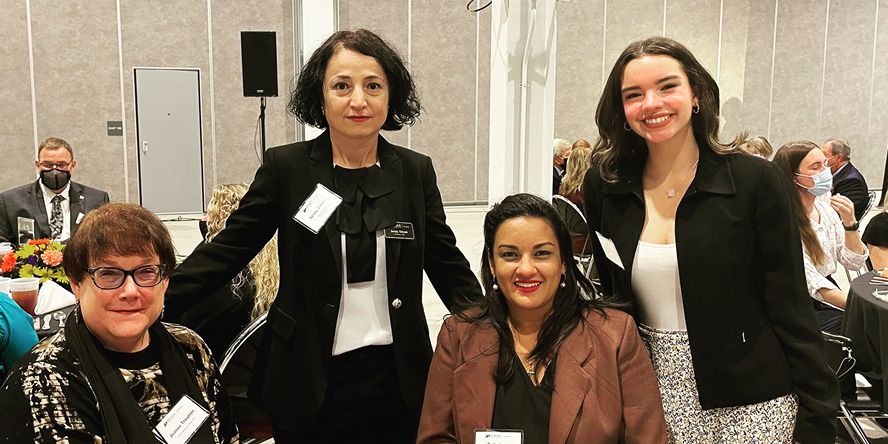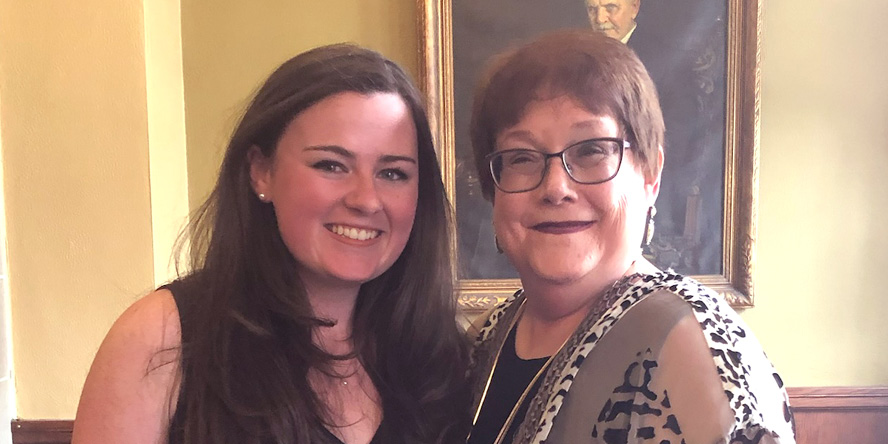 Everyone can help
"So when I think about myself, a senior graduating from Purdue this spring, why should others consider giving to Purdue, especially if they're a young alum?" Grotjan asks.
"I do understand fully that walking out the door with your diploma, having that first job, you have lots of expenses," Troutner says. "But you can give back at whatever level is appropriate. And to wherever your passion is. Think about where you want to make an impact. Where do you think your money can help?"
Troutner encourages alumni further along in their career to give, as well.
"Purdue has given you so much, you're at a point in your career where you have reaped the benefits of your Purdue education, you have reaped the benefits of the excellence that Purdue provided you," Troutner says. "You need to give back. It is part of what we do as Purdue graduates."
Looking to the future, Troutner is optimistic.
"I see Purdue is still a leader across the nation. I see Purdue pursuing excellence. I see Purdue taking those giant leaps — sending the first person to Mars, making a vast number of improvements in medical, from the Cancer Research Center to vet med, to our biology. The future's so bright, because of our students and the caliber of students that we recruit."
Ultimately, that impact is what it's all about for Troutner. "You leave your legacy; you give back to areas that are your passion — what you find important and impactful."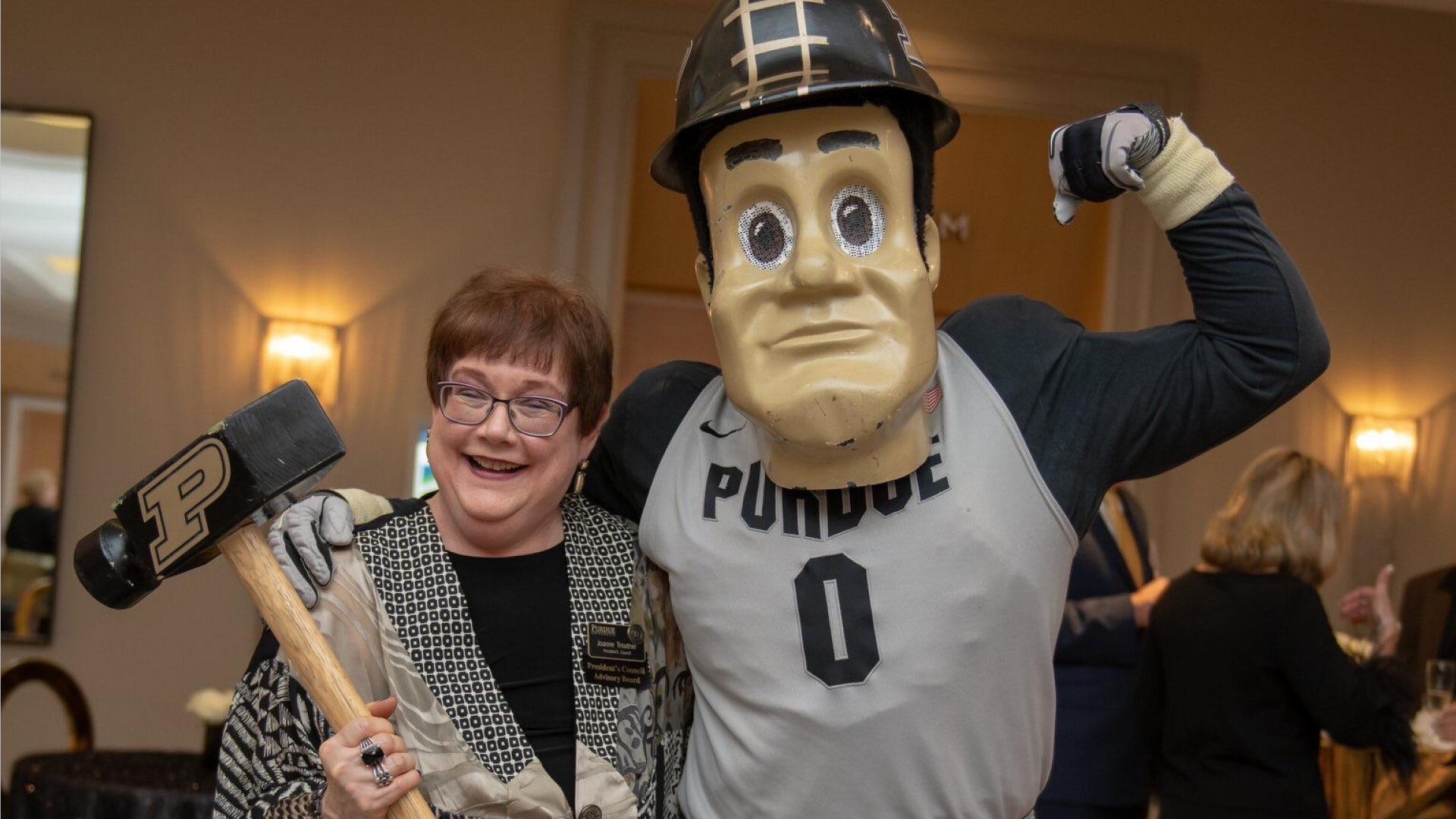 Purdue gave me a lot. So they're entitled to expect me to do a lot.

Joanne Troutner
Make Your Impact
The 2022 Purdue Day of Giving is Wednesday, April 27. How are you going to make your mark on the future of the Purdue community? Explore giving options here: https://dayofgiving.purdue.edu/