Back To Top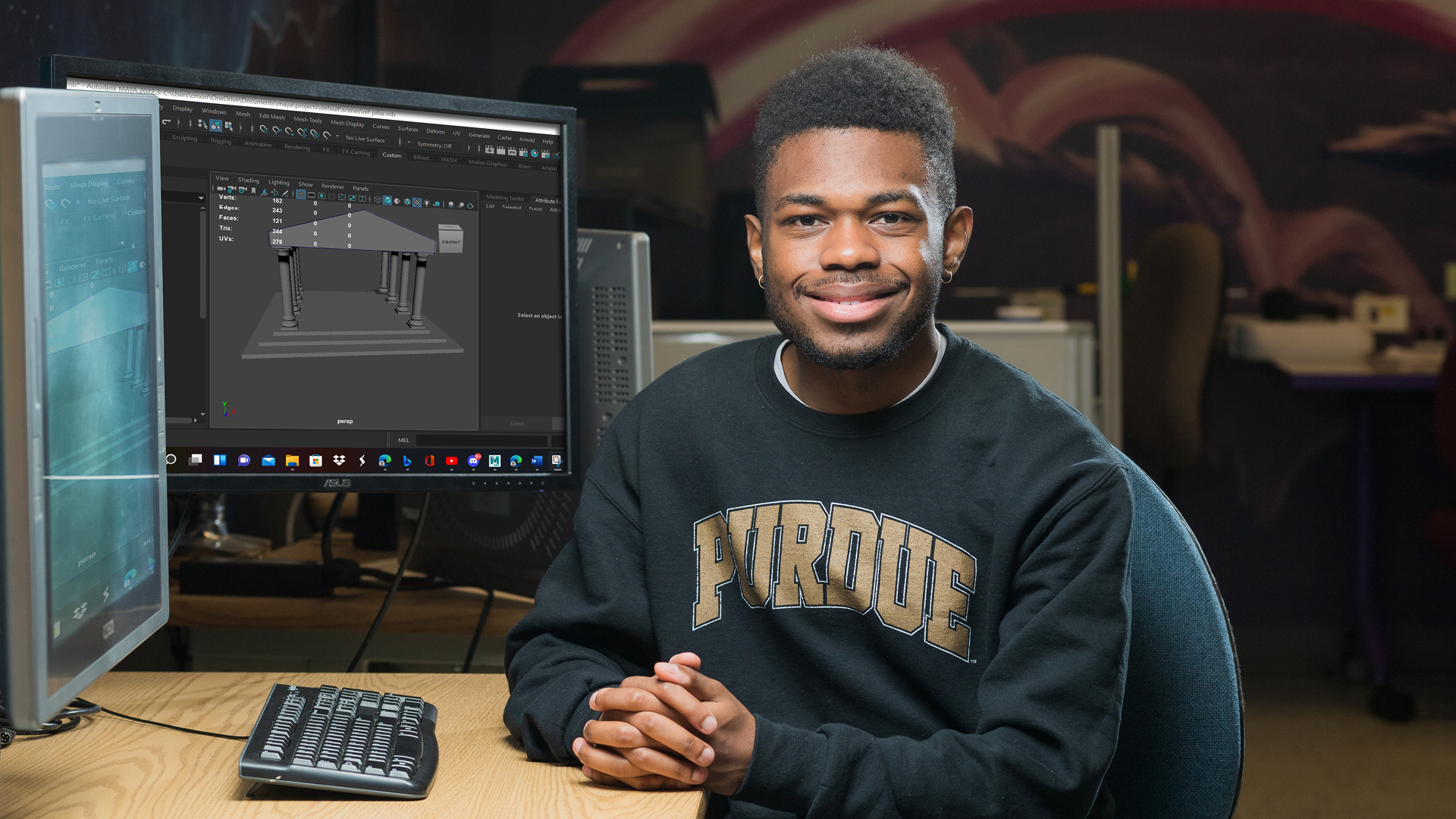 Purdue sophomore Chase Morris makes use of his father's military benefits and to follow his passion for game design
When Chase Morris applied to Purdue, he viewed the University as his dream school.
"I knew that Purdue is a really good school, and I knew it would look great on my resume," Chase says. "That name recognition is important. If you go to a school like Harvard, for example, people will think of you a certain way right off the bat. I knew that Purdue had a similar reputation."
If you go to a school like Harvard, for example, people will think of you a certain way right off the bat. I knew that Purdue had a similar reputation.

chase morris
Sophomore, Game Design major
When Chase found out that he was admitted to Purdue, he was thrilled. "My parents were really happy, too."
Next for Chase and his parents was making their college-costs game plan. By working with Purdue's Veterans Success Center and exploring the benefits available to him as the son of two veterans, Chase discovered he had more options than he thought.
The GI Bill
Chase's parents, Lee Morris and Rita Boyd Morris, both served in the U.S. Army. While he was on active duty, Lee Morris received his associate, bachelor's and master's degrees in computer science and information systems through a degree assistance program available to active-duty service members. Rita Boyd Morris received her bachelor's degree in nursing.
"I know what education can do for a person," says Lee, who retired after 30 years of military service and now works as a contract specialist for the General Services Administration, an agency within the U.S. government.

"My father didn't grow up with much. Same with my mom," Chase says. "Although going into the military wasn't necessarily my parents' only option, it did allow them to build skills, take on responsibility, go to college and find success in life."
The U.S. Army sets veterans and their families up for success through programs like the GI Bill, a set of benefits available to veterans, service members and their immediate family. Lee Morris became eligible to use or pass on GI Bill benefits through Chapter 33 of the Post 9/11 GI Bill.
"The Post 9/11 GI Bill says that if you were honorably discharged and if you served within certain years after 9/11, you (or your immediate family member will) receive benefits that will pay for your tuition, books, and room and board," Lee says.
Lee applied to use the GI Bill benefits for Chase's education, and Chase doesn't take the opportunity lightly. "College can be really expensive," Chase says. "The costs gather up over time. You don't want to be in debt and owe people money. I'm very thankful for the opportunity to go to college and earn my degree. It feels amazing."
While Purdue has held tuition costs flat for 11 years straight, many U.S. universities have seen significant increases.
"The cost of a college education can be $100,000 or more," Lee says. "Because I served in the military, our family's resources are freed up for opportunities beyond education. It's a privilege to give my benefits to my son."
Chase wanted to ensure that going to college would not put him in a mountain of debt. Thanks to the tuition and room and board benefits he received through the GI Bill and Purdue's frozen tuition, Chase will graduate without any student loans.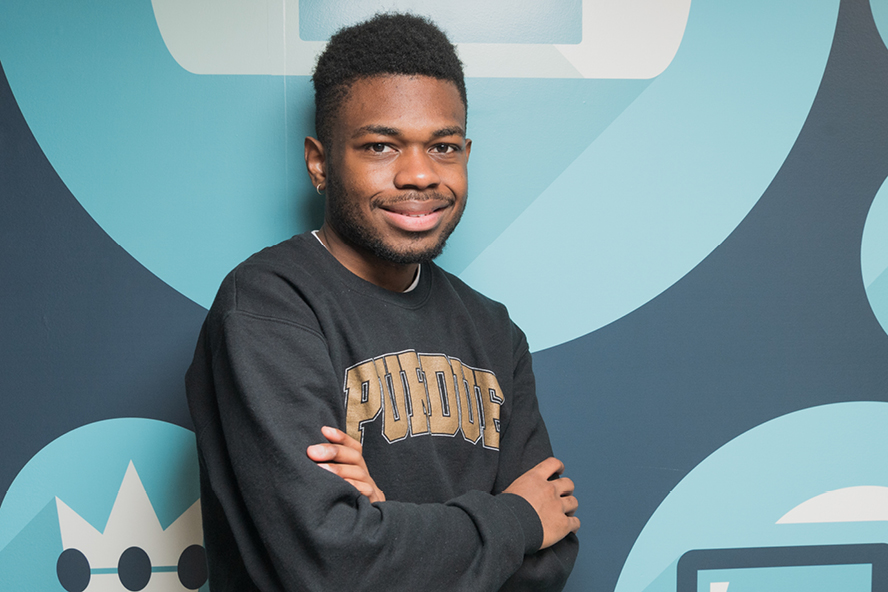 "The GI Bill gives people the opportunity to be financially successful. Not having to go into debt is a really good feeling.

chase morris

Sophomore, Game Design major
"The GI Bill gives people the opportunity to be financially successful. Not having to go into debt is a really good feeling," Chase says.
Purdue's Veterans Success Center provided the Morris family with the assistance they needed to ensure that all the necessary paperwork went through.
"Purdue made using the GI Bill benefits easy," Lee says. "The Veterans Success Center staff walked us through the process step by step. And this was during the pandemic when people couldn't come into the office. I was able to get the necessary forms to Chase, and he was able to sign and submit them."
Representation and opportunity
Chase recognizes that as a Black student, he is part of a group that remains underrepresented in higher education.
"Historically, there are not a whole lot of people who look like me who go to college," Chase says. "On campuses, there's a certain demographic that's the majority, and there's a certain demographic that's the minority, and that happens to be me. Although it doesn't really bother me, it is there in the back of my mind."
Chase says he felt comfortable right away at Purdue because of the friends he has made.
"I don't look at race and gender much," Chase says. "We're all here for one thing: to walk across that stage and get a degree, to have our parents look at us and say, 'We're proud of you. We're proud that you're becoming a contributing member of society. You're going to change the world for the better.'"
Chase's parents are already proud. "Chase is focused. Once he puts his mind to something, he is going to try his best. If he fails, it's not because he didn't try," his father says. To underscore that point, he shared the story of a poem Chase wrote during his senior year of high school. "I get teary-eyed talking about it," Lee says. "Chase's poem said that he feels like a rose that is trying to grow from a concrete sidewalk. No rose should be growing from a concrete sidewalk, but his past has felt that way sometimes. But when that rose does rise and grow, people will notice."
Coming in undecided
When Chase applied to college, he was not sure what he wanted to study. "I didn't know for sure what I wanted to do with my career, so I applied for the Exploratory Studies program. When I found out I got into Purdue, my dream school, I knew I needed to take it and see what happens."
Chase thought he might follow in his father's footsteps and explore a career in engineering. But he knew he also wanted to explore his artistic side.
After some academic exploration, Chase decided to pair his tendency toward STEM — science, technology, engineering and mathematics — with his love for making art and being creative. His degree program? Game development and design.
"I figured, why not do something that is engineering mixed with art? I thought game design would be the perfect fit," Chase says.
He takes classes in a variety of areas, including game development, imaging technology, geometric modeling, computer graphics and portfolio building. He frequently finds himself impressed with the quality of the games he encounters.
"I find it amazing how realistic video games are becoming. I love games that are an open world. I love the campaigns and the art styles. I think it's amazing that humans can create things like that."
Though Chase is still exploring his specialization, he enjoys both animation and programming. And in his spare time, he finds himself growing as an artist. He is a member of Purdue Art Community, one of over 1,000 student organizations on campus, and he attends weekly meetings.
"I love drawing and painting. Whenever I have free time, that's what I do. I'm working mostly on figure drawings and drawing from life," Chase says.
Thanks to his hard work and the benefits he is receiving through the GI Bill, Chase can pursue his passions at Purdue and graduate debt-free.
"Seeing Chase pursue his dreams at Purdue means a lot to me," Lee Morris says. "It's a privilege to see him study at one of the top universities in the world."
And Chase says, "I'm just glad to be here. I'm ready to do whatever it takes to be the best version of myself. It's a privilege to have the opportunity to go to college, jump-start my career and find success."