Back To Top
2021 Exceptional Early Career Teaching Award: Greg Strimel
Greg Strimel saw a void and set out to fill it.
With a nationwide concern about innovation capacity and transformative learning experiences, Strimel, an assistant professor in the Department of Technology Leadership and Innovation in Purdue Polytechnic Institute, along with his colleagues, developed and launched a minor in design and innovation in 2018. The goal of the minor: To provide the space and flexibility for all Purdue students, regardless of major or background, to practice innovation within the context of their own ideas and develop design-thinking capabilities in authentic cross-disciplinary settings.
The key feature of the program is team-taught courses with faculty across colleges (for example, polytechnic and anthropology faculty in the same class at the same time) and students co-learning with others possessing a variety of skillsets. The curriculum provides students with a multi-semester learning experience to help minimize the silo effect of individual courses by building authentic connections across coursework using design as a common thread.
Carrying ideas beyond the classroom
"I don't want my students just doing coursework, where they turn in an assignment, it gets assessed and they move on to the next assignment. When you just do that, learning stops," says Strimel, a 2021 recipient of Purdue's Exceptional Early Career Teaching Award. "This is something different. While they are building their disciplinary expertise in their major, this gives them a place to come back to and work over multiple semesters on more personalized interests.
"Then, they can carry their innovative ideas throughout their Purdue experience while learning ways to move these ideas beyond the classroom. It was always a struggle for me to see innovative design ideas abandoned when a student submitted it at the end of a semester and moved on to the next course."
The minor also was established to engage students in ethnographic methods to better understand the needs of people and connect them with campus innovation resources such as the Purdue Foundry and industry-sponsored competitions. As a result of these efforts, Strimel has been awarded funding from the VentureWell organization to develop the core curriculum and a National Science Foundation grant to study the ways in which undergraduate learning can be transformed in the pursuit of innovation.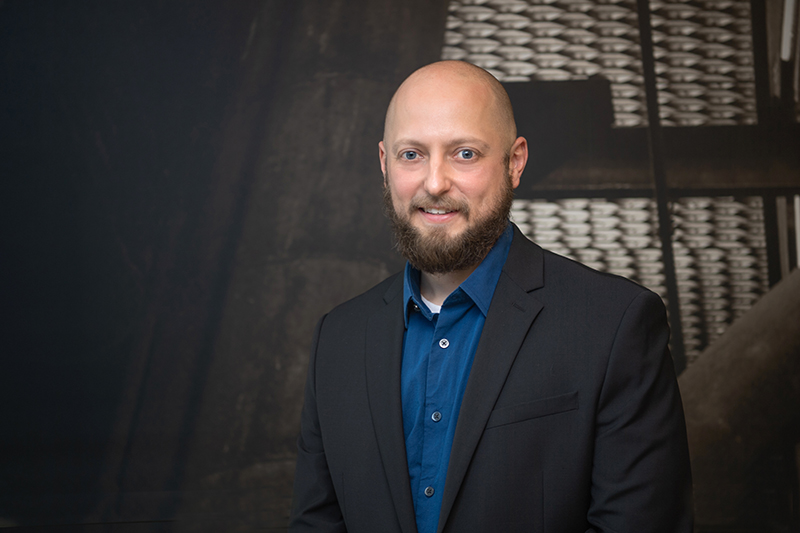 The minor currently has students from over 20 different majors, and they have won over $170,000 in competitions, secured external grant funding to support their innovation projects, have had their products in the hands of customers and leveraged their experience for their career pathways. One of the introductory design courses has been uniquely implemented with the Purdue Polytechnic High Schools to expand access to innovation education with 30 students successfully completing the course while still in high school.
"Hearing stories of how students use design and technology to position themselves better in their chosen career, whatever it may be, is exciting," Strimel says.
Preparing future teachers
Strimel, who also has teaching responsibilities in engineering technology teacher education, joined the Purdue faculty in 2016. After serving as an infantryman in the U.S. Army, he began his career teaching engineering at the high school level in Maryland. He subsequently earned his master's degree and PhD from California University of Pennsylvania and Old Dominion University, respectively, "to understand ways to teach better."
"I am passionate about teaching and preparing future teachers," says Strimel, who provides a variety of design-focused professional development programs for teachers across the state and who was the lead author on a national standards report titled Framework for P-12 Engineering Learning, published by the American Society for Engineering Education. "Seeing where my students end up teaching and seeing them presenting at national conferences, I like to believe has some link to their learning experience here at Purdue."
Additionally, Strimel advises the Purdue chapter of the Technology and Engineering Education Collegiate Association. The purpose of the organization is to promote leadership, fellowship and scholarship for future public school teachers enrolled at Purdue through coordinated activities associated with K-12 outreach and competitive events.
The Exceptional Early Career Teaching Award is the latest honor for Strimel. He previously received the Purdue Polytechnic Institute's Outstanding Faculty in Learning Award and the Outstanding Advisor of the Year for Purdue student activities and organizations.
"This award means so much because it comes on the recommendation of students," Strimel says. "I want to provide them with an authentic undergraduate learning experience, where they are involved in real stuff, doing real projects outside of the classroom. That's my whole point of being at Purdue."