Back To Top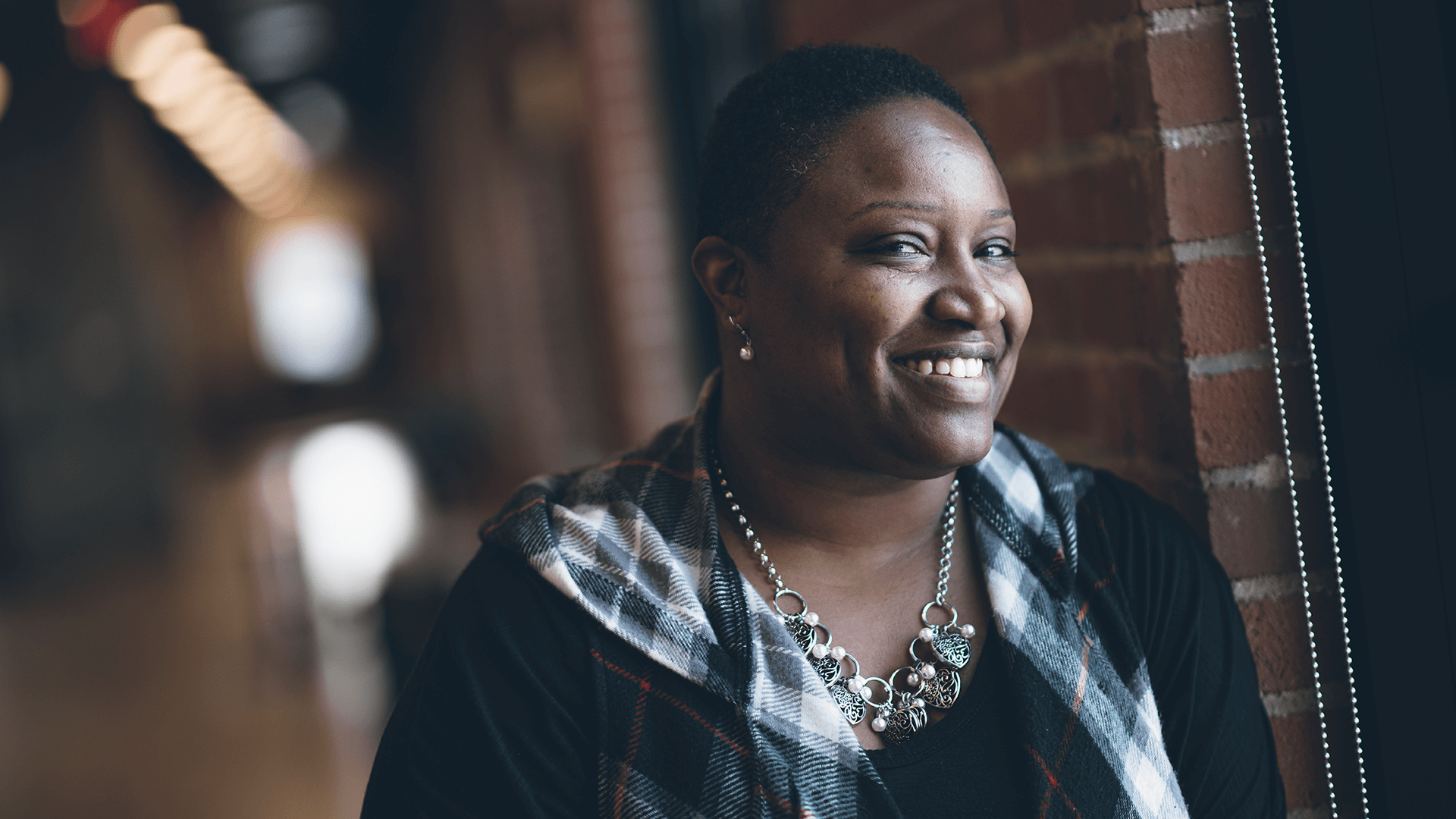 Shatoya Ward looking to grow number of Purdue-bound students, partnerships
When Shatoya Ward walks up the main staircase at Purdue Polytechnic High School Schweitzer Center at Englewood, she recalls an avid discussion with a student who saw meaning in that nondescript staircase with steps, handrails and wood-finished wall.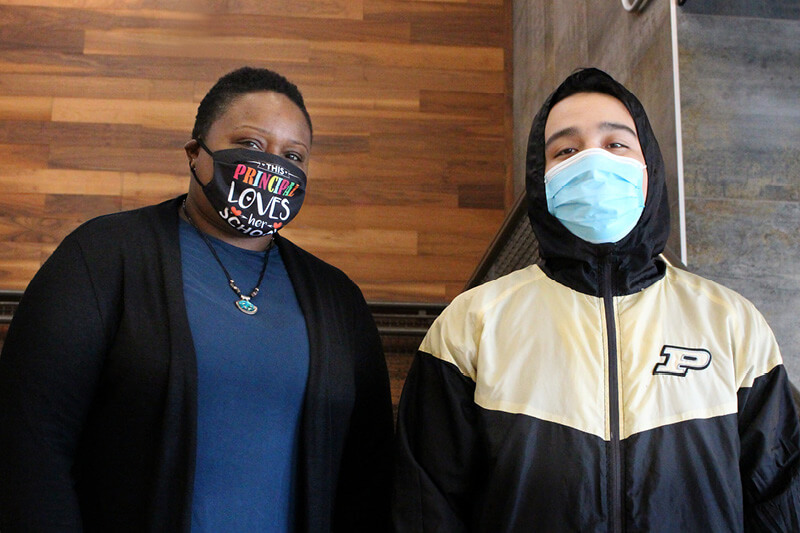 Shatoya Ward, left, founding principal of Purdue Polytechnic High School Schweitzer Center at Englewood, with Juan Ramos, PPHS Class of 2021. (Purdue University photo/Colten Lewis)
Ward smiles as she thinks of Juan Ramos, a member of the school's first graduating class in 2021, and the conversation they had during the fall 2020 semester about that wall and those ascending steps as points of pride and inspiration.
"Juan sat down next to me and told me all of the things he had learned while at PPHS. He had a postsecondary plan. He told me his plans for his life. He said we should put pictures or plaques of the graduating seniors on that wall," Ward says. "I asked him why we should do that, and he said, 'One day I'd like to bring my kids up here and let them see me on that wall.'
"He was so serious about bringing his family back here to show them his picture. He is so proud that he is here. PPHS is a place where students can write their story."
Ward, now the chief of school operations for Purdue Polytechnic High Schools, is helping hundreds of students across Indiana to write their own stories.
Changing pathways, moments of reflection
Ward always had a plan for what she wanted to be while growing up on Indianapolis' east side. Even when the family moved to the west side, she was still pursuing her goal of becoming a nurse, then a nurse practitioner and, ultimately, an obstetrician.
Ward excelled at her schoolwork and was accepted into Marian University's nursing program. She faced all of her classwork with precision and accuracy.
Then something happened.
"I was on top of the world," Ward says. "Then I got into the hospital for my clinicals. It just didn't quite feel right. I couldn't see myself going to a hospital every day for a career. I needed to figure myself out."
Ward tested herself by becoming a YMCA camp counselor for a summer. She worked 12-hour days, spending time with 65 children and four counselors.
"It was the most fulfilling summer I've ever had. I just enjoyed those kids so much. I still have contact with some of the kids today," Ward says. "At the end of the summer, I said this is where I need to be. I had to go with my heart."
The call to start something new
Ward taught high school and middle school science in Indianapolis Public Schools for seven years. She transitioned to a charter school and then helped launch the Excel Center by Goodwill, where for six years she taught adults who were getting their high school diplomas and certifications for jobs.
She noticed trends and deficits in adult learners and started seeking answers on better engaging students in classes to equip them with real-world skills and soft skills, such as how to have a conversation, be on time and more. She sees those skills as building blocks to address complex problems and skills for the future. Those discussions led her to the position as founding principal at PPHS Schweitzer Center at Englewood.
The University created the Purdue Polytechnic High Schools (PPHS) to build new K-12 pathways that lead to Purdue, especially for Hoosier students who are underserved by traditional high schools and underrepresented in higher education.
Established in 2017, the growing, multischool PPHS system immerses students and their families in an innovative learning community. PPHS offers tuition-free, authentic, STEM-focused experiences that prepare high school students for a successful future. These experiences include internships, industry projects, dual-credit courses and technical certifications. PPHS also offers its students a unique path to college; graduates who achieve Purdue's admission requirements are ensured admission to many of the University's programs.
Ward says the schools offer a much-needed path forward to the students they serve.
"Passion is the one thing that is missing in schools," Ward says. "What if we built a school that way, with exposure to careers and skills in STEM? There are a variety of careers with STEM. There are lawyers who focus on technology, and physicians and nurses who treat the whole being of a patient. There is a wide range of careers that are labeled STEM that encompass so much more."
The best part about my new role is learning more about the resilient staff and exceptional students on all three campuses.

Shatoya Ward
PPHS chief of school operations
Renovated building, reinvigorating communities
As PPHS' chief of school operations since February 2022, Ward oversees the day-to-day operations of all PPHS campuses, implementing the curriculum, culture and best practices she made successful while leading the PPHS at Englewood campus.
While she reflects on her work as founding principal of PPHS at Englewood, located in the PR Mallory Building at 3029 E. Washington St. on Indianapolis' east side, she looks forward to expanding the Purdue and PPHS partnership to have greater impact on more students' and families' lives.
She supports the principals at the three locations in Indianapolis and South Bend, as well as expanding technology and student experiences.
"The best part about my new role is learning more about the resilient staff and exceptional students on all three campuses," she says. "I look forward to ensuring that our staff has what they need to set our students up for a successful future and that our students have what they need to excel."
Ward and her team successfully navigated the COVID-19 pandemic, transitioning to e-learning and using a hybrid model of two days a week of in-person learning and three days online.
"With accessibility increasing as we recover from COVID, we look forward to strengthening the connection within our network, community, staff and students at Purdue's campus.
We want to continue to increase the pipeline of underrepresented minority students to Purdue," Ward says.
"I am so grateful for the community," Ward says. "The community supports our students. Our classes are beyond our walls. The community embraces that."
PPHS focuses on underrepresented minorities in Indianapolis and South Bend. The network graduated 113 seniors in June, 34 of whom were accepted to Purdue's West Lafayette campus. For the first time, PPHS graduated seniors from all three locations in one year.
Ward participated in the ceremony, including personally handing diplomas to students she had worked with over the years.
"It was exhilarating. It is good to know that the innovative spirit will live on with our graduates," Ward says. "I believe our graduates will make positive changes in the world."
Having ties to Purdue hasn't hurt enrollment, either. Under the common enrollment system for Marion County (Indianapolis) and South Bend schools, it's easy to enroll because there are no prerequisites. Parents can complete the form with PPHS as the top option.
Ward credits the parents for having the courage to enroll their students at PPHS. "They are taking a big risk, as we are not like other high schools. We do some things so differently than other schools," she says.
The values of the Purdue Polytechnic High Schools are why the initiative has been successful. Effective communication, excellent collaboration and a spirit of innovation are talked about each day.
Innovation is found throughout the system. It can be seen throughout the design of the schools' physical facilities. Features such as garage doors are both reflective of the PR Mallory Building's past and a nod to creating open and flexible spaces for the various projects the students work on daily. The South Bend campus is expanding in the Renaissance District in a former Studebaker factory. Recently, PPHS North was named an IPS Innovation School and will be using Broad Ripple High School for a short-term lease.
"I love how the PR Mallory Building was a battery plant and how now our students are reviving that spirit of innovation," she says. "We can take that and move forward with it."
The buildings aren't the only thing that is flexible. Each student begins and ends the day with their personalized learning community, where they also build community with their teachers, also called coaches.
"Coaches can bring in additional resources for students. The students are not restricted. They can talk to any one of the staff members they have a connection with. We have space for them to reflect or whatever they need to do to get back on track for the day," Ward says.
It is good to know that the innovative spirit will live on with our graduates. I believe our graduates will make positive changes in the world.

Shatoya Ward
PPHS chief of school operations
For more information on student registration, donations or business partnerships, and for media requests, contact PPHS Network Office at info@pphs.purdue.edu