Back To Top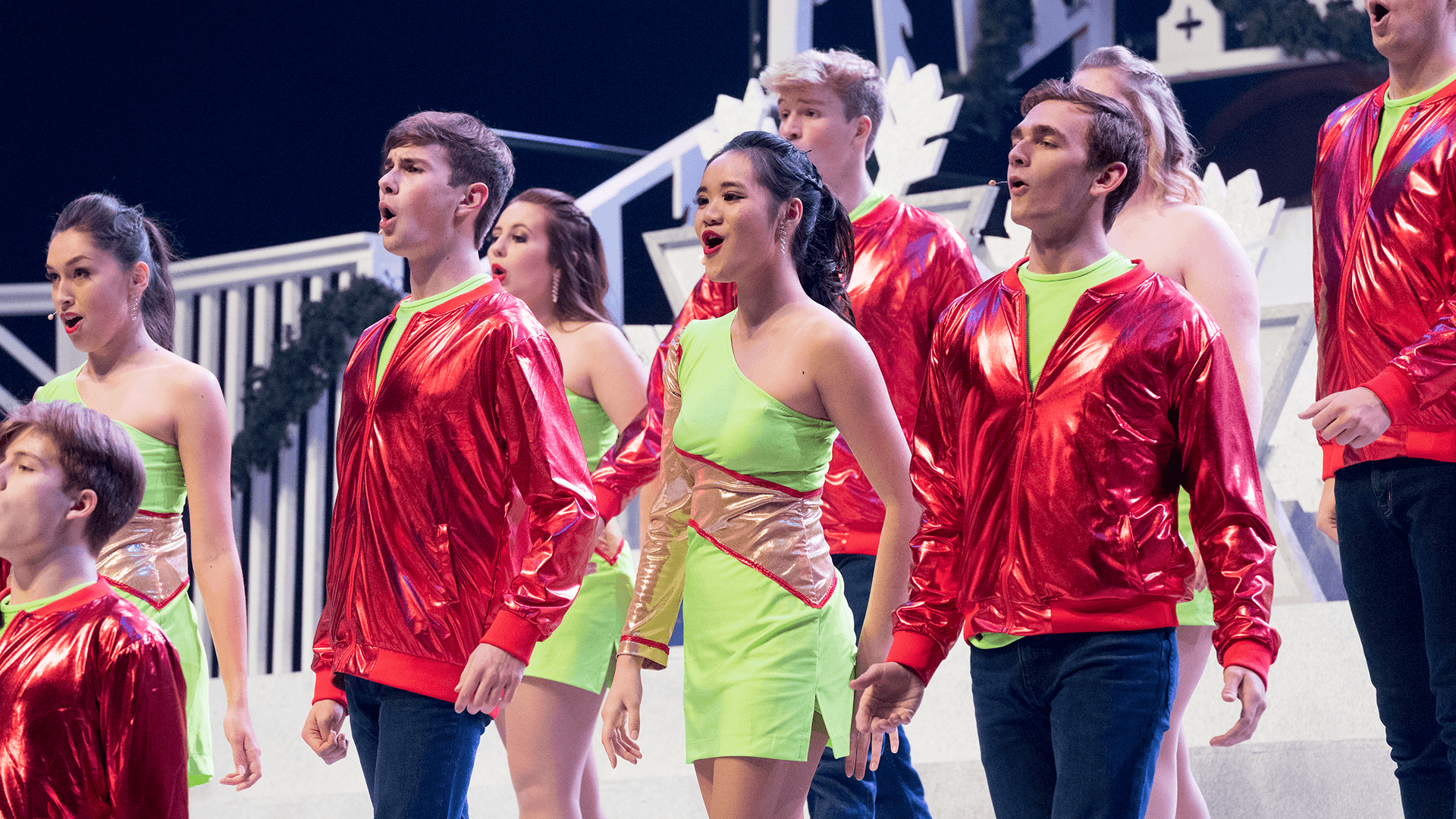 The staff and students of Purdue Musical Organizations adapt storied holiday traditions in light of pandemic limitations to spread Christmas cheer across the globe
In March 2020, the world of live performance changed. The student musicians of Purdue Musical Organizations (PMO) spent the rest of the semester singing from their bedrooms and the rest of the year adapting to the Protect Purdue protocols established to keep them safe as they sang.
Fast forward to December 2021, and the world of live performance has been forever changed, thanks to the impact of a global pandemic. The students and staff members at PMO could have stepped back, but instead, they stepped up.
Bill Griffel, director of Purdue Musical Organizations and director of the Purdue Varsity Glee Club, says, "We've learned we can do just about anything we set our minds to. We have an incredibly dedicated and creative staff, and our students are versatile and up for anything."
The students and staff at PMO employed that dedication and flexibility when it came time for the unconventional virtual 2020 Purdue Christmas Show, and they have kept up the same enthusiasm for the upcoming 2021 performance. No number of hard knocks can deter PMO from carrying on the legacy of one of Purdue's most loved and storied traditions: the Purdue Christmas Show.
A historic holiday tradition
Before PMO, and before the Purdue Christmas Show, there was the Purdue Varsity Glee Club (PVGC) and its first eleven-member ensemble. From the founding of PVGC in 1893 through the 1920s, the group of talented male singers built up a reputation for excellence. In 1932, PVGC welcomed its first full-time director, the irrepressible Albert P. Stewart, and he founded Purdue Musical Organizations the very next year.
Stewart staged the inaugural Christmas Show in the old Fowler Hall in 1933 for an audience of 200 people. Seven years later, in 1940, the University completed construction of Elliott Hall of Music, and the Christmas Show moved into the 6,005-seat pillar of performance prowess. By 1947, demand caused PMO to add a second evening of performances. In 1954, PMO added a third performance, and in 1964, a fourth. In 30 years, Stewart and PMO had increased attendance 120-fold.
Nowadays, the Christmas Show is a holiday spectacular that features performances from nearly 300 singers, bell ringers and musicians across seven ensembles — the Varsity Glee Club, the Purduettes, Purdue Bells, University Choir, Heart & Soul, PMO Kids Choir and the All-Campus & Community Chorale.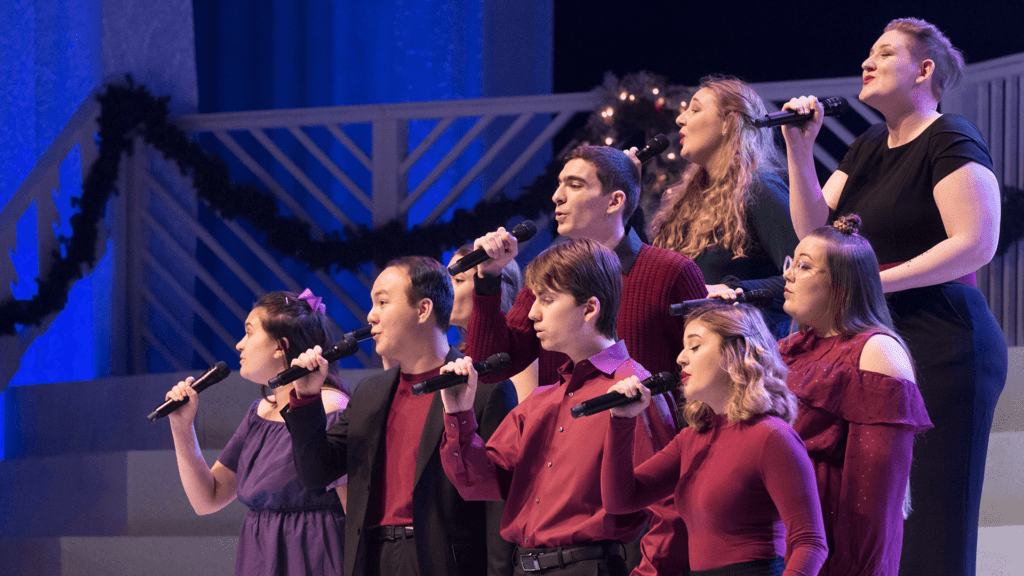 Planning for each year's performance begins 11 months in advance. Dramatic and comedic skits connect special musical arrangements of sacred and secular holiday classics. A stunning set born from 1,000 yards of fabric, hundreds of gallons of paint and three months of hard work supports the musicians as they sing their hearts out. In typical years, the Christmas Show is attended by tens of thousands and viewed and heard by millions more on various broadcasting networks and radio stations across the nation.
Of course, 2020 was not a typical year.
Changing plans in spring 2020
In March 2020, already a few months into planning the Christmas Show, PMO students and staff members looked ahead to the coming winter and recognized that, for the first time in 86 years, the show might not go on – at least not as planned.
Colton Withers, associate director of Purdue Musical Organizations and director of administration and external relations, said that leaving campus in the spring of 2020 due to the COVID-19 pandemic was a tough experience for everyone at PMO.
"Our students were down," Withers says of the tight-knit family of performers. "We thought, how can we keep the Christmas Show going? And like true Boilermakers, we showed a lot of ingenuity and that can-do spirit, and we thought of something really out of the box."
Their out-of-the-box solution for the 87th Purdue Christmas Show was an all-virtual concert that prioritized the safety of the students and staff. PMO students rehearsed while socially distanced, and they all wore special singer's masks, operating in alignment with the University's Protect Purdue protocols. They created audio recordings of their holiday selections and captured video of their ensembles lip syncing to their recordings in outdoor spaces across Purdue's campus.
Jeff Vallier, director of Purduettes, University Choir and recruitment, says that even though the 87th Christmas Show was different from every Christmas Show before, PMO carried on the tradition in the best way it could: "The students got to come together as a community and learn and sing. We kept the spirit alive, and it felt really great knowing that we could reach an even wider audience by pushing our production out virtually."
The virtual production allowed PMO fans who had not seen a live show in years to enjoy the performances from the comfort of their own homes. Chrissy Crawley, marketing and communications manager at PMO, says that last year's Christmas Show would not have been possible without the help of PMO's generous donor base.
"Our donors really went above and beyond, and they donated towards our effort knowing that we were not charging anything for the show," Crawley says. "It was our gift to the community and the world at large for getting through the year of 2020."
Spreading Christmas cheer in 2021
Starting on Dec. 17, Purdue Musical Organizations will present a pre-recorded performance of this year's Christmas Show through the new PMO streaming site. Withers says the PMO team was excited to return to Elliott Hall for this year's filmed performance. "We are returning to our home so you can watch the performance from wherever you call home," he says.
For this 88th iteration of the Christmas Show, each PMO ensemble performs an individual set, and in between sets, all members of all PMO ensembles come together to perform traditional holiday hymns. Crawley says that the large group performance also includes Purdue staff members and community members, and in that collaboration, "You can just feel the energy in the air."
The ensembles will record their music live on stage with the orchestra, according to Griffel, who says, "This is a step in the direction of coming back to live performance."
The staff members at PMO agree that there is nothing quite like live performance for an in-person audience. Vallier says that although he's grateful to keep the tradition alive through offering the Christmas Show in this virtual medium, he and his ensembles miss being able to feel the sense of community among the audience by seeing the joy in their faces as they react to the show.
When the PMO team planned the 2021 Christmas Show back in January, scientists did not yet know the extent of the effectiveness of the COVID-19 vaccines. Bringing 6,000 audience members together in one space did not seem feasible – there were "too many unknowns from a public health standpoint," as Griffel said in a statement released by PMO on July 21.
The staff at PMO remain optimistic that a live, in-person Christmas Show performance may be in the cards for next year.
The student perspective
Fiona Gannon, a senior studying psychological sciences, is relishing her last Christmas Show as a fourth-year member of the Purduettes. She says she misses the adrenaline rush of performing in front of a live audience but is grateful for the opportunity to perform with her ensemble again.
"I'm really grateful to be back in Elliott Hall this year," she says. "That is where the magic is held. Although there are things we aren't able to do right now, we're finding beauty in what we can do."
Gannon's mother was a member of the Purduettes back in the 1990s, which makes Gannon even more appreciative of the traditions present within PMO. "The Christmas Show is the peak of everybody's year in PMO," Gannon says. "Being a part of it is magical."
Music brings the students of PMO together. They show up to rehearsal 20 minutes early to work through sections of their music or just to talk, Vallier says. They form lifelong friendships and help each other through tough times, of which there have been no shortage in the last couple of years.
It's no wonder the student musicians of PMO begin to forge bonds – they spend hours together each week. Gannon says the Purduettes rehearse Monday through Friday for an hour each day. When the Christmas Show is gearing up, PMO students may spend four or five hours per night at Elliott Hall.
Not one PMO student gets academic credit for their participation and commitment.
"There's always a buzz in the rehearsal spaces, and there's not a single student here who's getting a grade for this," Vallier says. "There's nobody here who has to be here – they just love it."