Back To Top
How an Indiana native who originally planned on enlisting before going to college found his path to Purdue
Before his junior year of high school, Quentin Betts didn't know if college might be in the realm of possibilities for him and his family. His mom, Cammy Betts, says Quentin was a money-conscious kid from the start, and he planned on joining the military first and going to college later so he could save up some funds.
"Part of the reason I wanted to enlist is that I didn't want to have to take out any student loans," he says. Thinking about paying for college was stressful, and Quentin says he doesn't like the feeling of owing people money.
Luckily, Quentin and his parents were proactive. As a team, they made a game plan and sought out a valuable college experience that wouldn't break the bank. Now, Quentin is a freshman at Purdue studying finance and participating in ROTC.
The process
First, Quentin's mom, Cammy, and his dad, Gary, filled out the FAFSA to see how much financial aid they might be eligible for.
"Filling out the whole [FAFSA] form – that's a lot," Cammy says. "But we did it together. I tried to have as much information in front of me as possible, our taxes and all of that." When Quentin and his family ran into questions, they called Purdue. "There was always someone there to answer our questions when we called the bursar's office or the financial aid office."
Next, Quentin did his research and applied for as many scholarships as he could find. He entered two business-focused scholarship contests and was granted funds at both events. Quentin also received a scholarship from Purdue Polytechnic High School, where he was a member of the first-ever graduating class in spring 2021. All of these smaller grants added up.
The decision
When making a list of colleges, Cammy says that Quentin did not include out-of-state schools. "He always considered affordability first," she says. "He didn't want to pay out-of-state tuition."
Quentin did consider another university in Indiana, but he ultimately chose Purdue because of its value, affordability and the strength of the ROTC program.
Another factor that sold Quentin on Purdue was spending his summer taking a class on campus. He met with an advisor who spoke with him about Purdue's ROTC program. "That grabbed his attention," Cammy says. Quentin realized he would be able to join the military and go to college at the same time.
"I get the best of both worlds," he says.
Cammy was over the moon about Quentin's college plans, even though he didn't end up choosing her alma mater, Indiana University. She says, "The fact that Purdue has frozen tuition for so long made it very affordable." With tuition frozen at $9,992 per year for the last 10 years, Purdue costs less today than it did in 2012 and has saved students and families over $600 million. And Purdue is ranked the seventh best value university in the United States, according to The Wall Street Journal/Times Higher Education 2022 report.
When asked what advice she would give to future Boilermakers and their parents about financial aid and the college application process, Cammy says, "Start as early as possible, especially if you already know what you want your major to be … You need to know the GPA requirement, the early decision date of November 1, and the apply-by date for different scholarships. To get any type of extra money, you need to be aware of your deadlines."
Family ties and future plans
Quentin says he and his mom are very close, and he leans on her for support when times get tough. He says she is 90% of the reason he was able to go to Purdue, and she is always ready with a "mom speech" whenever he needs it.
"One time, I had to wake up at 4 a.m. for selection, which is a tough training competition for ROTC, and I overslept. I was really mad at myself and sad that I was late, and my mom gave me one of her classic mom speeches."
He pulled up the text she sent him after his slip-up, which read, "Growth is a process. It comes with disappointments and sometimes missed opportunities, but you learn so much in the process. Allow yourself the grace to grow. I'm so proud of you."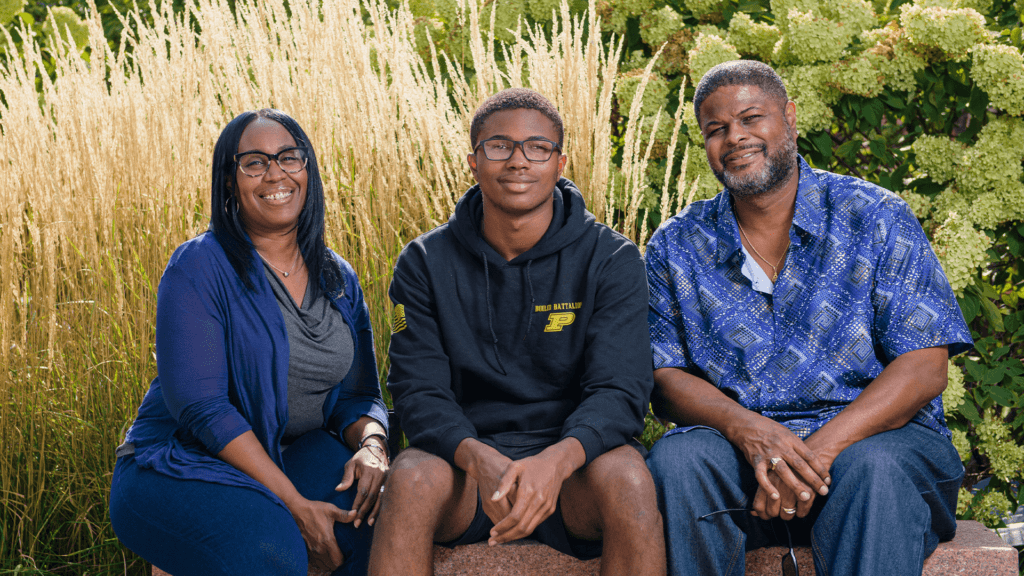 Quentin has been growing, small step after small step, from his days attending Purdue Polytechnic High School to the first few weeks of his time at Purdue. After college, Quentin plans to commission and become an active-duty officer. "I'm not quite sure what I want to do in the military. There are lots of different paths to choose from within the Army, so I've got to figure that out. But after I'm in the Army, I would like to get into federal law enforcement. That's a big dream of mine."
One thing is certain: No matter where Quentin goes, his persistence will pay off.