Back To Top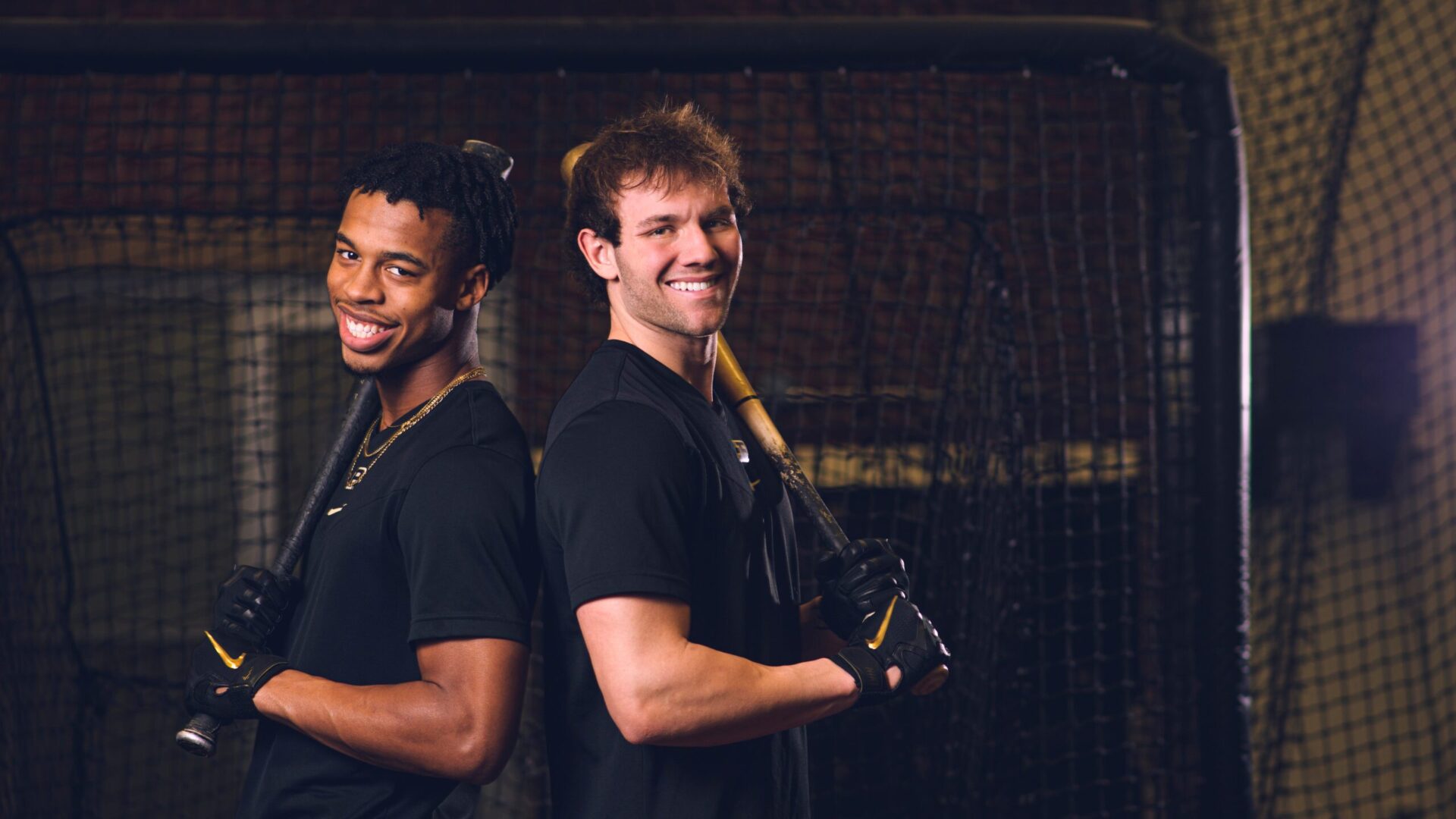 Purdue is nation's first college baseball program to make use of Intel's innovative 3DAT human performance technology
Purdue's baseball team aims to be "the fastest show on dirt." A partnership with Intel is helping the Boilermakers turn that aspirational motto into a realistic claim.
Purdue is the first college baseball program in the country to incorporate Intel's 3DAT (3D Athlete Tracking) video technology into its training regimen. By utilizing feedback from the 3DAT system, Purdue players are learning how to adjust their posture and technique to become faster, more efficient runners.
For a baseball program that wants to be aggressive on the base paths, any incremental increase in team speed can create a significant competitive advantage, whether stealing bases, legging out infield hits or tracking down fly balls in the outfield.
"That's one thing that we try to build off of: Speed is there every day," says Greg Goff, Purdue's head baseball coach. "You might be able to hit some days. Some days you might be able to pitch. But speed is there every day, and it's something that I believe in as a coach.
"When we run our offense, we're trying to build players that can really run, that can be explosive on the baseball field."
Once they began experimenting with the 3DAT system last year, Purdue's players immediately noticed they were gaining the explosiveness their coach desires.
Outfielder Cam Thompson admits he was the team's slowest runner last season. After Rance Terry, the team's strength and conditioning coach, showed him the 3DAT data revealing that he crouched too low while running, however, Thompson corrected his posture to stand taller while accelerating.
That minor adjustment made a massive difference.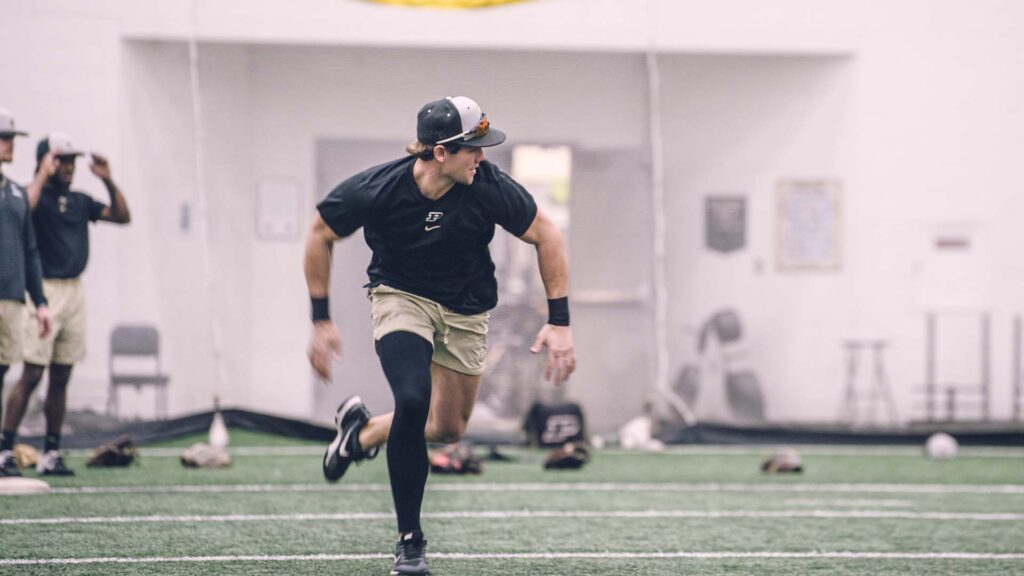 "He brought it to my attention, and it obviously changed my running in general and made me a whole lot faster where I'm close to the top of the fastest on the team now," says Thompson, a sophomore in organizational leadership.
Baseball is already in the midst of a data revolution that is changing the way the sport is played. Statistical probabilities frequently prompt infielders to shift to areas where batters are most likely to hit the ball. Information detailing spin rates of pitchers' curve balls and exit velocities of batters' hits help TV viewers better understand the game they enjoy watching.
The Boilermakers identify their 3DAT feedback as yet another step in this data revolution and recognize that they are only beginning to comprehend its many potential applications.
"Like the launch angles and the exit velos that you see during a game or on 'Baseball Tonight,' you're going to see information from this eventually," Terry says. "You're going to see his miles per hour as a runner rounding first and going to second. You're going to see his acceleration and everything else that this can do, because we're just scratching the surface of what those cameras can do."
Mutually beneficial partnership
Intel initially developed the 3DAT system — which uses high-resolution camera footage, high-speed processors and artificial intelligence to analyze the biomechanics of athletes' movements — to enhance viewer experience during TV broadcasts of Olympic track and field events. NFL prospects also have used 3DAT to improve their running form while preparing for the scouting combine and pre-draft workouts.
The technology arrived at Purdue through a stroke of luck.
It started last year when Breana Cappuccilli, then a Purdue student who was preparing to complete a PhD in mechanical engineering in December, cold emailed Intel's 3DAT director, Jonathan Lee. Cappuccilli's research interests include making biomechanical data more accessible to the masses, so she was intrigued by the innovative technology's potential beyond using it simply as a TV viewing aid.
As it turned out, Lee noticed Cappuccilli was a Purdue student and informed her that Intel was interested in collaborating on a project. She connected Lee with Jason Pullara, Purdue's director of strength and conditioning, which led to an Intel internship (and, as of January, full-time Intel employment) where Cappuccilli coordinated the partnership.
Rick Echevarria, vice president and general manager of Intel's Olympics and Paralympics program, also was a driving force behind the partnership. The 1988 Purdue industrial engineering graduate, who last year earned the College of Engineering's Distinguished Alumni award, met personally with Purdue's coaches and players to introduce the 3DAT system.
"Rick is a super-proud Purdue alum, so he has been driving the interest in Purdue," Cappuccilli says. "So when my boss, Jonathan, came to him and said, 'We have this opportunity to work with Purdue,' he said, 'Whatever is necessary to make that happen, let's make that happen.'"
The partnership was a perfect opportunity for both parties, allowing Intel to expand the utility of its technology while providing analytical insights to Purdue's coaches and athletes that they never would have been able to glean otherwise.
The camera system can analyze as many as 2,000 metrics in any video clip, so it's a matter of a user determining what they want to study and then honing in on the most insightful metrics.
"The technology is almost like a Swiss Army knife. It can solve a lot of different problems," Cappuccilli says. "I just need to know what that coaching staff needs so that I can turn it into the tool that they're looking for.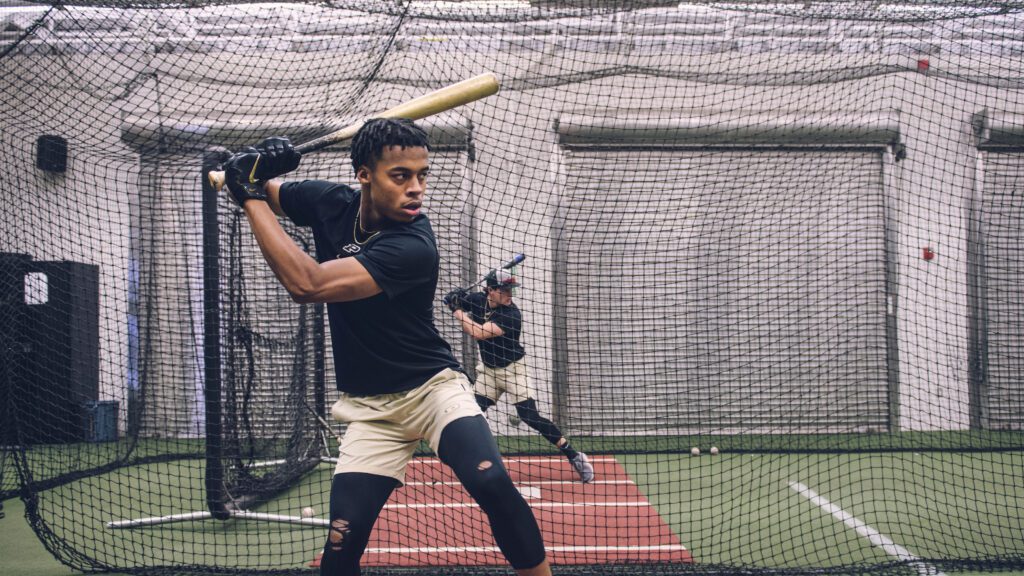 I'm not a baseball coach. I like baseball. I like to watch it, but I don't know what makes a great athlete, and they do. So, when you have technology that can augment the coaching, that's where I think you're going to see better use."
That's exactly what happened for the Boilermakers. Terry asked Cappuccilli to create a printout he could present to players after the 3DAT system filmed them sprinting during team workouts. The printout breaks down their posture and speeds achieved at various intervals during the run, additionally revealing how their metrics compare with teammates' results.
The feedback created valuable instructional opportunities for Terry and learning opportunities for the players.
"It got to a point that it was so clean that the second that we would run a test, I'd put it on the player's locker, and they'd come up to me and be like, 'OK, I see what I need to change. How are we fixing this? What are we doing to change it? What are we doing better?'" Terry says. "It's just grown from there, and it's getting better. The best thing about this system is the conversations that come from it."
The team's improvement occurred so rapidly that Cappuccilli had to double-check the data she was uploading to be sure she hadn't made a processing error. It was only after a conversation with Terry that she realized the players had used the 3DAT feedback to finally run with the necessary upright posture to reach full speed.
"By the fifth, sixth time that I was recording it, none of them were hunching anymore," Cappuccilli says. "I really had to go back and ask Rance, 'So, are they not hunching?' And he said, 'No, they changed it.' I said, 'Oh, OK.' I had to go back and check my own numbers because of the changes that I was seeing. I'm glad that the athletes are getting that benefit."
Creating chaos on the bases
Goff lets out a hearty laugh when asked what baseball players of his generation were instructed to do to improve their speed. "Oh boy," says Goff, who pitched at Delta State University in the early 1990s. "Go run up some hills."
Old-school training methods like running up hills might help players get faster, but not nearly as much as fine-tuning their mechanics when they run. That's where the Intel system creates instructional opportunities that baseball coaches of previous generations likely never even fathomed.
"It's just things that you would never know," Goff says. "The visual eye couldn't see those things, and now we have a setup to where we can break it down."
The feedback is universally beneficial, whether being presented to a previously slow-footed baserunner like Thompson or a speedster like Curtis Washington Jr., who ranked third nationally among all junior college players last year with 46 stolen bases at Wabash Valley College.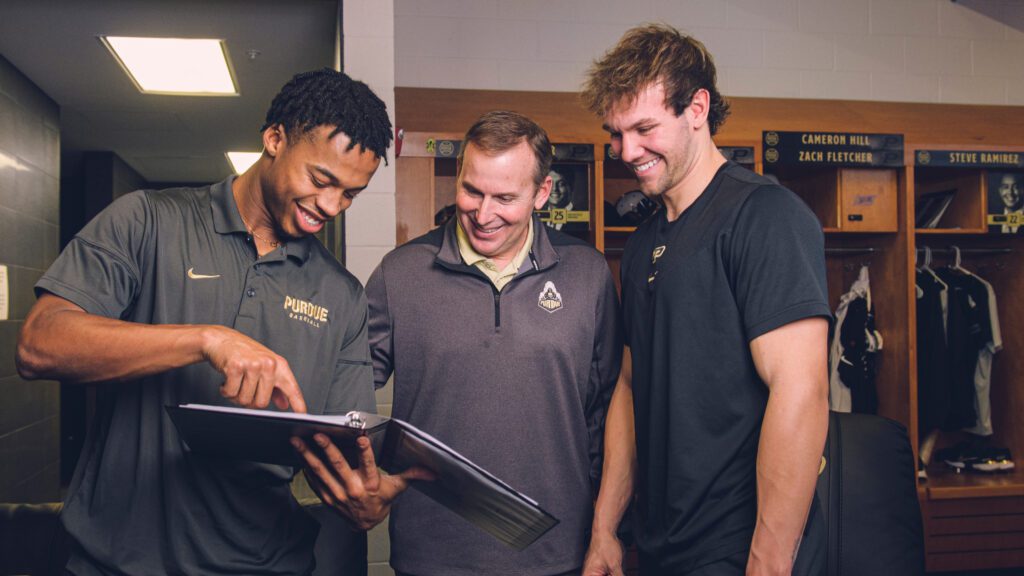 "My goal is to steal as many bags as possible, whether that be 40, 30, 35, it doesn't matter," says Washington, a junior in sociology. "I just want to be leading the country in stolen bases, put it that way. And this technology right here is going to help me get my best jumps, (improve) the way I can turn, all that. I just feel like it's going to help me tremendously."
Last season, Purdue's 48 stolen bases ranked fourth in the Big Ten, with leadoff man Mike Bolton Jr. going a perfect 17-for-17 on stolen-base attempts. Goff and his coaches are optimistic they can build upon that performance after seeing how many Boilermakers made immediate improvements once the 3DAT system showed them how to reach top speed faster.
"We're going to be able to do things that other teams aren't going to be able to do," Thompson says. "We're going to get better pitches to hit, we're going to be able to be aggressive, to be able to just score more runs and put pressure on the opposition."
Washington agrees, adding, "speed kills and causes chaos on the base paths. If you get in the pitcher's mind, you never know what could happen. Hitters start getting more fastballs to hit. When there's speedsters on base, then that's what happens."
Looking toward the future
In addition to the competitive advantage the partnership creates for the team, it will be a powerful development tool available to every individual Purdue player.
"Just knowing that this is the only school in the country that has this technology to help me as a player and will help build me up throughout my years here, definitely it's a big-time tool," Thompson says.
And this is only the beginning of the program's 3DAT utilization. Opportunities to become more well-rounded athletes matter not only to current Boilermakers, but to recruits who have a desire to advance past collegiate baseball to the professional level. Those players might use it to improve their pitching or hitting mechanics in addition to their speed.
"That recruit that maybe wasn't thinking about Purdue now can see what we can do for them if they come here and play for the next three to four years and give them an opportunity to advance their skills," Goff says.
Cappuccilli envisions a market for the 3DAT product that extends across sports and within a variety of applications, including assessments that help injured athletes understand when it's safe to return to competition and additional TV viewing implementation.
Purdue is already investigating how the technology might benefit its men's basketball program. And a 3D visualization application that Cappuccilli helped develop during her Intel internship could soon make the technology accessible to athletes who want to improve their biomechanical technique at home.
She also expects that it will revolutionize the way teams analyze live practice and game footage now that it's possible to create 3D visuals without the reflective marker-covered bodysuits that special effects artists traditionally used to create CGI footage for movies, TV shows and video games.
The possibilities are seemingly endless, and Intel's innovative partnership with Purdue will provide valuable direction on where 3DAT analytics might be most useful to future customers. "I'm a big believer in technology and that biomechanics is something that should be part of everyday life," Cappuccilli says. "So, I think technology like this is going to really revolutionize sport."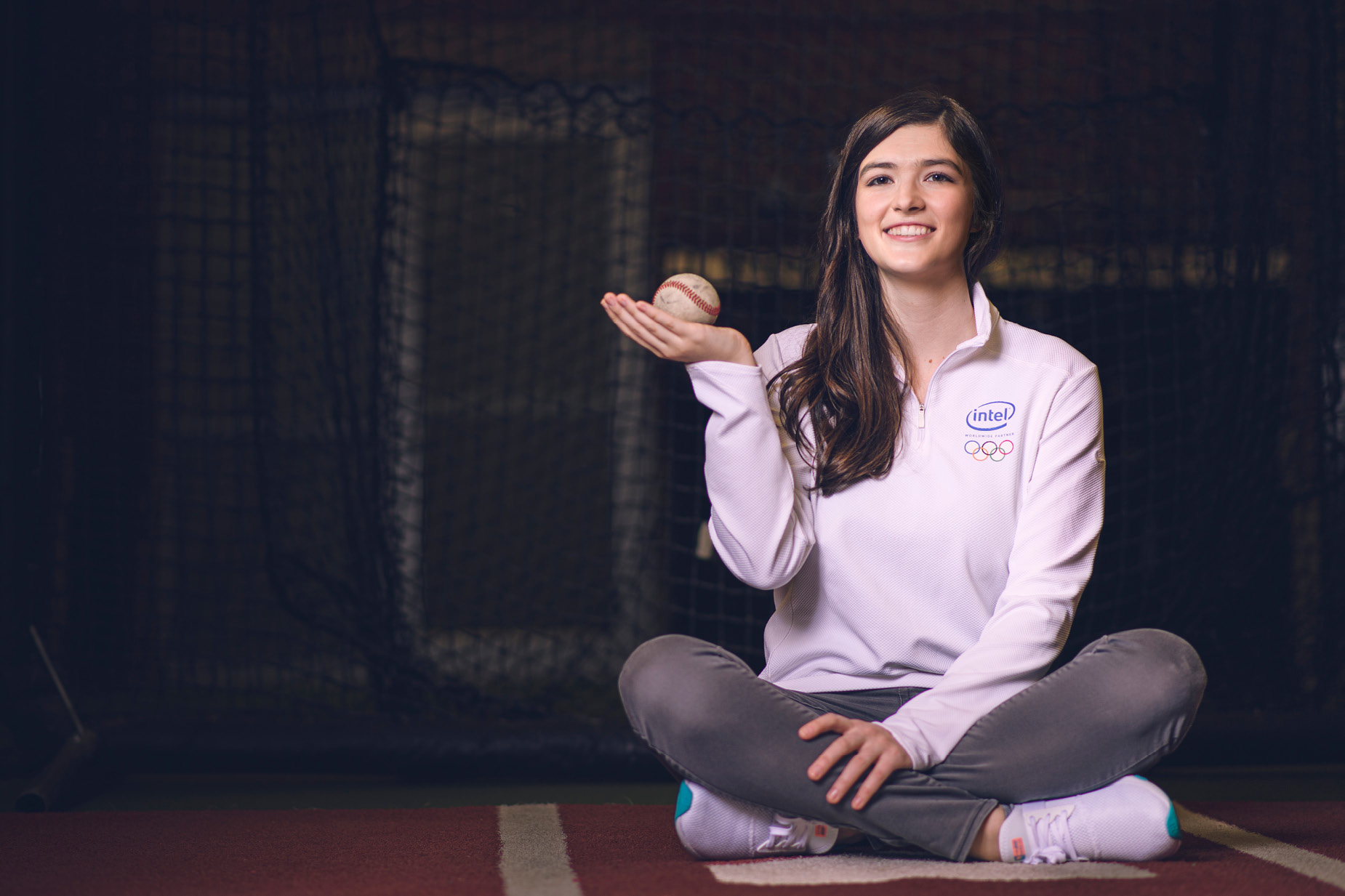 I'm a big believer in technology and that biomechanics is something that should be part of everyday life. So, I think technology like this is going to really revolutionize sport.

Breana cappuccilli

PhD mechanical engineering '21